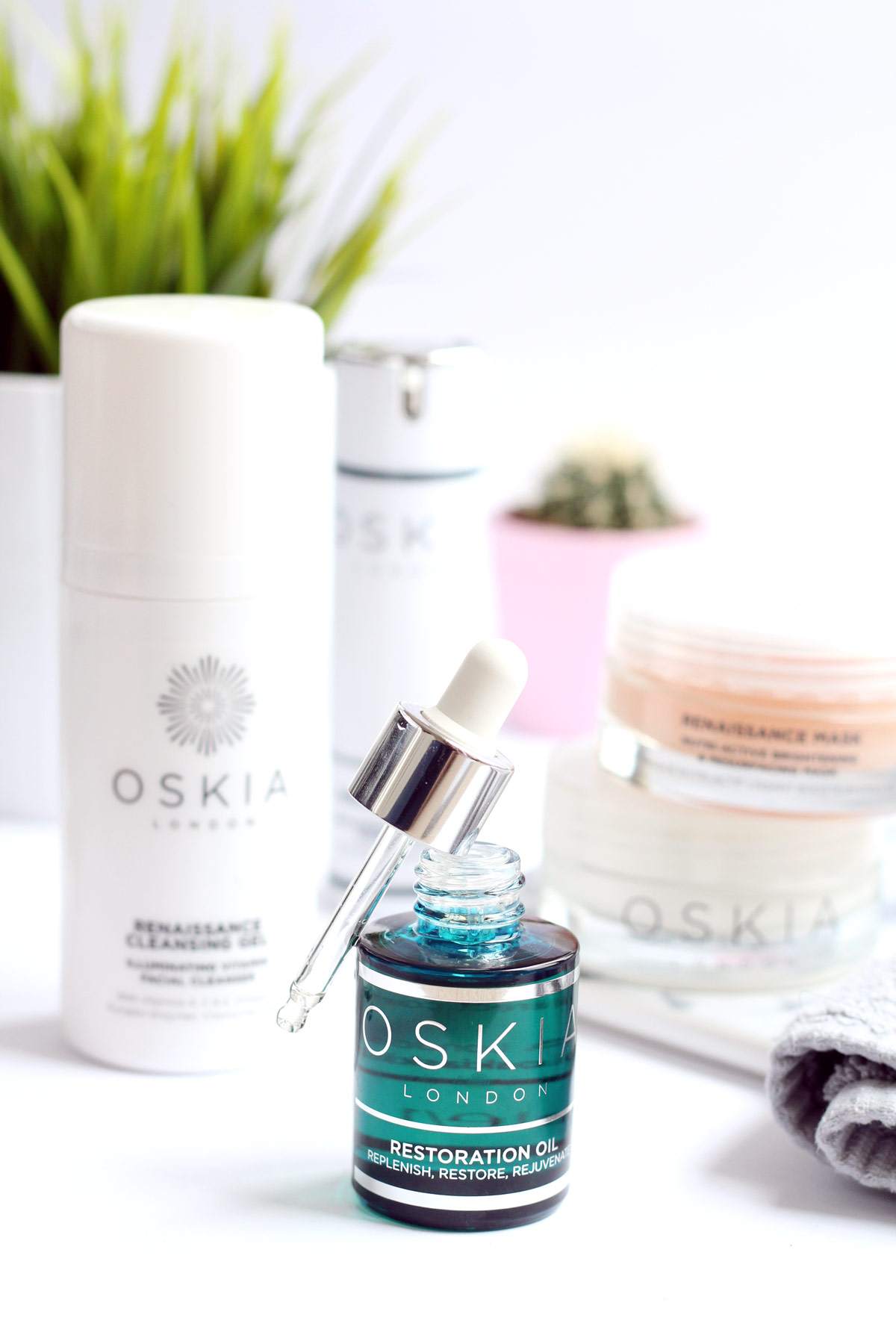 Here we are again with another skincare project! Today, I'll be chatting about one of my favourite skincare brands: Oskia. I've been using their products for over a year now after their dreamy cleanser first came into my life (thank you, blogger hype) and I always keep an eye out for what new products Oskia bring out. As you all know and are probably sick of hearing, but I am on Roaccutane which makes my skin very dry, so I'm always looking at products to nourish and hydrate my skin and give it that cushioned feel to relieve any irritation.
So, I've been testing out these Oskia bits over the past few weeks and I have to say, they're pretty darn amazing. First is their cleanser which I have two backups of (yup, obsessed) as I can't be without it! The Oskia Renaissance Cleansing Gel is a balm like cleanser which feels ultra nourishing on the skin, smells divine and leaves skin feeling hydrated and plump. It's one of those things you have to try out to seriously get the hype – go forth and purchase.
Next is an oil and moisturiser combo that I've been using every day to keep any dry patches at bay. First, the Oskia Restoration Oil which is a very light and silky oil, perfect for those who don't like using heavy products on their skin. It has a sweet but natural smell due to the orange and rose elements to it which I really like and, using 2-3 drops every morning and night, it's worked well to boost the hydration levels and radiance in my skin. I love it. The other part of this duo is the Oskia Renaissance 360 Supreme Cream, which is hailed as a 'vitamin rich daily hydrator'. This light yet hydrating cream has really been helping my skin not only in keeping it moisturised, but looking a lot less dull too. Roaccutane does give you a bit of a glow, but is also leaves you with a lot of scars from the initial break out phase so these two have definitely been helping!
When I finish my treatment, I'll be using my Oskia Bedtime Beauty Boost once more (as I can't now due to it having vitamin A as a prominent ingredient). It's an ultra lush cream – honestly, when I first got it I referred to it as my 'marshmallow moisturiser' due to it's texture – that leaves skin looking so plump and smooth the next day! I'll probably review this one again once I start using it once more.
Finally, a bit of a cult (in the blogger world, at least), the Oskia Renaissance Mask is something I wanted to try for absolutely ages and I'm oh so glad I have now. It's an acid based mask, so it uses fruit and lactic acid to slough away any dead skin cells and exfoliates the skins surface underneath so it's super radiant and bright! I use this once or twice a week and it leaves my skin absolutely glowing every time – 100% worth picking up if you suffer from dull skin!
Have you tried Oskia Skincare before?
Helen x
Check out these amazing blogs: Kerry etc and Adventures of an Anglophile.