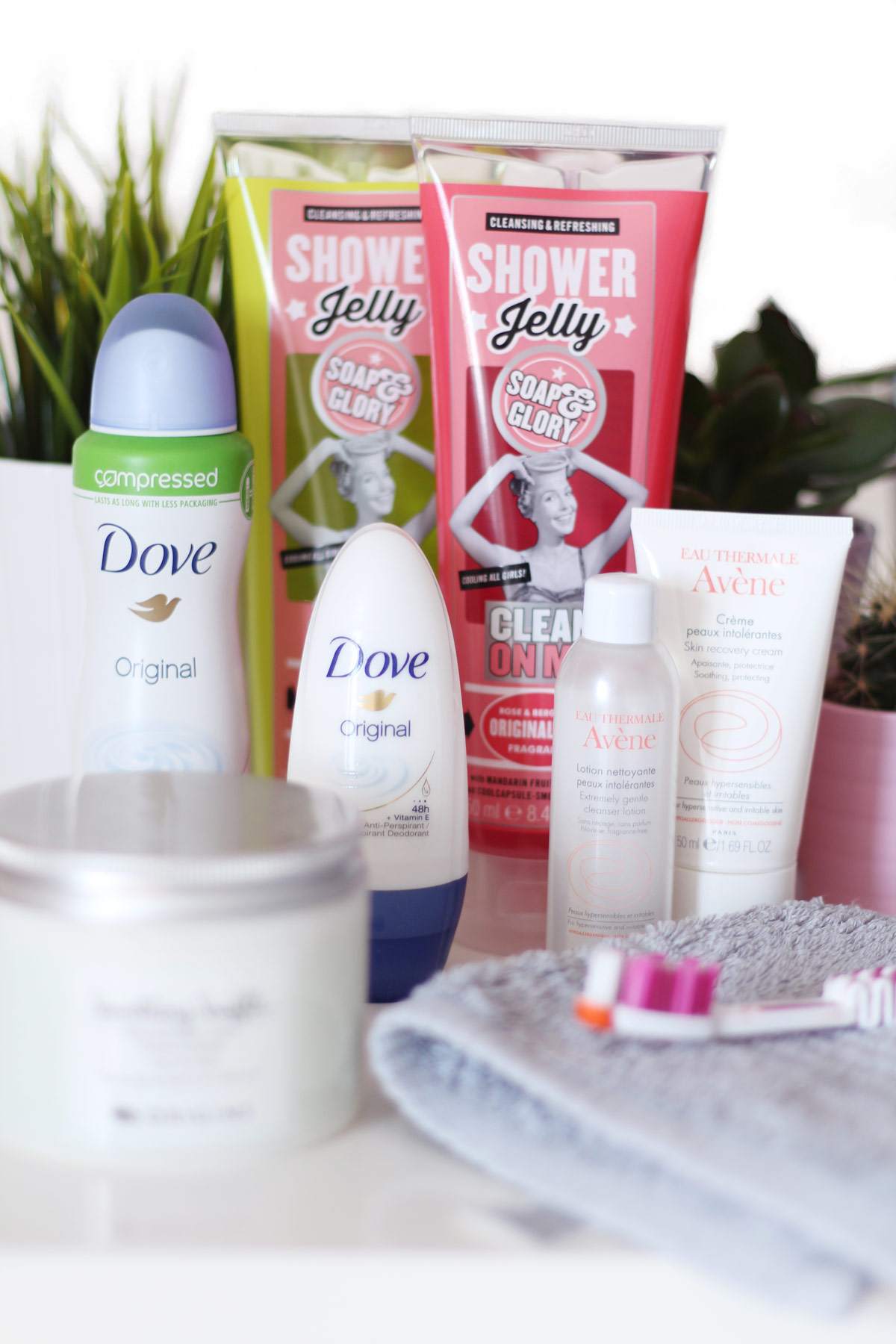 Since the weather has started to pick up a little (and by that I mean it's been sunny for an hour or two, between the rain and the snow up North), I thought I'd go through my current morning beauty routine! I do tend to switch things up and change products a lot, but these few above have stuck with me recently so it's time they got their own space.
First Thing | I go in the shower every single morning or else I literally can't function – anyone else like that? If I don't, I feel like a total slob all day, even if I know I'm having one later. My routine differs depending on if I'm washing my hair (once a week, thanks Roaccutane), but if I'm not then I always lightly use those exfoliating gloves and a big dollop of the new Soap & Glory Shower Jelly. I have two scents that I go between, the original pink Clean on Me Shower Jelly and the deliciously lime scented Sugar Crush Shower Jelly and they both work well to cleanse skin and you can still smell it (very lightly) afterwards too.
Afterwards | I don't wash my face in the shower, as I tend to have the water super hot (sorry skin) so I wash it in the sink afterwards. For this I've been going super gentle with the Avene Extremely Gentle Cleansing Lotion which is perfect for refreshing skin on the morning! I remove this with a face cloth – totally recommend the M&S Egyptian Cotton ones, so soft – and pat it dry with a towel.
To keep the fresh feeling all day, I'll either use a spray or roll on deodorant/antiperspirant. I've been opting for the Dove Original 48-hr Anti-Perspirant Roll On or the Dove Original Compressed Anti-Perspirant Spray and, whether I'm out all day, doing the housework or on my laptop, I know I don't have to worry about feeling gross (haha). I'm really particular with these types of products with my skin being so sensitive right now, but the Dove ones have vitamin E and 1/4 moisturising cream so they suit me perfectly!
Moisture Boost | Aside from the Dove deodorant giving me a helping hand in the moisture department, I literally slather myself in creams and oils every day to keep dry skin at bay. On my face, I use a hydrating toner, then a few drops of oil mixed into the Avene Skin Recovery Cream. It's very gentle, but ultra moisturising so it helps my skin feel normal all day long – even under makeup! On my body, I've been going for more heavy moisturisers such as the Origins Smoothing Souffle Whipped Body Cream. It's so luxurious feeling and has a gorgeous vanilla scent – I love it!
Helen x
Check out these two amazing blogs: Oh Kalu Kalay and Mrs James Recommends!