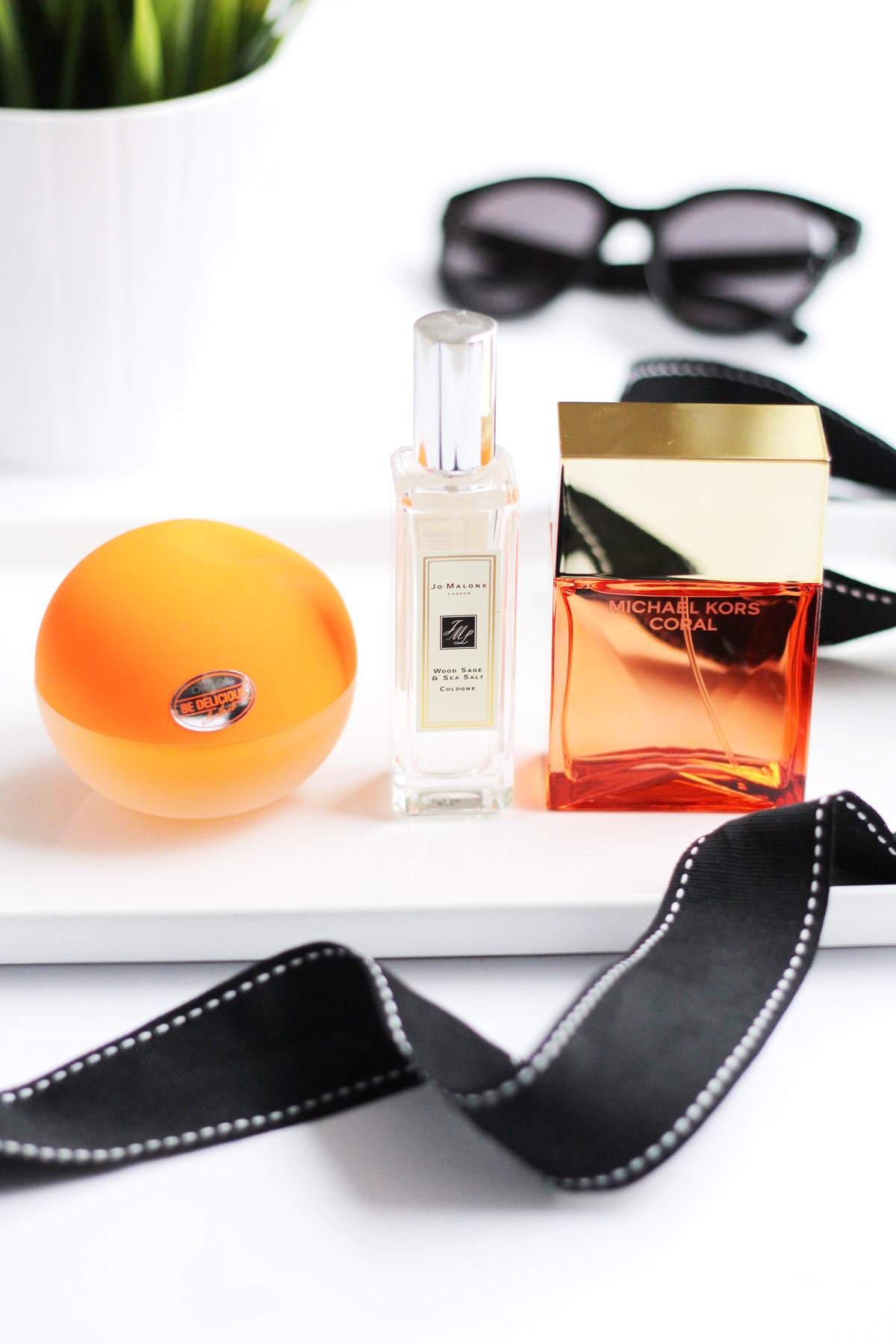 Spring Perfume: I'll admit it's not often that I switch up my perfume – even though I really should with each season – but, recently, I've adopted some new, fresh scents into my collection so thought it was about time. I tend to go for very dark (maybe? I dunno) scents with amber, oud or something more woody as a base note such as Tom Ford Velvet Orchid ( I also love his Tobacco Vanille) or Jo Malone Red Rose and Oud so these are definitely the opposite! Hello Spring…
Starting from the left, DKNY Be Delicious Electric Citrus Pulse has been a welcome new scent as it's just so fresh! I remember getting the first DNKY Be Delicious perfume when I was a teen and loved the apple fragrance, but they've taken it to a whole different level with their new ranges. I really love citrus scents and this one has mandarin and passionfruit as its top notes, jasmine and plum as it's heart notes and settles down to musk and sandalwood. It's a truly lovely fragrance!
Next is a perfume which was brought out last year and everyone adored – Jo Malone Wood Sage and Sea Salt. I, too, jumped on the bandwagon with this one as I can't resist a Jo Malone scent. It really does smell like the seaside – fresh air and a salty breeze – but with something deeper to make it more of a unique scent. It's definitely one you have to try next time you're near a counter or store.
Finally, back to the orange tones, Michael Kors Coral is one of the latest fragrances in his perfume line. I've already tried a few previously, but this one is the perfect Summery edition to any collection. It has a blend of grapefruit and raspberry which blends down into sandalwood, making it fresh and slightly floral on the first spray but it ends up being quite an exotic smelling perfume when left on the skin.
What's your favourite scent for Spring?
Helen x
Check out these amazing blogs: Kerry etc and Adventures of an Anglophile.