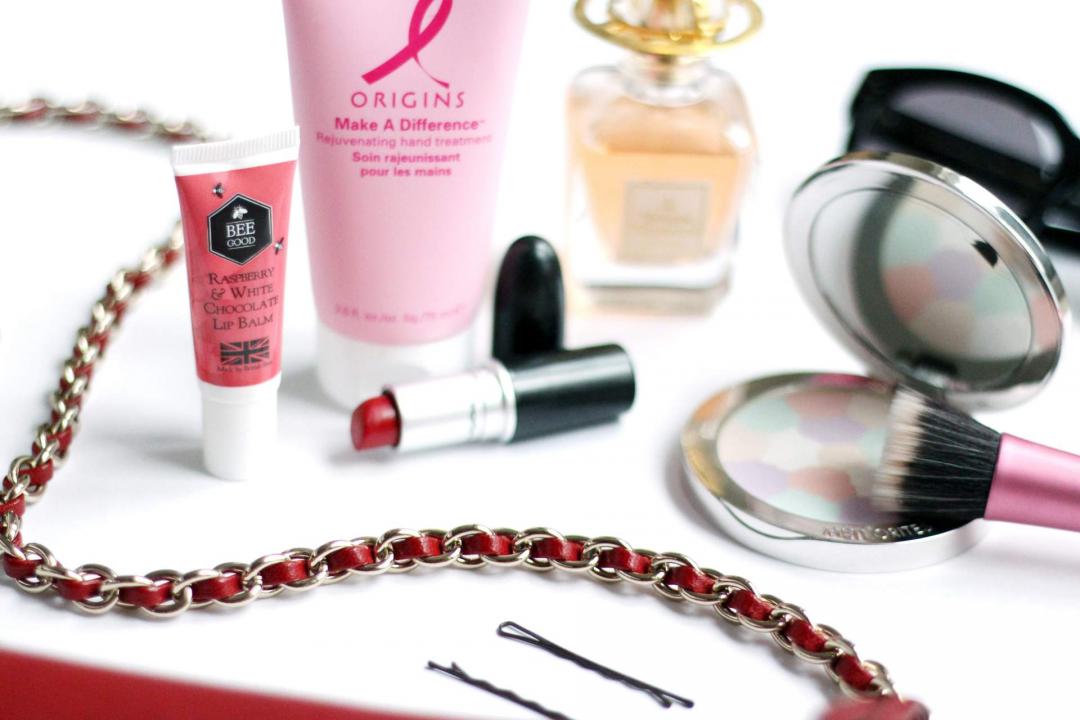 I'm one of those people who has a million things in my handbag. You know when you come to swap bags and you're like 'what the eff is even in here?!' – that's me. Some weird handbag hoarder. There's always a few staples I keep in there, however, so that's what I'm gonna chat about today, is that ok? Ok.
I have a thing for handcream and lip balms and go through phases of obsessively using them. The Origins Make A Difference Hand Cream is a good'un though, especially as it's helping raise awareness of Breast Cancer this month (and therefore is pink) plus they're donating £5 from every tube sold to the Breast Cancer Research Foundation. It's a two for one deal really, you get a wonderfully moisturising hand cream and you're helping a good cause – what's not to love?
The BeeGood Raspberry and White Chocolate Lip Balm has been in my bag, on my bedside table, on my desk… I adore it! Remember those pink mice? It smells exactly like those, very sweet but absolutely delicious and one I look forward to applying. It's nourishing and hydrating, definitely one to pick up!
A red lipstick is always a staple for me and I pretty much never leave my house without one. MAC Lipstick in Red has been my favourite go-to rouge hue for a while now, so much so that I have about three of them, and it always finds its way into my bag. It's the perfect red with a slight pink undertone – super flattering and super easy to throw on!
As someone with combination skin, it's imperative that a powder comes with me at all time. Most foundations last around 4-5 hours before I get a lil' shiny, so it's good to have a powder to top up with! The Guerlain Meteorites Compact is a lovely option, as it takes away any signs of looking a bit greasy (eugh) and gives skin a beautiful airbrushed radiance! Totally worthy of its cult status.
My perfume varies on a day to day basis as I just grab anything that's on my dresser (or the choice of two on my desk at work). One I've had in my collection for years and will always buy is Vivienne Westwood Boudoir, as it's the most gorgeous heavy and warm scent. You can easily wear it during the day though, but it's a perfume I absolutely adore and will repurchase over and over again!
What do you always keep in your bag?
Have you entered my new giveaway to win a 6 month Glossybox subscription?
Helen x