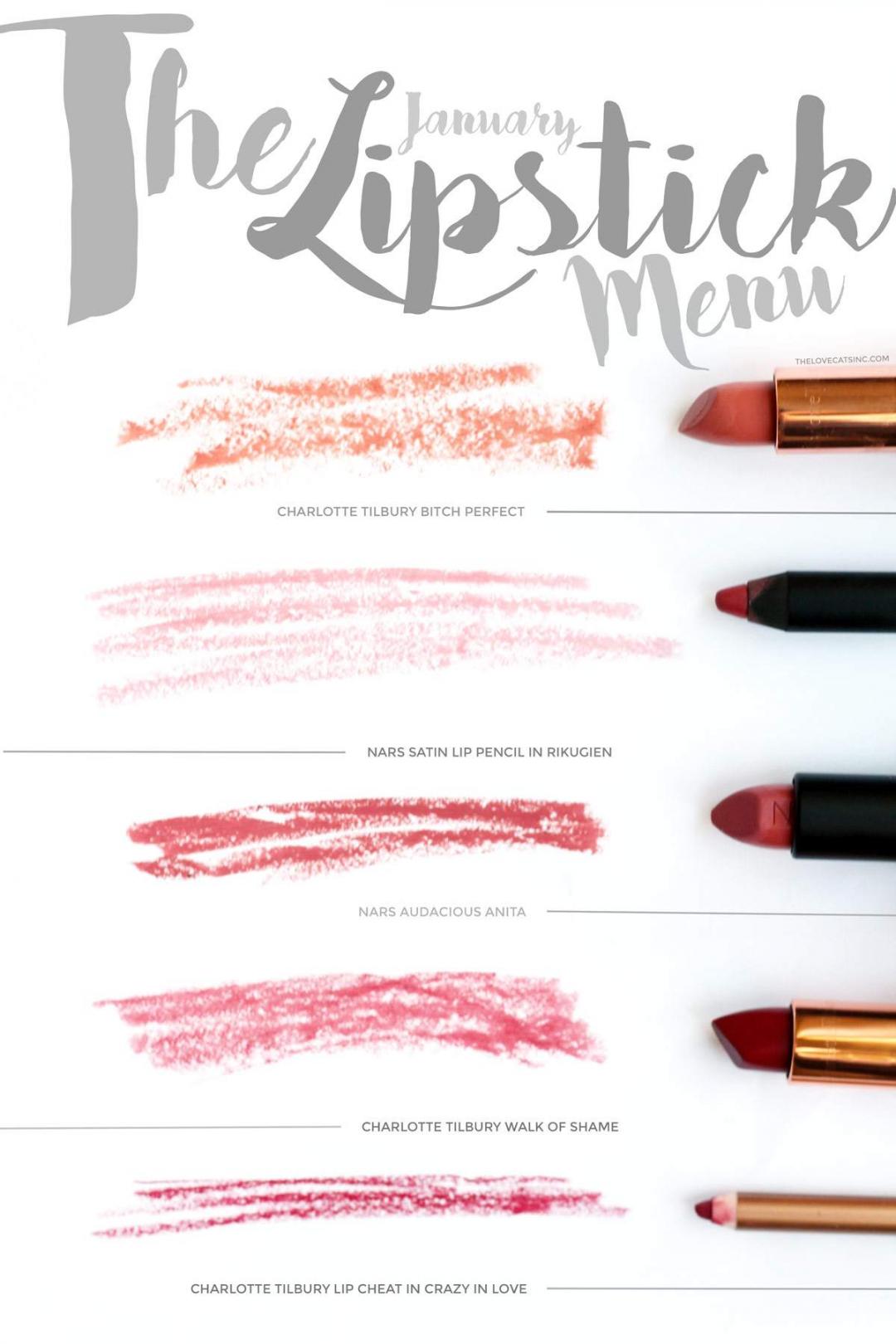 A new year has to equal new lipstick, right? Or five, in this case. I've got a thing for nude and raspberry tones at the moment, so the above picks were pretty much a given! Let's go through my picks then, shall we…
First is the (now) cult Charlotte Tilbury Lipstick in Bitch Perfect, which is indeed a perfect hue. It's got a great mix of peach, pink and nude to give you a super pretty pout! The formula is fantastic too, as it's pigmented and not drying so it hangs around for a good few hours before needing a top up.
NARS are always pretty high on my love list, so the NARS Satin Lip Pencil in Rikugien is a great choice for a simple every day lip. It's a pretty, slightly blue toned lip which has a more dusty effect when applied so it's not too sugary pink! The satin finish is creamy and comfortable to wear too.
Again, another NARS as I can't seem to buy one at a time… The NARS Audacious Lipsticks are some of my favourites as the pigmentation is fantastic! This time I picked the shade 'Anita' which is a rosy-nude tone which is flattering on and ideal to throw in your bag for chic lip option.
Yup, another CT lippie, but the Charlotte Tilbury Lipstick in Walk of Shame is definitely one of my favourites. It's from the matte revolution range, so stays around for hours, and offers a mid-tone raspberry pink shade which will look pretty from now until next Winter.
Finally, we have a lip pencil as they're often my favourites to wear by themselves due to how long lasting they are. The Charlotte Tilbury Lip Cheat in Crazy in Love is perfect alone or under her Love Liberty lipstick, as it's such a beautiful bold pink tone!
What lipsticks are you loving this month?
Helen x
ps. check out this lovely blog: Carly Wynn and Madame Ostrich!