All items were a provided by the brand, but I was under no obligation to post this article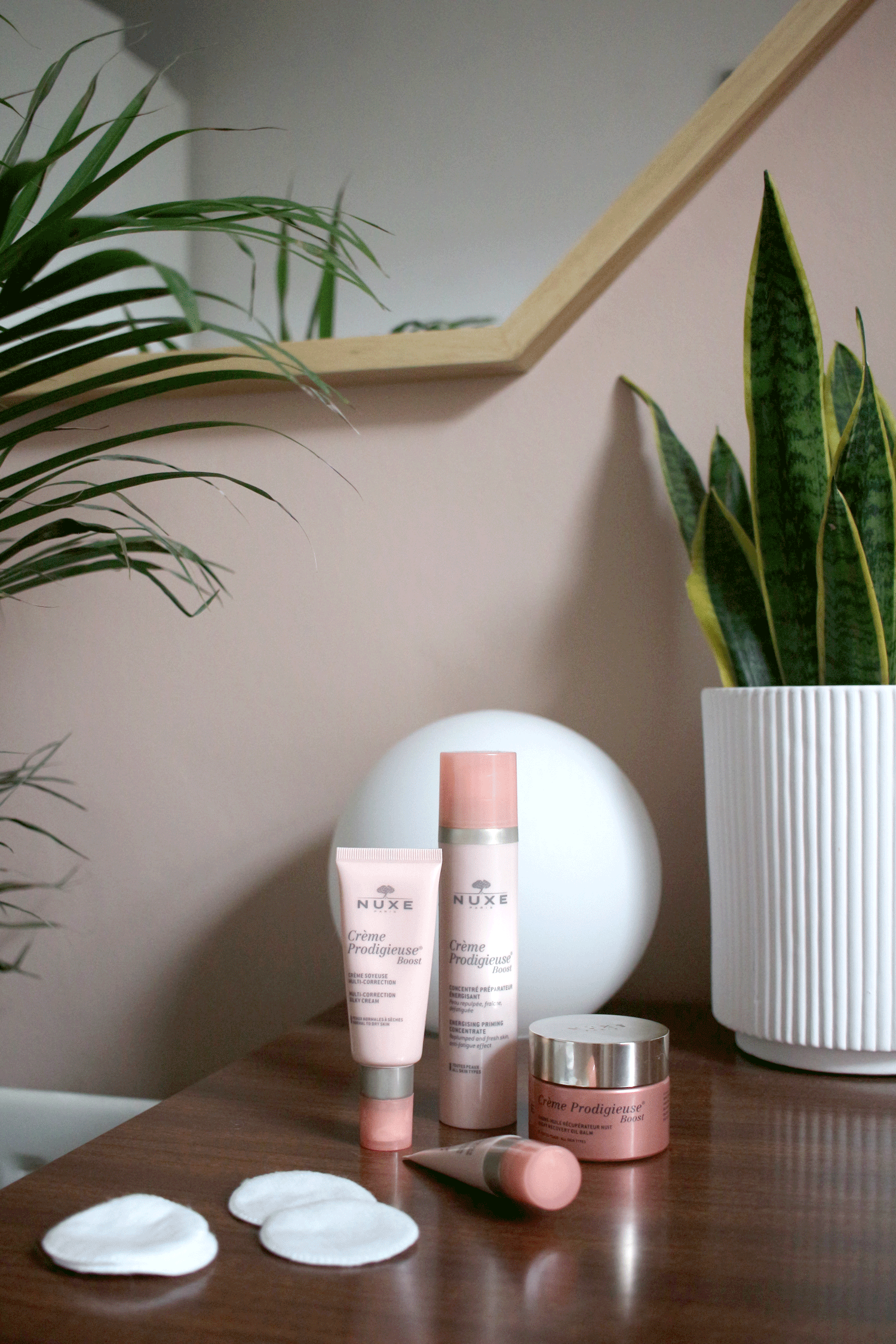 I've mentioned Nuxe a bunch of times throughout the beauty section of this blog, from their cult multi-use oil to other skincare ranges that I've trialled, but the Nuxe Crème Prodigieuse Boost range is the latest one on my bedside table. They kindly send over these products for me to try and I decided precisely one month ago that I would test them every day for a week to review them on Instagram... but carried on using them as I loved them so much!
So, I thought I would review 4 of the 5 products in the range. They do have a gel version of the moisturiser here, however as my skin has been on the dry side recently so I've only been testing the cream. If you have normal-oily skin, they do have that option for you so I thought it was worth noting!
Onto the reviews...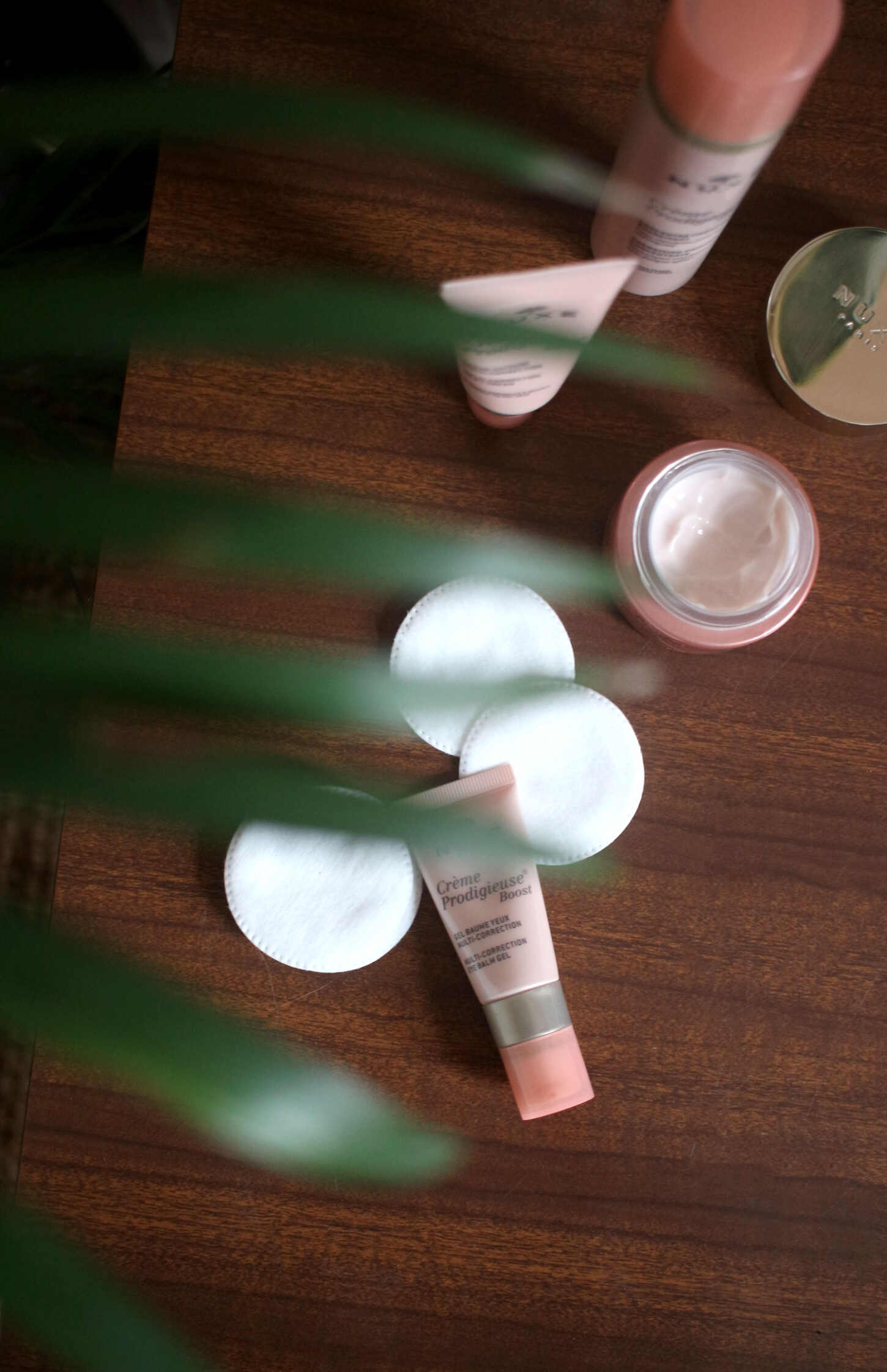 A bit of background on the range before I get into the actual products. The Nuxe Crème Prodigieuse Boost range is designed to brighten and 'boost' skin, especially a complexion that is often used to stress, tiredness, pollution etc. It aims to combat these negative effects by using their key ingredient, Jasmine flower, to balance the skin and boost its natural mechanisms.
One thing I will say is that they smell absolutely divine. They have a beautiful warm, musky scent that is comforting but uplifting at the same time. I'm weirdly addicted to it!
Nuxe Crème Prodigieuse Boost Energising Priming Concentrate
Available here | This has a lotion-serum texture which is very light on the skin and doesn't make it feel sticky or tacky. It's great to use as a base before moisturiser, as it adds an extra layer of moisture and makes your skin look instantly brighter. I like this step, as you can apply it with hands rather than using a cotton pad like most toners (which is what I use it has).
Nuxe Crème Prodigieuse Boost Multi Correction Eye Balm Gel
Available here | I've used a lot of eye creams over the years and very few make a difference to my dark circles. I would say over the month I've used this, I would say it has made the skin around my eyes look brighter but it hasn't got rid of my dark circles all together (I doubt anything would). It has made my eye area very soft and it hydrates well. The pump disperses the perfect amount of product, too.
Nuxe Crème Prodigieuse Boost Multi Correction Silky Cream
Available here | This is the moisturiser I've been using every morning after the priming concentrate and I do really enjoy applying it. It's a mid-weight cream (if that makes any sense) and sinks into the skin nicely without leaving a greasy feeling behind. It also works well with makeup onto and hydrates my skin perfectly! I will definitely use this until it runs out.
Nuxe Crème Prodigieuse Boost Night Recovery Oil Balm
Available here | This is definitely my favourite product of the collection as I love me a good night cream. It's quite a thick cream, but it feels so luxurious on the skin and it's almost therapeutic applying it. It sinks in well and leaves the skin looking plump and smooth by the morning. I seriously love this product and often apply it during the day when I'm in the house or when my skin is particularly dry. I'm obsessed!