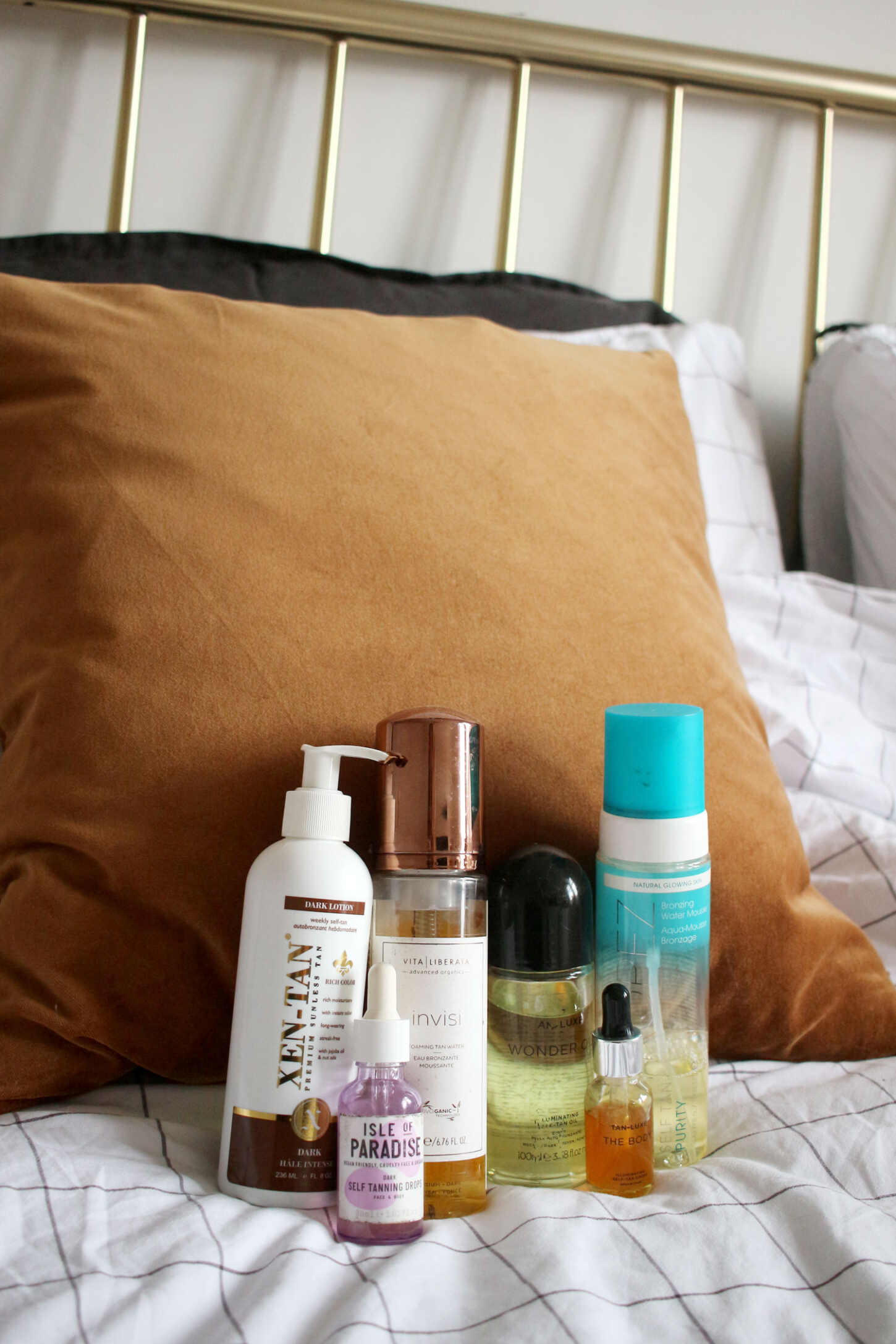 The Tan Trials - Testing fake tan over £20
Welcome to the Tan Trials. I took it upon myself - for no other reason than general interest - to see which false tans on the market are actually worth their price tan. Let's face it, some of these are rather expensive and, as the cheapest one I've tested was around £4 on offer, it's interesting to see how the top dollah tans compare. I didn't used to wear tan, but recently I've become more and more obsessed with it as it makes me feel (and hopefully look) healthier and like I actually have some life in me, which is direct contrast to my usually ghostly pallor. With the over £20 category, I tried to use one from the majority of the major brands, so we have - St Tropez, Isle of Paradise (it's 1p under £20 but let me have it), Vita Liberata, Tan Luxe and Xen Tan.
My Base Testing Rules
I stuck to the following when using each tan to keep it as fair as possible: 1) I exfoliated prior to use 2) I used the same mitt when required (it was a Cocoa Brown one from Primark) 3) I exfoliated lightly on day 3 and did not apply any body moisturiser to see how it would naturally fade.
Tan Luxe Wonder Oil
Price: £45 for 100ml
Available from: Cult Beauty, Space NK and Beauty Bay
Colour: Medium Dark, they also do a Light Medium
Good for: Those who want a fast tan.
Thoughts: I was sceptical of this tan due to the cost, but it really impressed me from first use. The instructions are vague as it just states to 'roll in circular motions' but if you did that all over your body, you would use so much product! I applied around 4 stripes per limb (8 per leg) and blended everything in with my hands. This used about 1/12 of the bottle. With it being an oil, it's very nourishing and smells like berries when first applied (though that does turn into biscuit within an hour).
Development Time: 2-4hrs and it's a dark tan.
How Long Did It Last?: I would say around 6-7 days, but I would lightly exfoliate after 3-4 days.
Tips: Make sure you wash your hands thoroughly! Oh and wash the bottle, as you can see the text comes off if you're repeatedly picking up the bottle with oily hands as you're applying it. They should really improve this, given how expensive it is, the packaging is a bit sub-par.
Rating: 9/10 (a good 8/10 on the biscuit-smell scale, Phil told me to stay away from him haha)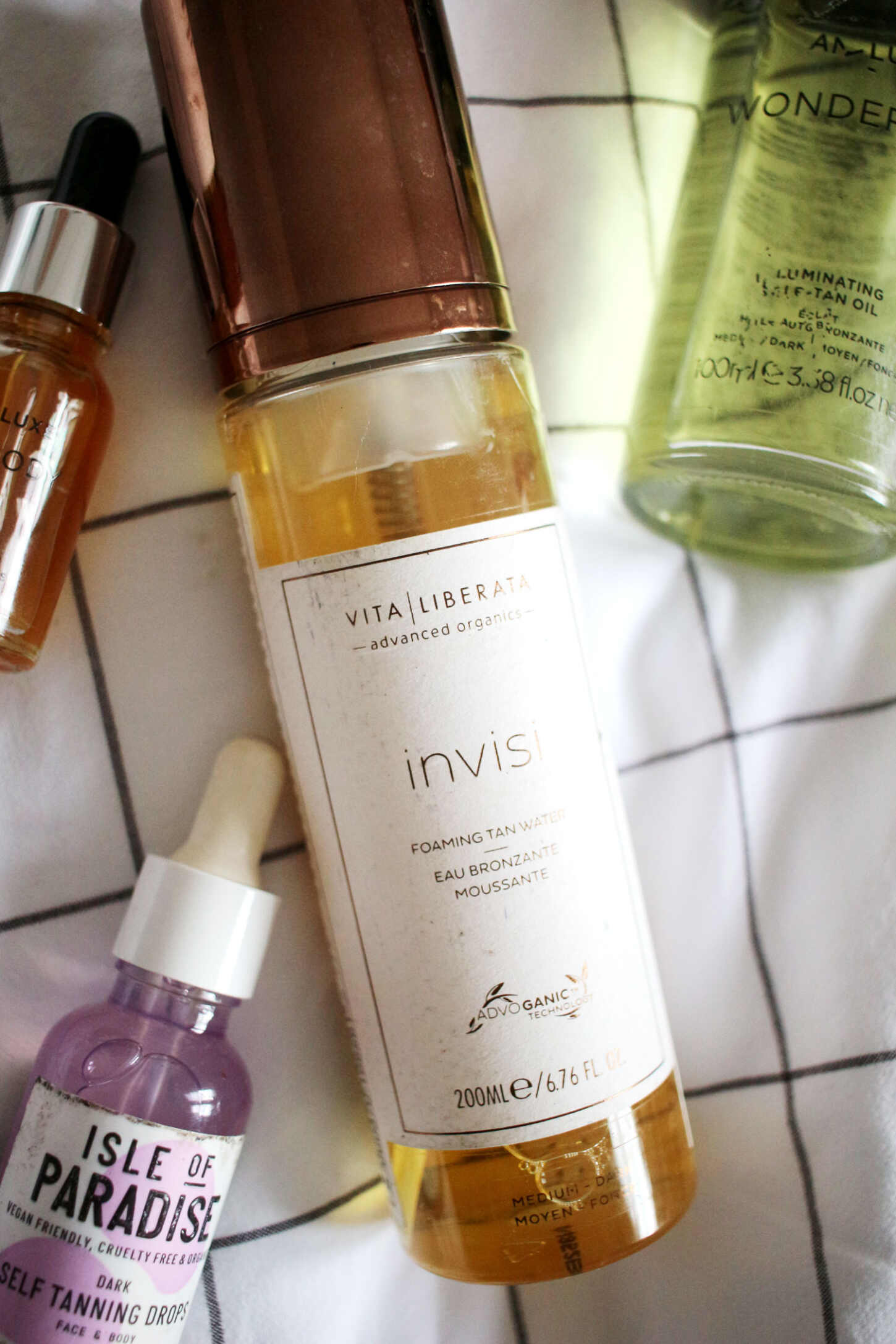 Vita Liberata Invisi Foaming Tan Water
Price: £25-£30 for 200ml depending on the store, I got mine on offer
Available from: Cult Beauty, Boots
Colour: Med-Dark, but they also do a Light-Med and Super Dark. I think it's a Medium tan.
Good for: Those who want a mostly-organic tan, I guess.
Thoughts: First of all, the item arrived scruffy which is more Boots' fault than the brand itself. It also looked 1/6 empty, but not sure if this is just how much they give you. Anyway, this tan didn't really impress me if I'm honest. First of all, it stinks. I'm used to tan smells, but the scent when first applied smells almost like curry, like the scent of spices. It's not a smell I hate, but I prefer it from my food rather than my tan. It applies easily, but you do use a lot like other foaming tans as you need around 3 pumps per limb (6 per leg). Even though I had already exfoliated, I found it clung to areas and went patchy on my legs, feet and arms (where tan usually applies fine). Overall, it's just a very average tan that I wouldn't rush to use again.
Development Time: 4-8hrs, but I left it overnight.
How Long Did It Last?: It lasted about 4 days on my, not the week advertised. Went more and more patchy over that time.
Tips: I don't think it's as fast drying as it claims, so I wouldn't wear anything tight straight away.
Rating: 4/10 (but a 9/10 on the biscuit-smell scale, it stinks)
St Tropez Self-Tan Purity Bronzing Mousse
Price: £31 for 200ml, but you can usually get it on offer between £21-25
Available from: Look Fantastic, Boots and Feel Unique
Colour: It says Medium/Golden, but I think it's Light-Medium
Good for: Those who want a sunkissed look, but not a full-on tan
Thoughts: I don't mind this tan, but it's not a tan for those who want to look like they've been on holiday. I feel like you use quite a lot of each time you apply and I would apply it two days running to get the colour I prefer. I find using 3 pumps per limb (6 per leg) is best. I personally struggle to get the colour to stay on my shins too. It's got a silky texture, a light scent at first, but the colour is very pale and takes ages to develop. Perfect if you apply it overnight (it does transfer slightly to white bed sheets) and don't want a dark tan.
Development Time: 8hrs+
How Long Did It Last?: Not long, really. I think it fades a bit as soon as you have your next shower. I get about 3 days out of it before needing to apply again so the bottle wouldn't last long.
Tips: Use a mitt, it's easy to apply though
Rating: 6/10 (5/10 on the biscuit-smell scale)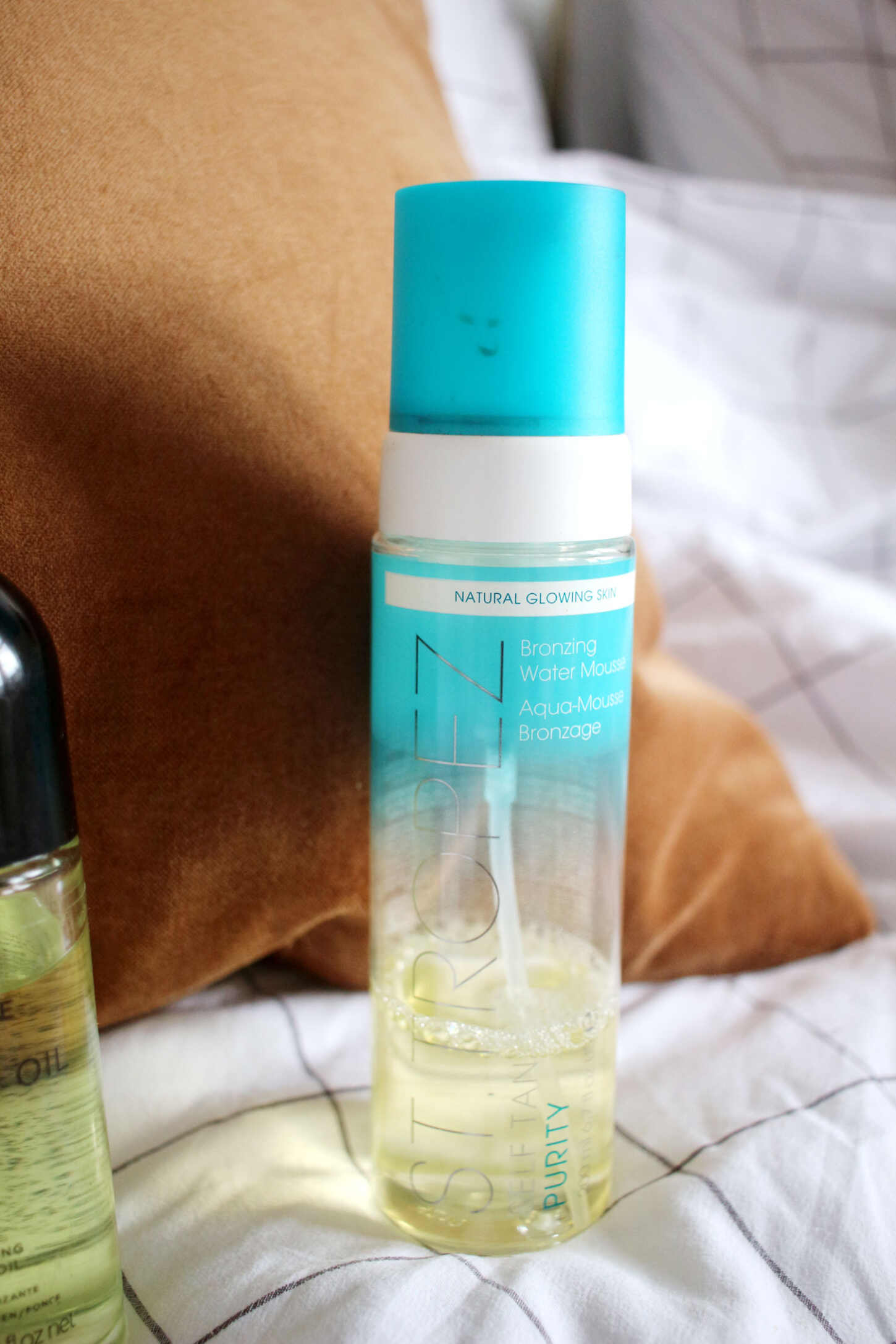 Tan Luxe The Body Tanning Drops
Price: £18 for 15ml or £42 for 50ml
Available from: 15ml (Travel Size) - Cult Beauty and Beauty Bay, 50ml - Cult Beauty, Space NK and Feel Unique
Colour: Light Medium or Medium Dark, I tried the latter
Good for: Those who want a customisable tan
Thoughts: I tried a small 15ml bottle of this tan and I do think it's a great idea. You essentially mix 2-6 drops in to your normal body moisturiser, cream or oil then apply with hands as normal. I tried 4 drops per limb (8 per leg) with the Kiehl's body moisturiser and it worked well. I didn't have any streaks and the colour was a Medium. I would try it with the full 6 drops next time, though that means I would use quite a lot of product.
Development Time: around 6hrs
How Long Did It Last?: About 5 days on me
Tips: Wash your hands very thoroughly
Rating: 7/10 (5/10 on the biscuit-smell scale)
Xen Tan Dark Lotion
Price: £28.99-£39.99 depending on retailer, though the packaging has changed since I got this one a while back
Available from: Zest Beauty or Feel Unique
Colour: Dark and I would say it's Medium-Dark, but I didn't use loads of it so it's definitely one of the darker tans on the market.
Good for: Those who like a fast and quite dark tan,
Thoughts: I remember people talking about this tan years ago and it's been sitting in my drawer for about a year waiting to be tested. It has a sweet - almost vanilla - scent on application which isn't bad, but it's definitely present. It seems to have a lot of red in the tan itself which ends up pulling more olive-toned on the skin, which is what you want rather than it being orange. It's easy to apply and to blend in. I have some small white patches on my elbows and one cm square on my back that I obviously couldn't reach properly, but the rest of the tan is even and smooth.
Development Time: I would say it starts to show after about 2 hours, and fully developed in around 4-6.
How Long Did It Last?: Applied Monday and it had pretty much faded away by Friday, so 'weekly tan' it is not.
Tips: Make sure you go back over elbows, belly button and feet with the excess on the mitt.
Rating: 7/10 (4/10 on the biscuit-smell scale).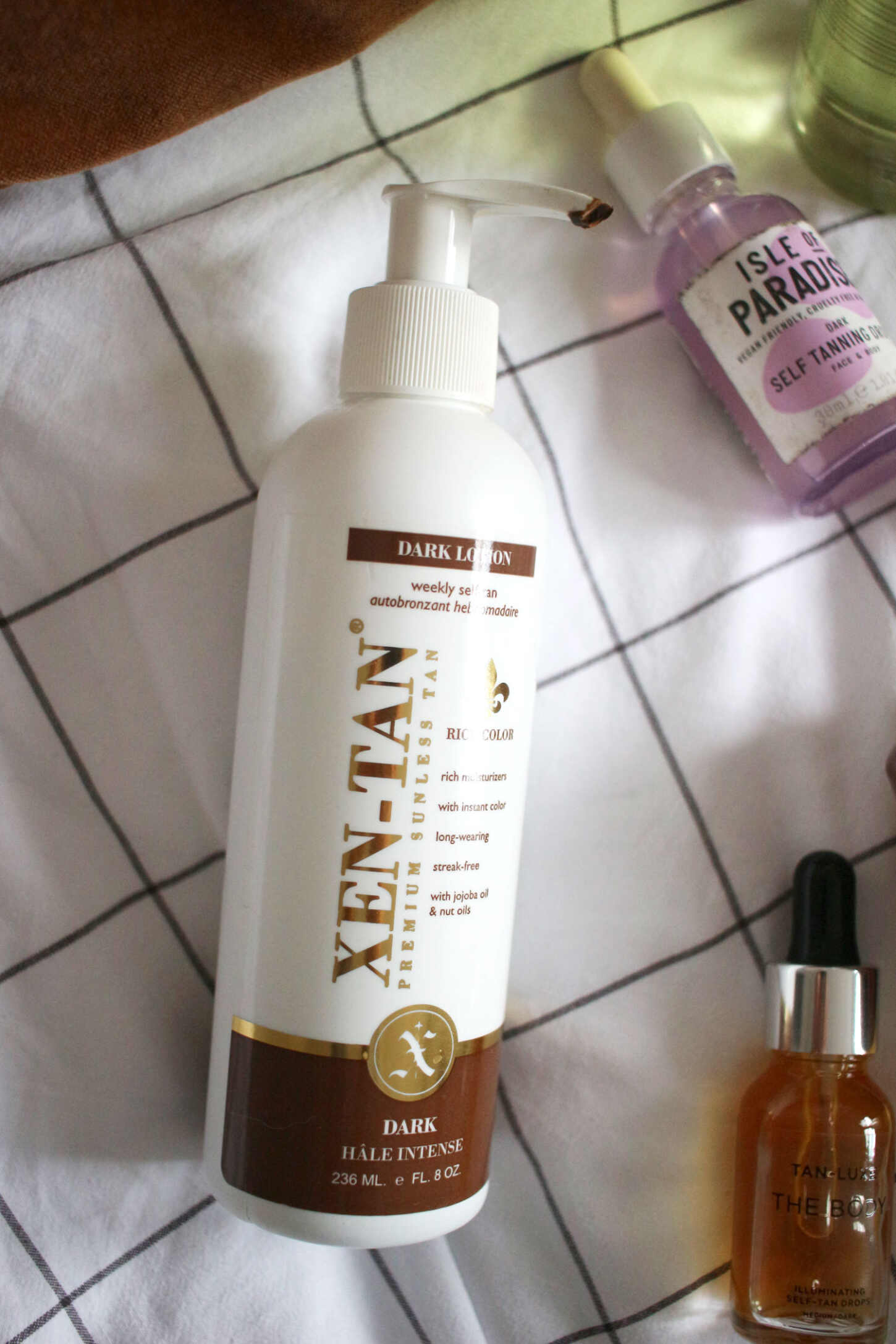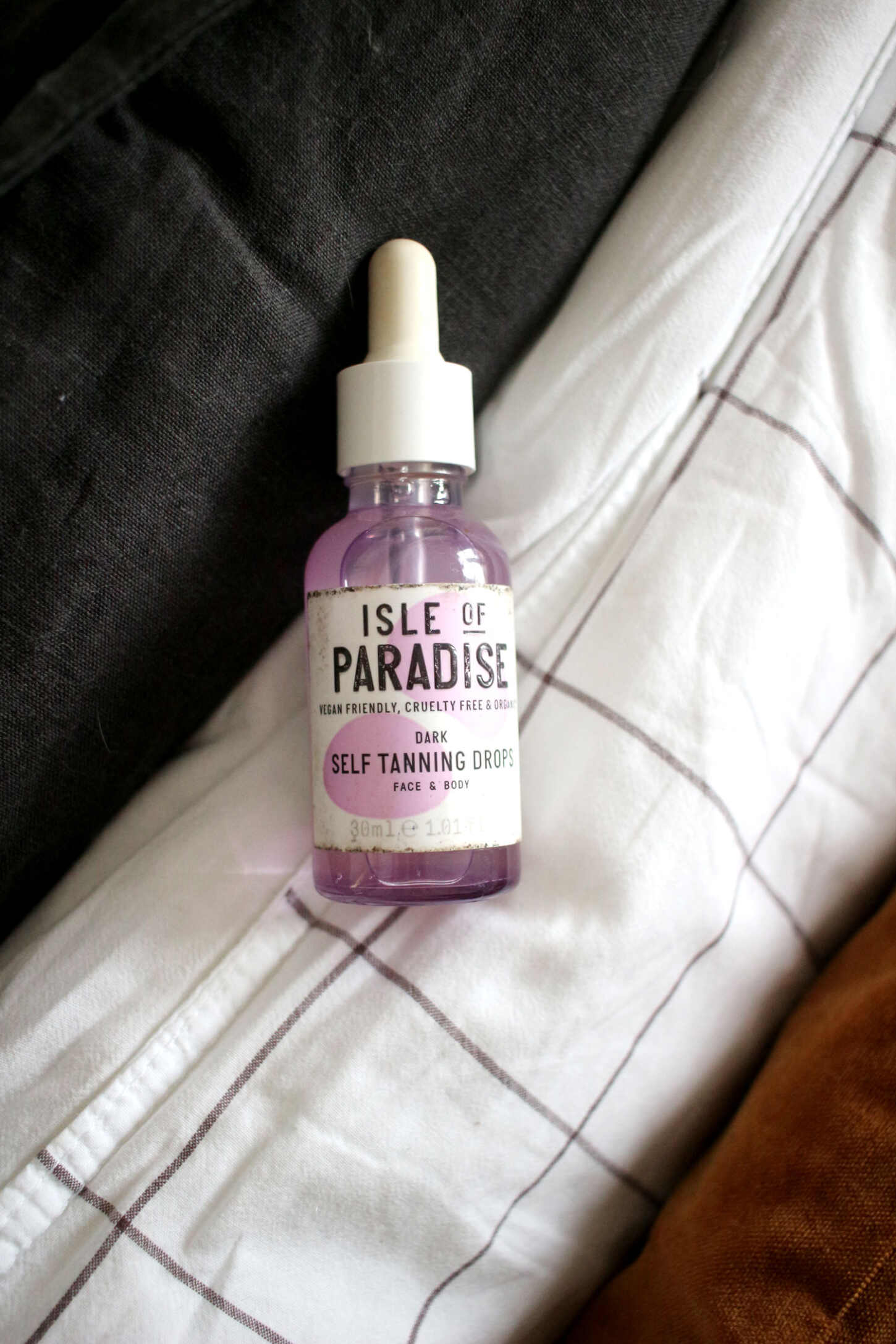 Isle of Paradise Self Tanning Drops
Price: £19.95 for 30ml (I'm including this in the £20 and over range because it's baaaasically £20 innit)
Available from: Cult Beauty, ASOS and Boots (though you may end up with filthy packaging like I did from them!)
Colour: Dark, though I think it's Medium at best. They also offer Light and Medium as options.
Good for: Those who want a customisable tan
Thoughts: I had to try Isle of Paradise as I've seen so many people talk about them since their launch. I'm relatively disappointed in the drops however, as I expected a dark tan as advertised and it didn't really live up to that. The directions say to apply between 2-12 drops, so I opted for 4 per limb (8 per leg) with a small amount of moisturiser. It gave me a Light-medium tan on my arms and torso and barely left any colour on my legs. So, the next day, I went back over my legs with the a full pipette of drops (about 10) and it gave me a medium tan. To its credit, it didn't go patchy (apart from around where my bra sits) and the colour is natural, but 'Dark' it is certainly not. I also feel like you would use a lot of product trying to get a darker tan.
Development Time: It doesn't say on the packaging, but I think it's around 6-8hrs.
How Long Did It Last?: 5-6 days on me, legs faded slower due to re-application.
Tips: Use more drops than you think you need.
Rating: 5/10 given how much of the product you need to use (3/10 on the biscuit-smell scale, it really doesn't smell at all).
Conclusion
If you were going to opt for any of these tans and have the money to spend, I would say go for the Tan Luxe Wonder Oil or the Xen-Tan Dark Lotion if you can get your mitts on it. If you like a lighter tan that is really easy to use, maybe the St Tropez would be a good option for you.
I'm really disappointed by the Vita Liberata tan water and found the Isle of Paradise Drops to be a bit sub-par. I will finish using the latter, but I wouldn't repurchase.
I will be reviewing tans under £20 next time after I've finished using my final one, so do keep an eye out for that as they have honestly surprised me!