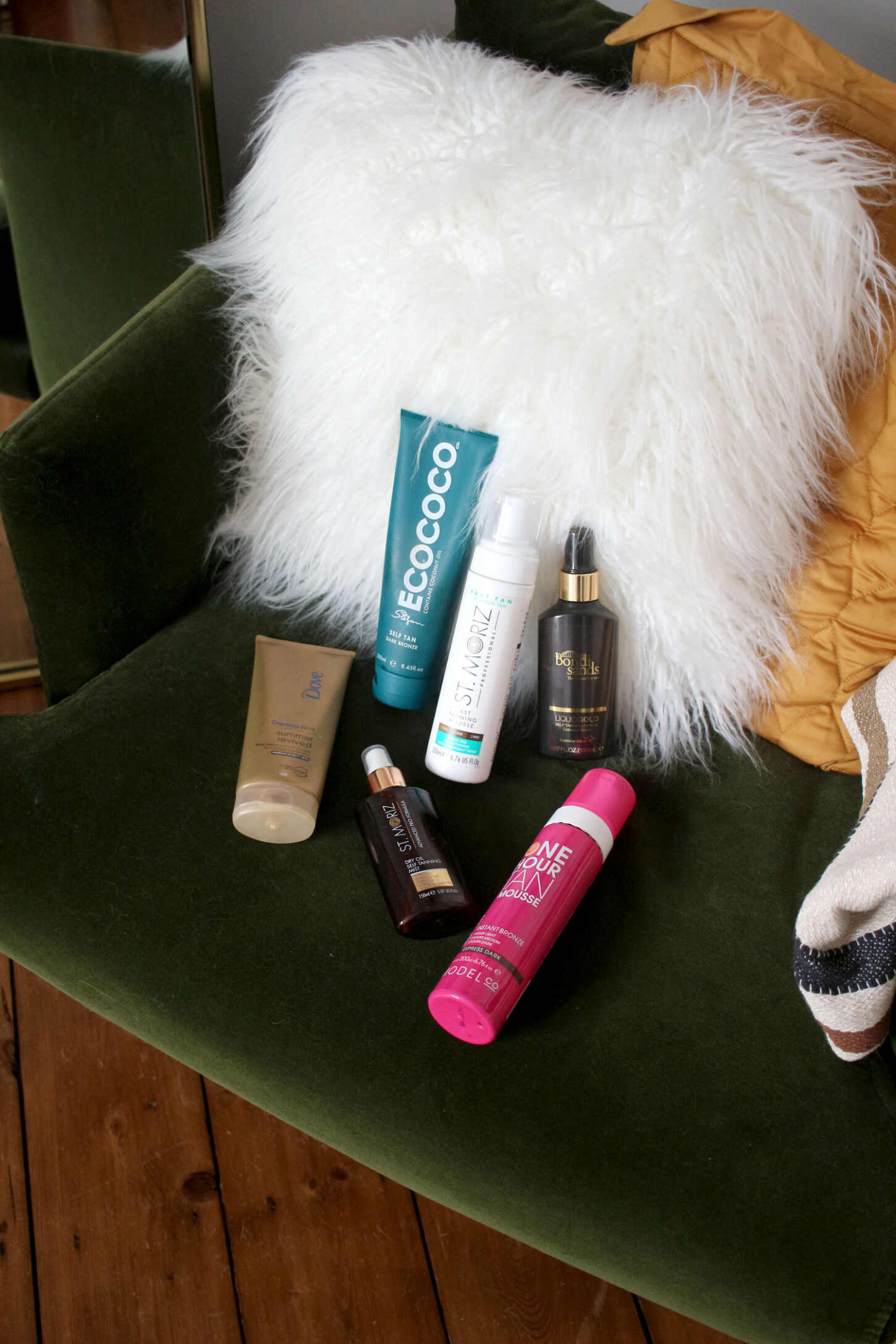 The Tan Trials - Testing fake tan under £20
Welcome to part two of the Tan Trials! You can find part one - the tans over £20 - here if you fancy a read, but today we're chatting about tans on the cheaper end of the market. I've intermittently used lower-cost tans (under £10) since I was a teenager and had mixed results - mostly because I was using the Palmers Cocoa Butter one and let's face it, it's rubbish and it stinks. So, I went pale for a long time until I discovered Bondi Sands a few years ago and I've been back on the tan hype ever since. I feel like cheaper fake tan has come a long way over the years and there's less of that orange, Trump-esque hue on the shelves.
So, let's see which ones I rate and which ones you can avoid like the plague.
Again, My Base Testing Rules
I stuck to the following when using each tan to keep it as fair as possible: 1) I exfoliated prior to use 2) I used the same mitt when required (it was a Cocoa Brown one from Primark) 3) I exfoliated lightly on day 3 and did not apply any body moisturiser to see how it would naturally fade.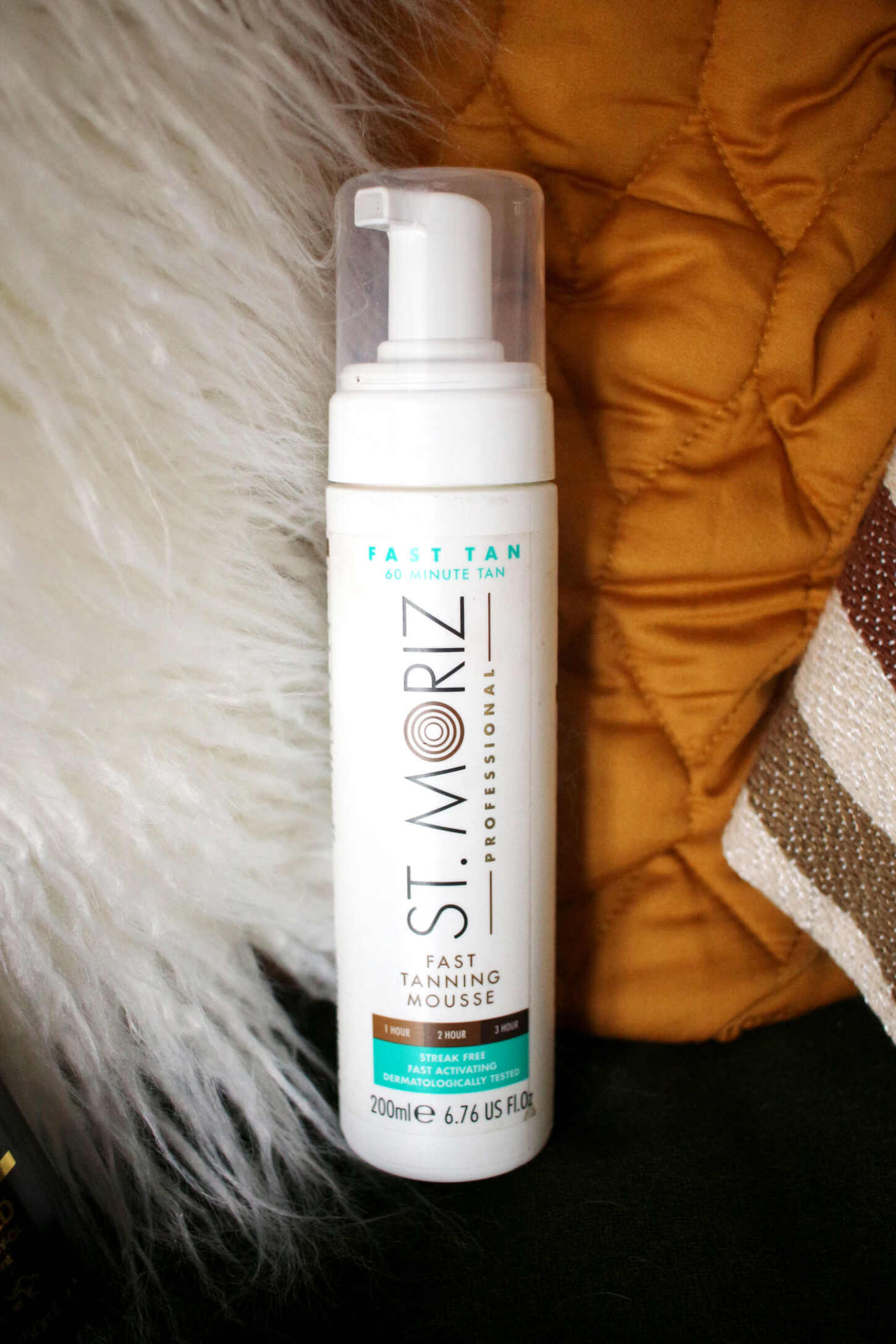 St Moriz Fast Self Tan Mousse
Price: £3.99-£5.99 for 200ml depending on store
Available from: Feel Unique, Boots, Fragrance Direct
Colour: It says it's a dark tan, but I think it's Medium. Phil said I looked 'really orange' so that's fun.
Good for: A quick developing tan.
Thoughts: This is a bit of a cult brand when you think of lower-end tans, so I had to try the mousse I've been seeing on the shelves for, well, years. When applied, this is a thick-ish coloured mousse and I would definitely avoid putting too much on at a time as it's a bit of a pain to blend if there's a lot on your skin. I went for 2 pumps per shin/arm, then 3 pumps for thighs/torso/back. It has an instant colour which you can use as a guide, and develops over a few hours.
Development Time: It has an instant glow, then about 3hrs for a deep Medium tan. However, you need to wash it off and you can kiss goodbye to that deep colour. It ends up being a light-medium tan, definitely not the 'Dark' tan promised.
How Long Did It Last?: Still testing!
Tips: Only apply a pump at a time, otherwise you'll hit other areas of your body and it could go blotchy. You will need to wash it off before sleeping on white sheets, or it will 100% stain.
Rating: 6/10 (5/10 on the biscuit-smell scale) but this may change depending on how long it lasts and how it fades over the next few days.
Dove DermaSpa Summer Revived Lotion
Price: £7.79, you can get it cheaper on offer
Available from: Boots
Colour: Med-Dark, they also do a Fair-Med.
Good for: Those who want easy application and a nice glow.
Thoughts: I was really, really surprised by how much I like this. It's honestly fantastic, especially for the price and for a gradual tanner as they can be a bit meh as a whole. It's very easy to apply as it's just a body moisturiser and feels nice on the skin. It smells so good, like a citrusy fruity scent, and the dry-down biscuity smell isn't too bad either. There were no streaks, no weird patches, but I did struggle to get it to stay on the top of my feet.
Development Time: It's a gradual tanner, so after one application you may notice a glow but not much definite colour. After applying 2 days in a row, it gave me a really lovely almost-medium tan.
How Long Did It Last?: I applied it 2 days in a row, skipped two days to test the colour, then applied on the 5th day. It lasts a good 3-4 days without needing to be topped up.
Tips: Apply on the backs of your hands with a mitt.
Rating: 9/10 ( it's a 4/10 on the biscuit-smell scale).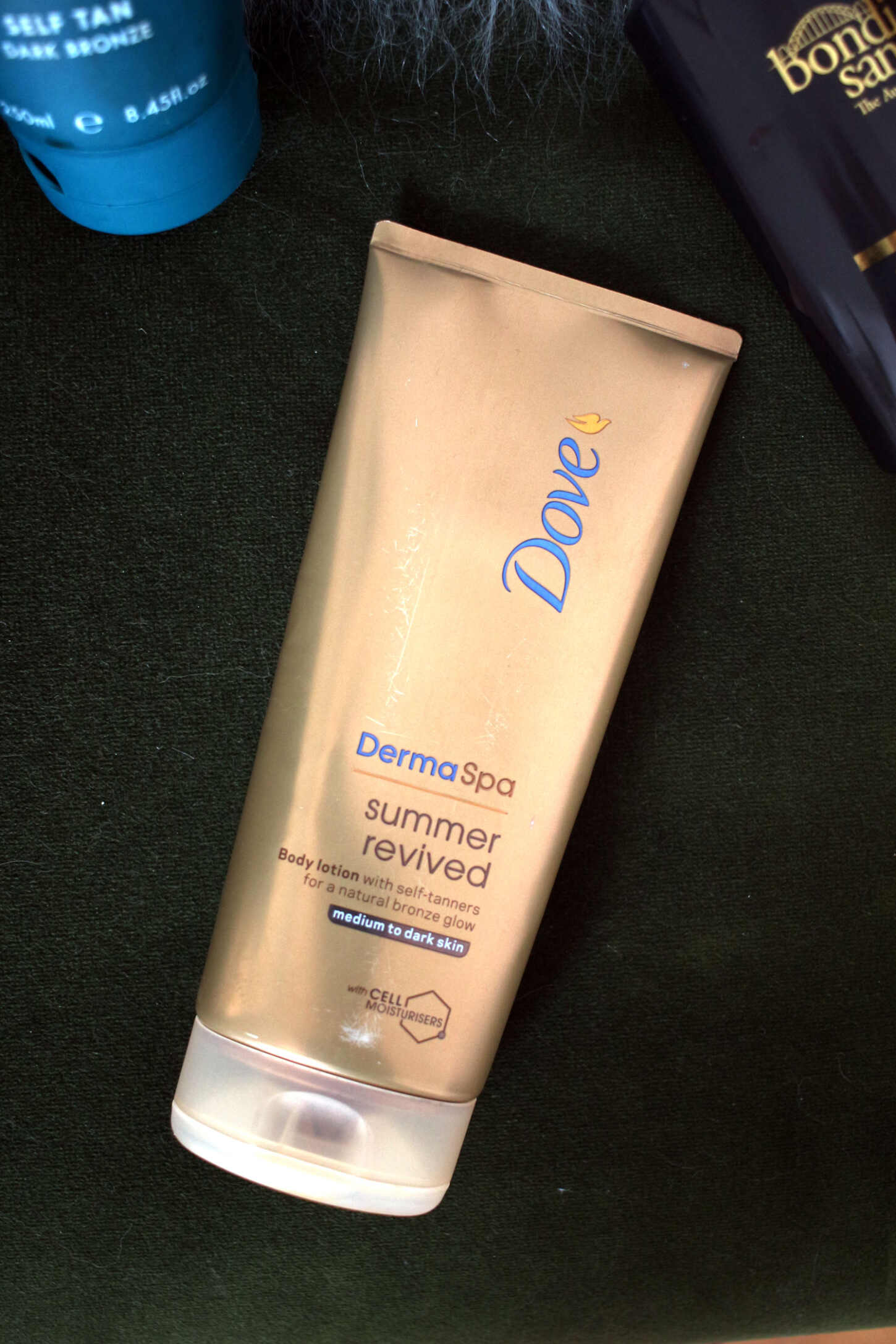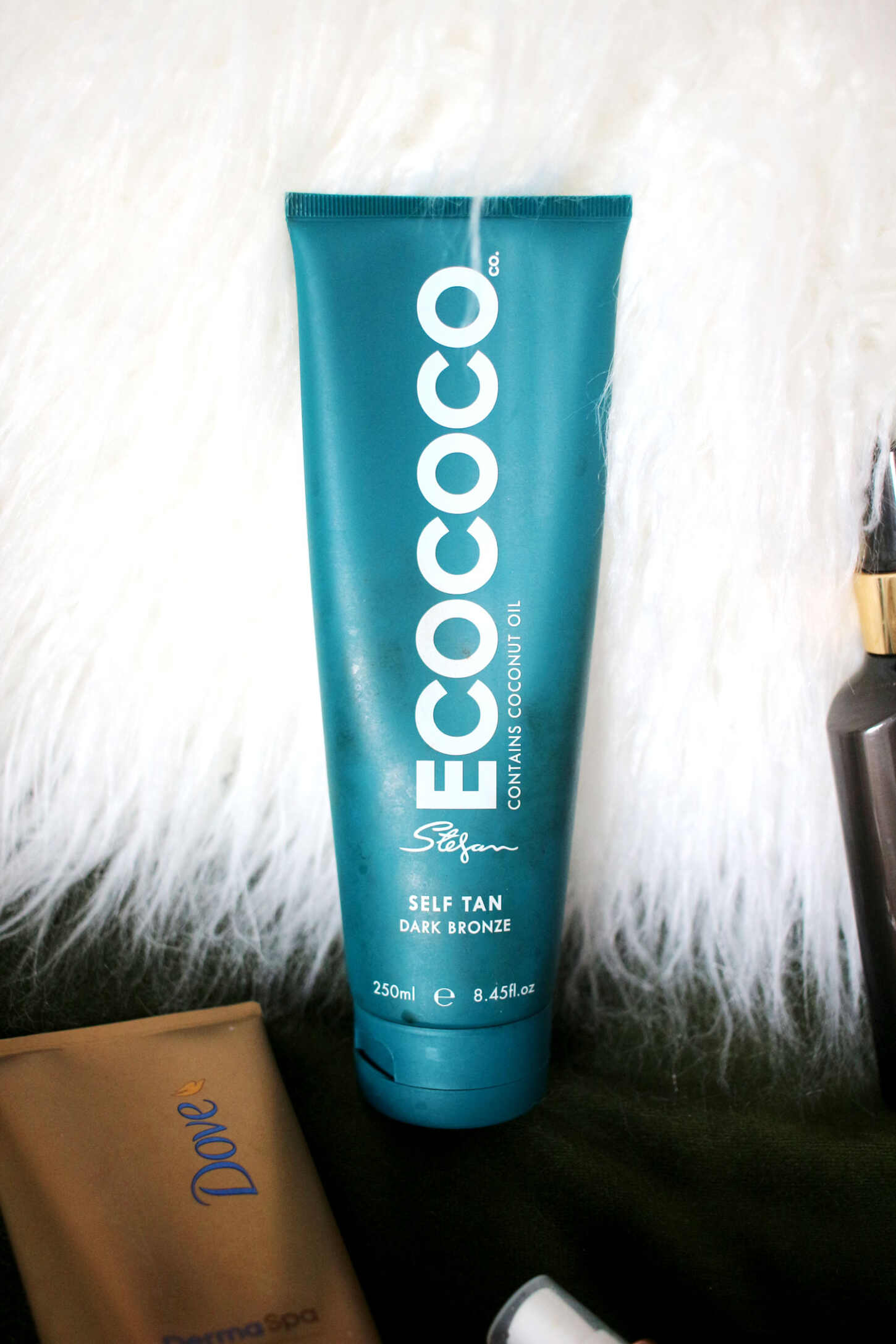 Ecococo Self Tan - Dark Bronze
Price: £18 but I got it on sale for £7.20
Available from: Cult Beauty
Colour: Dark Bronze, but I would say it's a Medium-Dark tan
Good for: Those with a lot of patience, time and skill ie no one.
Thoughts: At first I was a bit impressed, as the product is like a smooth balm and it went onto skin fairly easily, but that was the end of my happiness. This is one of the worst tans I've ever used. It gives you instant colour and it's medium strength and dries very quickly, so there's not much room for error. It stinks of fake vanilla and I mean stinks. I thought it went on ok on my (exfoliated) legs, but on my upper body it clung to everything, especially my shoulders, chest and arms. My back was even worse - you 100% cannot apply this to your back by yourself! When I came out of the bathroom, Phil was like 'holy crap that's dark' and pointed out how streaky it was. Reviews said it comes off in the rain, so that's not good!
Development Time: Instant colour, but apparently 2hrs for a dark tan or longer for an even darker tan.
How Long Did It Last?: No idea, I went back in the shower and scrubbed it off as it applied so horribly!
Tips: Just avoid it.
Rating: 0/10 (10/10 on the omg it reeks scale)
Bondi Sands Liquid Gold Dry Oil
Price: £14.99 for 150ml
Available from: Look Fantastic, ASOS, Superdrug and Boots.
Colour: No choice available, but I would say Medium
Good for: Those who want no wait time
Thoughts: I've used this tan for years now and I do like it. It has a coconut scent on application (which does turn to classic biscuit) and with it being a dry oil, it's very easy to spray on and blend in with a mitt. It's hydrating on the skin and sinks in fast, so you can get dressed quickly with no transfer. I do think you need to spend extra time on wrists/hands and feet. It clings to those areas every time and at least 1/2 of the time I end up with patches.
Development Time: It states 2-3hrs, but I think it's more like 5-6
How Long Did It Last?: About 6 days on me
Tips: Blend wrists/hands and feet well!
Rating: 7/10 (and a 7/10 on the biscuit-smell scale)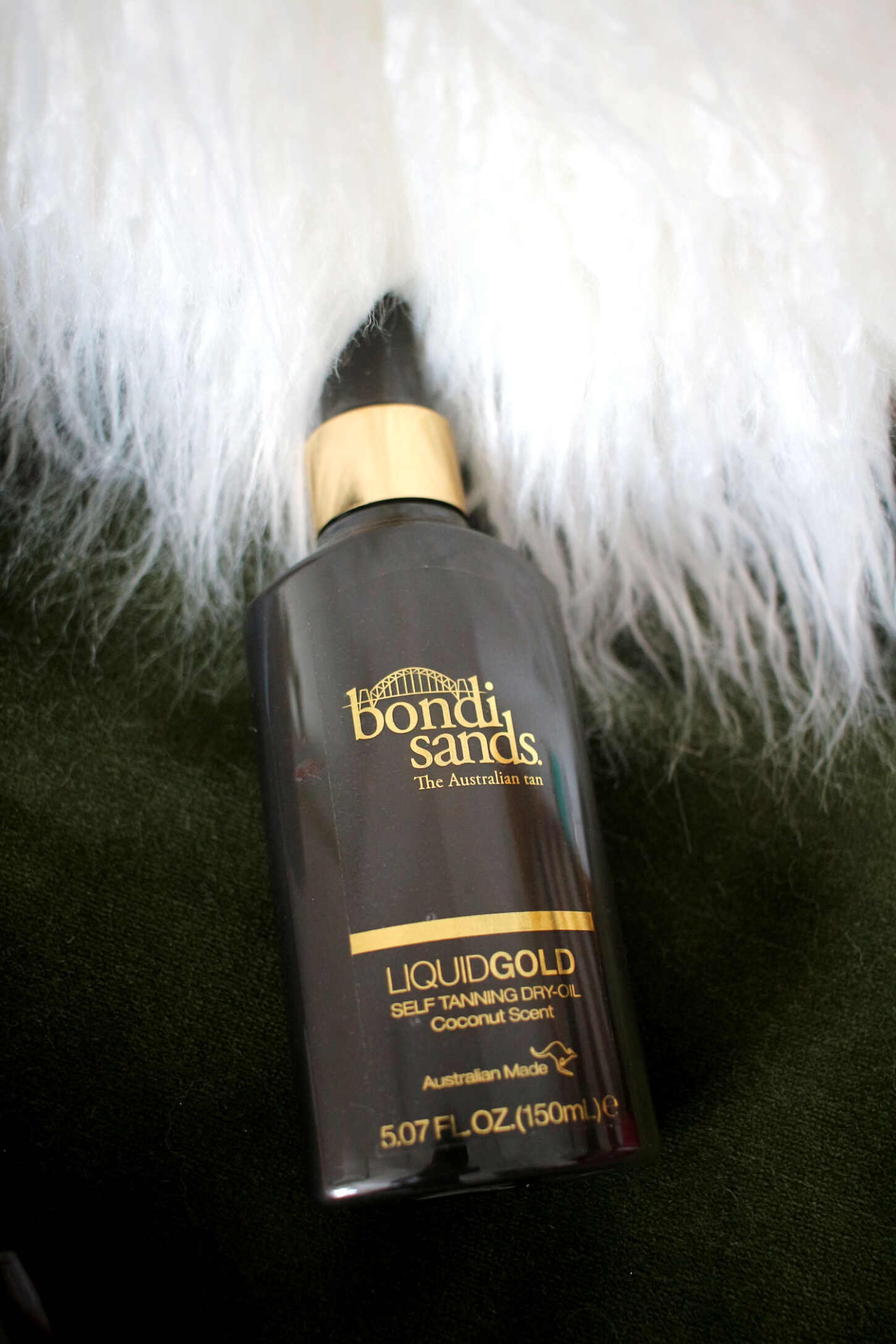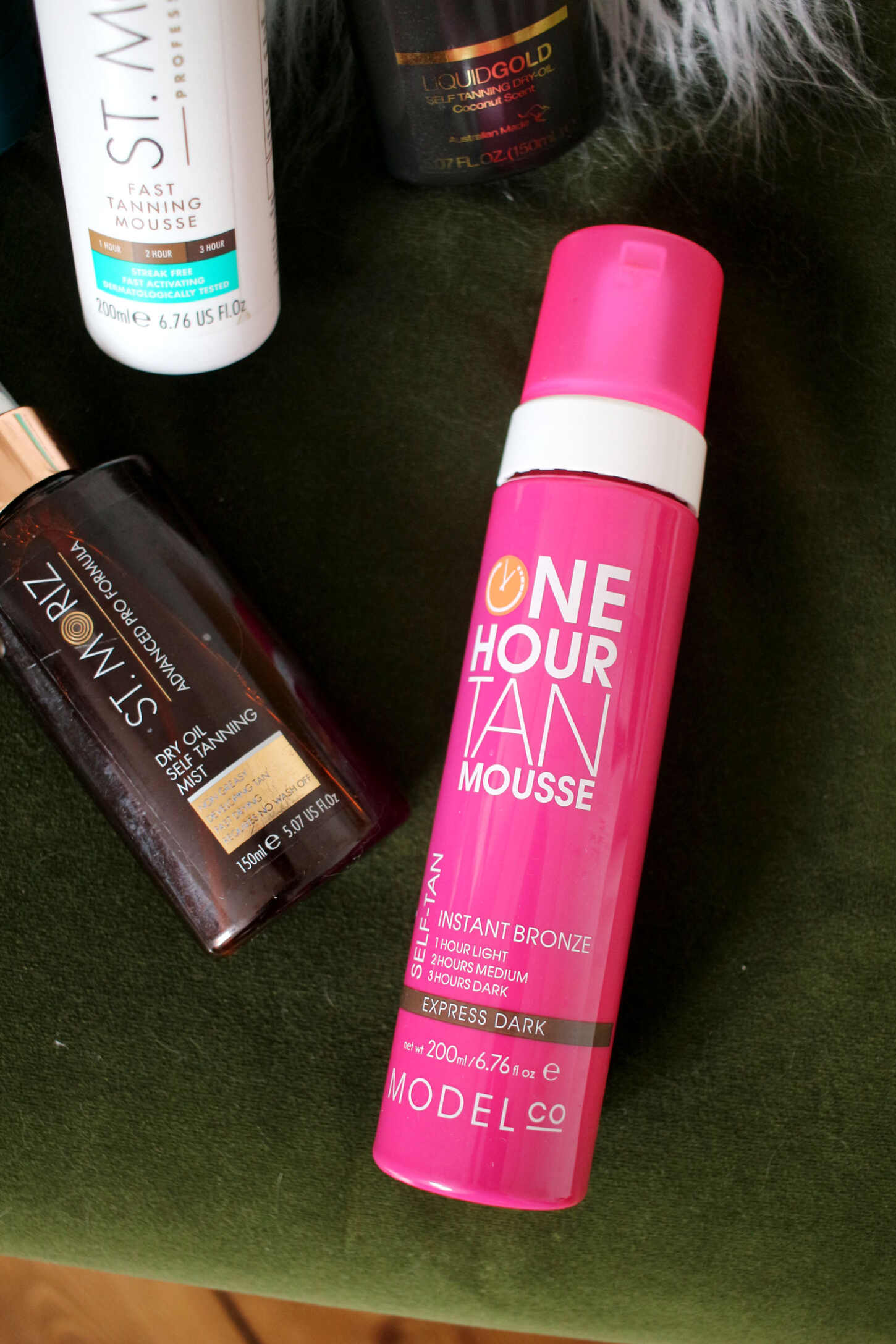 ModelCo One Hour Mousse
Price: £9-£14 depending on store
Available from: All Beauty
Colour: Dark and I would say it's a Medium
Good for: Those who want a quick tan.
Thoughts: I hadn't heard of this brand, but they kindly sent it over for me to try for my Tan Trials as I had mentioned it on Instagram. I have no existing expectations due to this but I have to say I was really impressed! It was very easy to apply and the colour was a good Medium with no streaks or patches. It faded quite well too.
Development Time: Up to 3hrs and I would say this is accurate. I left mine overnight.
How Long Did It Last?: Around 5-6 days.
Tips: Apply and buff it in with a mitt.
Rating: 9/10 (5/10 on the biscuit-smell scale)
St. Moriz Advanced Pro Formula Dry Oil Self Tanning Mist
Price: £9.99 for 150ml
Available from: Feel Unique, Boots
Colour: Described as a 'natural bronzed tan', but I would say Light-Med
Good for: Those who want a very natural looking tan with no effort
Thoughts: A good alternative for Bondi Sands and Tan Luxe oil lovers, as this dry oil performs in a similar way but without the higher cost. It's described as having a 'sensual fragrance' which I wouldn't really agree with, it has a very light warm scent at first and the biscuity-ness (yes, a word) once it's dried down isn't very strong either. It gives a very pretty, natural tan - a sunkissed glow, if you will - which I really liked. No patches or clinging either.
Development Time: I would say around 6hrs
How Long Did It Last?: A good 4 days, faded off my legs first but in a natural way.
Tips: Really buff it in with a tanning mitt, go back over feet/hands.
Rating: 8/10 (4/10 on the biscuit-smell scale)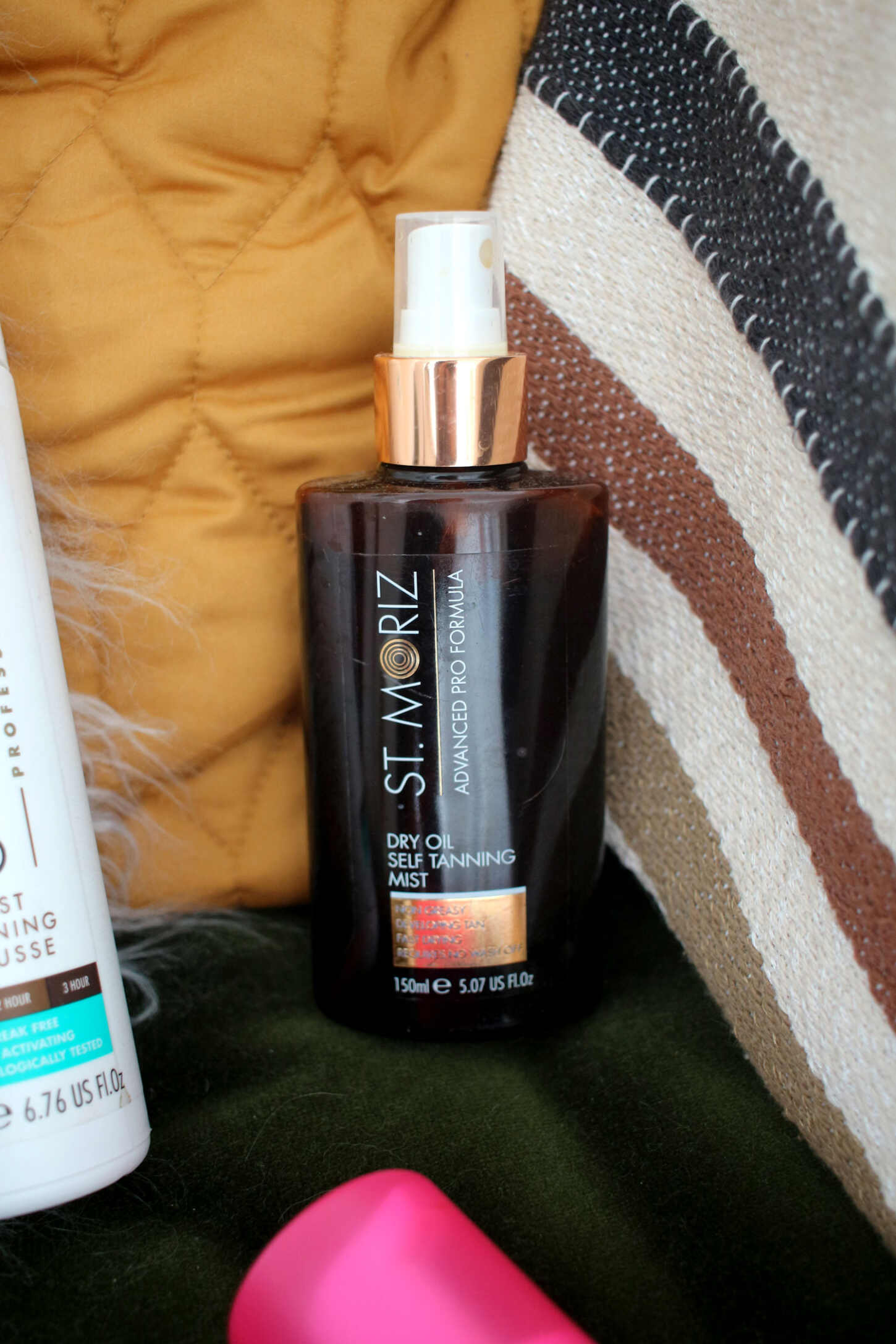 Conclusion
I was genuinely really impressed by some of these tans and I've got to be honest, I wasn't expecting much. If you were going to opt for one, I would go for either the Dove DermaSpa Summer Revived Lotion, St Moriz Dry Oil or the ModelCo One Hour Mousse, as they're all fantastic and very reasonably priced.
The Ecococo one can get in the sea though.