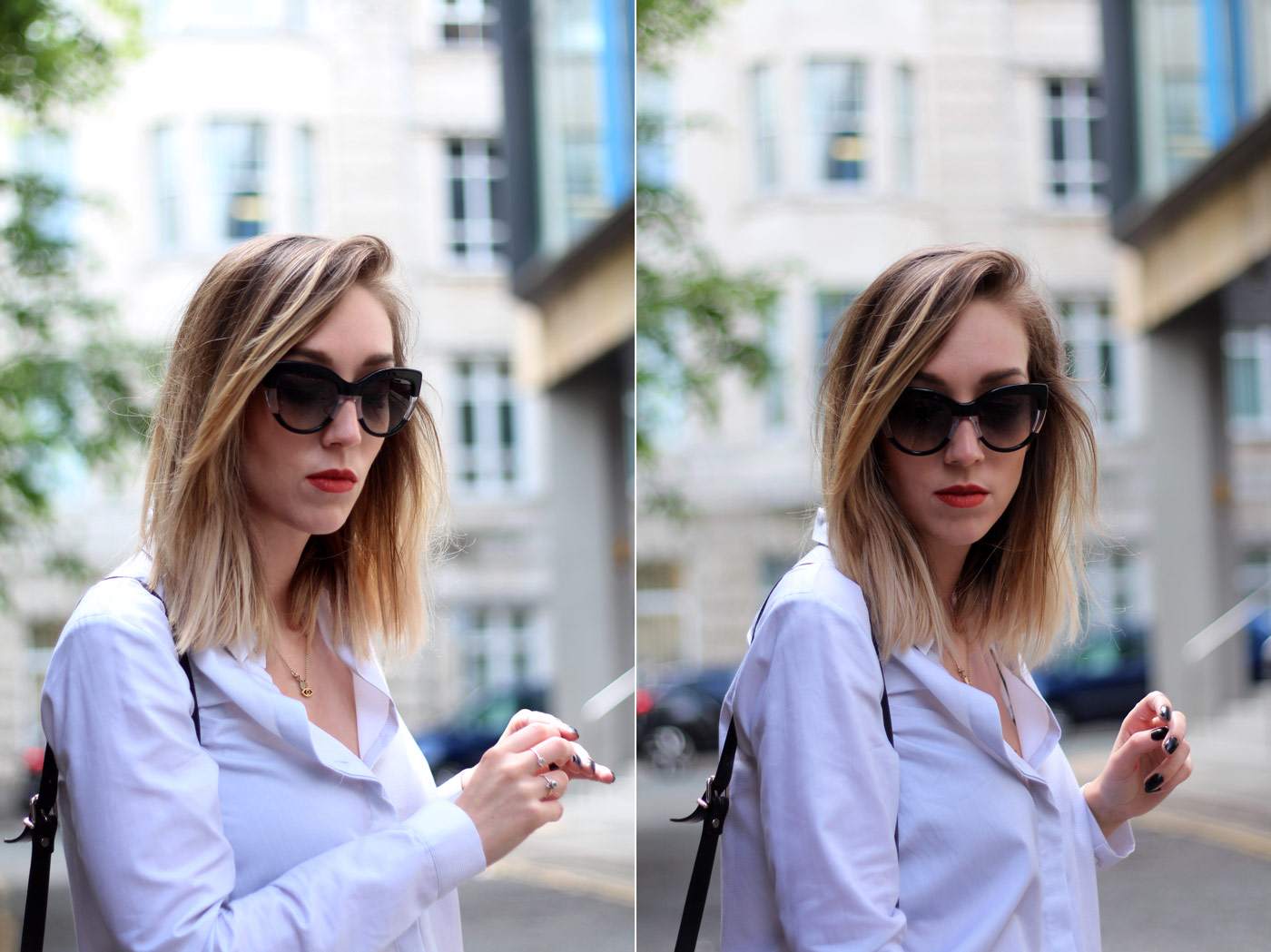 Blazer: M&S Alexa Chung (sold out, similar) | Shirt: COS (sale) | Jeans: Paige | Boots: Acne Studios | Bag: Proenza Schouler | Sunglasses: Marc by Marc Jacobs – pics by Amy.
Well, would you look at that – sunshine and a bit of greenery. You wouldn't think we were almost into July with my outfit snaps as they're rather un-Summery, but what can you do. I know I posted about my new boots on Friday but I can imagine they're going to be in a fair few outfit posts coming up, hopefully with some floaty dresses to inject some festival-chic into my wardrobe. Or to, you know, get away from constantly wearing jeans despite the fact that I usually regret putting them on as soon as I step out of the house…
I also tried wearing a more workwear/menswear style shirt instead of my typical oversized or silky option, just to see if I could integrate the style into my 'look'. I actually really like it, even though it is quite basic in its appearance. I wish the camera had picked up that it has a subtle, grid-like textured finish which I think makes it feel a bit more interesting than your standard office style. This sunglasses are newbies, who doesn't love a little bit of Marc by Marc Jacobs – it's the perfect nod to colour blocking but they're neutral to wear with pretty much every outfit going! I'm also wearing this blazer with absolutely everything right now, it's honestly the only thing I want to wear and I wish it came in every colour – ya hear that, Alexa. I've also been trying to wear this bag more, even though it weighs a about ten kilos, but it's just so beautiful *weeps*, my shoulders/back will suffer for you, little PS11.
God I've rambled a bit in this post, haven't I? Hope you're having a great day, guys!
Helen x