I haven't done one of these 'things that make me happy' blog posts in a while, so I thought I'd sit down and note all of the things I've enjoyed recently. Boy, there's been a lot. I do share a lot on Instagram if you fancy keeping up on the daily, but for now let's have a lil look at what I'm feelin' recently.
Wearing Staple Outfits
The outfit above is what I wear when I don't know what to wear. It's honestly one of my favourite combinations and one I wear a variation of on an almost daily basis - good fitting jeans, a tshirt, some sort of blazer or jacket (I like getting 'statement' jackets!) and some loafers. I've tried to change my look up so many times, but always feel my most confident in the basics. Oh and these jeans are a dream if you're in the market for a new slim fitting pair. Size down 1 size.
A New Throw
A small house updates in the form of this new throw from H&M. It's a heavy blanket with the most beautiful colours and tassel details As my colour scheme is neutral with a hint of peachy-terracotta-black-orange so it matches perfectly.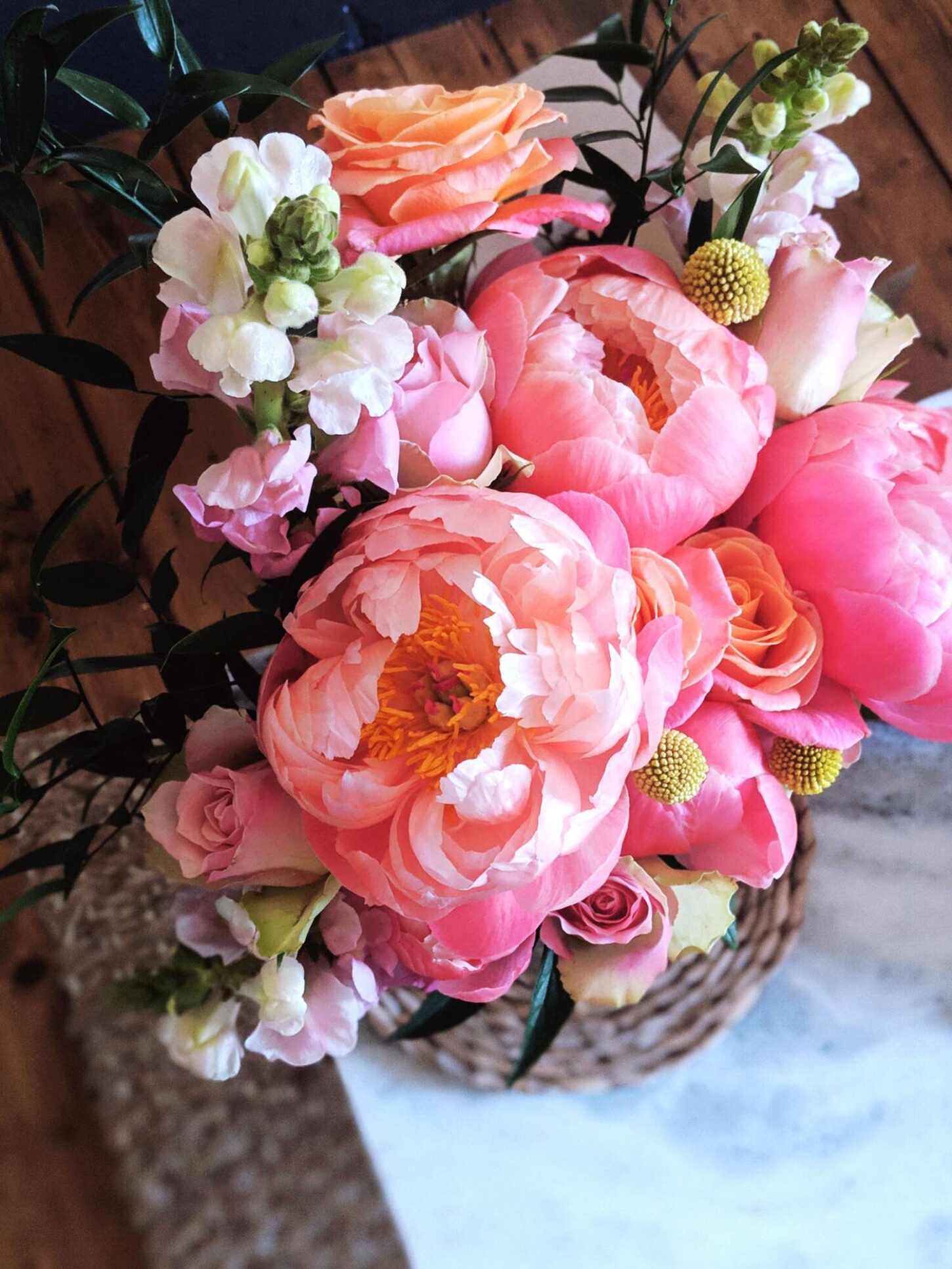 Beautiful Peonies
I have a flower subscription from Bloom & Wild (I pay for it with my own dollar) and it's honestly one of the nicest things I've ever done for myself. Getting a beautiful bunch of flowers through the door every month is such a luxury, but one I really look forward to as flowers are one of my favourite things. If I could choose a new career, it would be a florist. Infact, it's something I may even pursue when I'm older.
Anyway, the bunch I recently got were some gorgeous peonies that started as a bright, fuchsia pink, then turned paler and paler until they were peach and then cream. I think I took photos every single day!
If you fancy treating yourself, you can get £10 off your flowers via this link.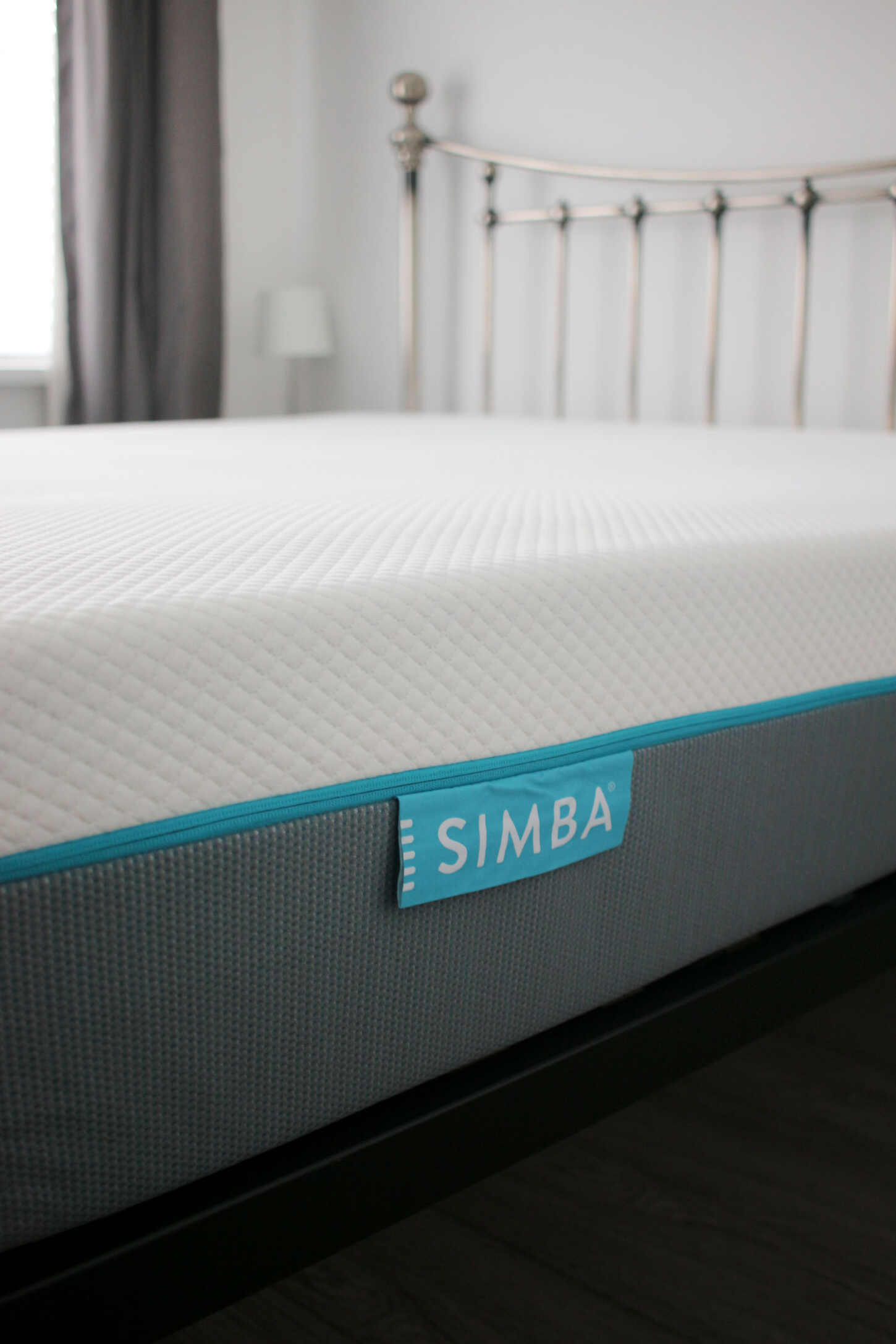 The Simba Mattress
Who doesn't love a good new mattress? The lovely folks at Simba got in touch and offered this one to review and it is oh so cosy. It's a hybrid mattress with both foam and springs, so it offers support while being firm and super soft at the same time. It's the perfect balance, really.
It also has 5 layers - a breathable top layer, a cooling comfort layer, supportive pocket springs, responsive memory foam and a zoned base, so it supports you as you sleep. You can read more about it on their site, and they do many sizes and offer lots of info so you know exactly what you're purchasing. They also have toppers, duvets, sheets and pillows too.
You can get £75 off a mattress using this link, too.
A Few New Recipes
I've talked about my love of cooking on many occasions, but recently through meal-prepping (post here) and of course through the recipes I share in my 'Baking' section. I also share a lot of day to day eats (mostly things I've cooked, I always link to the recipes) on my Instastories.
Recently I've discovered the above Coconut Curry Ramen which only takes about 20 minutes to cook. You can throw in any vegetables you want, too. These Tofu Curry Noodles were also great with minimal effort. I can also vouch for this Mexican Casserole which was basically like a lasagne. Again, not much effort and it was delicious! It also worked really well as a dish to keep in the fridge to have a day or so later.
A New Cat
No, she's not mine before you wonder, but my sister got a new little kitten called Cass. She's so cute and playful and I completely forgot how lively tiny kittens are. I tried to take a photos on my proper camera, but only managed to get 20 blurred pics as she rarely stays still unless she's sleepy. How sweet is that little face though?
My niece has created a little Instagram for her here if you'd like to follow.
A Really Simply DIY
I've been so busy recently that I've put off a lot of DIY projects that I've been meaning to do. So, I had a spare 10 minutes the other day and thought I would paint the plant pots that I hated the colour of (they were a horrible barbie pink). I got a sample tub of Earthborn Paints 'Hobby Wood' the other day and it's such a gorgeous deep green due, so decided to put 2 coats of that on. I think they turned out quite well (sort of, I need to sand off the runs!) and no more gross pink!
My Latest Reads
I have been utterly useless at getting through books for the last few years, but this year I said I would read 2 per month... That lasted precisely one month and I should have read 9 books by now but I've only read 6, and for the whole of April I didn't pick up a single book! I'm determined to catch up though.
Anyway, one book I've read recently is Little Fires Everywhere by Celeste Ng. I really enjoyed this book, as it was engaging and emotive at times. It made you love the characters (and hate the ones you were supposed to hate). I think the ending wrapped up a little quickly, but overall it was a great read.
The other book was The Familiars by Stacey Halls, which was set in the 1600 during the witch trials. It centres around two women who realise they can help each other and I read the entire book in a few hours. It's a beautiful story and you're willing the characters to succeed. Would recommend picking it up!
Also as a little FYI, I review each book I read via my Instagram stories and save it to a highlight on my profile if you fancy a look!
--------------------------------------------
So, that's what has made me happy recently! Feel free to share yours or some book recommendations, as I'm looking for some new ones.