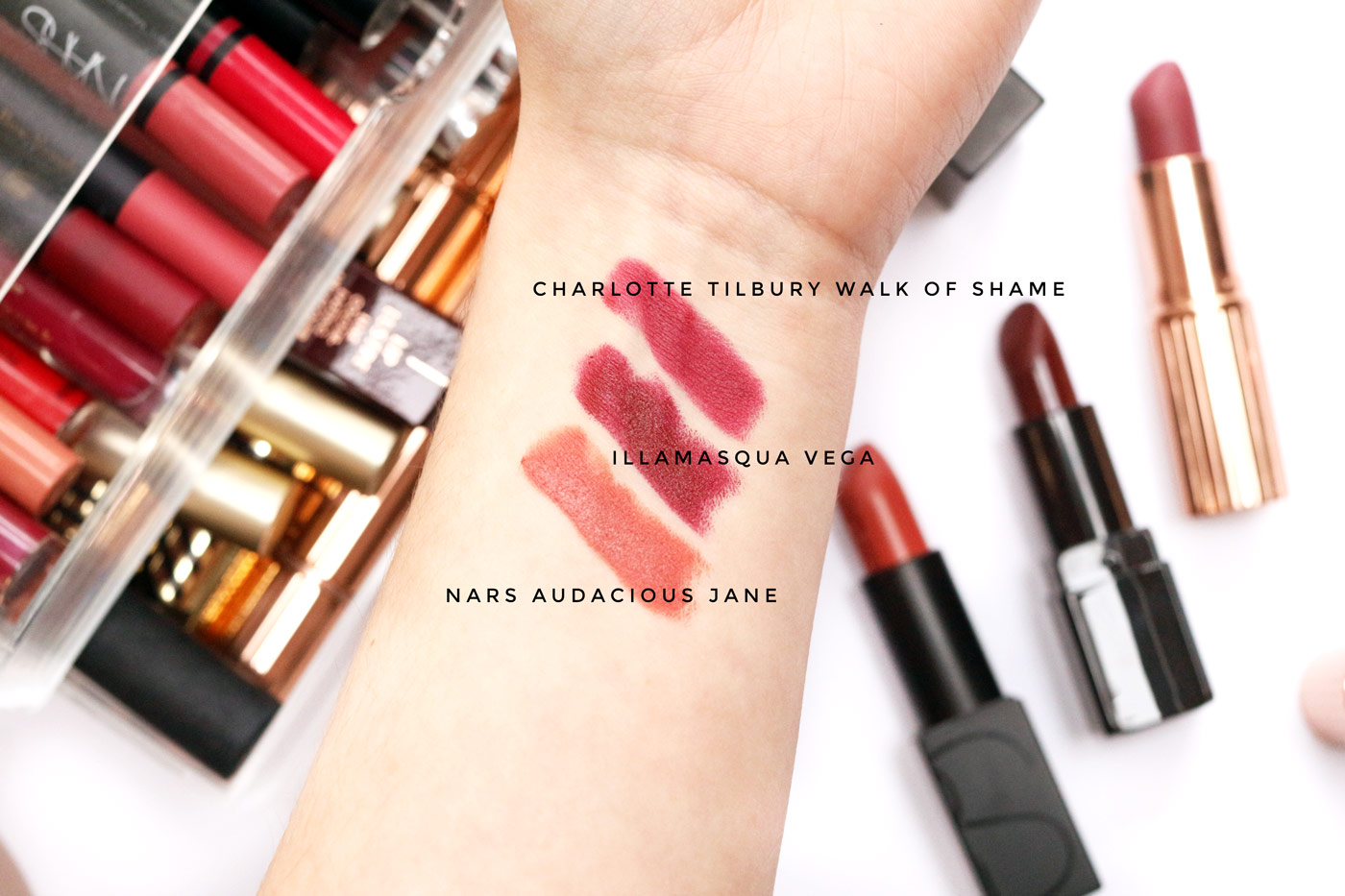 Who doesn't love a good new lipstick? Well, I'm spending a bit of time rediscovering old favourites this month so it sort of almost feels like these three are newbies all over again for me, so why not share them? We've got some very different tones here, so there's definitely something for everyone, you know, just incase you need some new lipstick inspo.
First we have Charlotte Tilbury Matte Revolution Lipstick in Walk of Shame which is the perfect transitional Winter to Spring shade for me. It still has a bit of that darker berry vibe going on but it a bit lighter and muted than your usual A/W offerings. I love the matte formula as it's long lasting but not drying, which is essential to me as there's nothing worse with that super matte dehydrated feeling! This rose toned beauty will definitely be my favourite for the rest of this year, I can see it now.
Next we have Illamasqua Glamore Lipstick in Vega which takes things a bit more to the darker side but trust me on this one, it's beautiful. If you've always wanted that deep claret-kinda-wine shade, but one that's more on the red side than the berry – Vega is for you. I love how I could wear a wash of colour, some mascara and throw this on and it just makes a look go from omg stop scaring people to gurl you got this you're so pulled together. Seriously, try it, it's a gorgeous comfortable formula too.
Finally, we have NARS Audacious Lipstick in Jane which is a bit more accessible if you don't do the reds or pinks. Jane is a muted coral-orange-nude, yes, quite a mix, but it's not quite a coral or an orange or a nude. It's just a weird but beautiful mix of the three, so it warms up your complexion without being overly summery – if that makes any sense at all. The Audacious lipsticks are some of my all time favourites, too, so have a li' browse of the range.
What lipsticks are your favourites? Any new shades you'd recommend?
Helen x