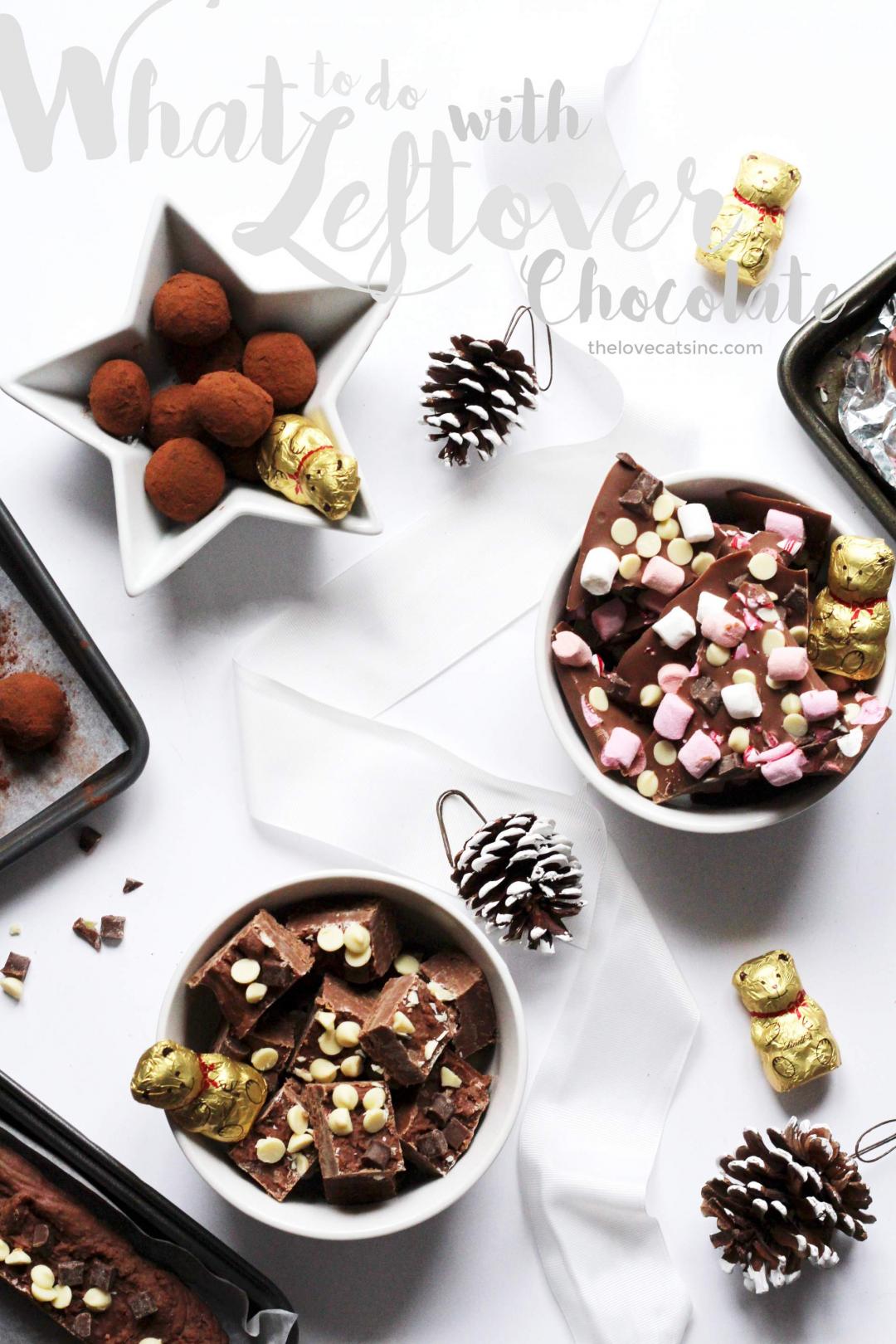 That is, of course, if you have any leftover Christmas chocolate! I know mine is slowly disappearing… Anyway, I'm doing another post with Lindt (see my first chocolate cake here) and showing three quick and easy ways to use up any leftover Christmas chocolate that you have! So, today we have chocolate truffles, fudge and bark!
First up are chocolate truffles which are so, so much easier than you think. Seriously. They barely use any ingredients and you just shove them in the fridge, wait overnight and roll the next day – so simple! They taste amazing too, smooth, super chocolatey and a complete joy to eat.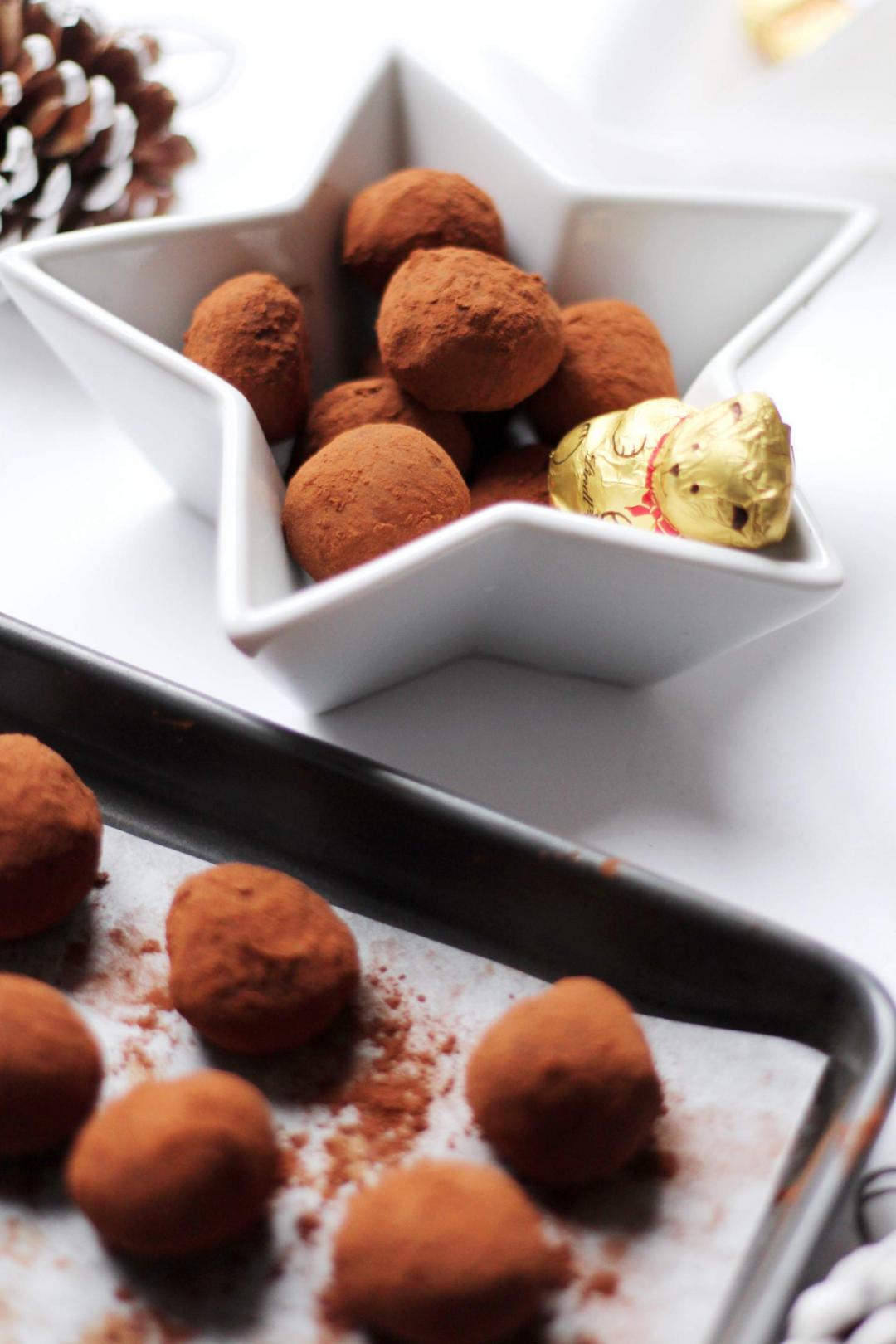 So, to make around 30-35 chocolate truffles follow these simple instructions –
Ingredients:
400g Lindt chocolate – don't go dark otherwise it'll taste bitter
180ml heavy cream – I used double cream, you can also use whipped
1/2 tsp vanilla
30g unsalted butter
Cocoa powder for dusting, about 40g (you don't need a lot)
How To Do It (it's 2 x 15mins hands on time and 5hrs-overnight chillin' time)
Step One | Microwave leftover Christmas chocolate so it's almost totally melted and set aside for a few minutes. Pour cream into a pan over a medium heat and whisk lightly until it starts to boil, remove from the heat and then add the vanilla and almost melted chocolate. Stir in one direction, be gentle, until it's combined – don't rush! Once melted together, stir in the butter.
Step Two | Cover it over with cling film pressed ontop of the mixture and let it sit for 30mins at room temperature. Place in the fridge and allow to cool for a minimum of 5hrs or overnight.
Step Three | Once thoroughly chilled, remove from the fridge and scoop teaspoon sized chunks out (they don't need to be huge, about 50p in width) and roll into balls then place on a parchment lined tray. This can get pretty messy and I could only roll 5-6 before I had to wash my hands as the chocolate melts, but you can dust you hands in cocoa powder to make it easier. Once they've been rolled and allowed to sit for about 15mins, you can roll them into more perfect ball shapes or just go straight for rolling them in cocoa powder! There you go – all done! They last for a week in a container in the fridge.
Next is chocolate bark, the easiest of them all to make as it only requires about 5 minutes of actual hands on time.
Ingredients:
500g Lindt chocolate – you can use white or milk chocolate for this
Whichever topping you prefer – I used candy canes, chocolate chips and marshmallows, but you could use anything you fancy. M&M's, mini Mars bars etc would be a good shout! Anything goes.
How To Do It:
Step One | Line a baking tray with foil and melt the chocolate in whichever way you prefer (microwave or over boiling water). Pour the chocolate onto the foil and smooth out until it's about 2-3inches from the sides of the baking tray.
Step Two | While the chocolate is still melted, cover it with whatever toppings you've picked! Just chuck 'em on and press 'em in slightly.
Step Three | Place in the fridge and allow it to cool. It doesn't take long, about an hour or so. Then you can cut it up as you please. You can even put it into little boxes, tie it up with string and you've got a present ready to go – would be a good one for Valentines Day or Easter!
Finally, we have chocolate fudge! Now, it doesn't look as smooth and as glorious as normal fudge, but that's because I didn't a) smooth it off properly as I was on the phone to my sister at the time (she always picks the best times to call…) so left it too long in the pan and b) I didn't push the chocolate chips in (again, busy) so you could probably do a better job at it than me. Having said that, it tastes pretty darn delicious and, again, minimal effort.
Ingredients (9inch baking tray):
540g Lindt chocolate – again, white or milk chocolate
1 can (397g) sweetened condensed milk
120g chocolate chips
How To Do It (it's about 15minutes hands on time, 3hrs chillin' time):
Step One | Line your baking tray with parchment paper. Combine the chocolate and condensed milk over a medium heat and remove from the hob.
Step Two | Immediately spread evenly into the baking tray, sprinkle over your chocolate chips which you can either push in and swirl with a knife to combine or leave as a topping. Chill for 3hrs (or overnight), cut into squares and it'll keep for a week in the fridge.
So, there you have it – three simple, quick and easy ways to use up any leftover Christmas chocolate that might be kicking around. I'd absolutely love to hear if you're gonna make these or any of my other bakes, so let me know!
Helen x
ps. check out these blogs: Ok But First Coffee and Carly Wynn!