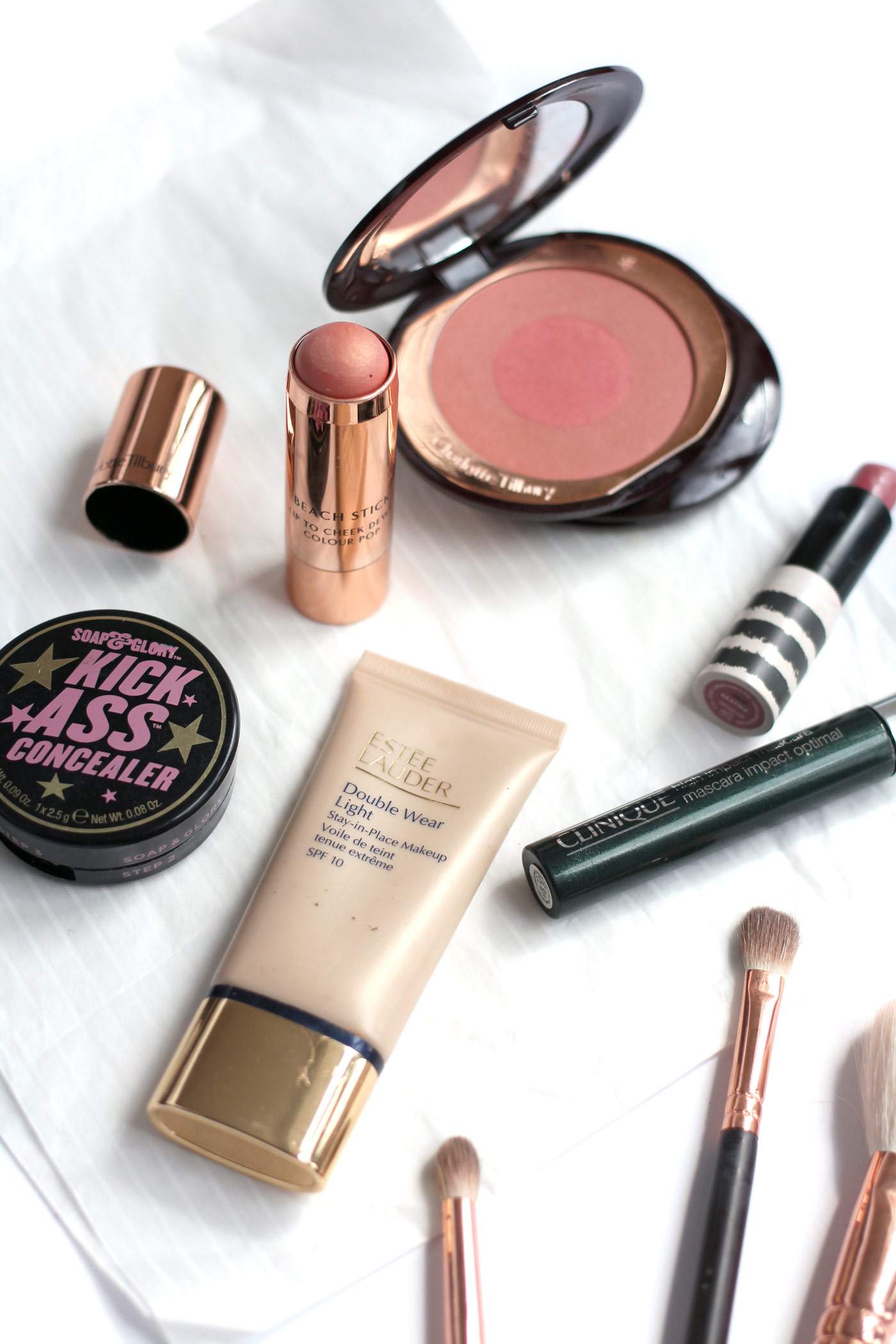 As both the blogging and beauty world tend to change so much, it's easy for things to get swept under the rug in favour of the latest model. As I was sorting out my stash the other day, I realised there's a fair few products which I totally adore but they don't seem to get all that much coverage (at least from what I've seeen, I could be wrong). So, in today's post I'm chatting about my favourite 'underrated' beauty bits that deserve a little bit more attention!
First, I know Charlotte Tilbury gets a lot of hype as a brand, but I do think the Charlotte Tilbury Cheek to Chic Blushes aren't talked about that often. I really rate them as a blush, as you get two gorgeous shades in one that you can either use separately or swirl together to create a beautiful, natural look. I love the consistency of them too, as the powder is very soft and blendable. Another one from her range is the Charlotte Tilbury Beach Stick which I'm using more and more since I saw the legend herself use it when I met her. The shade 'Moon Beach' is the perfect golden peach which you apply to get colour and highlight all in one. I can't describe the glow this gives your face, it's so radiant and beautiful!
Next are two high street buys that you need to pick up! I've been a fan of Soap and Glory makeup for a long time, but find the Soap and Glory Kick Ass Concealer to be one of the best on the Boots shelves. You get two colours, a peach to correct dark circles and a skin-toned shade to conceal, along with a powder to set it all, and it works like a dream! If you're on the hunt for a new lipstick, definitely get yourself down to Topshop and pick up one of the Topshop Lipsticks – great consistency, great colour range, great staying power and they won't break the bank!
Finally, we have one base and one mascara that I feel aren't raved about enough. Everyone loves Estee Lauder Double Wear and I will agree that it's my most used foundation of all time, but the Estee Lauder Double Wear Light does give it a run for its money. Since my skin is clear now, I often prefer wearing the light version as it still gives great coverage (light to medium, buildable) and makes my skin look very perfected without being half as heavy as the original! Aaand then we have one of my favourite mascaras ever, the Clinique High Impact Mascara. It darkens, lengthens and thickens my lashes in one swoop and I have, and will, repurchase it again and again.
What's your favourite underrated product?
Helen x
ps. Check out these blogging babes: My Debeauvoir Diaries, the Anonymous Beauty Blogger and Cherry Pie!