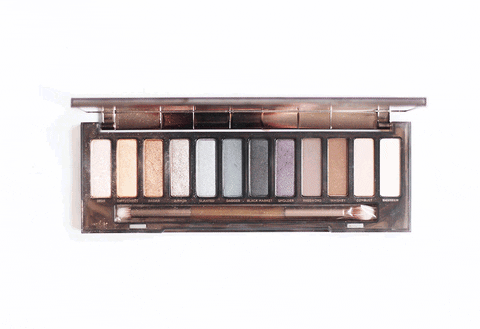 Confession: I've become completely eyeshadow obsessed in the last few months. As I have, as I'm sure you're all sick of me saying, quite hooded eyes, extending my shadow beyond my natural crease is something I always have to do to create a bit of extra depth. Even if it's just a neutral brown or nude tone, it makes a huge difference. Anyway, I thought I'd run through my best eyeshadow palettes (excluding my MAC one which you can read about in detail here) and the ones which get the most love, hence them being the mess that they are!
The Urban Decay Smoky Palette is one that joined me around November/December time and I already get so much use out of it! As with the rest of the Naked range, this palette contains 12 highly pigmented shades which lean towards the darker side, as opposed to the neutral side like the other palettes. There's a great variety of shades here, from light champagne and gold tones to the darkest greys and blues. It's honestly such a versatile palette and one I adore using!
Next up is the Lorac Pro Palette. It might be a bit of a pain to get in the UK, but if you can get your mitts on it then definitely do! It has a mixture of matte and shimmer shades so you can create pretty much any eye look you want! I love how pigmented these are and, as you can tell, the pewter shade has definitely been a firm favourite. I tend to do a shimmer shade on the lid and add definition to my crease with the matte tones – all of which are buttery soft and easy to blend!
Now, again, you may not be able to get your mitts on this as it was limited edition, but I had to mention it as it's so nice! The NARSissist palette is compact and super handy to put in your makeup bag which makes it an ideal travel choice, which is important I think as I hate lugging around huge palettes! It has 15 decent sized shades from the most beautiful rich gold to inky blues in a range of matte and shimmer tones. Well worth picking up if they ever re-release it!
Finally in the best eyeshadow palettes roundup , we have the cult products everyone loves which are the Charlotte Tilbury Eyeshadow Palettes. Each one contains four shades which are supposed to fit into a look, like the vintage vamp and the uptown girl, designed by Charlotte. I went for a some wearable quads with a lot of gold and neutral shades, but there's also beautiful blues, greens and purple tones for those who want to create more unique eye looks. As can be expected by CT, they're amazing quality, the packaging is beautiful and they're just stunning products to own and to use!
What's your favourite or most used eyeshadow palette? Do you agree with my picks of the best eyeshadow palettes?
Helen x
ps. check out these lovely blogs: Carly Wynn and Madame Ostrich!