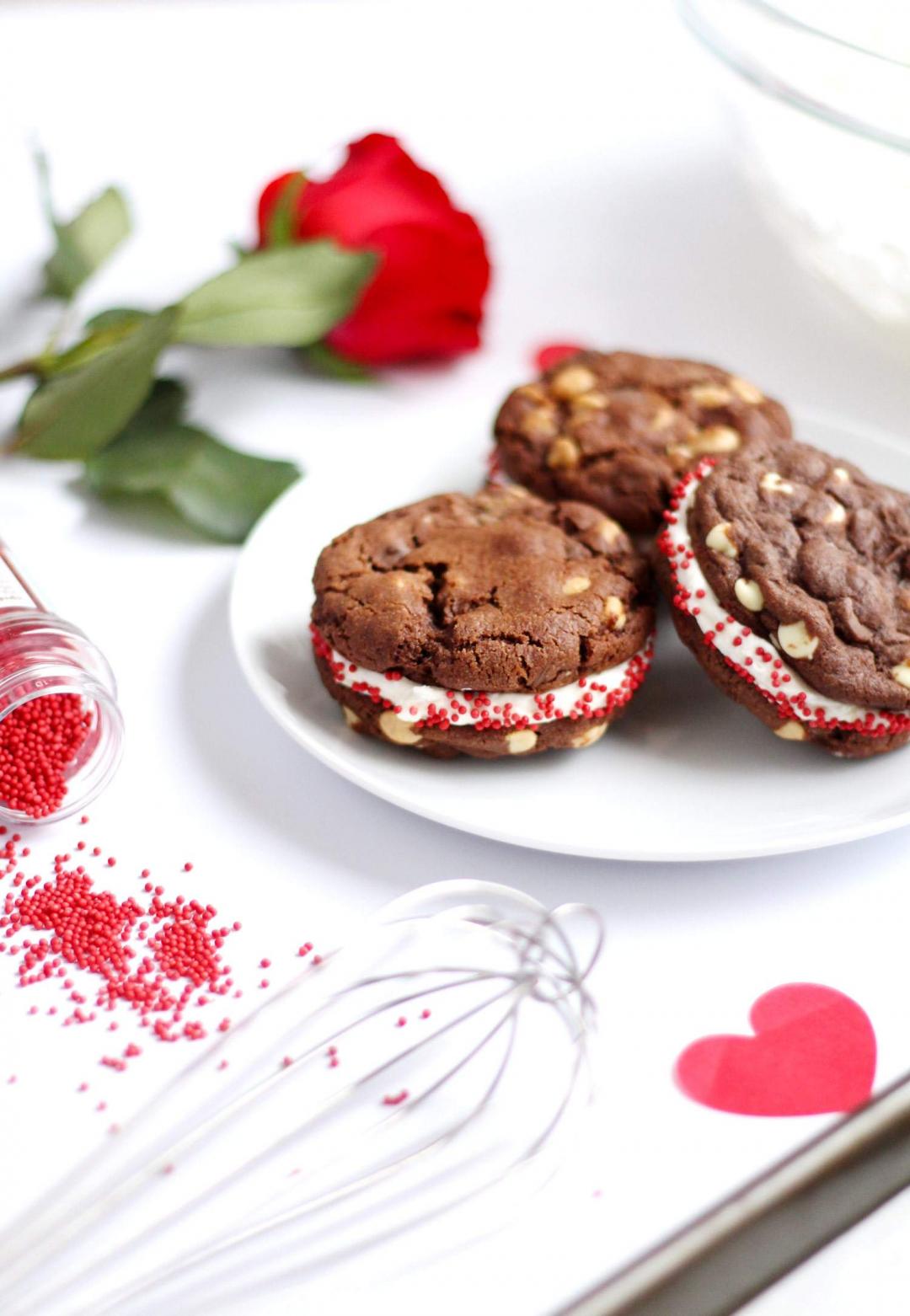 What a title, ey? I've made normal cookie dough sandwiches (when my photography was a bit pants) and my best ever chocolate chip cookies for the blog, but never once attempted double chocolate. Probably seems to be a bit of a cop out recipe-wise, but my first attempt at chocolate caramel cupcakes didn't work out so well, so I had a crack at a Double Chocolate Cookie Dough Sandwich instead.
So, whether you're making these for yourself for Valentine's Day or reluctantly sharing them with you significant other *glares at boyfriend* then I hope you enjoy these chocolatey cookie treats! They're super easy, I swear…
Ingredients (makes around 20 cookies or 10 cookie sandwiches):
Cookies –
250g plain flour
2 tsp cornstarch (cornflour)
1 tsp baking soda (bicarbonate of soda)
1/2 tsp salt
170g unsalted butter, room temperate
150g light brown sugar
50g granulated sugar
1 large egg, room temperature
2 tsp vanilla extract
30g cocoa powder
200g chocolate chips – I used 100g white and 100g milk
Frosting –
250g icing sugar
80g unsalted butter, soft
25ml milk
1tsp vanilla
Sprinkles for decorating
Recipe:
Step One | For the cookies: In a large bowl, eat the butter until smooth and then add the sugars. Combine until creamy in texture then add the egg and vanilla. In a separate bowl, combine the flour, cornstarch, baking soda and salt together and then add this to the sugar mix slowly. I do two tablespoons at a time. Once combined, add the cocoa powder and then the chocolate chips. Mix until distributed and then put cling film over the bowl and place in the fridge for 1-2hrs. This makes much, much better, thicker and more doughy cookies!
Step Two | For the frosting: Combine the butter and icing sugar together. Combine the milk and vanilla together and add a splash at a time to the icing sugar. The frosting should be creamy in appearance but solid enough to form peaks when whipped, so keep testing . Mixing for 10 minutes makes for better, lighter tasting frosting, but 5 minutes is ok if you can't be bothered!
Step Three | Once chilled, heat your oven to 180 degrees and line two baking trays with baking parchment. Roll tablespoon sized balls and place them on the tray, you should be able to get about 10 per tray (if not, do two batches). Bake for 10-12 minutes, underbake rather than over. The cookies should still look soft on the tops or have very slight cracks in them. Wait 10 minutes before moving onto a cooling rack and wait until they're cold before making into sandwiches otherwise the frosting will melt. I put around a tablespoon of frosting between the cookies and then put sprinkles around the outside. There you go: Double Chocolate Cookie Dough Sandwich sorted.
You'll be able to keep them for around 5 days without frosting, or around 2 with – not like they'll last that long…
So there you go. A good staple cookie recipe even if you don't use it for Valentine's Day! I hope you have a lovely day either way though – let me know if you bake this Double Chocolate Cookie Dough Sandwich or any of my other bakes.
Helen x
Check out these amazing blogs: Jordan Alice and Oh Kalu Kalay!