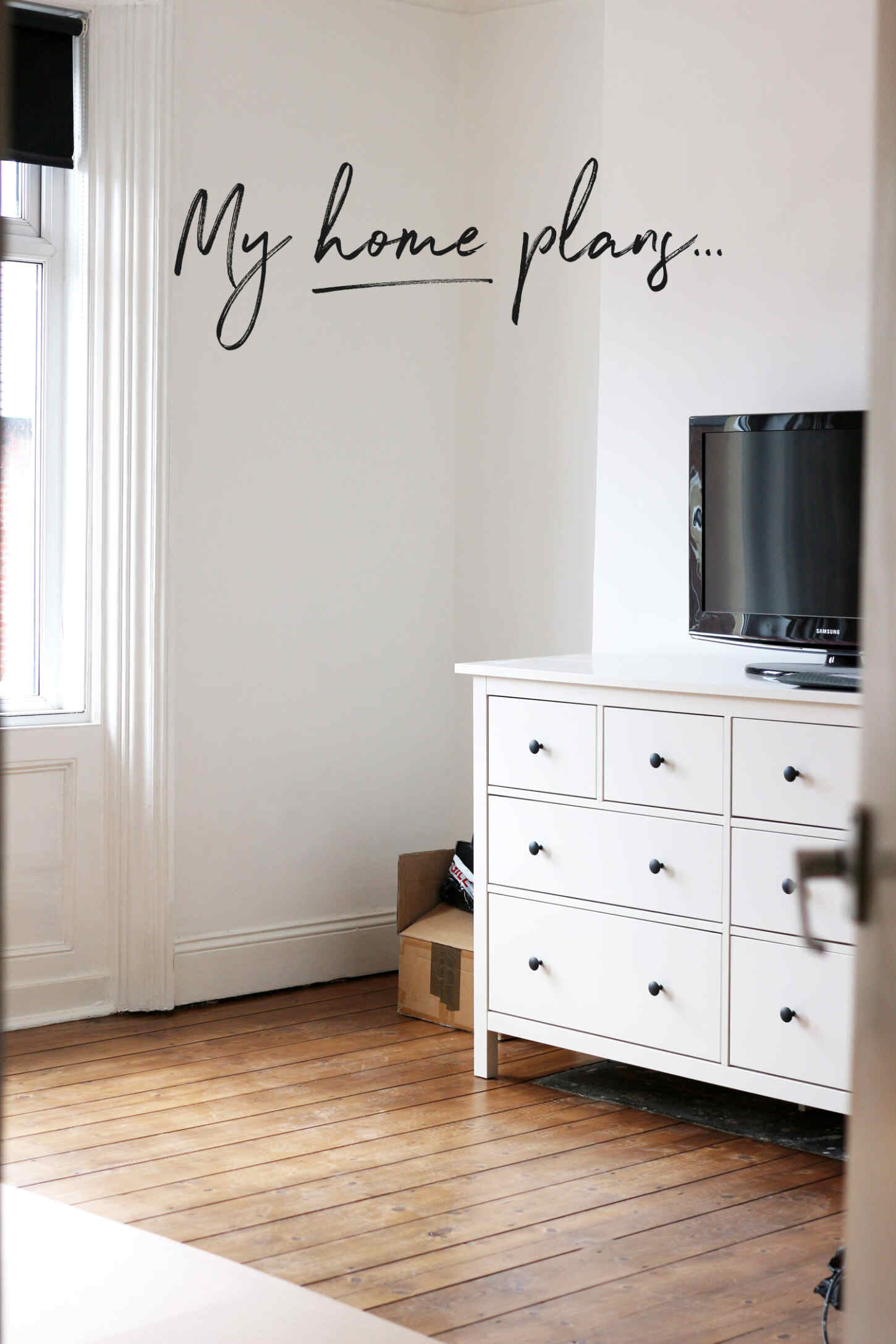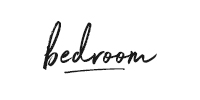 So, in today's post I'm going to be going through the sections of my house that I want to work on next - from interiors to outside and the spaces between.
Let's start with the bedroom! We brought that massive IKEA cabinet that everyone has with us when we moved into this flat. Now, don't get me wrong, I still adore it, but I really want to update it as it doesn't feel as white as when I first bought it and I feel like I want something a bit more... stylish. So, I'm searching for another cabinet that's roughly the same size (as we need the drawer space) but is maybe more mid-century in style (like this one) or vintage, as I really love vintage furniture. There's also a place around the corner to me that does amazing second hand furniture and they get some beautiful pieces in which are so cheap too. You can get vintage dressing tables from the 50's for £40 - it's crazy.
I also want to update the bedside tables, as I bought the ones that match the cabinet when we first moved in. I did only buy them as a temporary measure, as I hadn't settled on the style for the bedroom so now it's time for an update! I've bought these ones from Maisons Du Monde which should be arriving shortly, as I really wanted the West Elm ones but didn't want to pay double! So, I'll be doing a little feature on them when they turn up as I'm excited to style them.
I'm also tempted to paint the wall behind our bed dark grey like the middle photo below. I've decided on vintage wood, grey, terracotta, blush pink, peach, green (mostly plants) and white as our 'theme' in this room! Do you think I should? I really want to....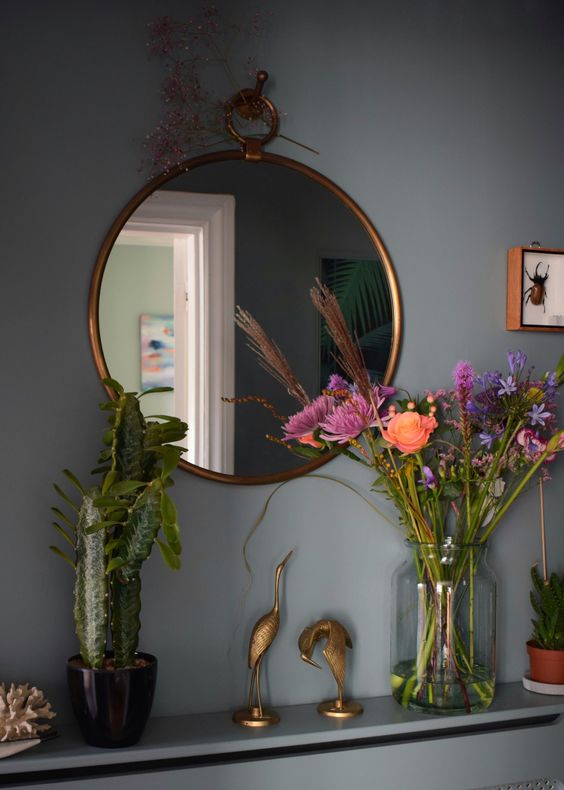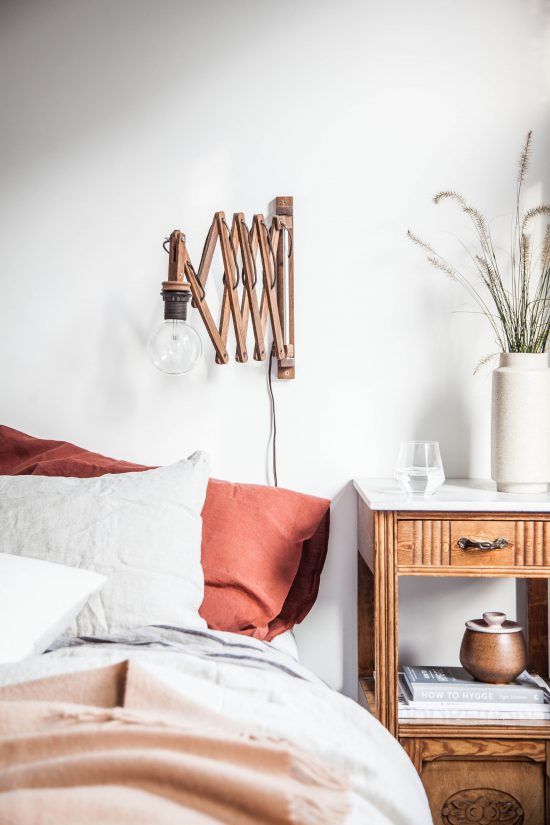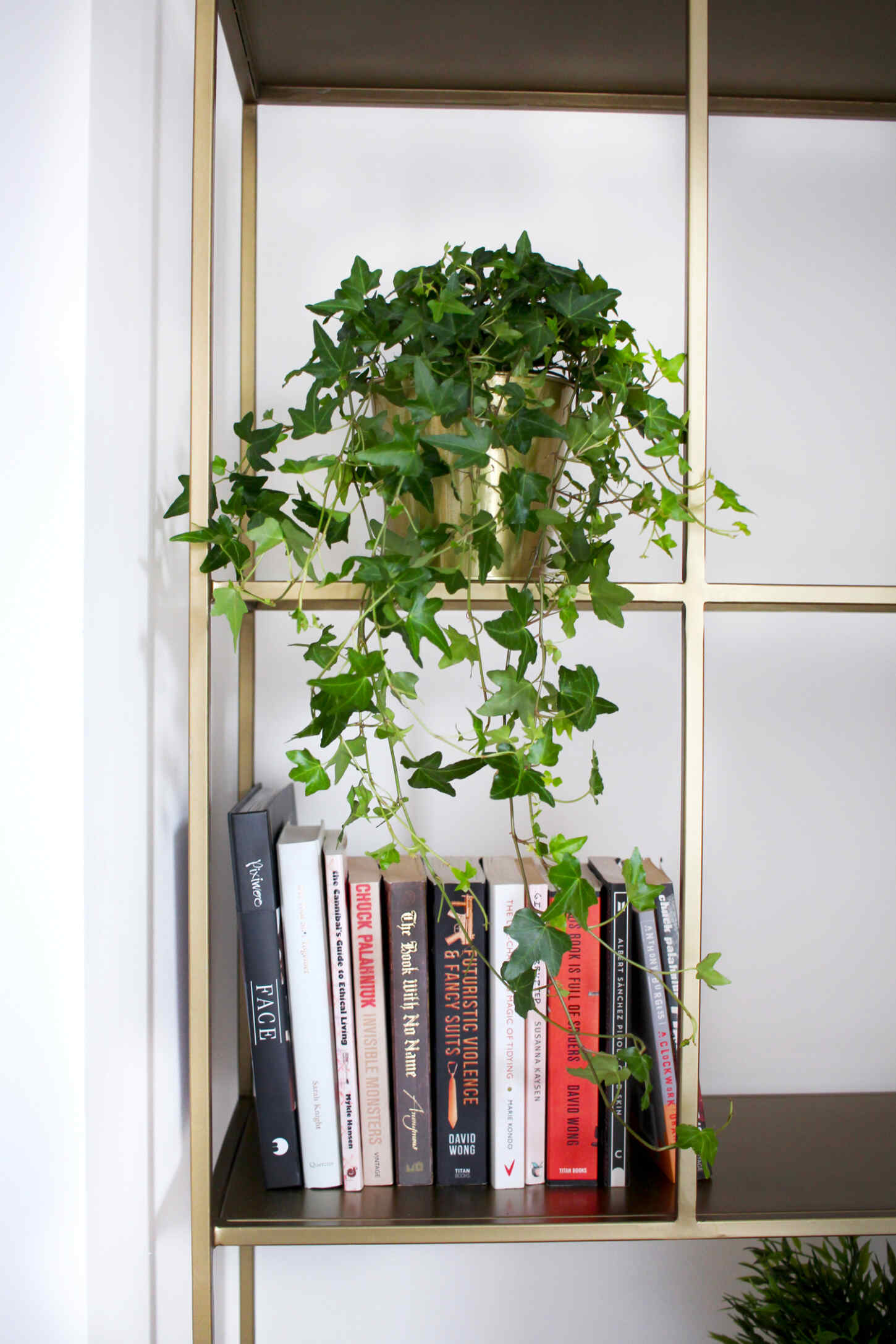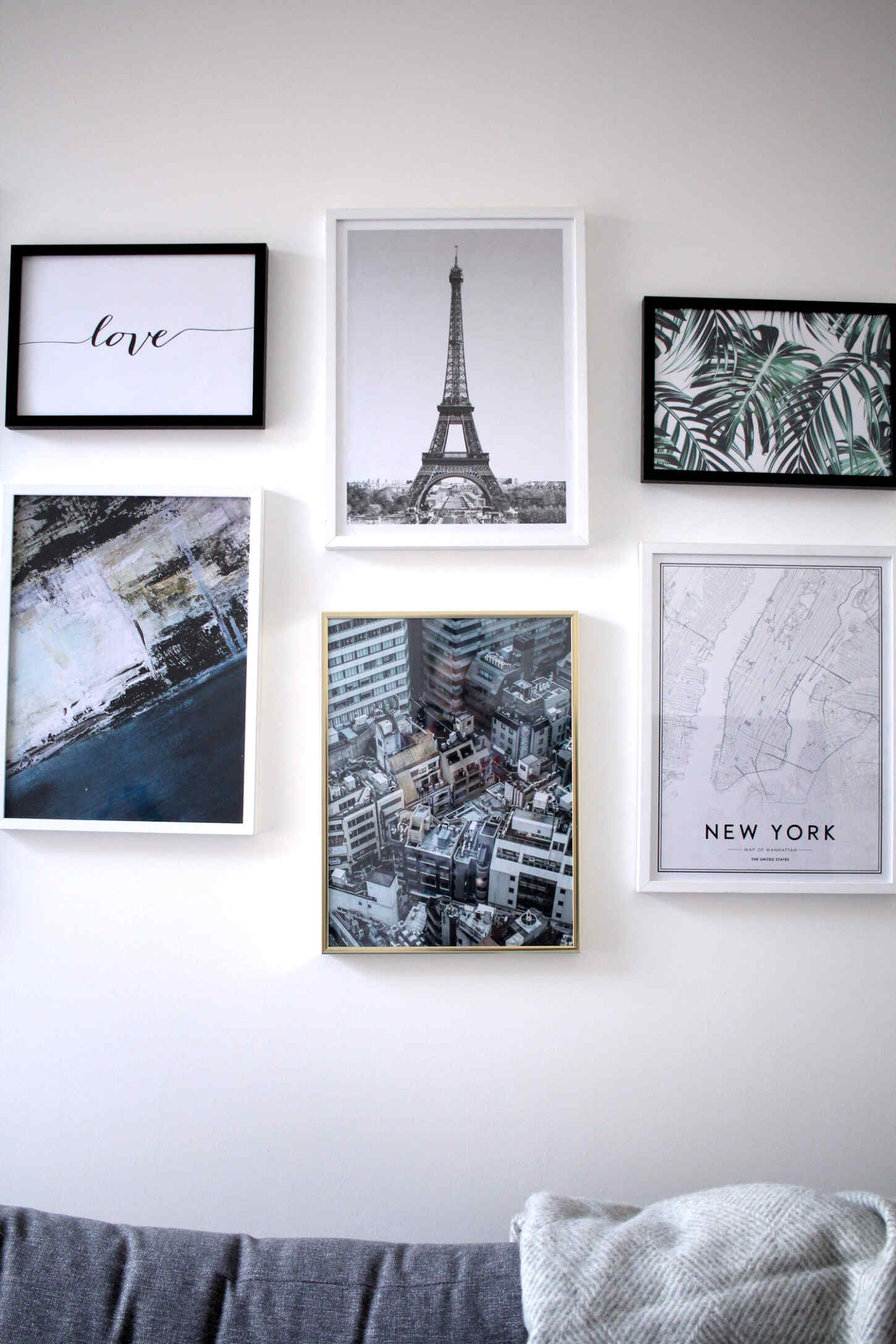 You may have seen my recent post on my gallery wall in my livingroom, but I already kinda wanna switch that up. I do really like all of the prints, but I want to include some more natural/nude tones to warm up the space a little. I'm still going to have having an overall grey/navy look to the room, but I do want make it less stark for Autumn as I want it to be a warm space to come home to.
So, I'm going to be looking for a couple of new art prints - maybe some vintage ones - to replace one or two of the ones I have. I'm going to dot a few more around the room too, as the whole left-hand side of our livingroom is pretty blank. I'm tempted to buy these drawers as they're so gorgeous, but I don't think they would fit in the room properly! I wish they did a wider 6 drawer version, as I'd totally get it for the bedroom. Anyway, I think I'm going to get a large circle mirror for that wall to really bounce some light back into the room.
Another thing I need to style are our new shelves. You can get them here (this store is my favourite, can you tell?) and I am beyond obsessed. I am using it partly as a proper bookcase with actual books rather than just a feature, but I need to add in some styling pieces to really make it look chic. I have the bare minimum on there right now, as I really want to think about it before I fill it full of things!
Finally, I need to find a new lamp for the corner. I bought one, but with our ceilings being so high it's sort of got lost. I'm obsessed with this West Elm one, but it's quite pricey and I know Argos do a similar-ish one at 1/5 of the price, so I'm tempted to get that instead!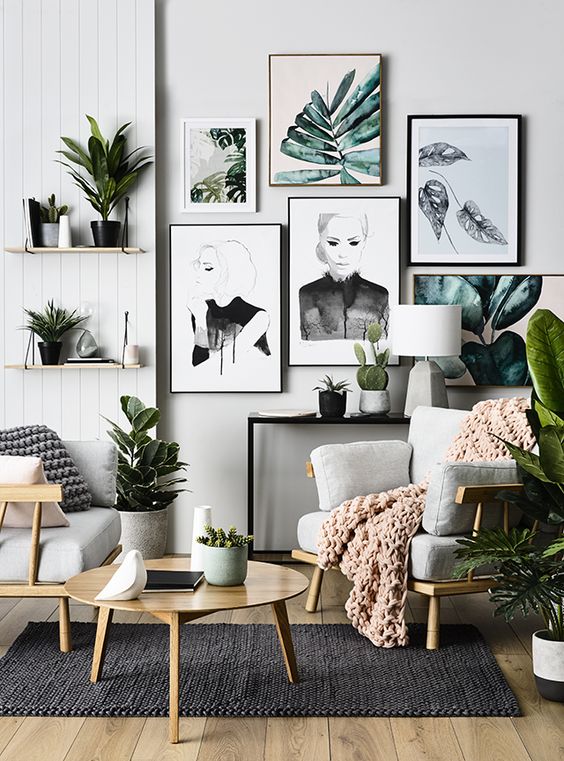 So, in the 'main' part of the flat (as I call it, I really just mean excluding the kitchen/bathroom) I have the stairs and the spare room left to decorate. We had so many issues with the stairs when we moved in, as we needed to move the gas meter, replace four steps at the bottom as they had woodworm, put in a new rail and banister at the top, get the full thing plastered... rip out the plaster and the damp issue solved at the bottom of the stairs. This was only done recently and has just dried, so I'll be getting on with the painting this week (probably on the day this post goes live!) to try and finish it all soon.
I really wanted to sand down the stairs, stain them and put a runner up the middle but unfortunately with replacing those steps, they wouldn't colour in the same way so we'll have to get carpet instead. I'll be replacing a few floorboards at the bottom and getting them sanded/varnished in the same way as the rest of the house too. I'm not sure I'll be putting a door back on at the bottom of the stairs, as I quite like how open it is.
I'll be getting some sort of unit for the bottom of the stairs on the right, just so I have somewhere to put umbrellas and keys and perfumes or something, so I remember to use them before I go out. I'll also be adding a mirror - maybe this one - to that space too.
I'm tempted to cover the entire wall up the left hand side in art prints of different sizes, but I'll have to sit on the idea for a little bit as I'm quite undecided! I have some cool prints from Paris and Venice that I want to include somewhere though. What do you think I should do?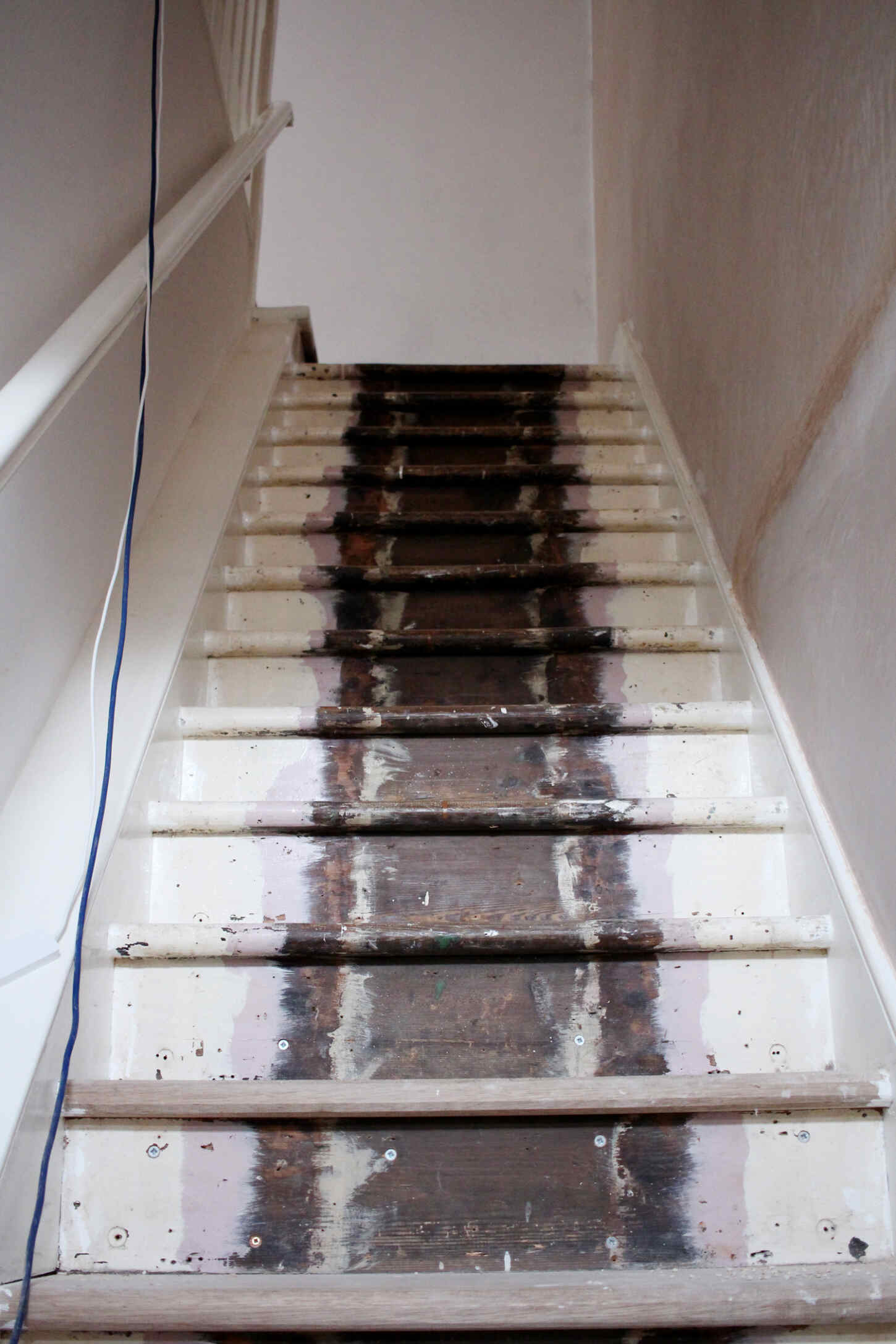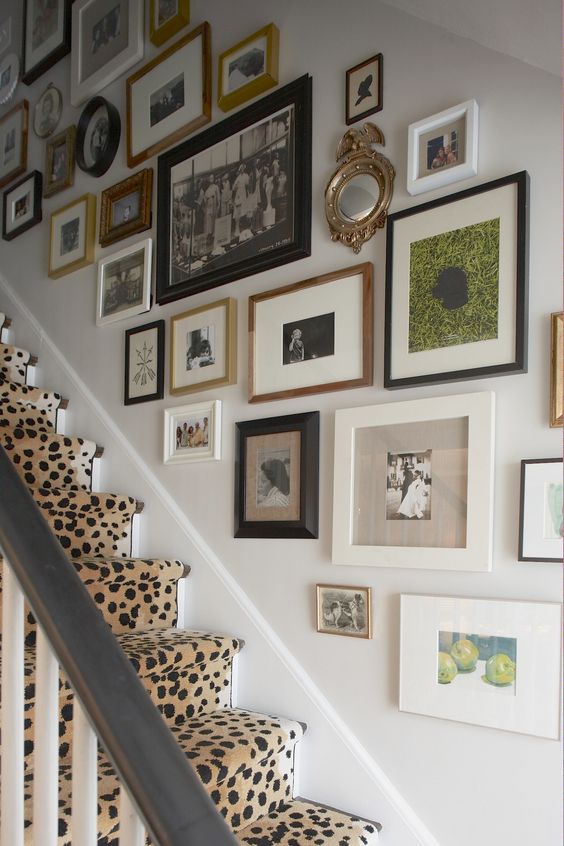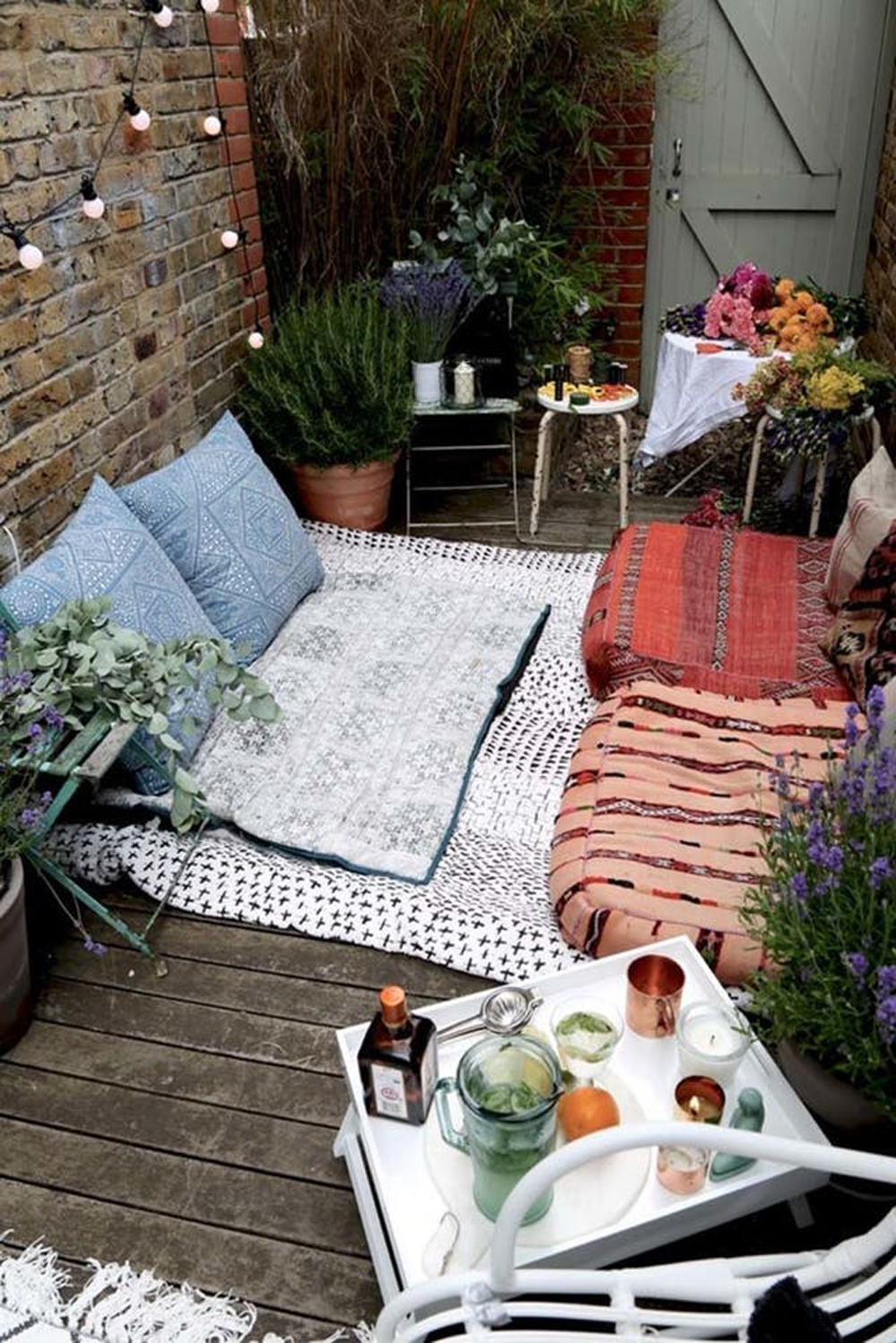 I'll not include pictures of this as it is currently, as you could easily see where I lived if you know the area. So, I'll just chat about my plans instead!
We have a sort of shared yard at the front, where we just have a wall and then two doors to each flat but the space at the front is mostly owned by downstairs (I think). So, because of this we're quite limited on what we can do and we can only really focus on our little section. We're going to replace our wall as if you gave it a good kick, it would probably fall down hah. We're also going to paint the brickwork around our front door and below each window so it looks a bit neater. I need to have a word with downstairs to sort theirs out, as it's all chipped and looks so messy so I'm hoping they'll sort it out!
In our backyard, we took down the crazy amount of ivy that was growing over the wall from next door which was the first step. Now we need to dismantle this giant shed that goes from one side of our yard to the other (it has an electricity supply and everything) and it should make our yard twice as big!
Everything will need a proper clean (I might have to get one of those SGS pressure washers!) and I'll need to paint all of the drains etc too, but I'm aiming to paint the back wall white and get a new fence to make it look all neat again!
I'm going to have lots of plants down there too and, even though we won't use it often, I want it to be a lovely space!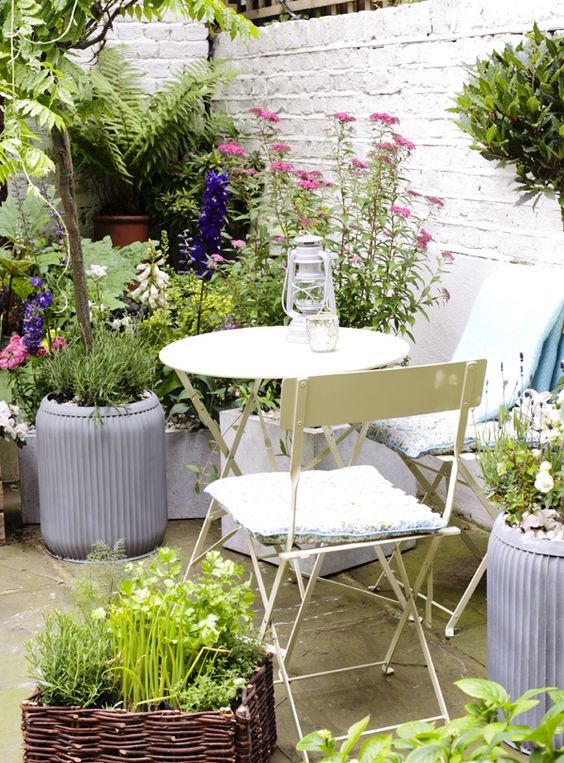 So, that's everything I should be doing in the next few weeks so hopefully I'll be able to do full 'room transformation' posts at some point. I really just want to get everything finished and sorted, as it's making me quite frustrated. I work from home, so constantly being here and just having to be ~patient~ isn't ideal - I want everything done now! Unfortunately I don't have an endless supply of cash, so I'll have to do things bit by bit until it's all sorted. Stay tuned for more interiors posts...