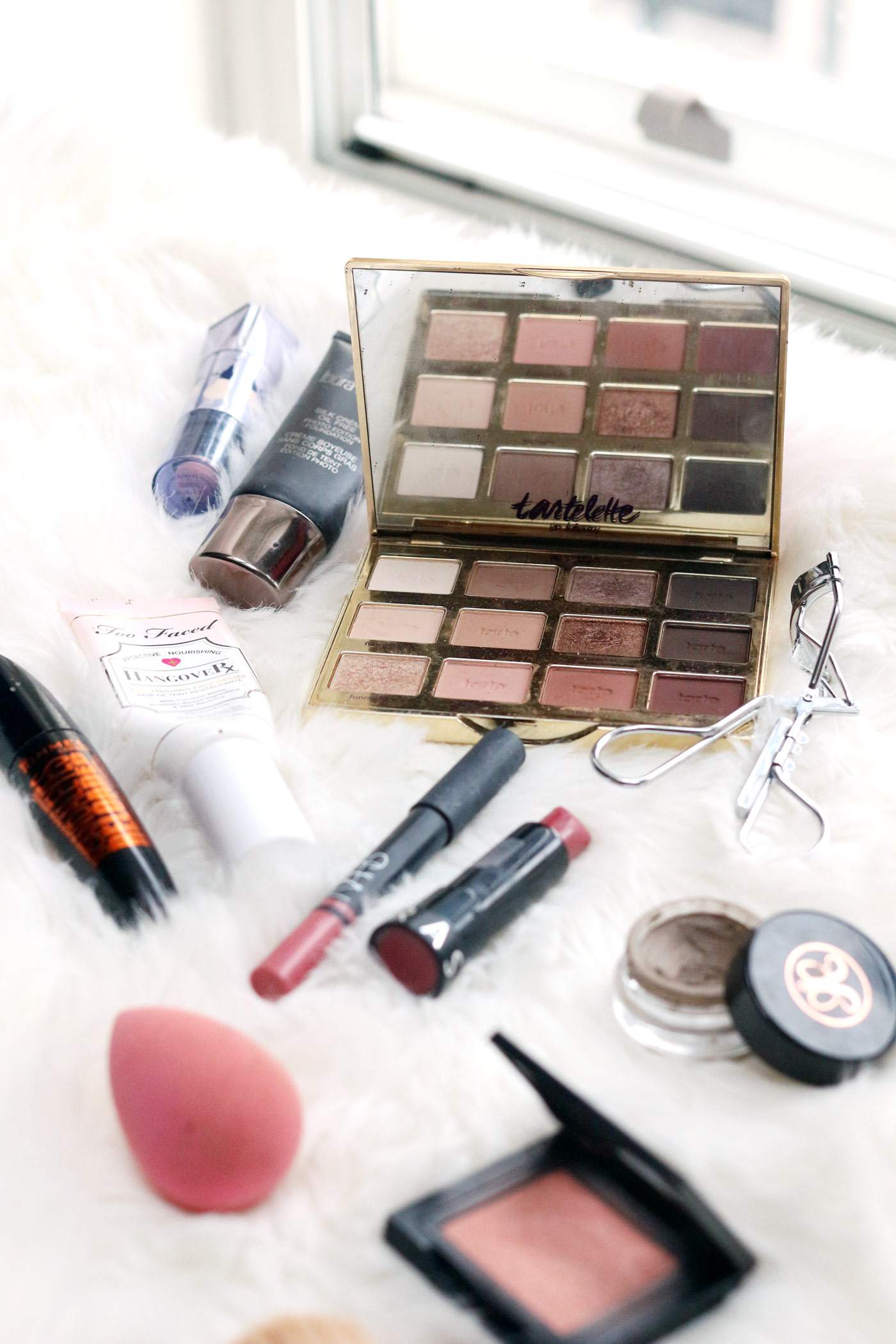 And another year almost comes to an end – that's went over fast, hasn't it? I do love a good beauty roundup and the chance to reflect on the makeup I've been loving for the past year, so that's what I'm sharing with you today.
Tarte Tartelette in Bloom Eyeshadow Palette
This has got to be my favourite and most used purchase of the year. The eyeshadow selection is just gorgeous so it makes a great every day option, plus they are easy to blend and oh so pigmented. If you buy one thing in 2017, make sure it's this! I promise you won't be disappointed.
Laura Mercier Silk Creme Foundation
I remember when they changed the formula of this (though they claim they didn't) and I was actually a bit grateful. I found the older one to be quite thick and too yellow for me – though that could have been my colour choice – but when I picked this one up I've found myself using it constantly. It's pretty much the only foundation I've opted for for the last four months! It gives great coverage, isn't heavy on the skin and is very perfecting in its finish. 100% repurchasing when it runs out.
Benefit Watt's Up Highlighter
I've only really got into highlighters this year and this has been my favourite pick! It blends like a dream and gives the best, natural, champagne toned highlight I've ever seen. If you don't want to look like a glazed doughnut, but want a little glow, then pick this one up.
Too Faced Hangover Primer
I've used this every single day since it arrived on my doorstep and I just love it. It has a thinner consistency, is quick to apply and doesn't leave a silicone feeling on the skin which is great. I find it helps my makeup last longer and just look nicer!
Anastasia Dip Brow Pomade
My go to brow product and the one I totally won't ever be without. I know people feel like this can look a bit too 'instagram brows' when applied, but if you shape your brows top and bottom (with just a line) then brush the product into the centre, it can give the most natural, full yet defined looking brows ever. A must-have product!
Bobbi Brown Blush in Nude Peach
I think this was in my favourites last year and it's basically the only blush I wear these days. It's the perfect peachy, natural blush hue that warms up your complexion.
Rimmel Scandaleyes Reloaded Mascara
I think I got this back in September(ish) and it's been in my makeup bag ever since. I love how dark this mascara is and how thick it makes my lashes look. It's such a great high street option!
Sephora Lipstick in Oh Oh
I know, I know, this is a pain to get in the UK but you can get your mitts on these lipsticks then definitely do. The shade Oh Oh has been one of my most worn since I picked it up in Venice, as it's the perfect rose hue that's the ideal blend of red and pink. It's gorgeous!
NARS Satin Lip Pencil in Rikugien
This is my most reached for every day shade. It adds a touch of pinky-nude colour with a satin finish, but looks so natural on. I always keep it in my bag!
The Beauty Blender
I really didn't think how much I would need a beauty blender until I actually started using it. This expensive (and it is, really) sponge works wonders for blending foundation and concealer. You could apply the thickest layer and this baby would still blend it all down to a natural finish!
Shu Uemura Eyelash Curler
Another thing I wasn't fussed about (as I've actually had them for years!) until I told myself to use them every day and what a difference they've made to my overall look. They hugely lift my lashes and help my hooded eyes look more awake!
What are you favourite products from 2016? I'll be posting about skincare etc next!
Helen x