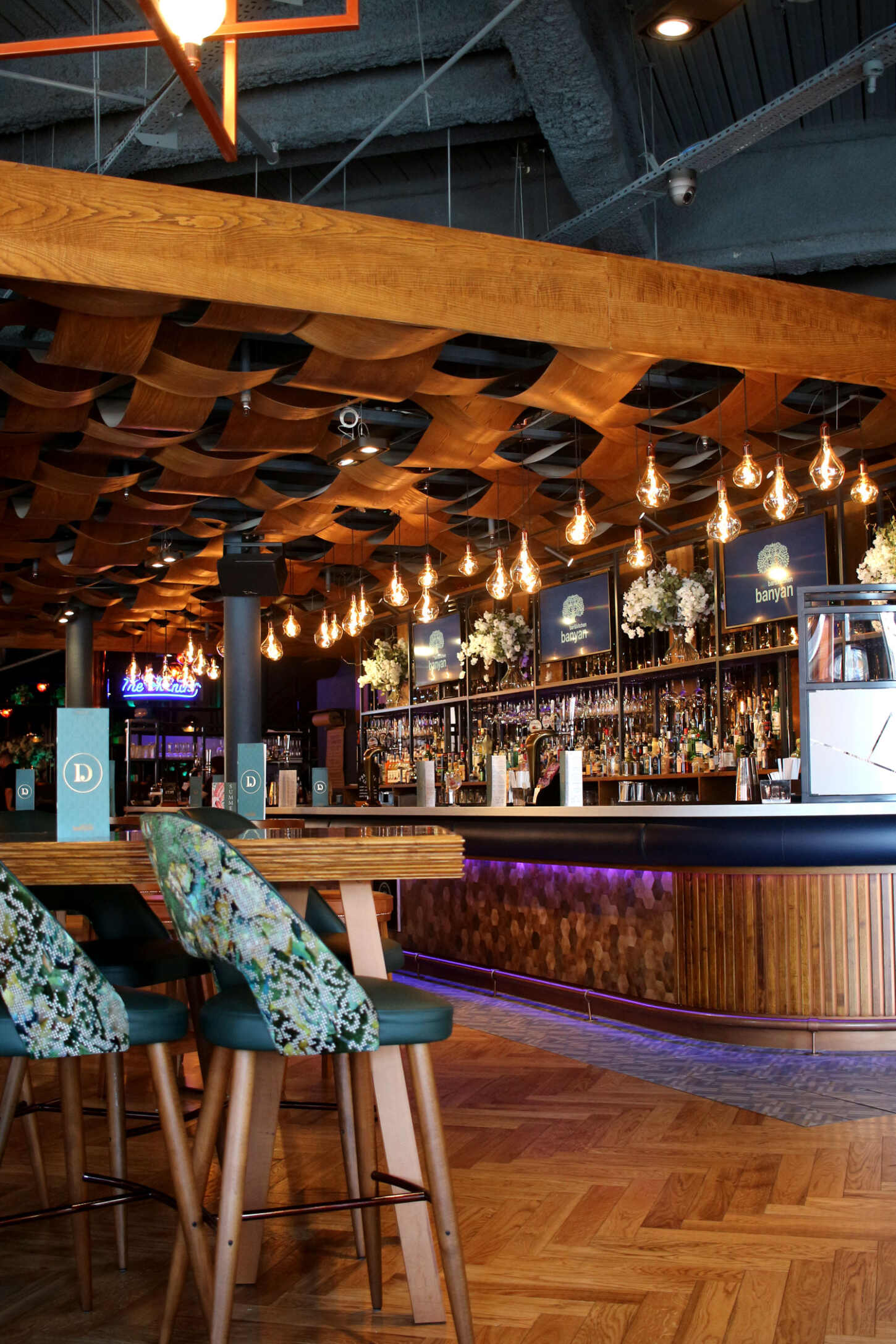 - Banyan -
Monument Mall, Newcastle, NE1 7AL
I was recently invited along to review Banyan, a newly opened (within the last few months) venue to Newcastle which is very centrally located at Monument. You seriously can't miss it and, with it having outside seats, it has been packed every time I've walked past it, including on the day we popped in for this review as the weather was so nice!
We (myself and Hannah) we're kindly gifted their sharing platter and some cocktails, so here's what I thought of the venue and my quick lunch while we were there.
The Bar and Restaurant
The venue itself has been well thought out and designed. There's a large bar and some higher bar stool style seats around, which is perfect if you're simply visiting for a drink. Around the outside, there are big comfortable booths and plenty of tables, so whether you want to be tucked away or be nearer the windows with a lovely view of Monument, then there's plenty of options available. They also have an upstairs, but I didn't take a look as I was just there for a quick visit!
The colour scheme really suits the space, as it's a mixture of wood and navy and gold so it makes it look more upmarket and trendy which is never a bad thing. I like the use of neon lights and plants, too, as well as the textures such as leather and velvet for the seats. It definitely reminds me of some other bars in town, but it's a popular style that looks chic and modern so it's a really nice place to sit and spend your time.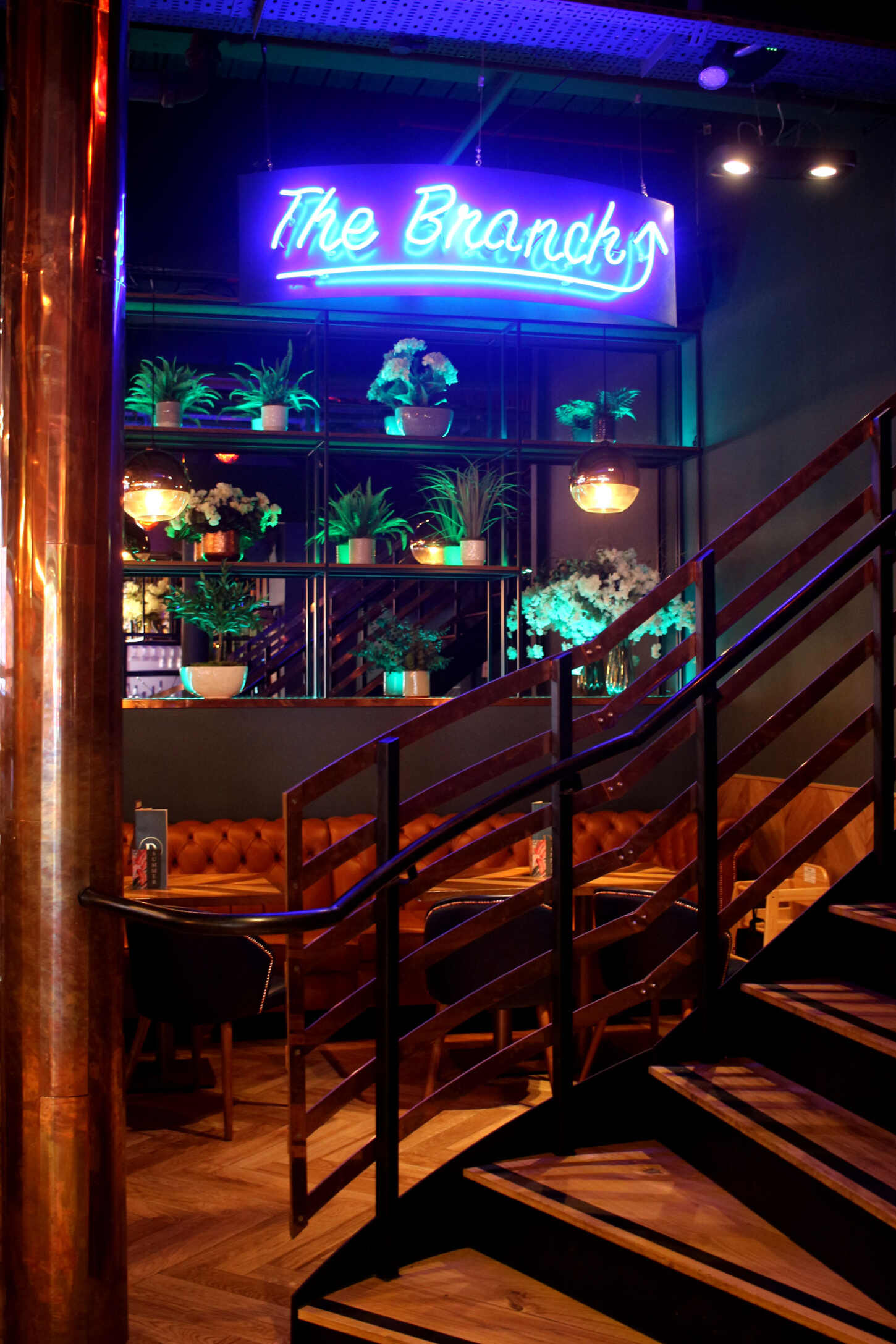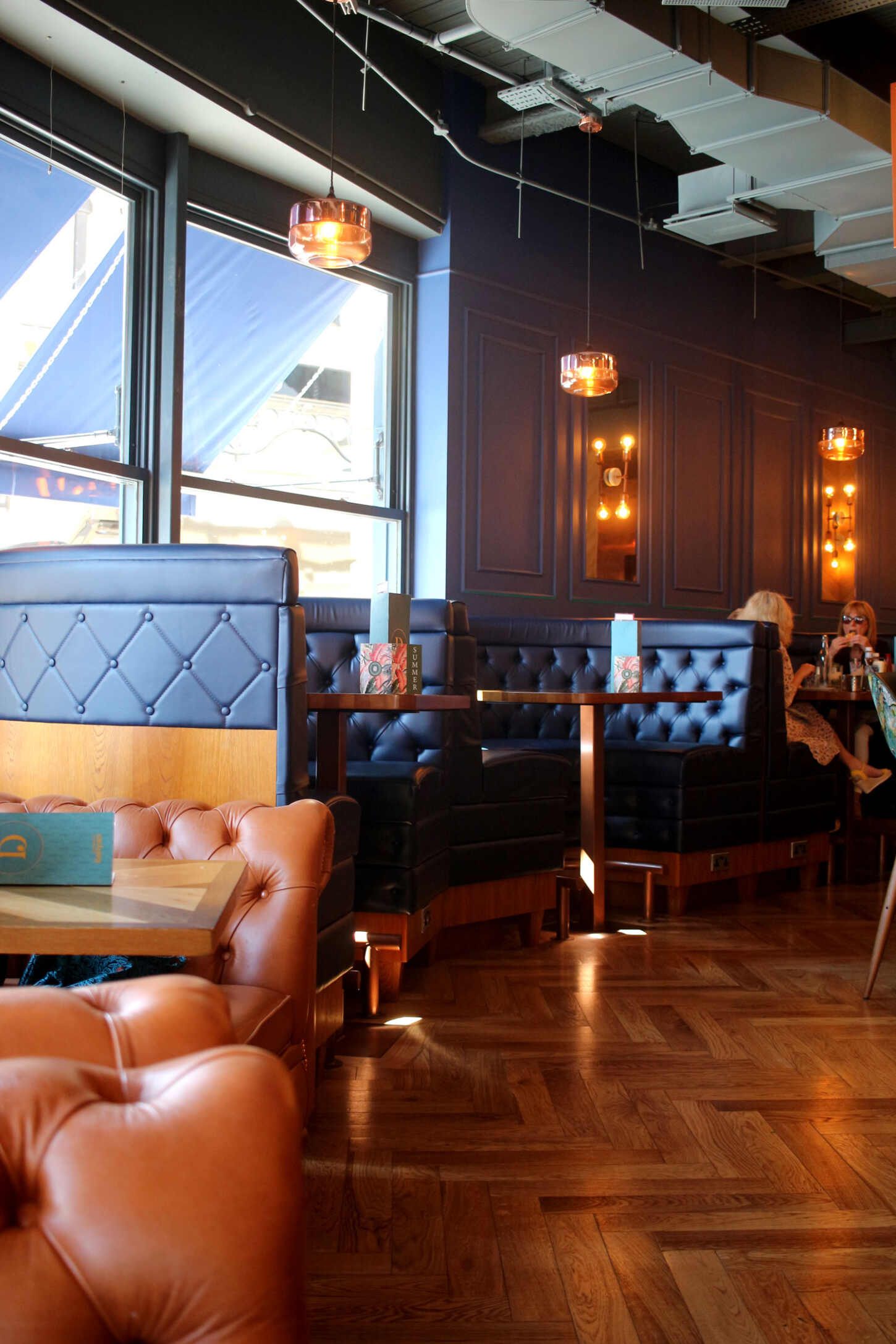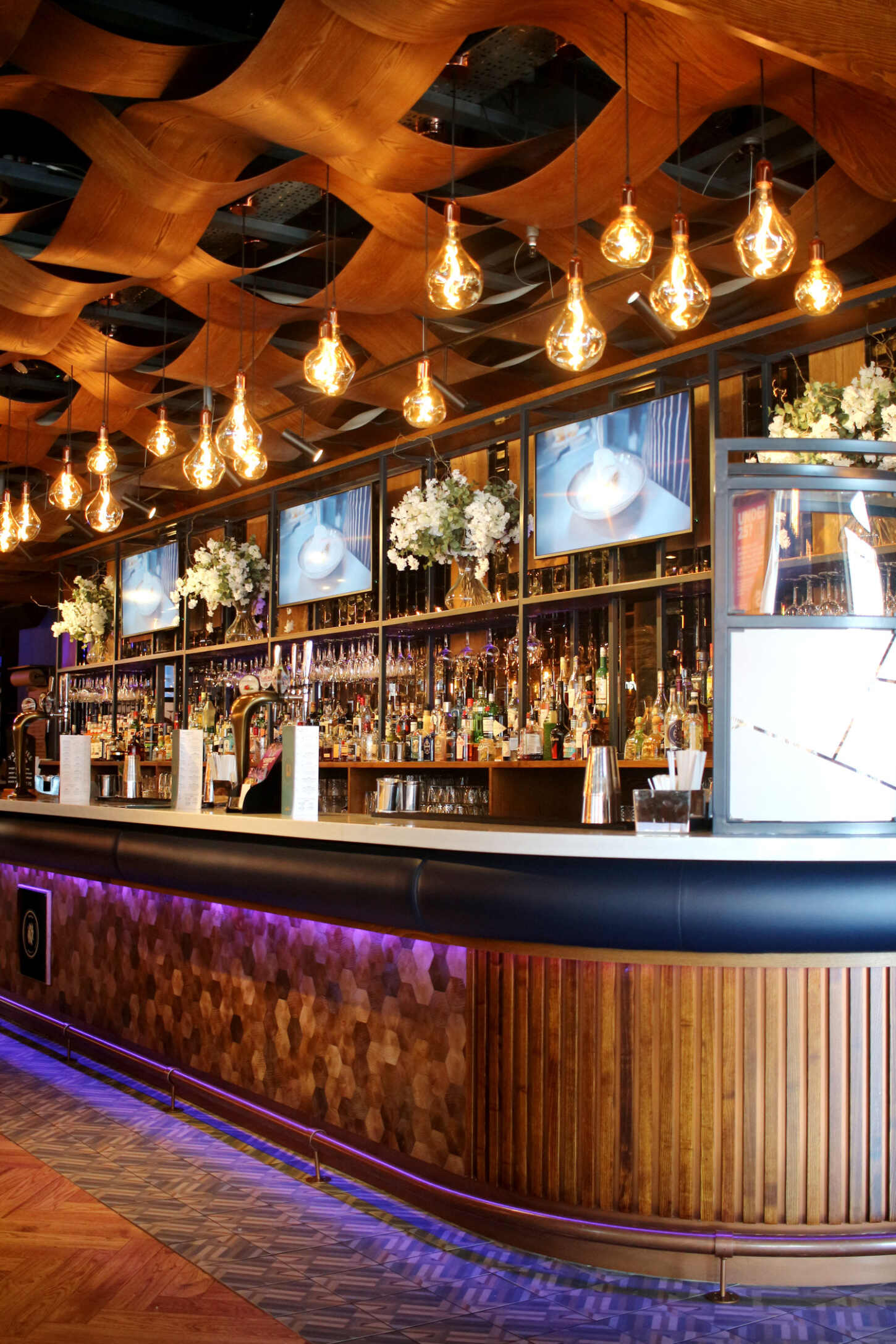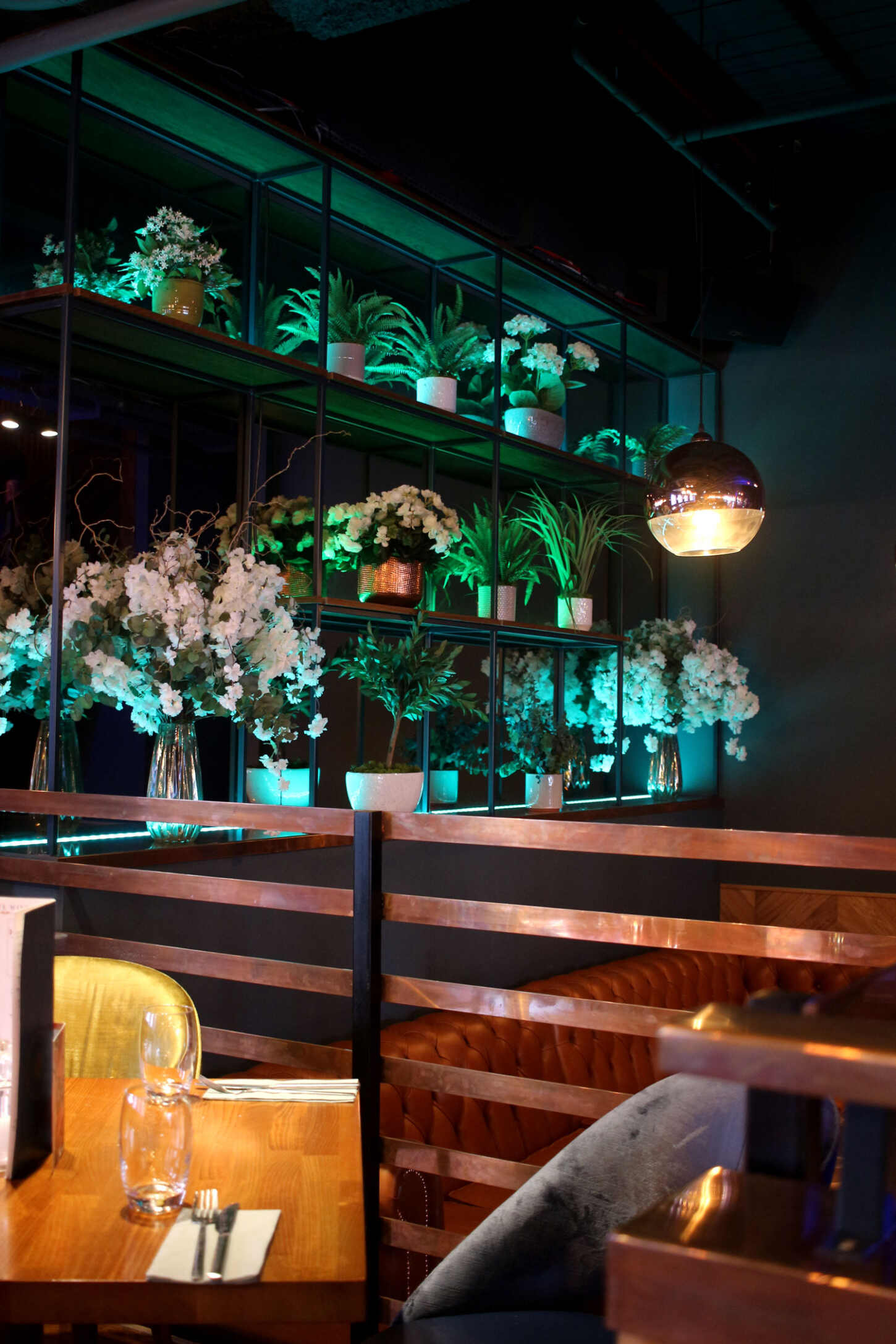 The Food and Cocktails
As mentioned, we were gifted a sharing platter so we picked the 'Banyan Platter' (£19.95). They do have two others available, which is Pitta and Houmous or the Mezza Platter which is vegetarian. The Banyan Platter consisted of Bang Bang chicken skewers drizzled with satay sauce, fried baby squid, Japanese breadcrumbed Brie wedges, crispy duck spring rolls, panko breadcrumbed king prawns, beetroot houmous, vegetable crudités, marinated olives and warmed pitta bread.
As a whole it was a very well presented platter, as it was colourful and it was a great mix of things. I particularly enjoyed the Brie wedges, as they were warm and still gooey and who doesn't love cheese? The chicken satay was good, though it definitely needed more sauce for my tastes (but I love satay, so that's just my preference). I also adore beetroot houmous, so was happy to see it on this platter! The spring rolls were as you would imagine them, same with the prawns and the squid. The crudités offered a nice bit of crunch to the dishes which was good too.
We were also offered a cocktail each, so I went for the Blueberry and Raspberry Sour (£8.50) which was 'Vanilla-infused Woodford Reserve bourbon leads this twist on the timeless sour with the support of Cherry Heering liqueur, lemon, sugar, blueberry syrup and the rich favours of raspberry'. It was pretty delicious and tasted like some sort of sour Starburst - definitely one for those who love sweet/fruity cocktails. Hannah went for the Geisha Girl (£7.95) which was 'Ketel One Citroen vodka, plum sake, guava, lemon and pineapple. All fnished with a dash of dry Prosecco and a rose bud garnish.' I stole a sip and it was also good and tasted a bit like passionfruit (even though it had none in) - very refreshing though!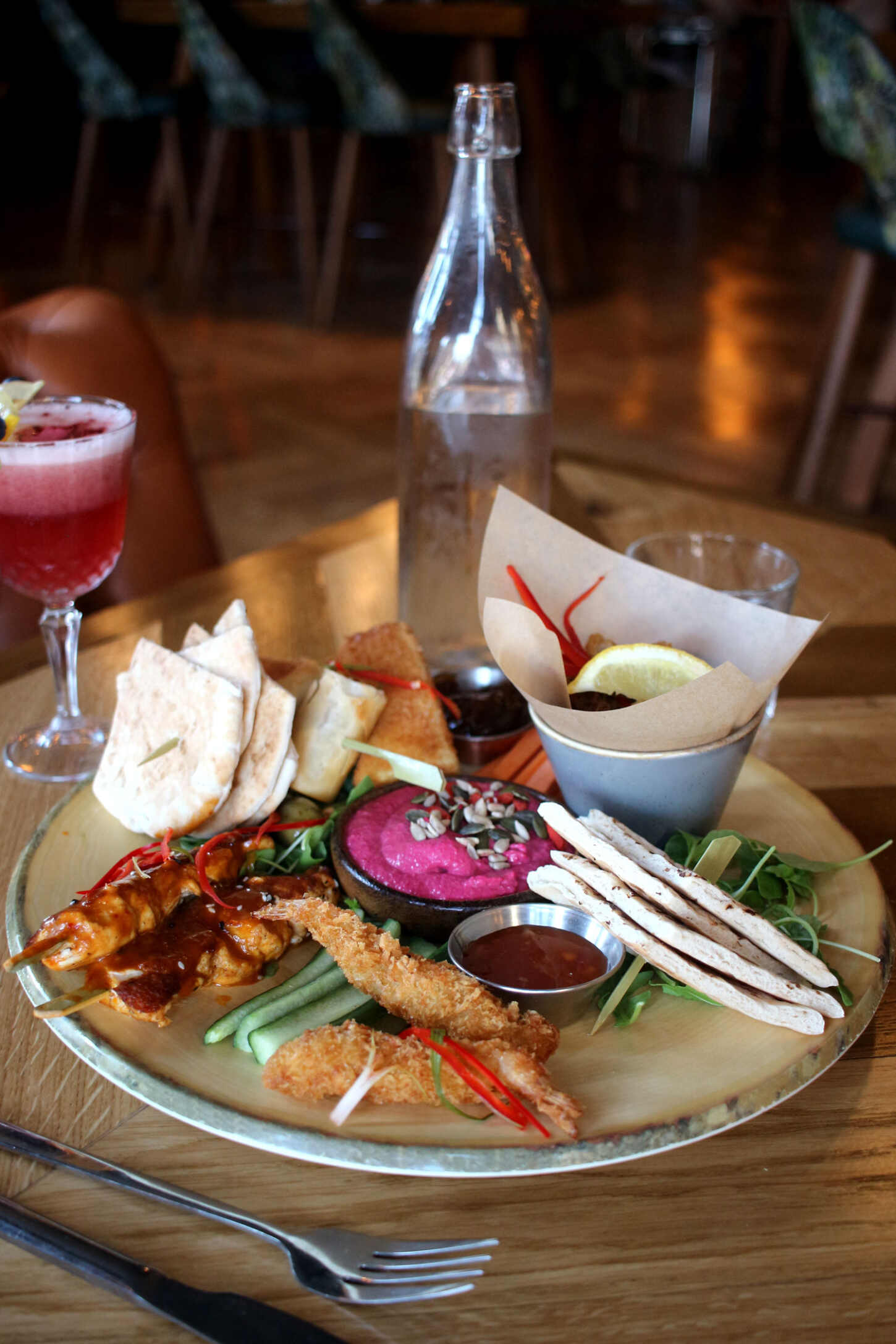 - Conclusion -
Banyan is a stylish bar that offers a good range of food and drinks. They have a lot of cocktails which I would definitely work my way through, but I would opt for something other than the sharing platter next time as I think it was a bit pricey for what it was. For the rest of their menu, the prices are average with a starters at around £5-£8, mains between £10-£15 and sides at £3.50-£5. The cocktails seem to be around the £7-£9 mark though they do have offers on throughout the day where you can get 2 for £10 I believe.
If you want a very centrally located bar that will cater for most tastes in food, then Banyan is definitely a good place to visit.
You can find their website here with their menus and how to find them.
You can also find all of my other Newcastle reviews here.