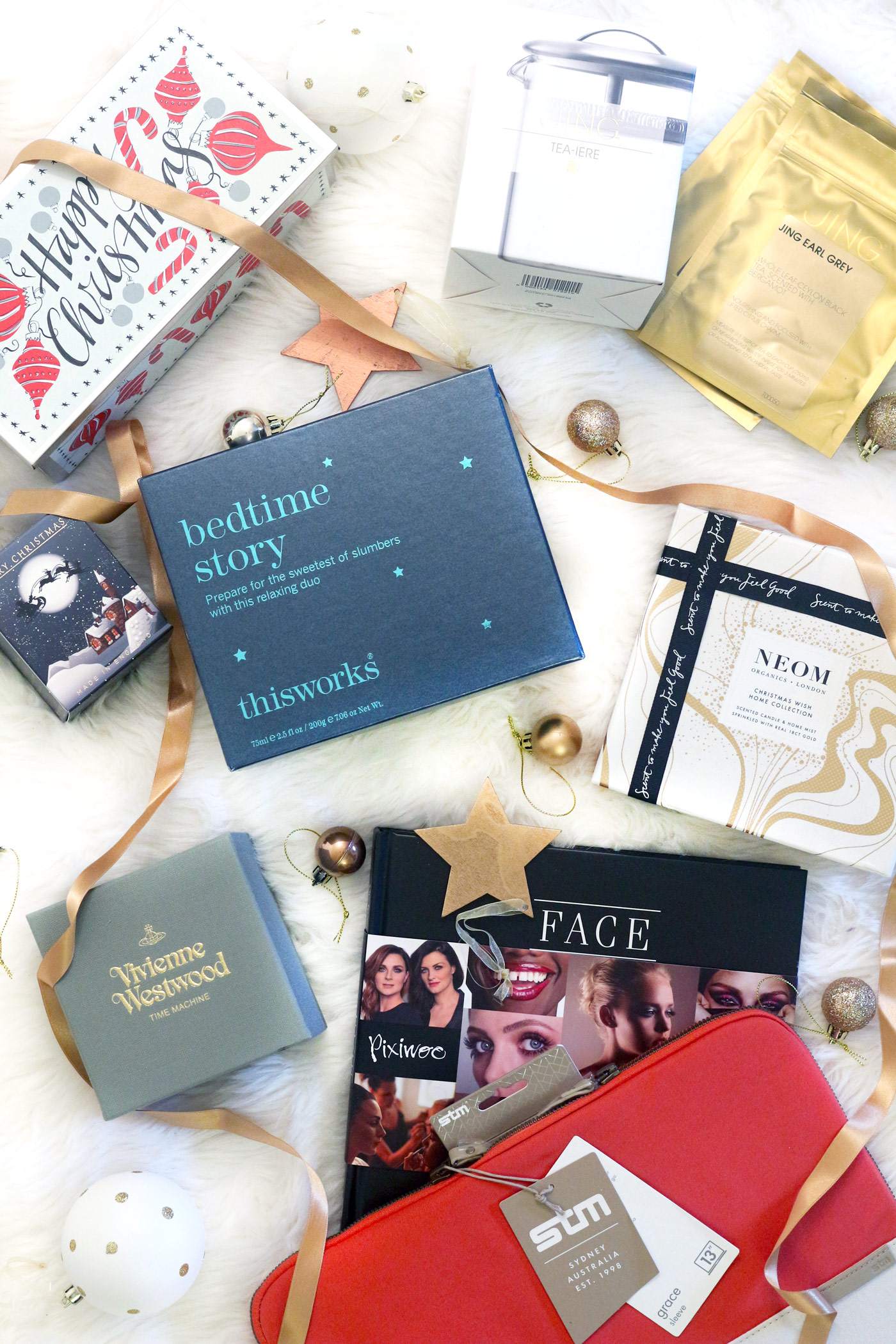 First of all, apologies for the lighting in these photos. I swear Winter and shooting with studio lights will be the death of me! Anyway, today I'm chatting through a few lifestyle picks for those who maybe aren't keen on beauty and want something different!
I know I featured this watch in a recent outfit post, but I feel like I had to include it again as it's so pretty. I love the cut out details and the gold against the black. This would definitely fall into 'main/only present' category, but it would make such a beautiful gift for someone to keep for years.
If you're getting a present for someone who loves scents, then these may be the perfect gifts for them! The This Works Bedtime Story set contains their cult Deep Sleep Pillow Spray and the Deep Sleep Bath Soak to ensure a peaceful nights sleep. This is such a lovely set and would make the ideal gift for someone who struggles with their sleeping routine! Next, Neom always make beautiful Christmas gifts and I love their banding, so it's no exception that the Neom Christmas Wish Home Collection (mandarin, cinnamon and tonka bean) with a candle and room spray would be just as beautiful. And finally, we have a little Merry Christmas candle from The English Soap Company – it's such a perfectly refreshing scent!
I've already adopted this STM Grace Laptop Sleeve into my life as it's just so cute! It's furry lined on the inside too, so fits my 13″ laptop perfectly and I know it won't be damaged. It would be a great gift for someone who's always on the go. For beauty lovers, you could pick up The Face by Pixiwoo book for them to browse through. Created by the Pixiwoo sisters (Sam and Nic) of Youtube fame, the book contains everything you need to know about makeup and it's such a brilliant read!
Onto the foodie bits and I couldn't not feature these amazing biscuiteers treats! Every year they do beautifully decorated biscuits and I am beyond obsessed with them as they just look so special. They come in a decorated tin and they have a host of different designs to pick from this year too. I went for the Christmas decoration set featuring baubles, snowflakes and bells and they're just so stunning. They would make the best gift for someone you want to impress or really treat as they're stunning to open!
Finally, I wouldn't be British without a mention of tea so the Jing Tea Tea-iere is such a perfect present! This particular one came the Jing Earl Grey and the Dragon Well teas, but there's a whole host of teas to pick from on their website. Their whole ethos is around the experience of tea and making it properly, so they have beautiful teaware – all glass so you can see the tea inside – and I really think it would be the best gift for someone who loves their tea.
So that's my lifestyle gift guide! You could always go for a classic hamper or some boozy options or just a giant box of chocolates too!
Helen x