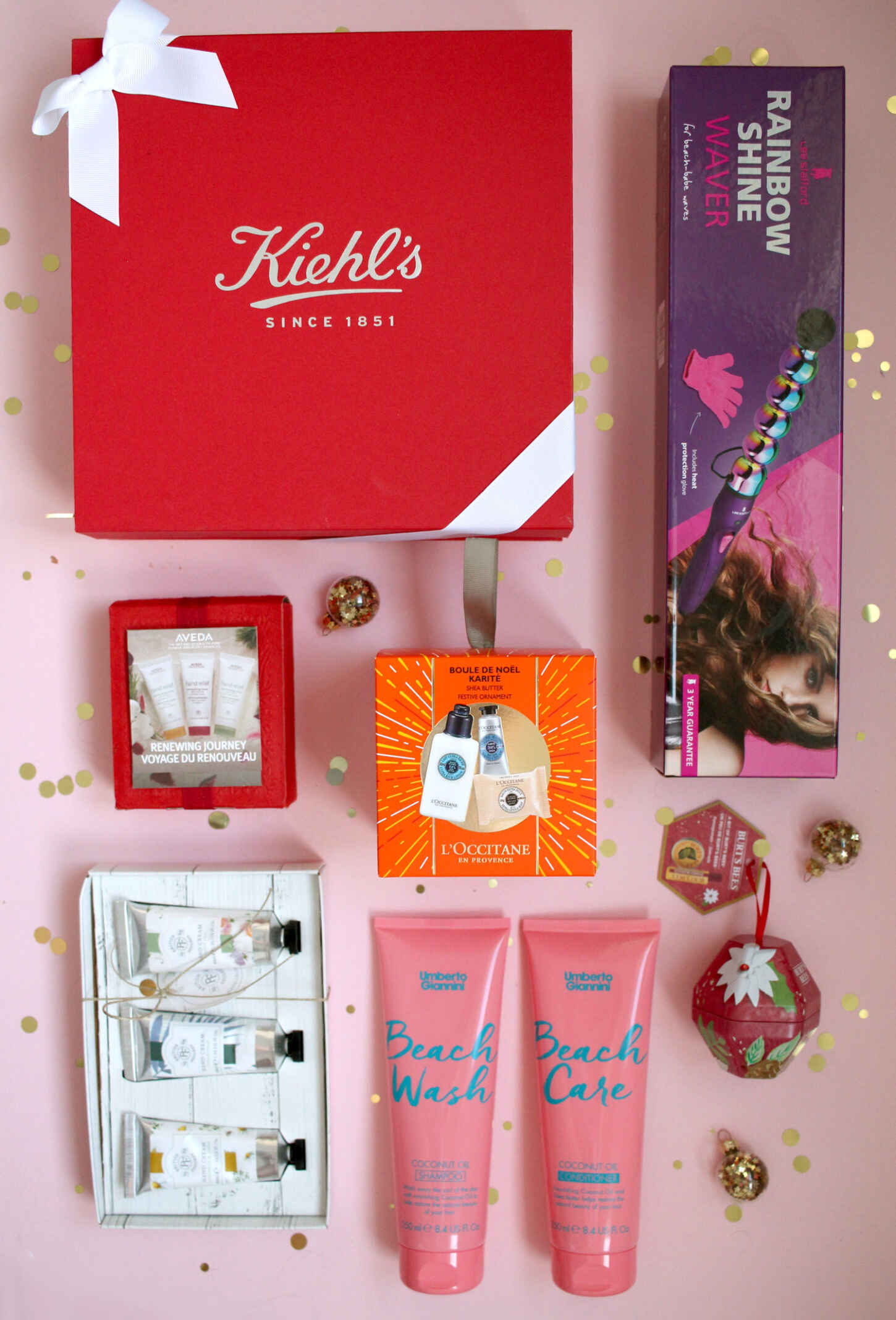 Welcome to the third part of my gift guides! You can catch up on my little indulgences guide and lifestyle guide before this if you fancy, but today is all about those perfect hair and body gifts for the gals in your life. From awesome hair tools to pretty gift boxes and pampering goodies, there's a lot in here so get your notepad ready and jot down some ideas.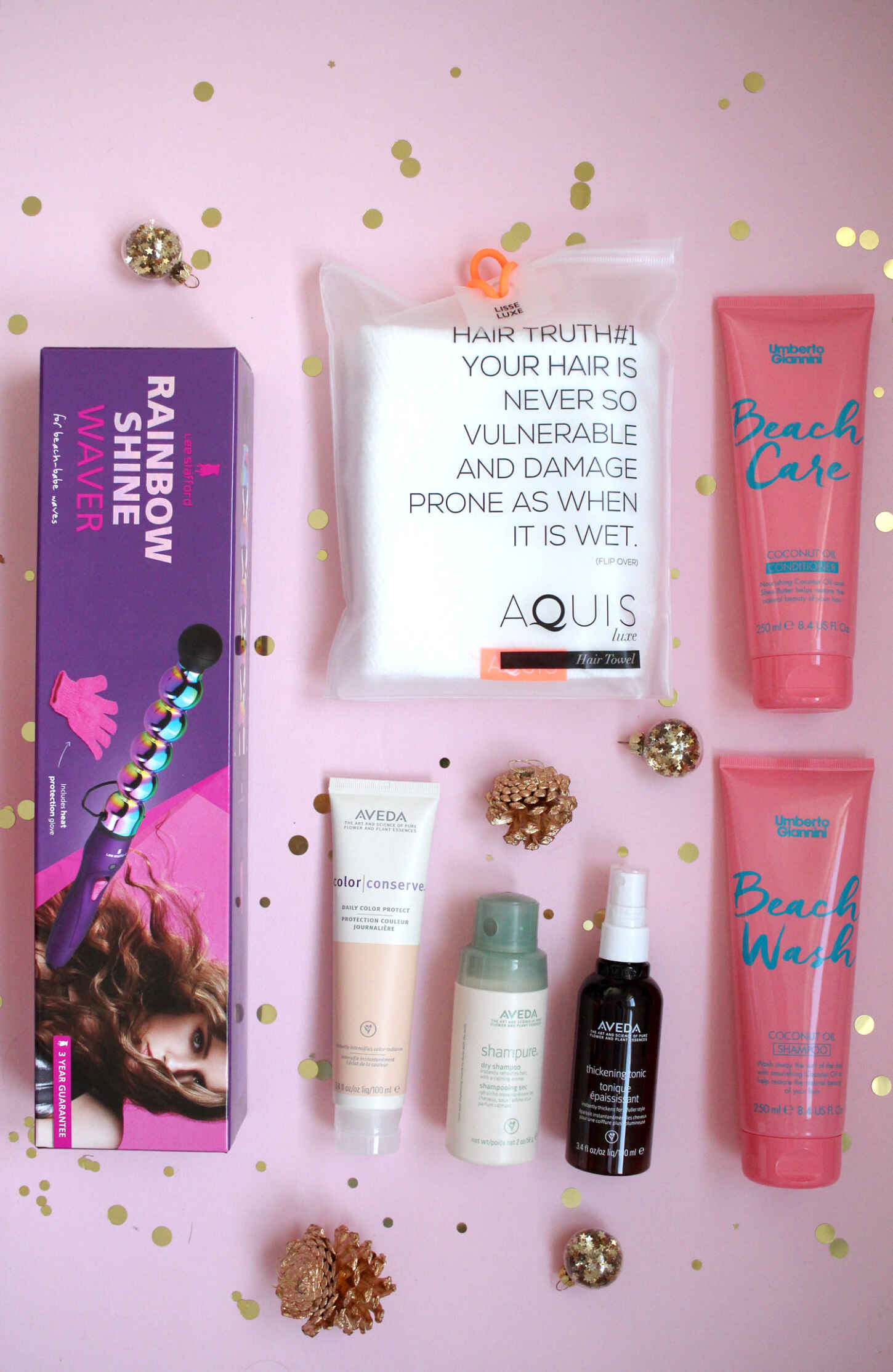 There's nothing better than fresh haircare to try for New Year! I used to love it when I was younger and I'd get a new pair of GHD's for Christmas as my 'main present' and I'd be totally over the moon, I loved them! So, I had to include a haircare section in this guide.
First, in the hair tools departments, is the Lee Stafford Rainbow Shine Waver. This colourful curling wand would be perfect for those who want a way to create effortless hairstyles without the hassle. Just wrap the hair round for super soft curls - perfect!
There's loads of haircare gift boxes on the market right now, but I quite like picking up individual products for people to test out. The Umberto Giannini Beach range has a great selection of washing and styling products, so you're bound to find the perfect gift in there - the packaging is gorgeous too!
Aveda is also a great haircare brand and their range is extensive, so whether your giftee has coloured hair or dry hair or just wants every day products, there'll definitely be something within the range. I'm currently testing out the Colour Conserve Daily Colour Protect, Shampure Dry Shampoo and Thickening Tonic myself.
Last in this little list is an extra gift you could get for the hair obsessed gal in your life. The Aquis Luxe Hair Towel is designed to prevent damage to your hair when it's wet, instead of towel drying it and potentially causing more split ends!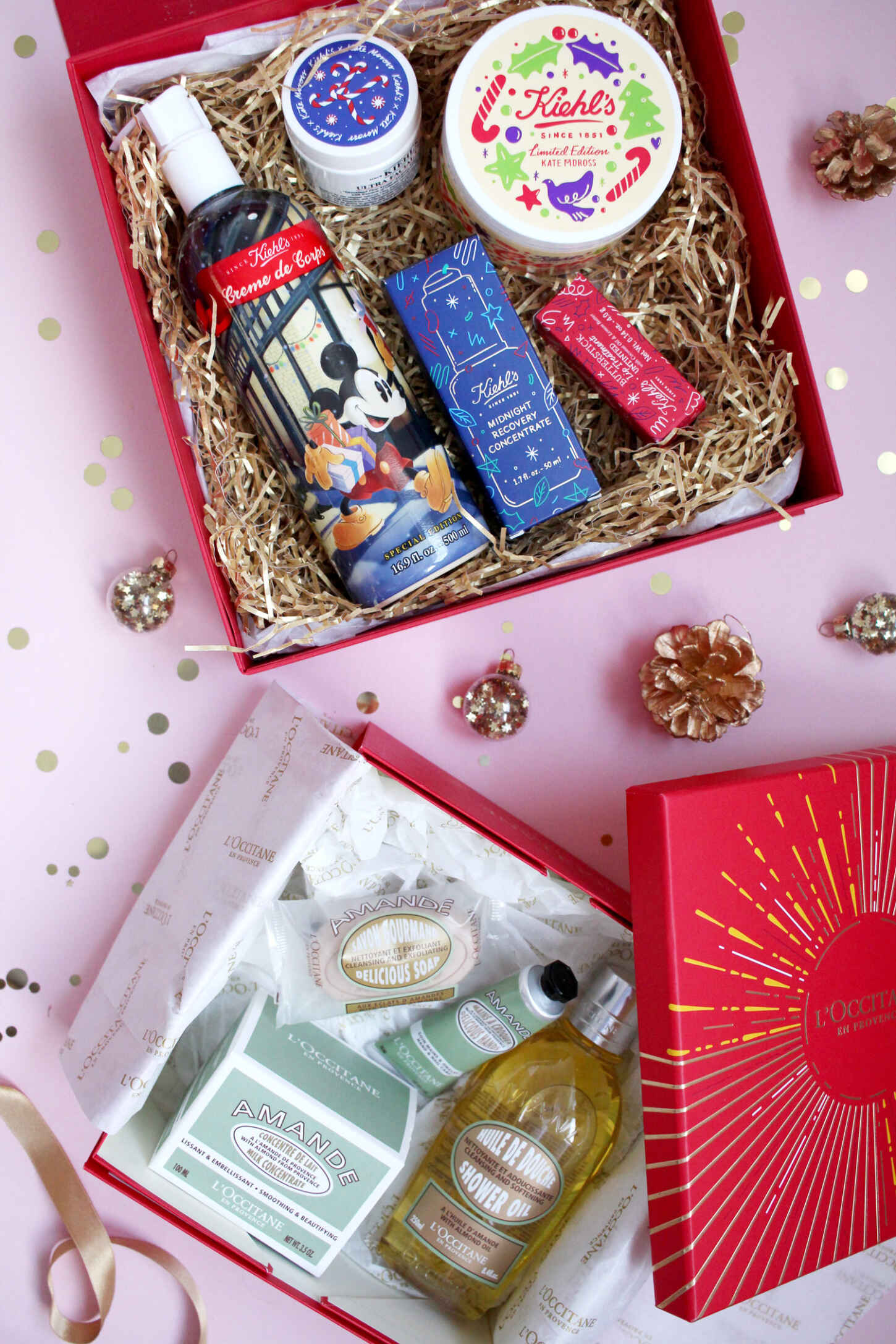 Is there anything nicer than picking out a bunch of gifts and making them look all pretty in a hamper-style box? It's honestly one of my favourite things to do and I love giving bags of beauty goodies to my friends and family every year.
Kiehl's are definitely a stand out brand to me for creating your own lovely boxes of treats. This year, they have some beautiful packaging on some of their best sellers too - I mean, take a glace to the right and tell me that's not gorgeous??
I love how they've teamed up with Disney for a special edition bottle of their classic Kiehl's Creme de Corps. It would make such a pretty gift for Disney and non-Disney fans alike!
Their Ultra Facial Cream, Midnight Recovery Concentrate and Butterstick Lip Treatment all have beautiful Christmas designs too! I love the magical feel they all have and even without being wrapped, they'd make the perfect presents.
The one I love the most is the Kiehl's Creme de Corps Body Butter tub. The design of the tub is just beyond perfect! I'm so obsessed that I can't give it away and I'm 100% keeping it for myself tbh.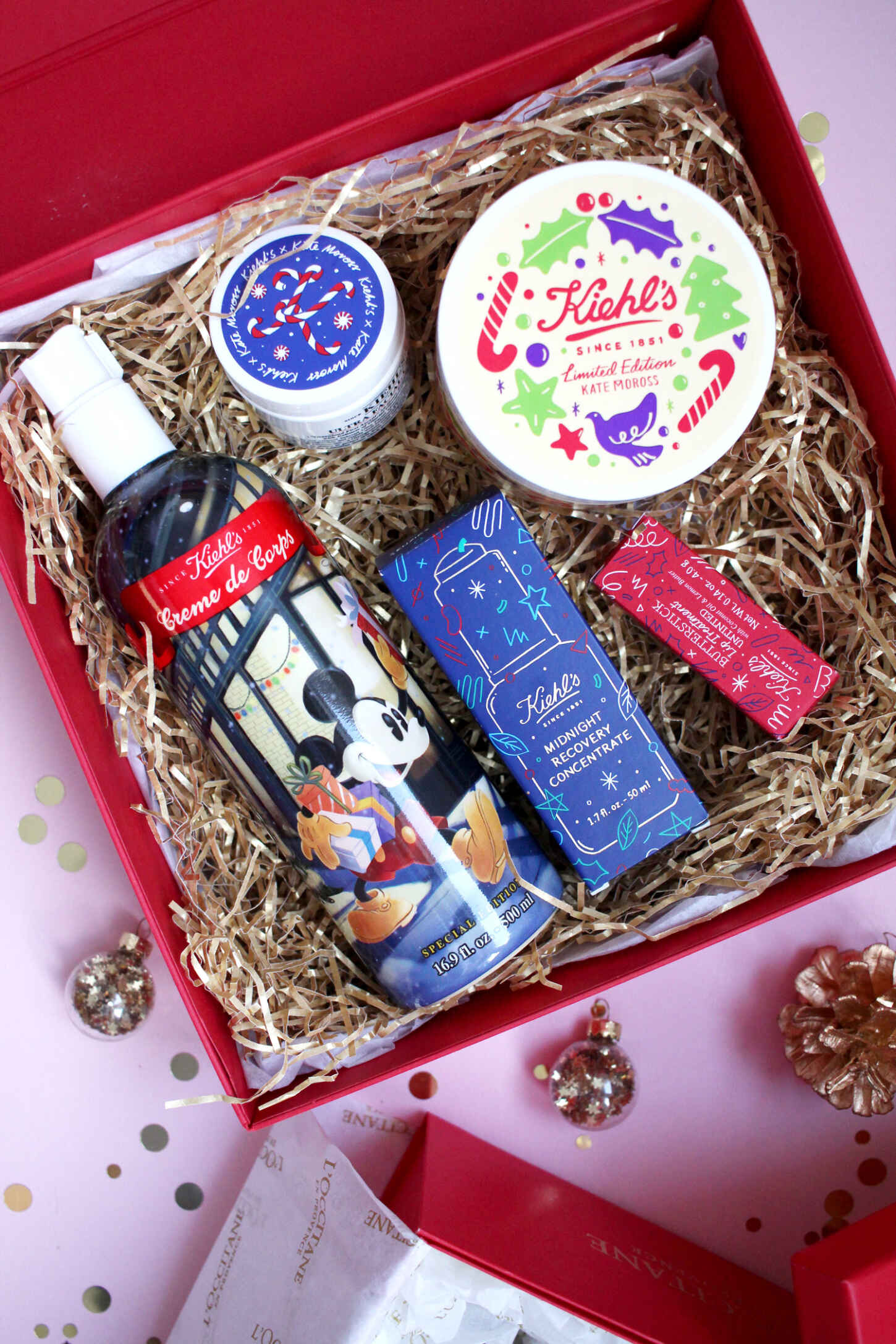 Another brand that I adore for gift boxes has to be L'occitane. They always do the best products in the best bundles, don't they? I've been obsessed with so many of their ranges over the years, so I feel like I can say with reasonable authority that they're totally worth buying! I always pick some up for my mum and dad, as it's the only skin/body care brand that my dad uses, so their products do make really love gifts.
The box above has their classic Almond gift set which is basically a marzipan flavoured dream. You get the gorgeous L'Occitane Almond Shower Oil, the L'Occitane Almond Milk Concentrate, the L'Occitane Cleansing and Exfoliating Soap and the L'Occitane Almond Hand and Nail Cream - all housed in a beautiful red box. Minimal wrapping required *thumbs up*.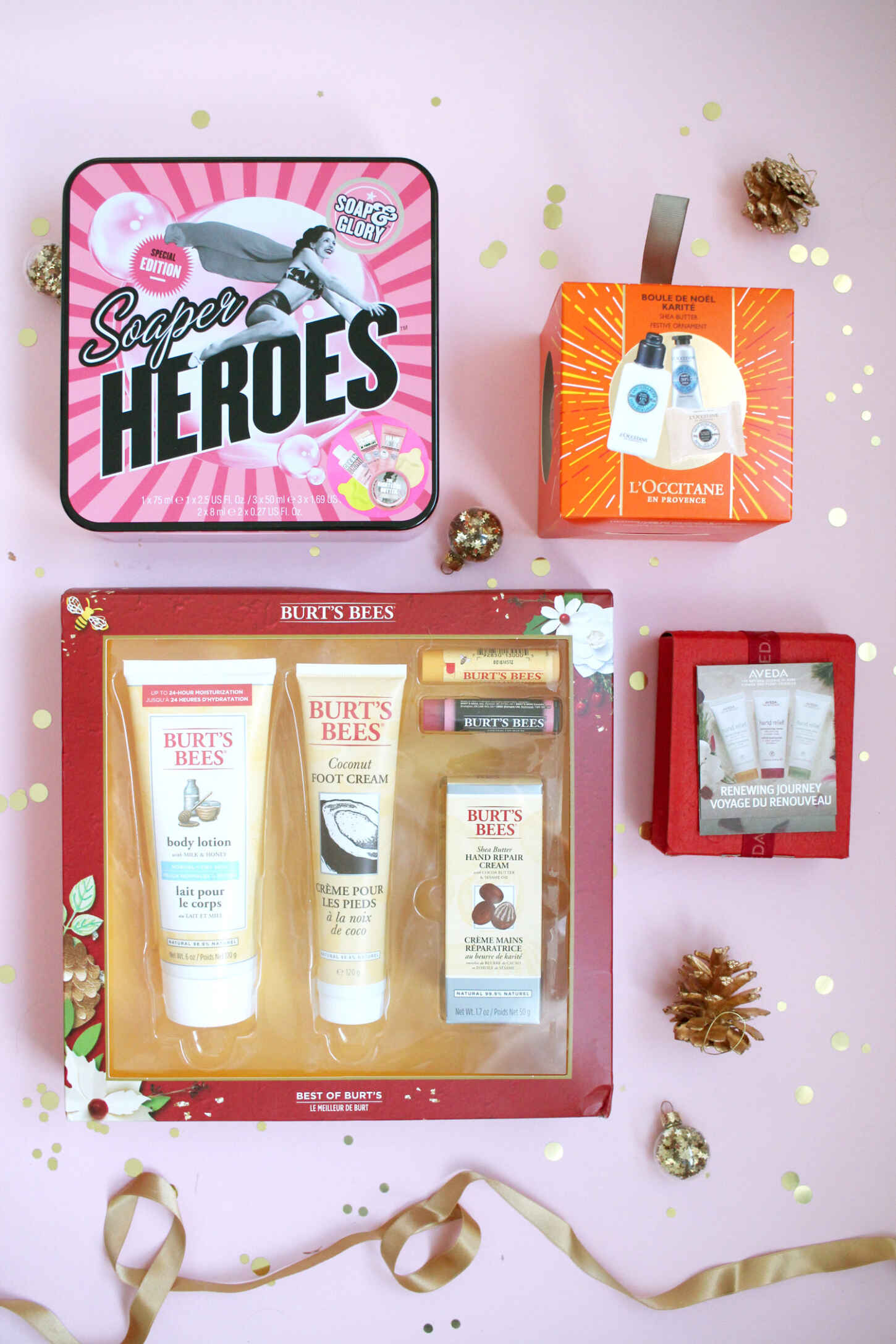 Now we've arrived at those lil extra bits you could get as stocking fillers or just pretty presents to give someone!
Following along from the above, the L'Occitane baubles are always my favourite to pick up every year. I love the shea butter one, as it has perfect sized products so you can get familiar with the brand!
You can't do Christmas without Soap & Glory (more on that below) so their Soaper Heroes tin would make a lovely gift, as it contains ideal mini sizes to try.
Similarly, Burt's Bees always do amazing gifts! The Burt's Bees Best of Burt's set is such a treat. It contains the body lotion, coconut foot cream, shea butter hand repair cream, tinted lip balm and regular lip balm. They also do small A Bit of Burt's sets (left) with a mini cuticle balm and lip balm - how adorable!
If you know someone who really takes care of their hands (or they should...) then the Aveda Renewing Hand Cream Trio would make the perfect lil extra.
Finally, did you know Fat Face do beauty? Me neither until recently. They have a gorgeous set of three hand creams in different scents, as well as a trio of lip balms in lovely tins out for this Christmas! Make sure you snap 'em up.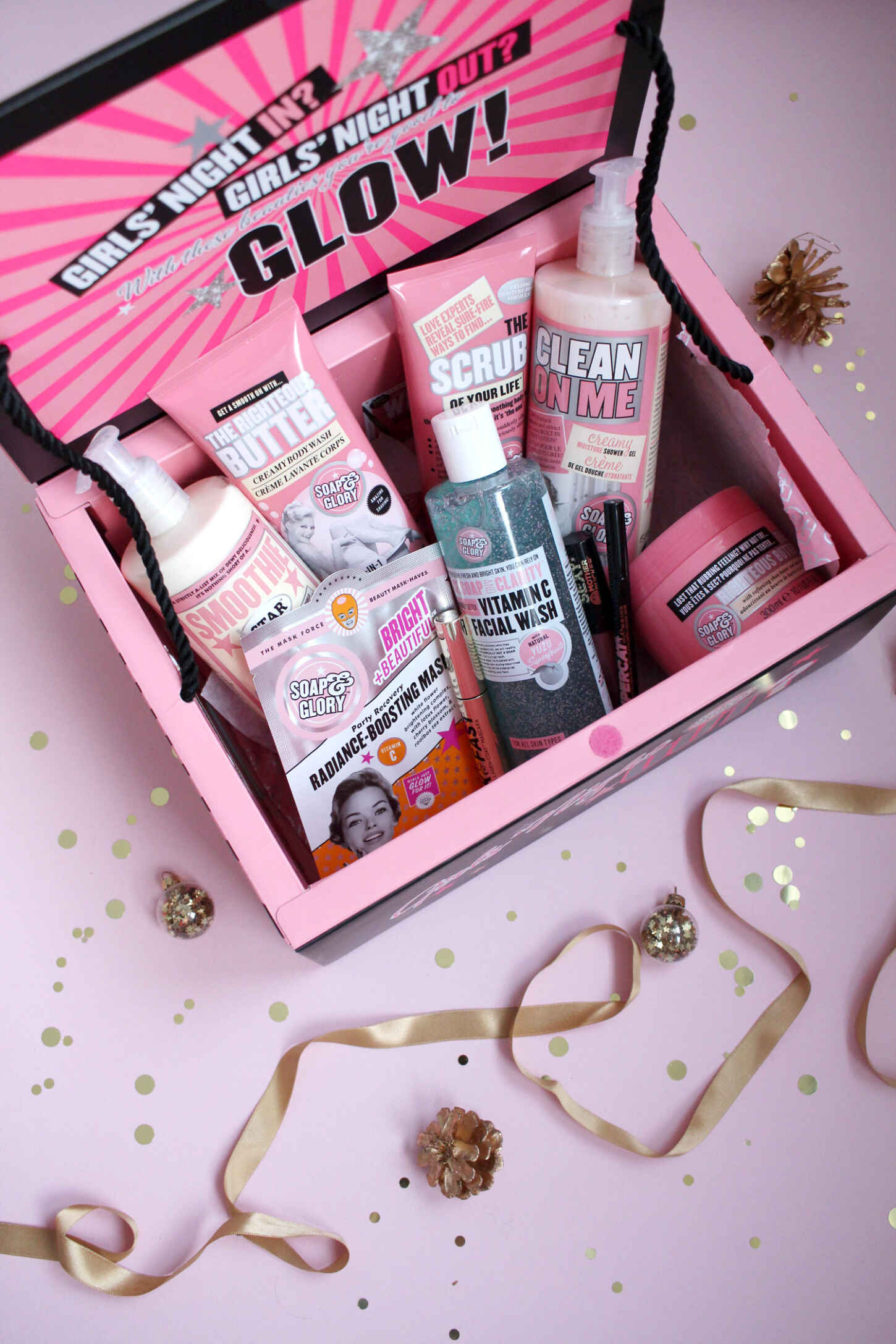 As I said above, you can't do Christmas without Soap & Glory now, can you? They always do the best mega gift every year, as previously it was a suitcase (amazing) and this year it's an amazing Soap & Glory Spa of Wonder box with a whole host of their best sellers inside.
So, you get *takes deep breath*, the Smoothie Star Body Moisturiser, the Righteous Butter Creamy Body Wash, The Scrub of your Life, Clean on Me, Vitamin C Facial Wash, Radiance Boosting Mask, Thick and Fast Mascara, a Sexy Mother Pucker Lip Gloss, a Supercat Eyeliner aaand the Righteous Butter Body Butter.
That's a lot of product for not much cash as it's currently half price from Boots - only £30 instead of £60! I sometimes share these boxes out for a few presents, as it makes it super cost effective! Yay for good Christmas presents.