Aaand here we are, my final gift guide just in time for all of you (very) last minute shoppers or those who just want to buy that one final present! It's a big beauty roundup today including all things from chocolate to body wash to nail polish – most of which can be bought at a store or most places are still offering Christmas delivery, enjoy!
First up is one of two lovely beauty boxes I received over the festive period from Look Fantastic. I know there's been a lot of boxes kicking around, but if there's one I would fork over my cash for, it would be the Look Fantastic Beauty Box. Not only does it contain some fantastic brands, but the boxes are consistently errr fantastic each month. Definitely treat someone, or yourself, to a subscription this year as it's amazing to get a little box of treats through your door every month!
You probably won't be seeing the last of these little beauties, but if you need a stocking filler then can I recommend the Laura Mercier Lip Parfait's. Described as a creamy colourbalm, these amazing lipsticks sweep on and sit comfortably on the lips. The shades above are raspberry ripple and tutti frutti (darker shade) and I've definitely got my eye on a pretty coral for Spring!
We've got a bit of a minty theme going on here, but doesn't it look nice? First up, we have the Balance Me Ultimate Wash and Lotion Duo which obviously smells divine because it's Balance Me, but contains the likes of shea butter and aloe vera to keep your hands in check! Next is the Liz Earle Strengthening Nail Colour in Ebb Tide, which is a gorgeous neutral shade. I adore the box it comes in as it makes it a complete gift!
Who doesn't love a new perfume at Christmas? Estee Lauder Modern Muse Le Rouge is the latest one from the brand and offers a beautiful and easily liked fragrance. With top notes of raspberry and red currant, heart notes of rose and jasmine and base notes of vanilla and patchouli, it's really easy to fall in love with this scent! I've worn it for about 6hrs while I've been busy and still been able to smell it when I move – beaut! Next is one for a little extra present which is the Crabtree & Evelyn Pomegranate, Argan and Grapeseed Body Lotion which is perfect for keeping winter skin in tip top condition. Finally, for this photo, a little Lindt bear, which is always the best think to find in your stocking!
I Love… is a really easy brand to get a hold of as it's often available in your local supermarket – so handy for xmas! The I Love… Lots of Bubbles set has six miniature bubble bath/shower cremes so you can try each of the flavours. From Iced Cookie to Cherry Almond Sparkle to Chocolate Orange, there's some deliciously sweet scents that will appeal to so many. Or, if you wanna give them one option and keep the rest to yourself (totally understandable), you can get a perfectly sized Cherry Almond Sparkle Shower Gel in its own little box too!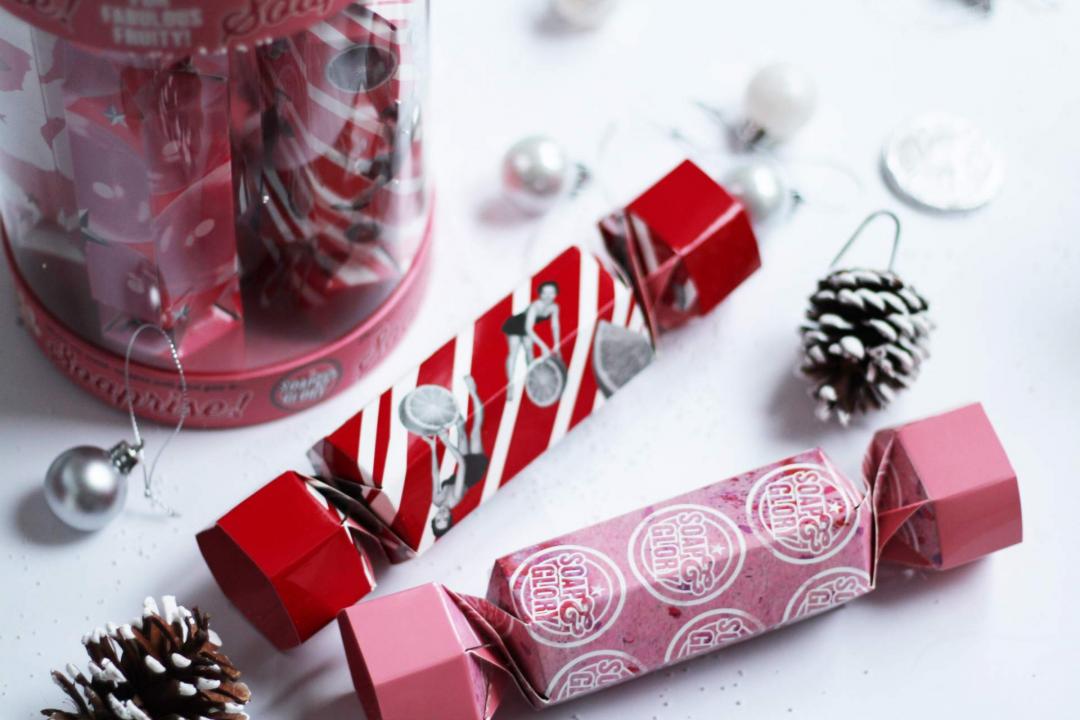 Again, Soap and Glory never fail so the Soap and Glory Soaprise contains six travel sized versions of their famous shower gels. From the classing Clean on Me scent to the fruity Sugar Crush, there's a scent for everyone and a great way to introduce someone to all of the S&G fragrances!
Aaand finally we have some beautiful products from Mandara Spa. The Mandara Spa Balti Santi range smells absolutely divine, as it's warm and feels like you're in a spa in your own bathroom. Enriched with coconut and almond milk, the body polish, shower oil, body moisturiser, hand and foot butter pamper your skin from head to toe!
What are you grabbing as final Christmas presents? Or have you finished your shopping?
Helen x
ps. check out these blogs: Ok But First Coffee and Carly Wynn!