Oh the yellow walls! I remember not giving them much thought when we viewed the house, but living with it? That's another matter. We've lived here since April and since then we've had the fireplace done, so the fireplace wall was half plastered. So, between the yellow and the clutter from renovating and the plaster - it was all too much. When I got an email to say our sofa was (eventually) arriving, I took it as the motivation I needed to give everything a quick paint!
Now, as we have plans for the livingroom which involves taking the arch out, replastering the fireplace wall, wall mounting the tv, adding plasterwork to the ceiling, staining the floor, building a bookcase in the lefthand corner aaand replacing the windows, this was only a temporary spruce up.
As you can see, the room was chaos! There was stuff everywhere, as it became a bit of a dumping ground on the shelves, and the colours were visually overwhelming. We had to keep the temporary sofa covered too, as it had to go back to the companies showroom, so even looking in that direction used to make me feel stressed. I was so happy when that sofa went back and everything was cleared out of the room!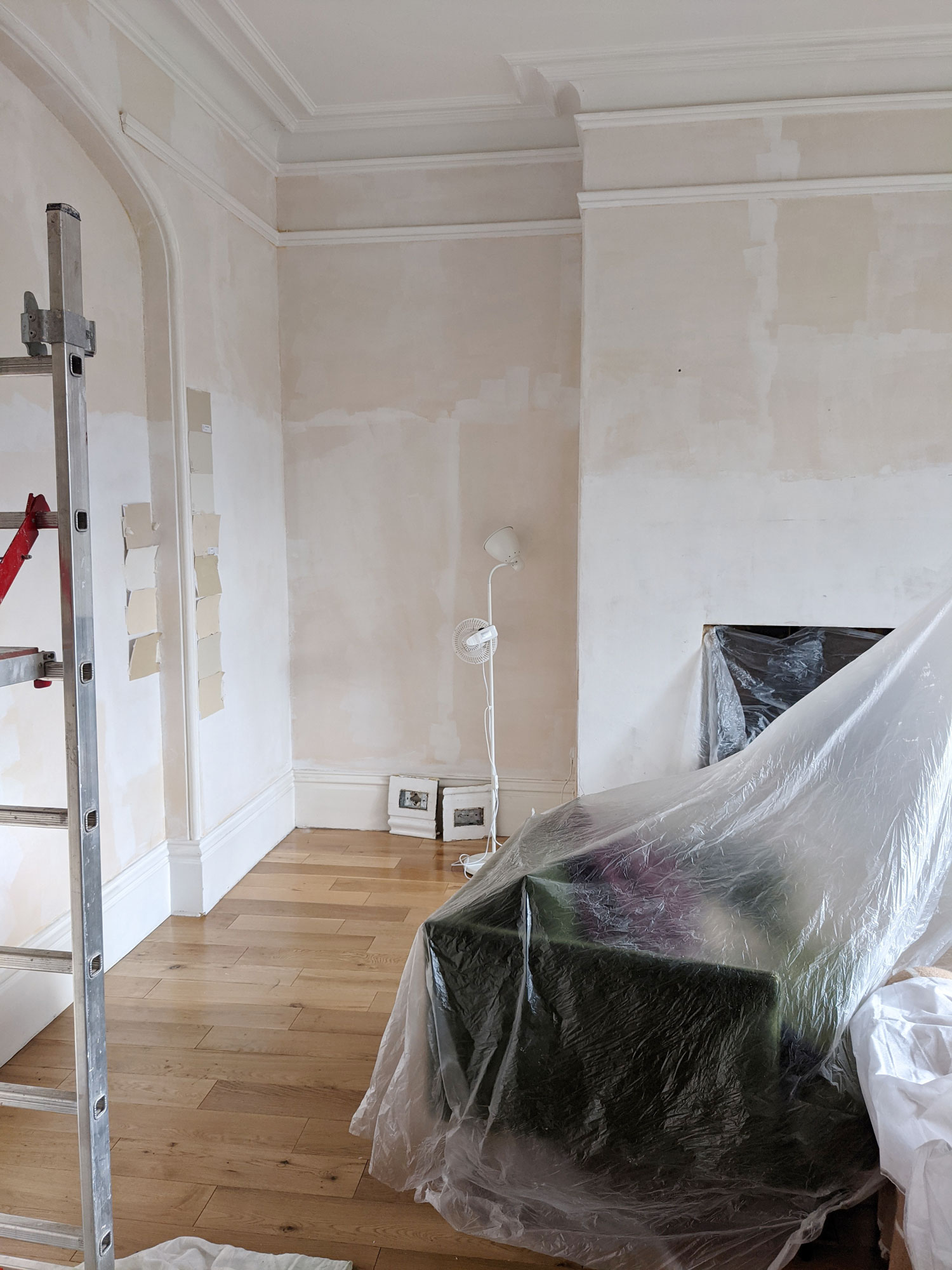 I put a quick coat of white paint on the walls, as I thought it was better to do a base coat than waste extra paint trying to paint straight onto the yellow. I do think it was a good idea, as it only took me 2.5hrs, and I found the walls seemed to soak up the white paint like a sponge!
I was going to use Rust-Oleum Chalky Wall Paint in Featherstone in our bedroom, but opted for a different shade instead. I knew I wanted to use it somewhere in the house, so this space felt like the perfect room to test it out. I purchased 2 x 2.5L tubs, but only ended up using less than one tub which is very impressive for a room this size. I'm very impressed by both the pigmentation and the coverage of their paint, so I would definitely use it again.
I do think it's a hard colour to capture, as it looks like a different colour on my camera/my phone/in person, but it's a beautiful warm neutral tone. I think the image above is the closest match to real life.
For the picture rail, skirtingboards and window panelling, I used Farrow & Ball All White as I already had a small tub and I used about 1/3 of a 1L tub. Again, not bad going to be honest considering the skirtingboards are huge.
It took me two x 4.5hr sessions to paint and then around 2-3hrs to do the woodwork, so not long at all!
The colour has made a huge difference to the room and has made it a much calmer space. I enjoy coming into this room now, rather than feeling stressed. I'll probably go a touch darker with the final colour, but for now, I'm really happy with this freshened up look!