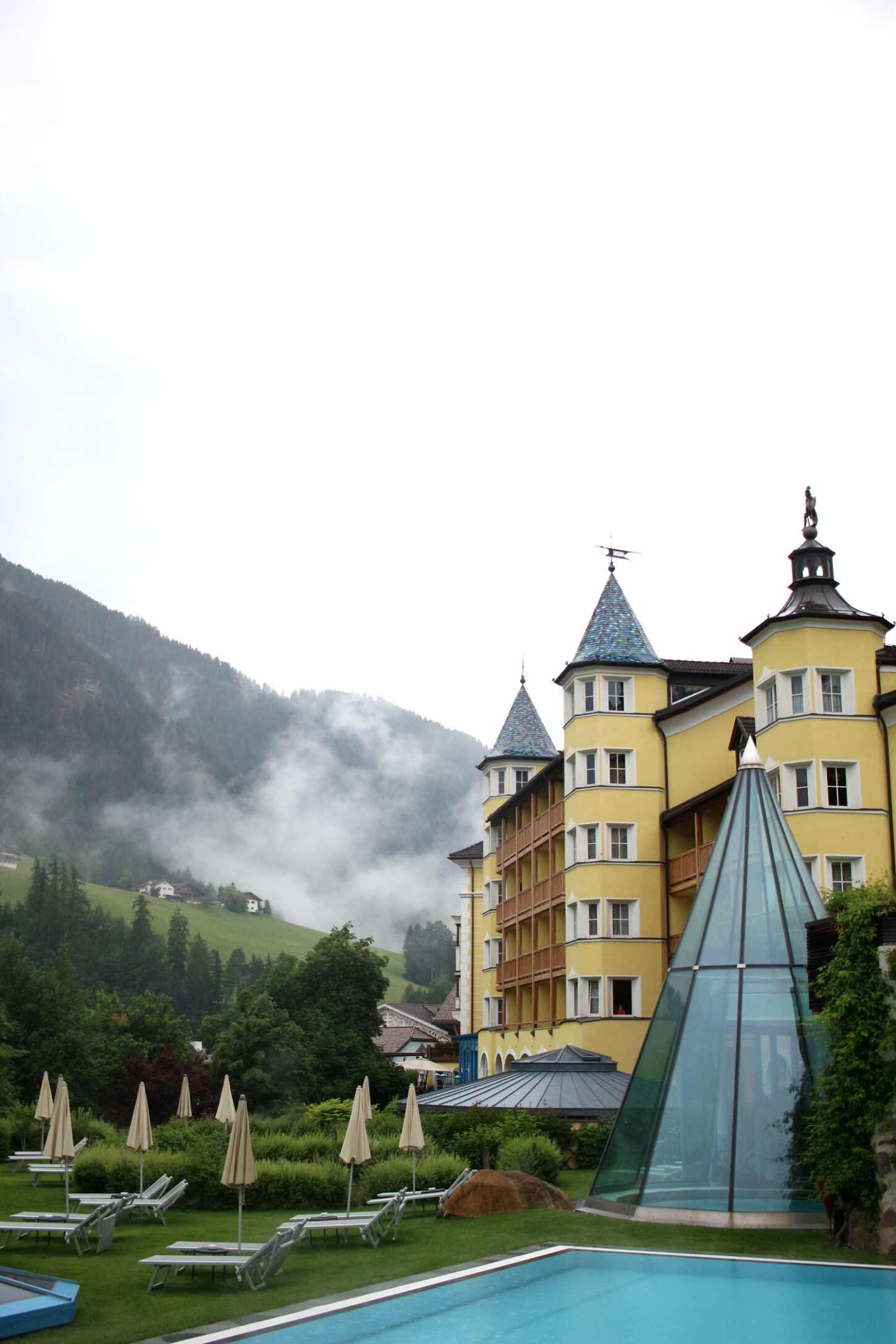 The Adler Spa Resort Dolomiti
If you've been following me recently on Instagram, you'll know I've recently been on a little trip to Italy to stay at the lovely Adler Spa Resort Dolomiti. It's located in a small town called Ortisei and not far from Bolzano which is where we got the train to.
Getting from the hotel was a bit of a task for us, as we had to drive to Manchester (2.5-3hrs) as Newcastle didn't have flights to Verona on the days we wanted. So, if you have more-than-once-per-week flights at an airport near you, then it'll be much easier! Once you get to Verona (which is only a short 2hr10min flight), you then get a 15 minute bus to the train station (€6), then a 1.5-2hr train to Bolzano (around €50 return for 2 people, trains in Europe are so cheap), then either a transfer or a bus to Ortisei (around 40-70mins, not sure of the cost as this was provided).
So, it does take a bit longer than your standard destination, but I promise you that the trek is worth it to stay near the mountains as the view is absolutely gorgeous. Living in Newcastle seems insanely boring when you've got this lush greenery on your doorstep every day.
The hotel itself has a ski lodge vibe to it and is very popular in Winter for this reason alone. As you can see from the photos above, there is a lot of wood and a very luxe chalet look to it and, from the moment you arrive, you feel like you're staying somewhere special. The hotel has been around since 1810 so the building itself is very old and, despite its size, is still a family run business. The staff - from the reception to the spa staff to the waiters - were extremely friendly and can't do enough for you too.
In this review of the Adler Spa Resort Dolomiti, I'm going to go through each area of the hotel so you can get a really good feel for the place.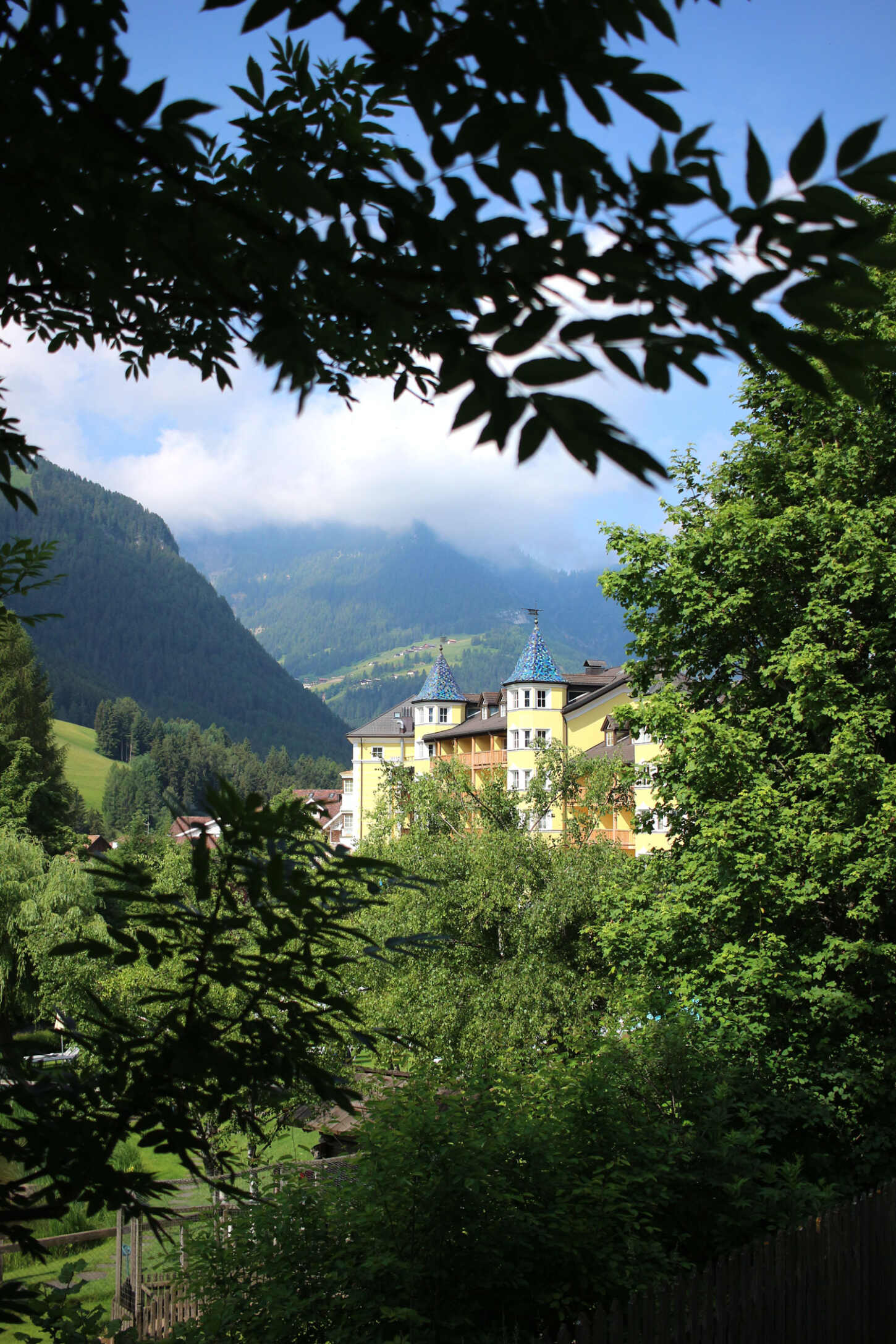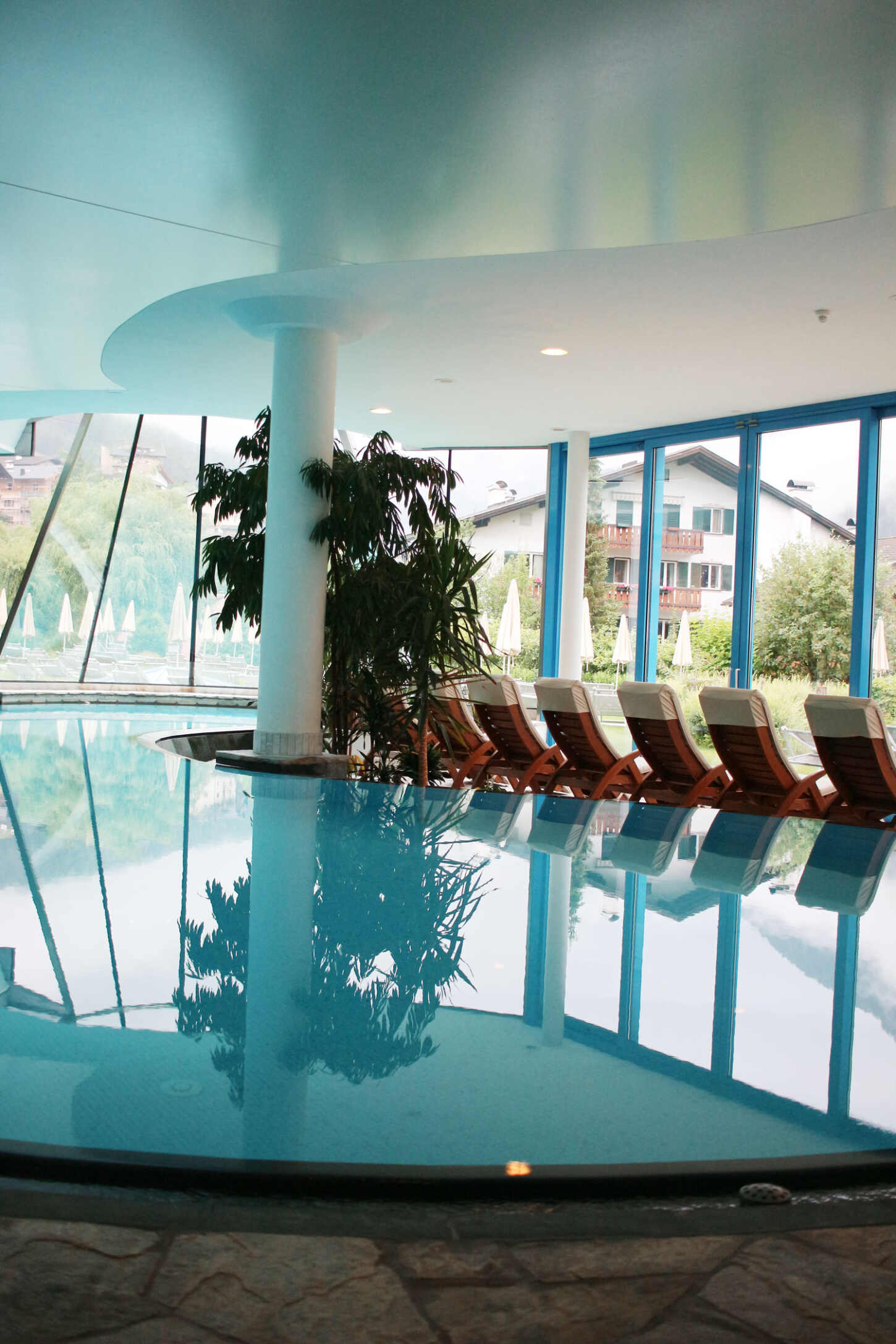 Pool
As the staff were showing us around, I remember being oh so impressed by the pool area as we walked up to it. There are two pools which both start indoors and go outside though a door (which can be closed, so it keeps the heat in in Winter). The space is so luxurious and has some great relaxation areas on the inside as well as lots of sun loungers to chill on outside too.
The larger pool (which you can see on the left) has whirpool features and a jacuzzi in the pyramid section which is great to sit in. It has enough space to swim if you fancy it and even when it's busy, it doesn't feel it as there's enough room for everyone.
The second pool (below) is enriched with salt, so you can benefit from a treatment as well as wonderfully heated space to relax. This pool feels a lot warmer than the other pool so is the perfect space to sit and read a book or just admire the view of the mountains which are literally right infront of you.
The pool area also has attentive staff so you can always get fresh towels, as well as a juice bar so you can help yourself to water, fresh lemonade or a tropical juice.
The outside pool area leads to a beautiful garden and you can walk around the property in your robe if you feel like it, so there's plenty of areas to explore and relax in.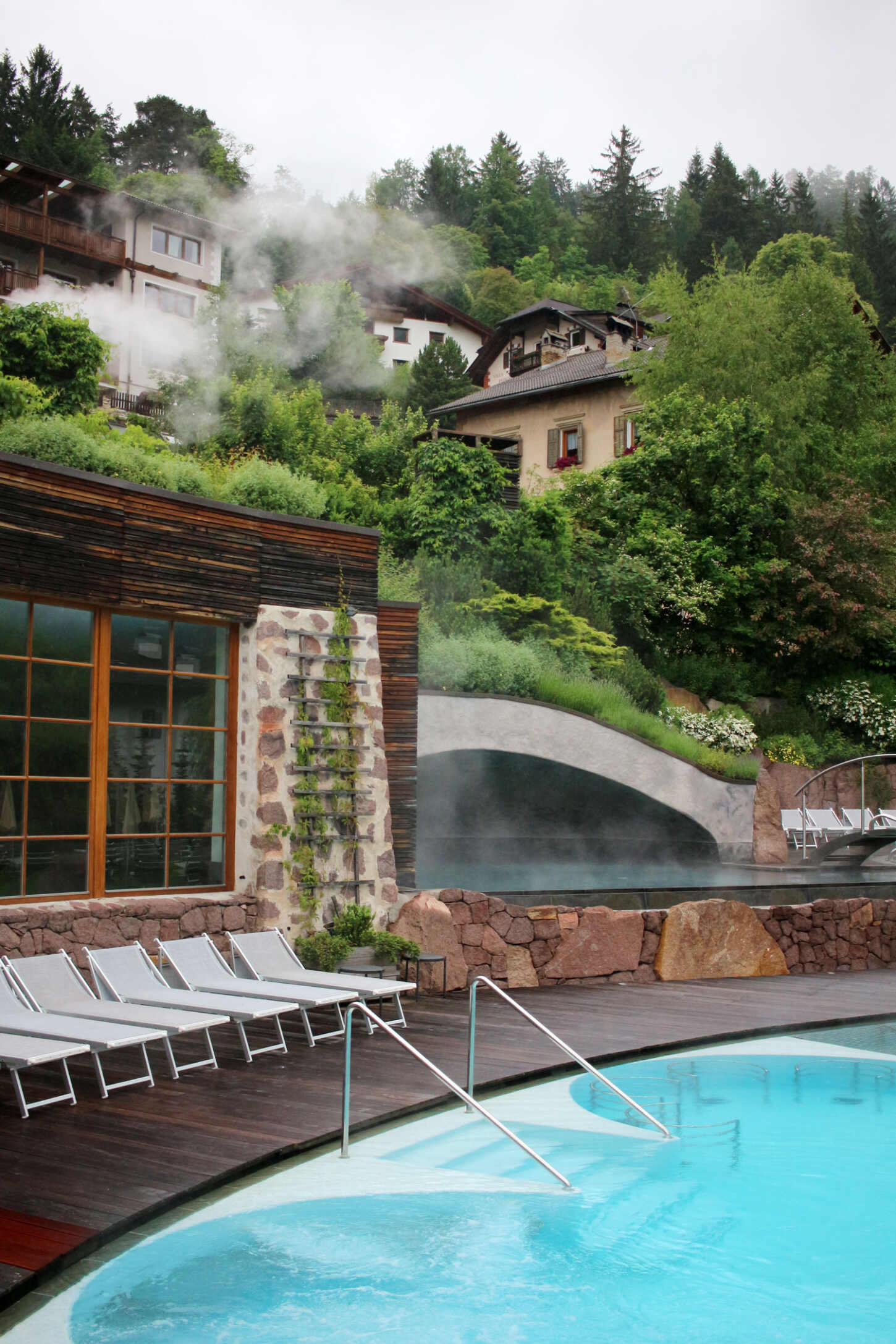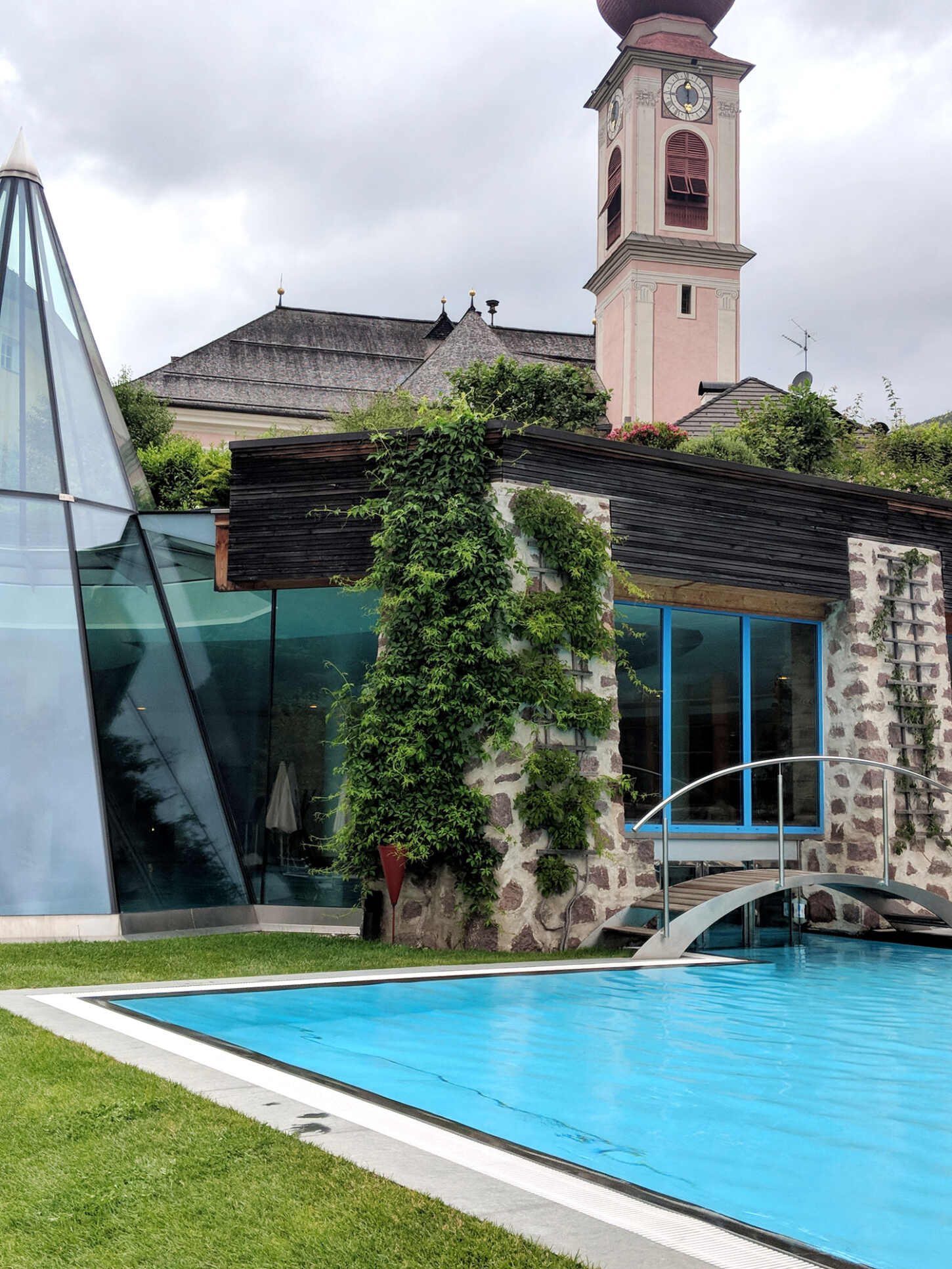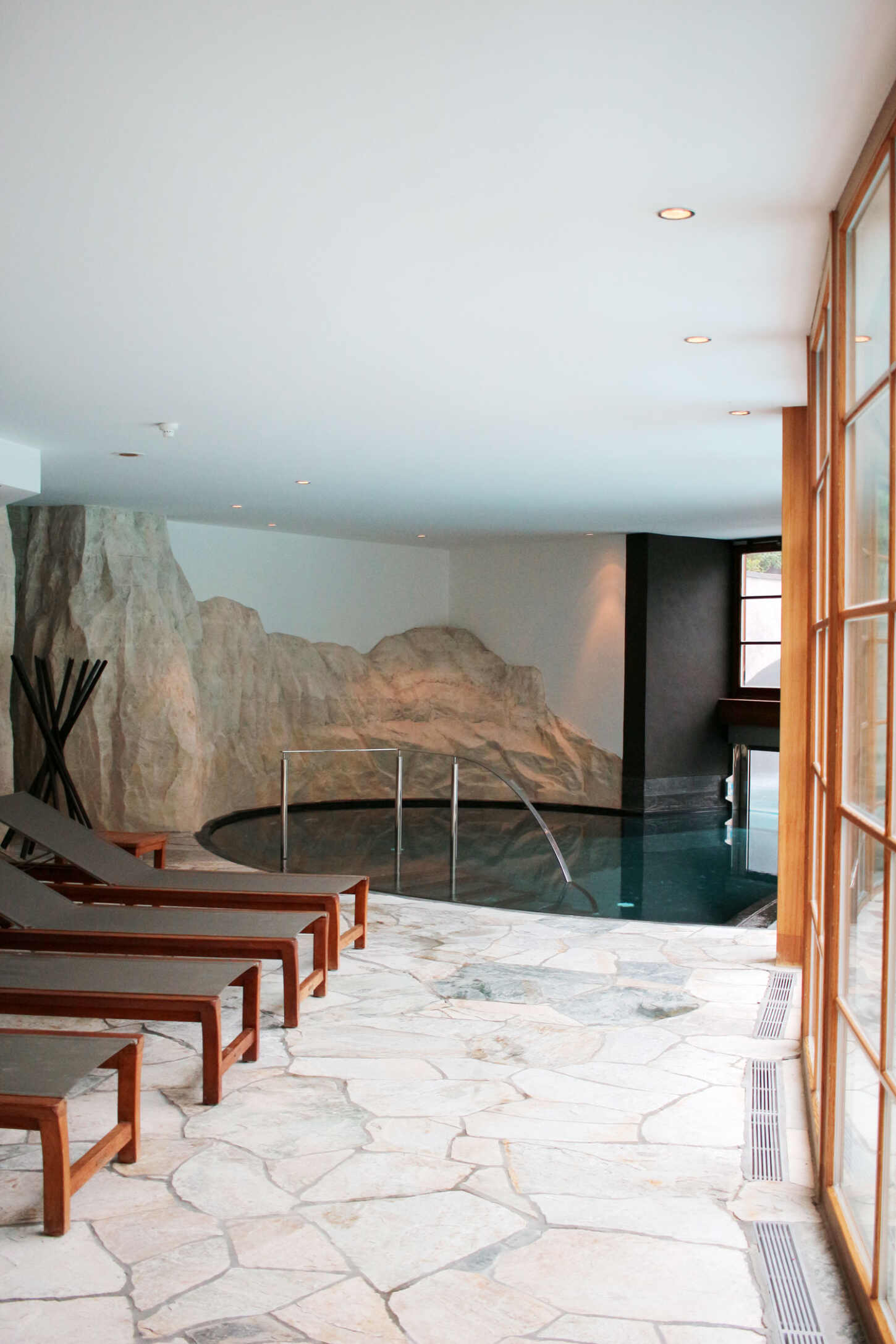 Both pools lead outside - bliss!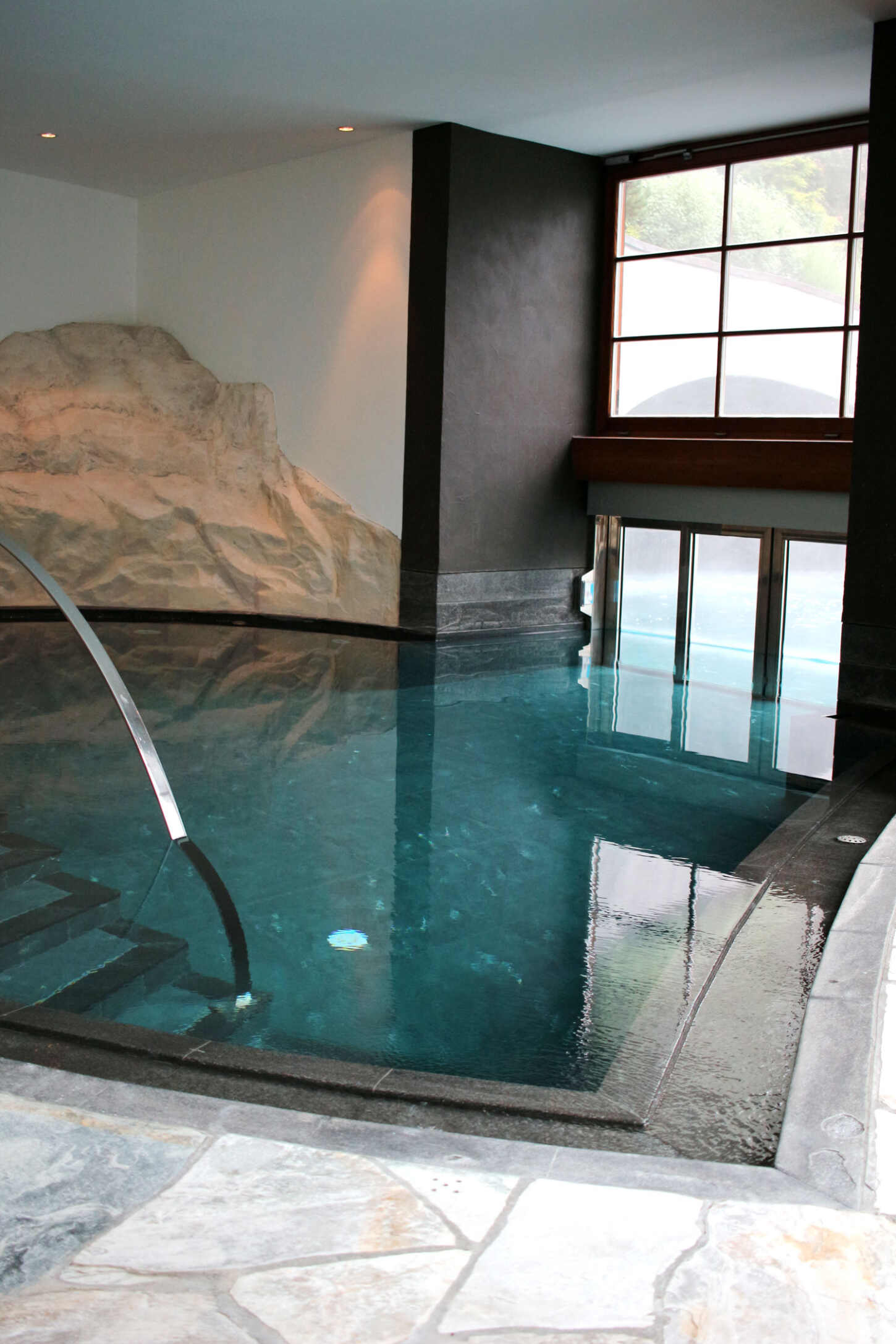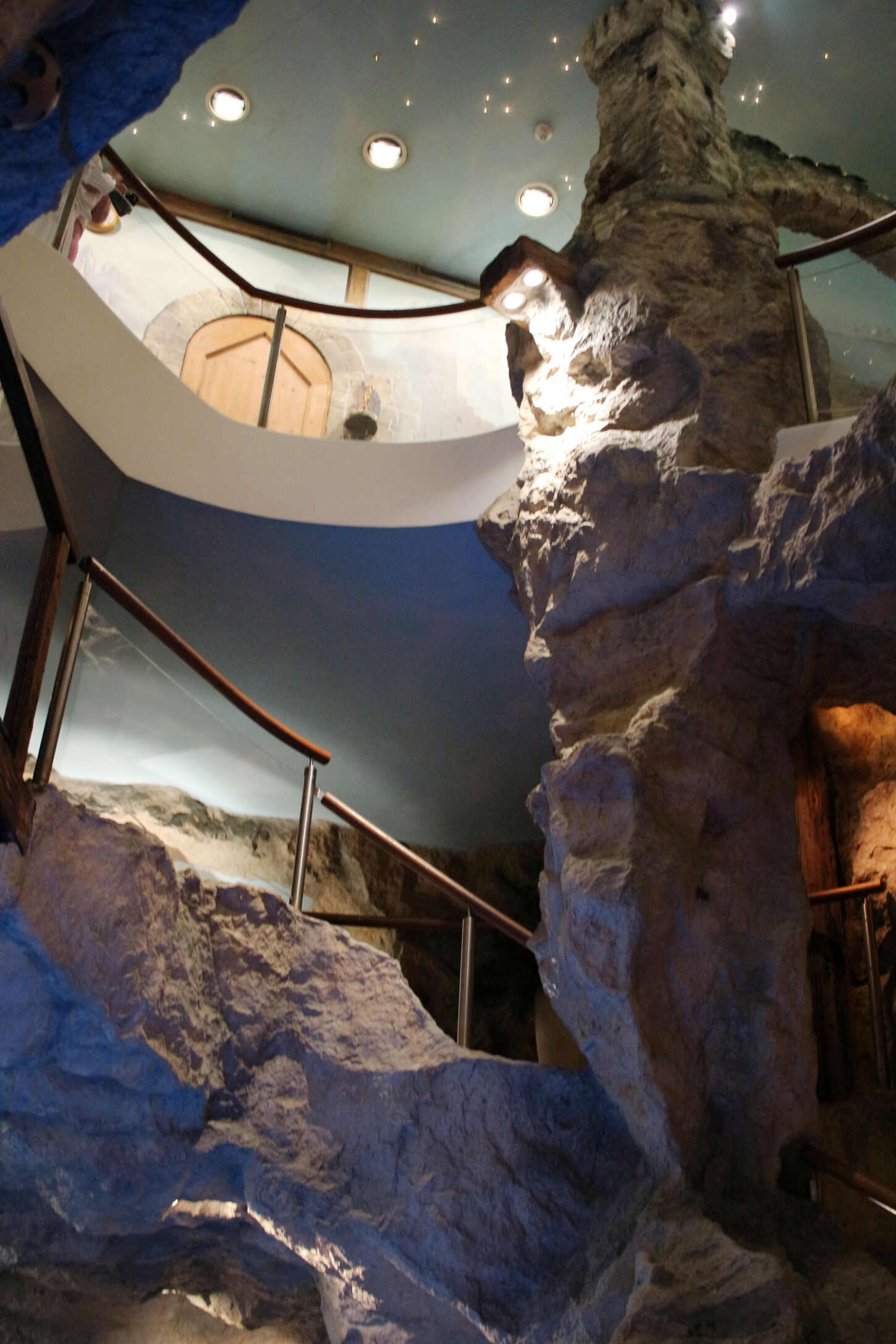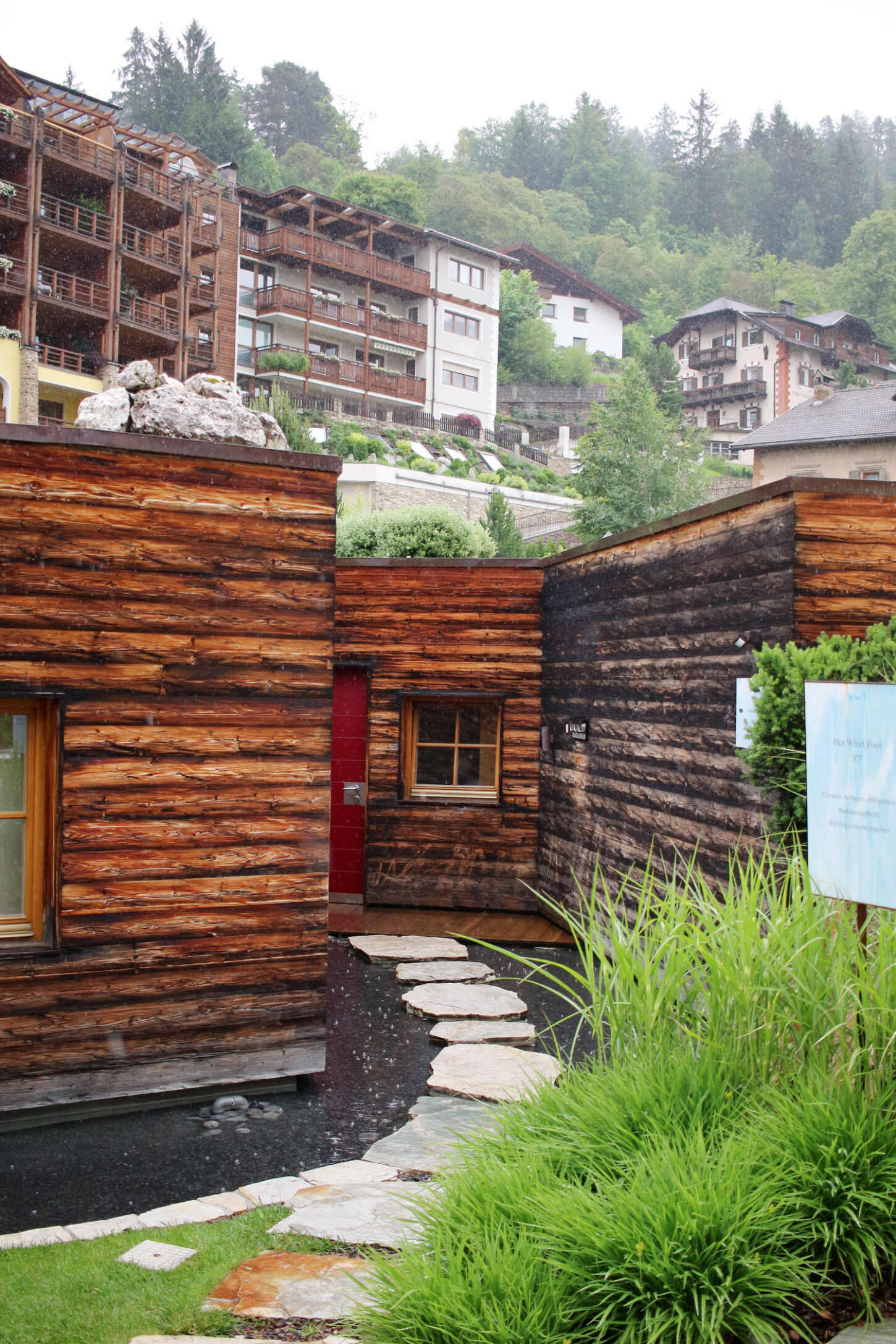 Spa and Facilities
One thing I really love about the Adler hotels - you can see my review of their Tuscany resort here - is that their facilities are outstanding. They have a huge focus on health and wellness, so I believe their spa offerings are one of the best in the business. You do get a sense that relaxation and wellbeing is really woven into every part of the hotel, so each area you walk around has a warm and inviting appearance.
The spa is in two different spaces. Firstly, there's the actual area where the spa treatments take place. We were kindly allowed to have a treatment when we were there so I went for the Body Slim which was positively delightful, I must admit. It's a hybrid between a massage and a slimming treatment with a serum, so they concentrate on any areas that need a bit of work and you leave feeling light and super smooth. Nearby there's an amazing waterbed area too where we actually ended up spending a morning on laptops when it was raining - bliss!
The second area is just before you enter the pool area and arguably the most impressive area of the hotel. There's an amazing multi-story circle of places to try (see the photo above) from a pool at the bottom, to a ladies only spa area which is beautiful to holistic bathing areas - there's so much to try! It was hard to take a photo of but I think I audibly went 'ohhh' when I walked into this space!
Coming out of this area and up some stairs, there's a rooftop sauna with a panoramic view, a wonderfully heated whirlpool and a luxe relaxation area. There's also a salt grotto (additional fee, below) which is underground and is insaneeee. Such an amazing space!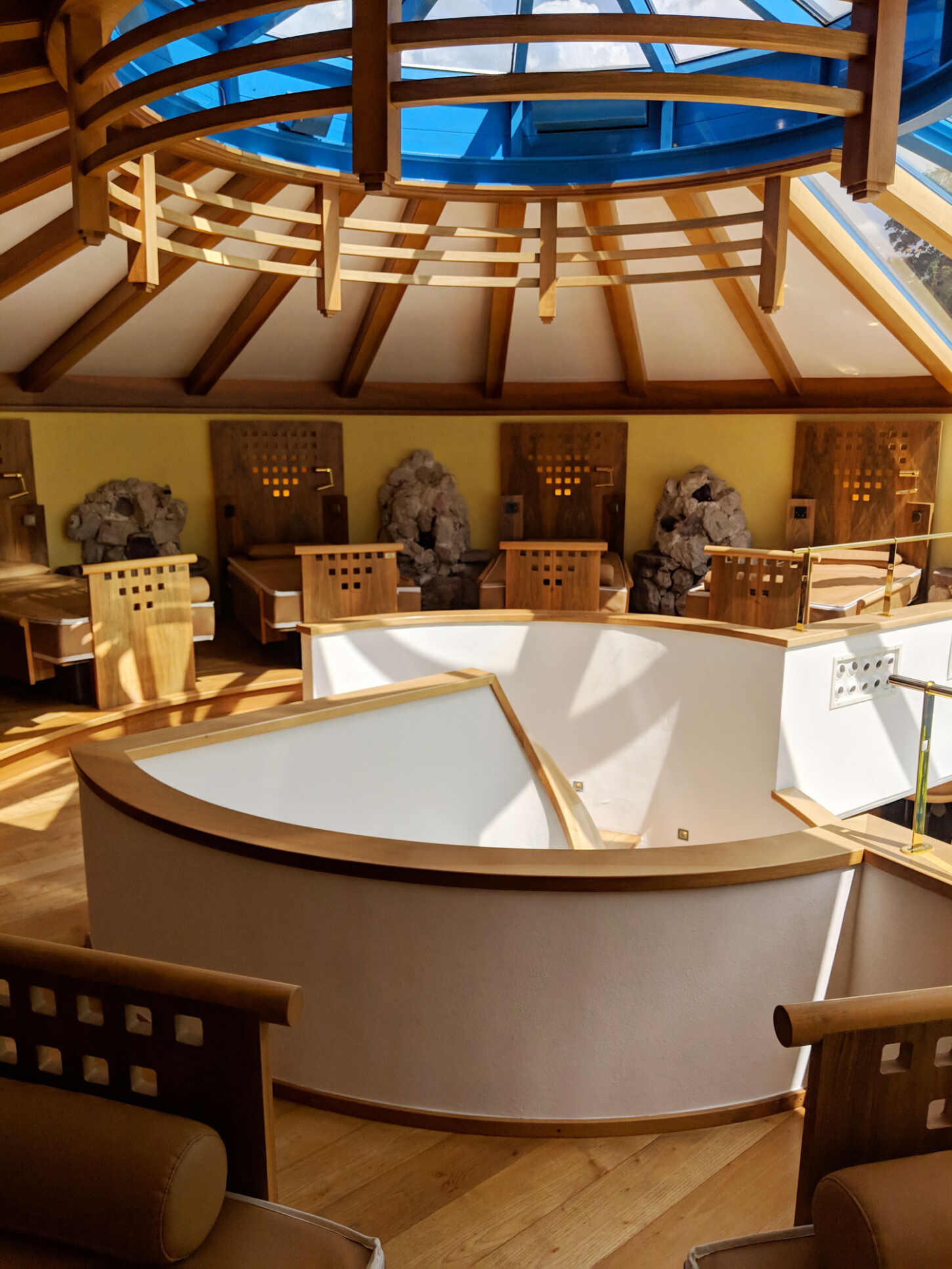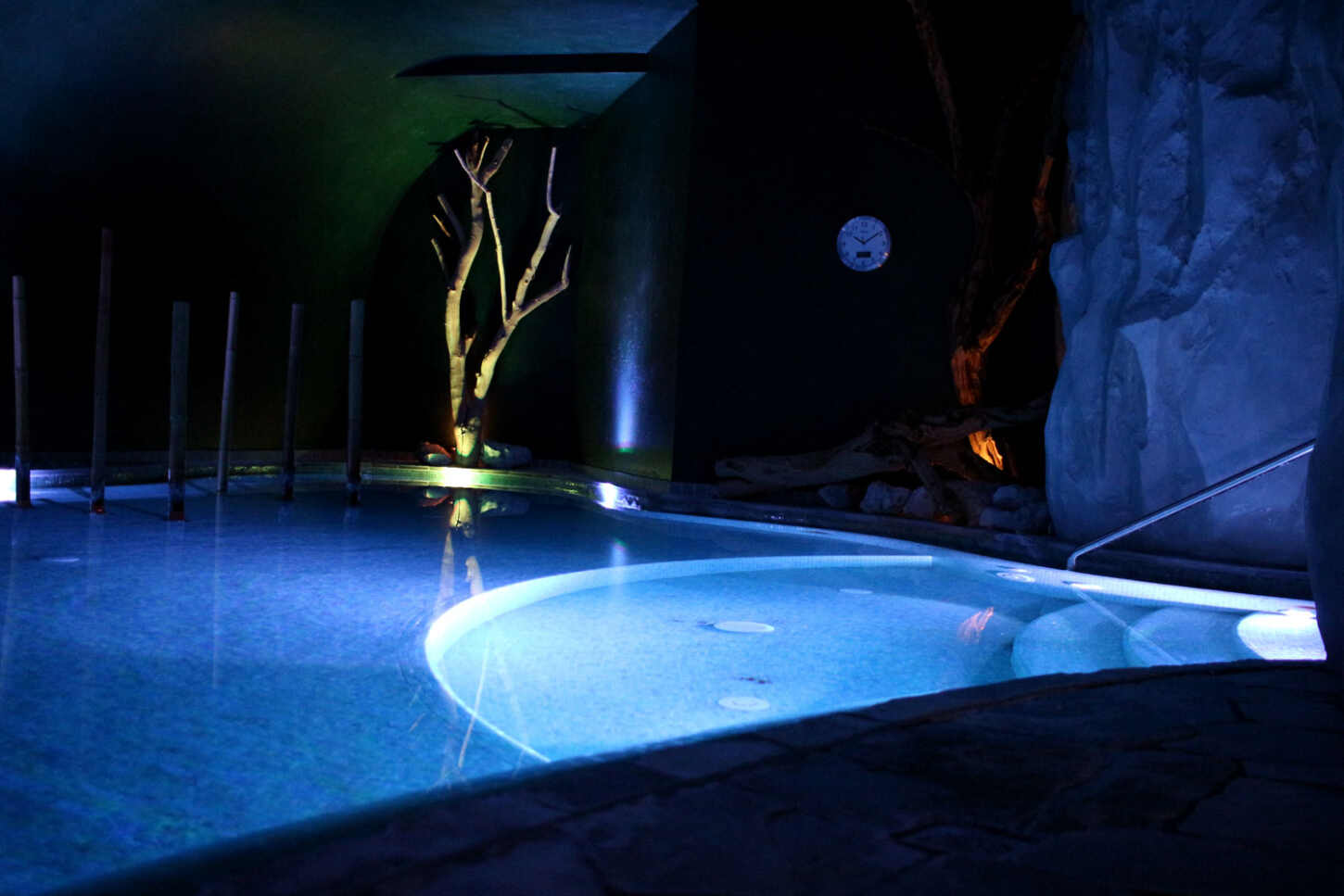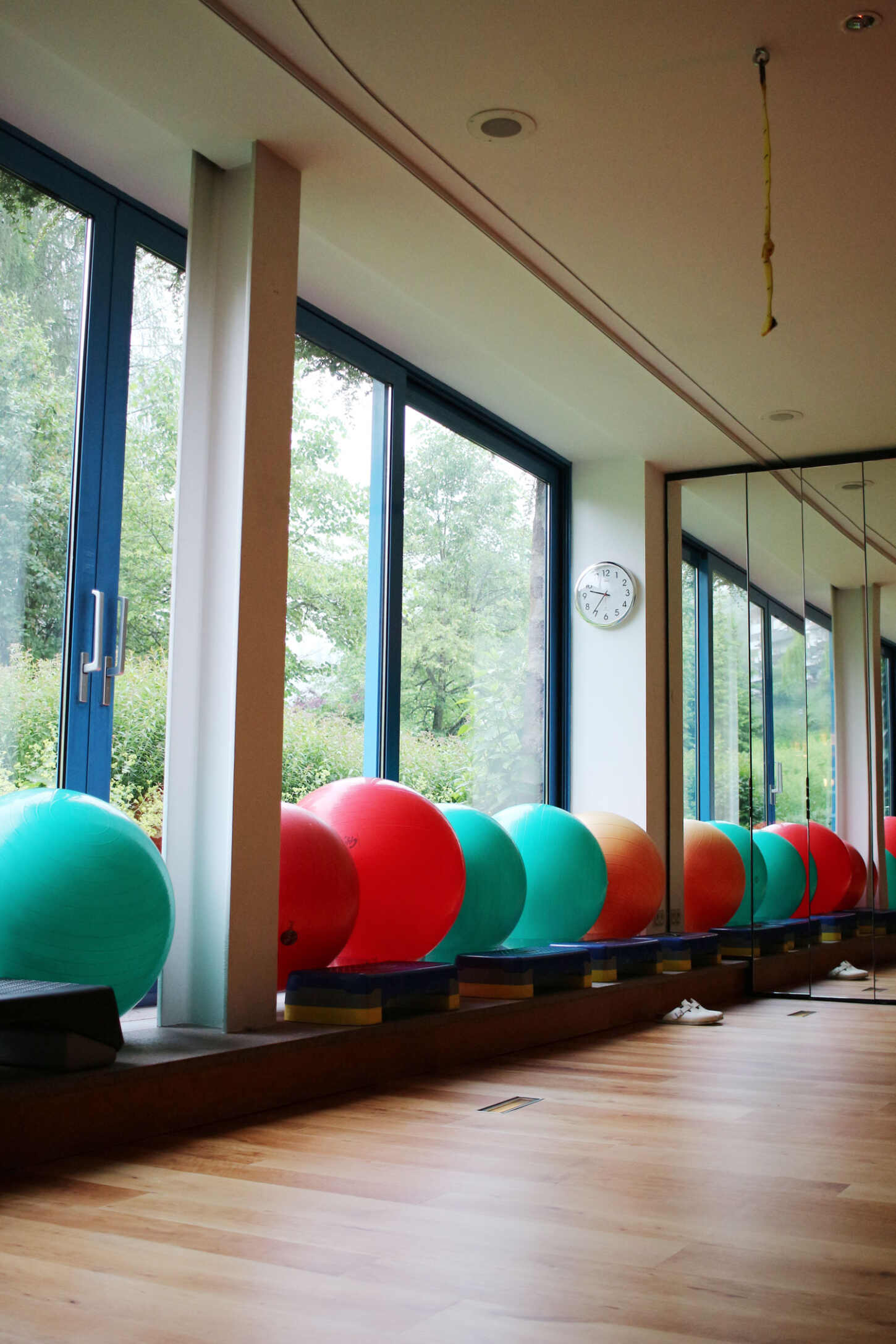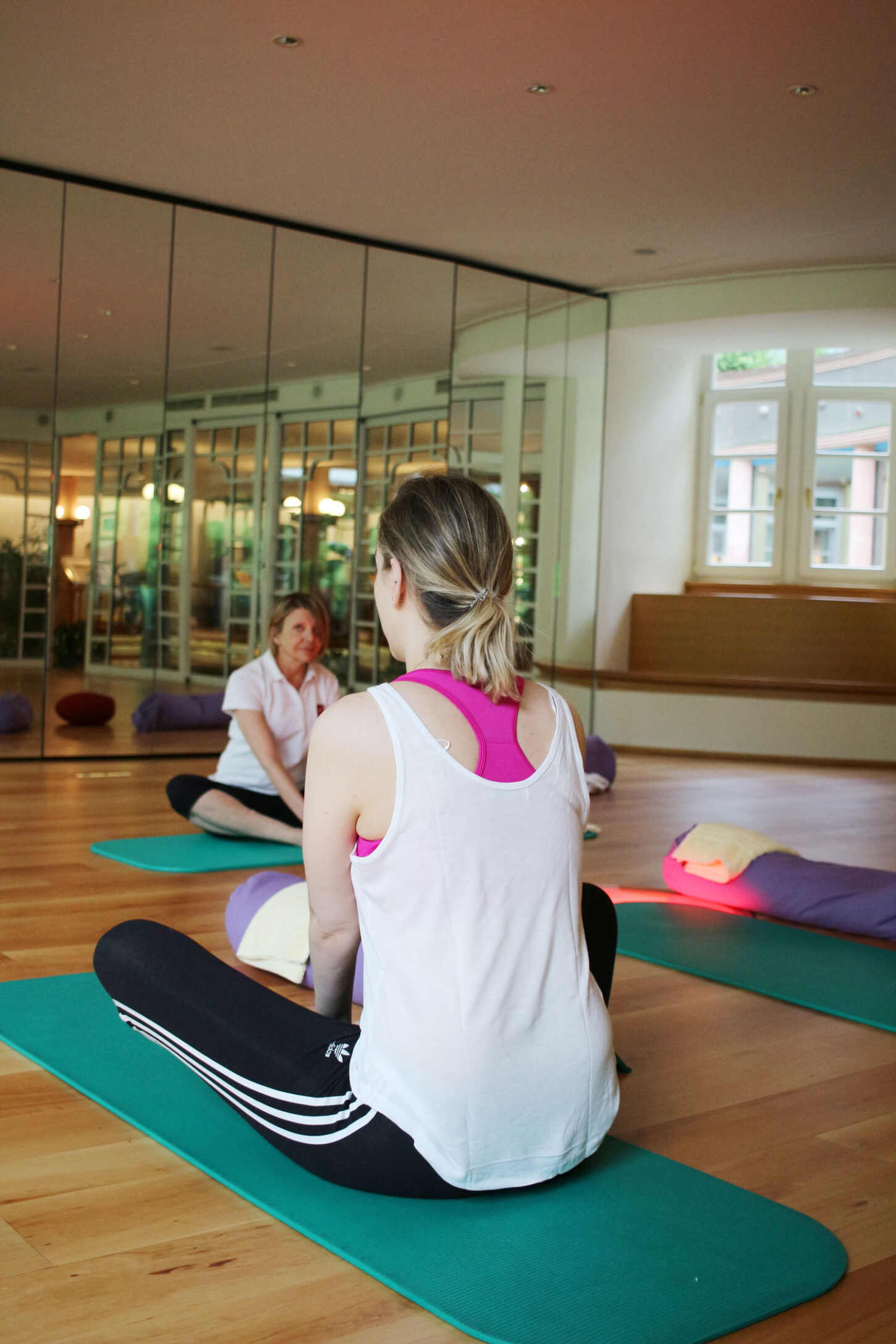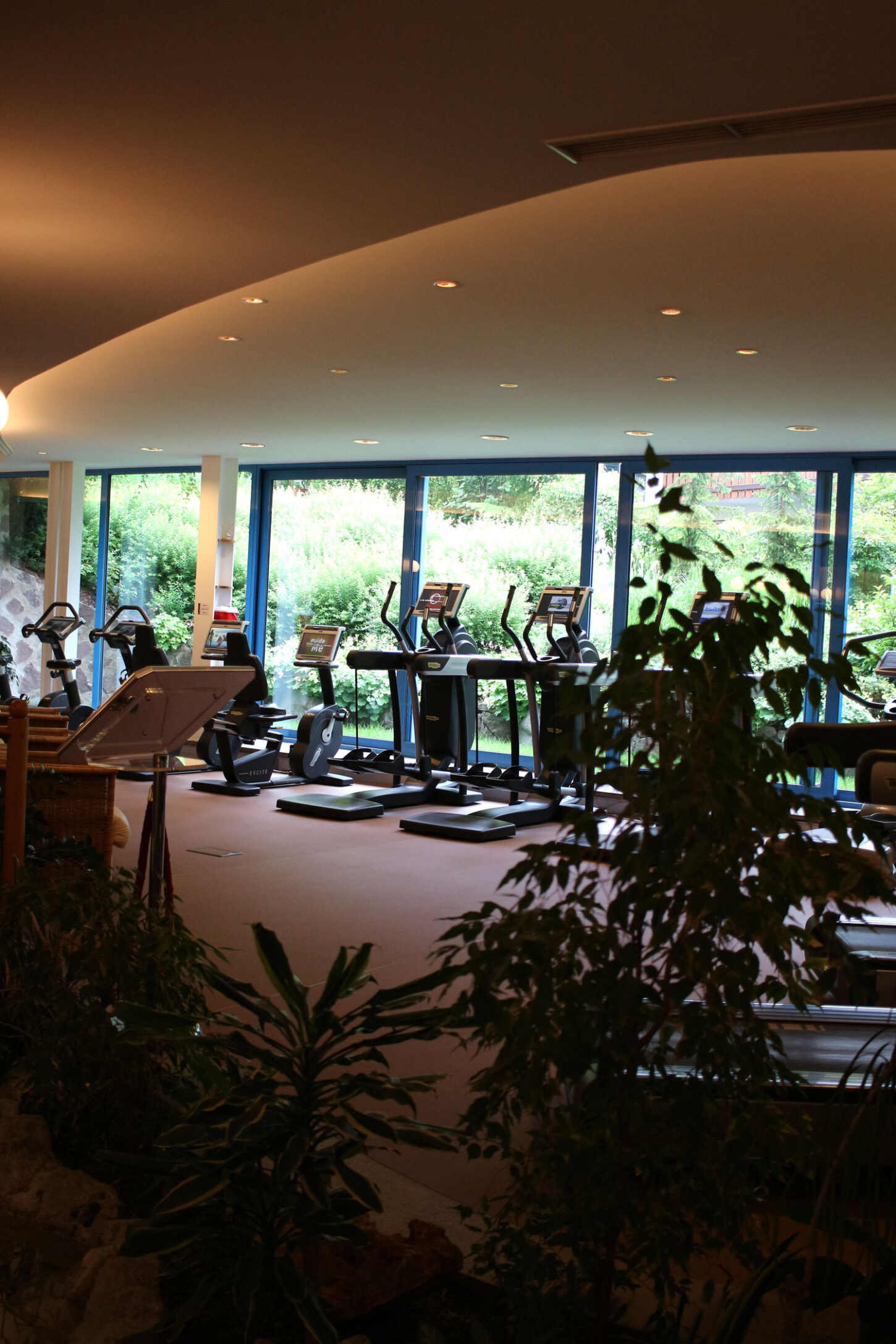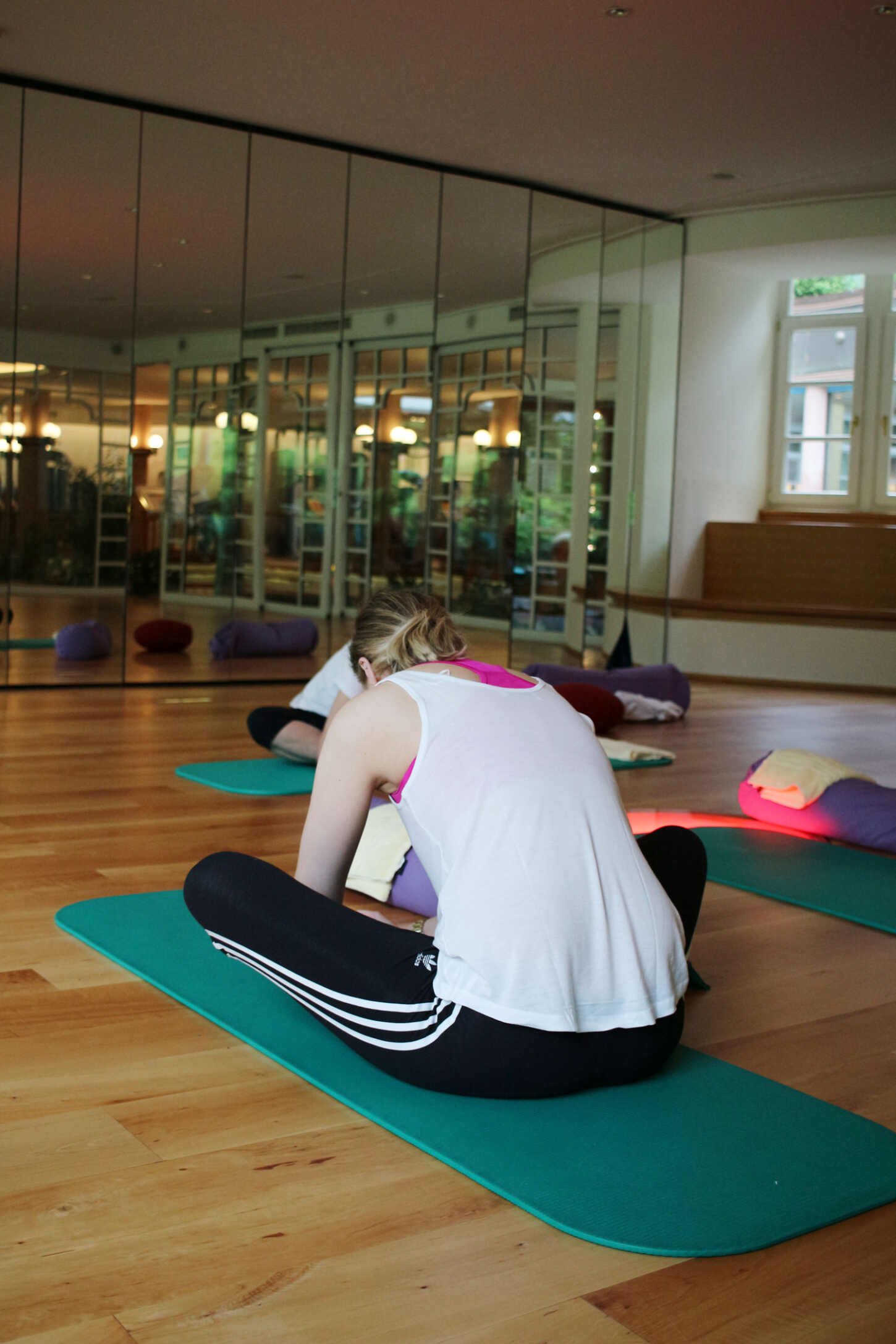 Gym and Fitness
Similarly to the Tuscany hotel, this Adler Spa Hotel has an similar focus on fitness, wellbeing and relaxation. There are amazing gym facilities with a huge array of machines, weights as well as a studio if you want to do your own thing. There's also a timetable of sports and yoga which you're welcome to go to at any time. We had some very chilled yoga classes entirely in Italian - the teacher was mortified when she found out we weren't Italian as she said she had learned the class in English, but it was easy to follow along as she was lovely and did a lot of the moves with the class.
If you're heading to this area for hiking, biking or skiing (in the Winter months) then there are many assisted trips you can go on if you like. You can also rent (free) their e-bikes and have a tour of the amazing valleys and surrounding areas. There's honestly so much choice, so there's something for everyone if you like to be in the great outdoors.
One thing I also loved is that they provided us tickets for the cable cars etc so we got to go up to the top of the nearby mountains which was such a treat! The views were gorgeous.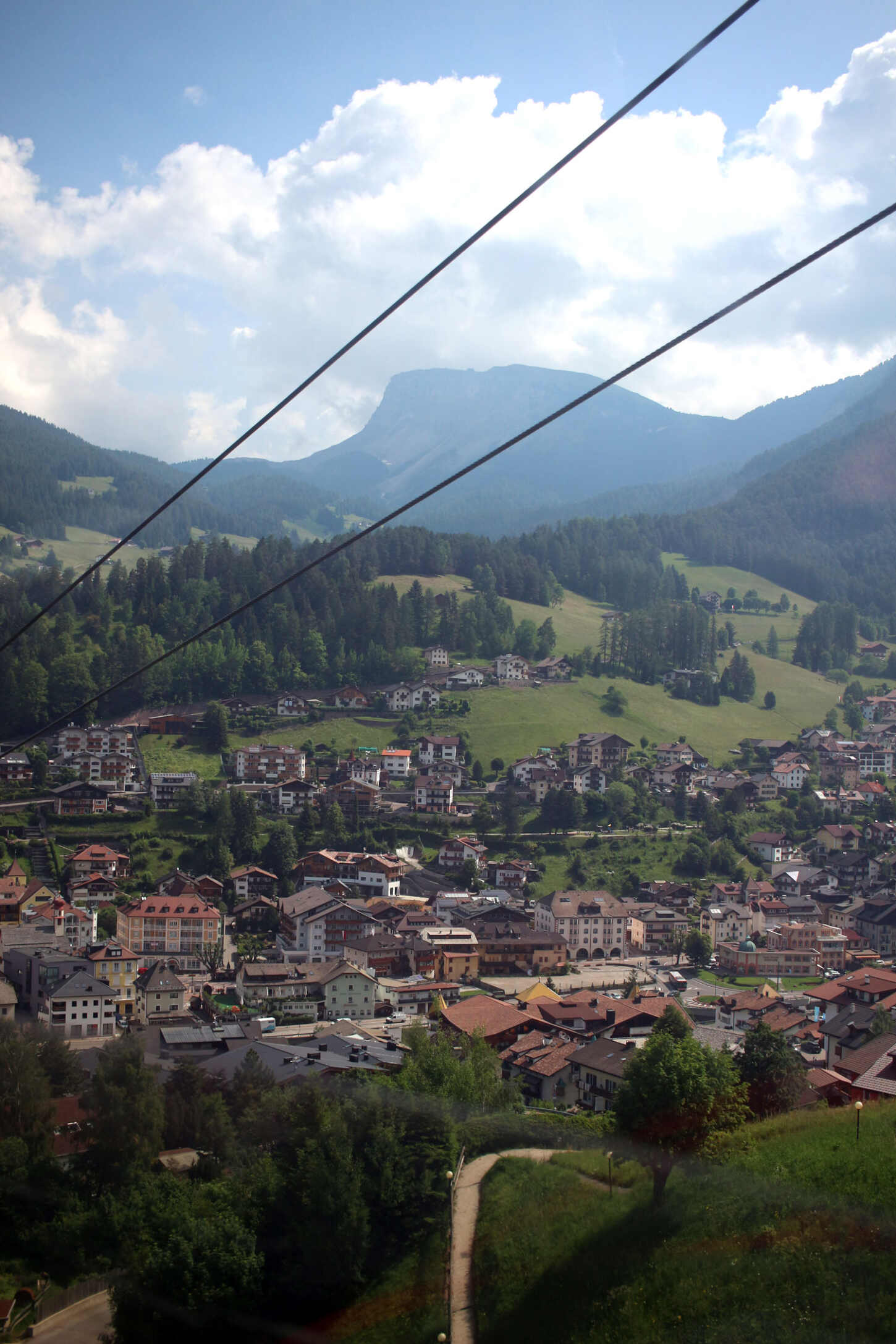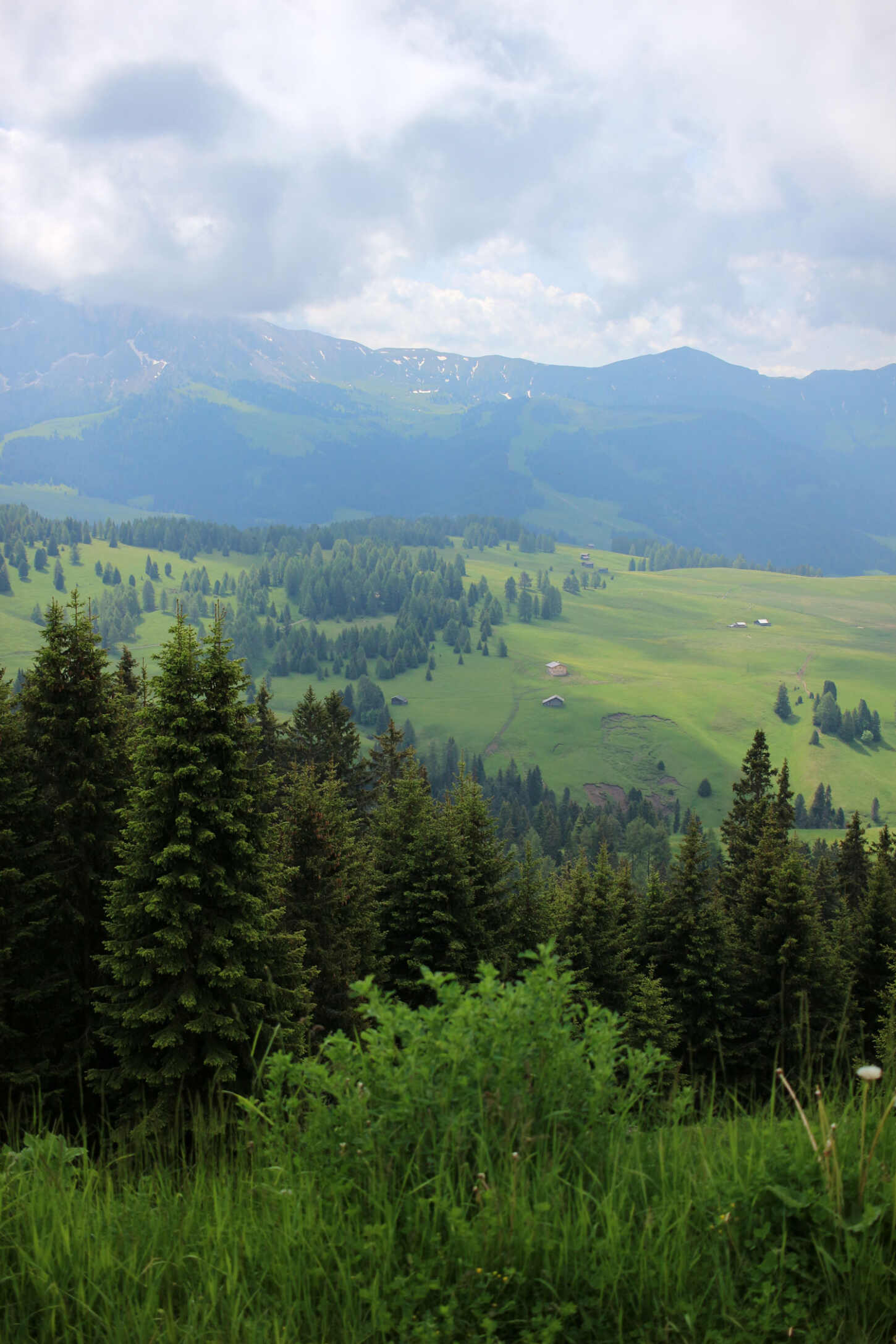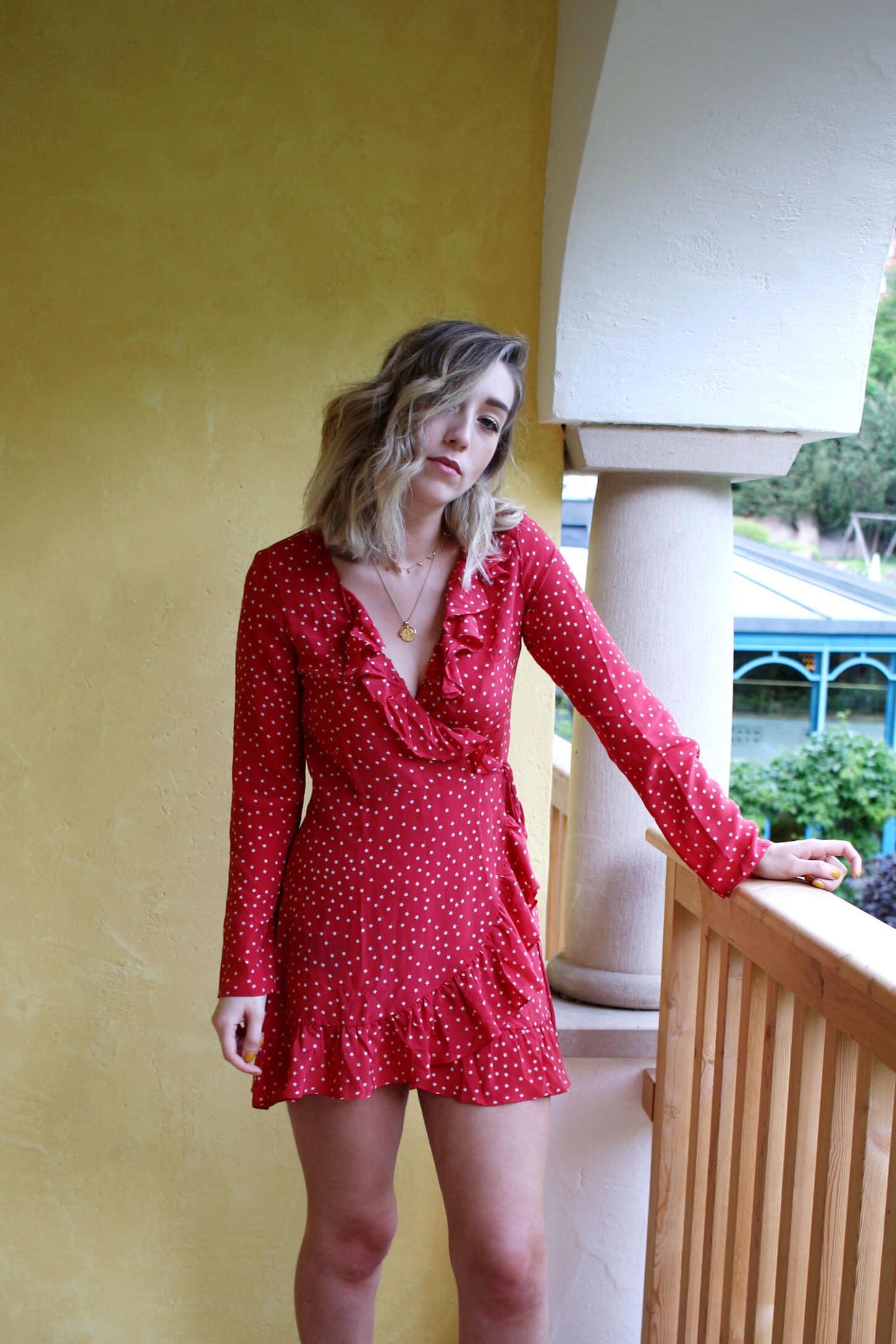 The Room
We arrived pretty late on the first night as our plane was delayed, so when we got to the hotel the kitchen was closed. However, the staff were so nice and put so much fruit in our rooms which was really kind of them. It was definitely a warm welcome to the resort!
The room itself - I believe we were in a triple room superior - was located in the main building so we were in the centre of everything. It was decorated in a warm, ski-lodge decor with lots of wood and gives a very homely feel. Walking into the room, there's a large wardrobe (with plenty of hangers and a safe), with a bathroom on the right. The bathroom was spacious with a waterfall style shower and large bottles of their own brand of shower gel, shampoo etc. I loved this as in each hotel they use ingredients that are local to the area which makes everything very unique.
Coming futher into the room, there's two large beds which were expertly made each morning, however I took these snaps on the day we were checking out so you'll have to excuse my lack of bedmaking skills haha. There's also a desk, a mini bar, a tv and chairs in the room which then leads out to a balcony.
The balcony was definitely my favourite place as it had an amazing view of the hotel and the mountains which was very special. I definitely miss that the most.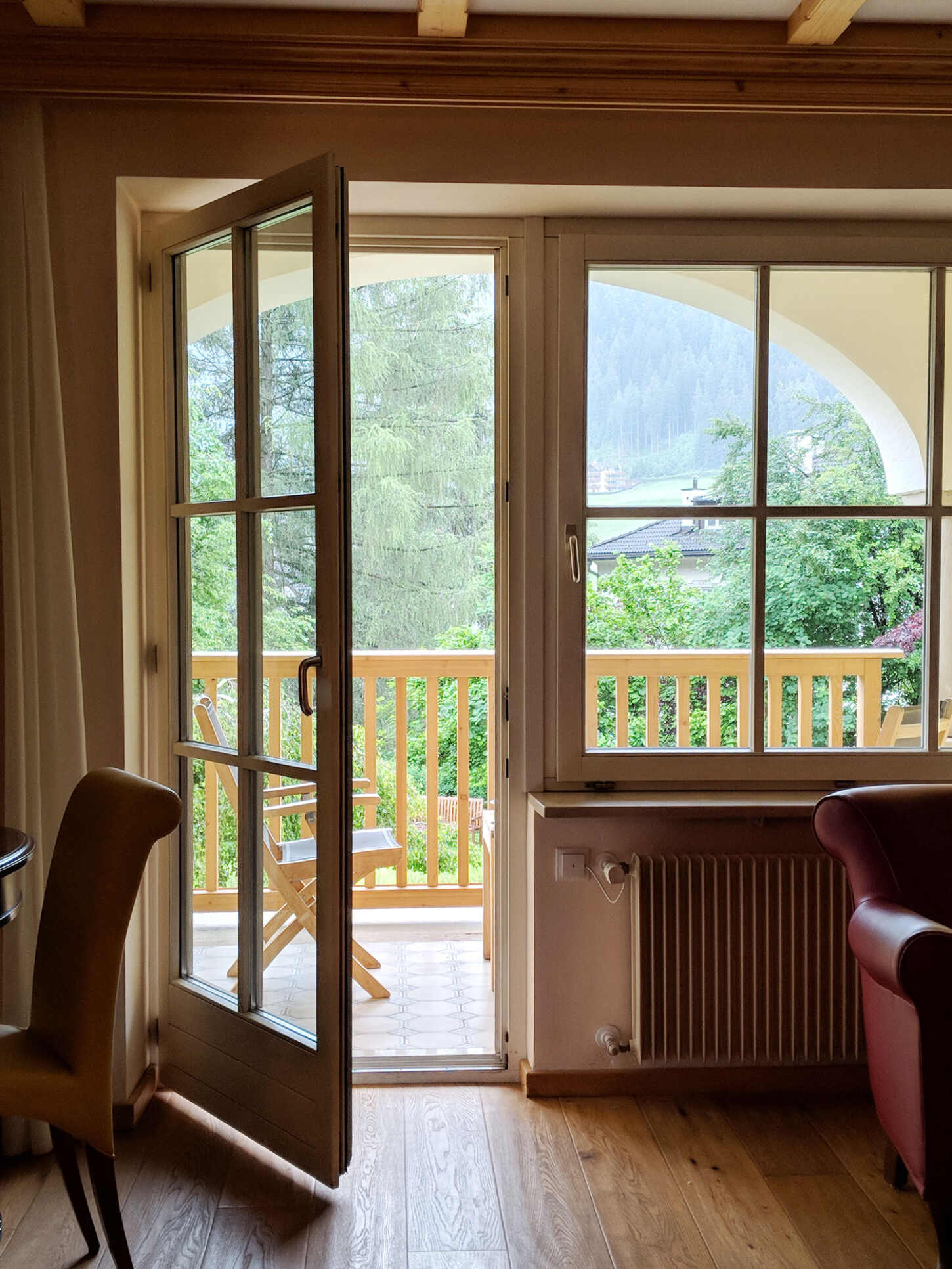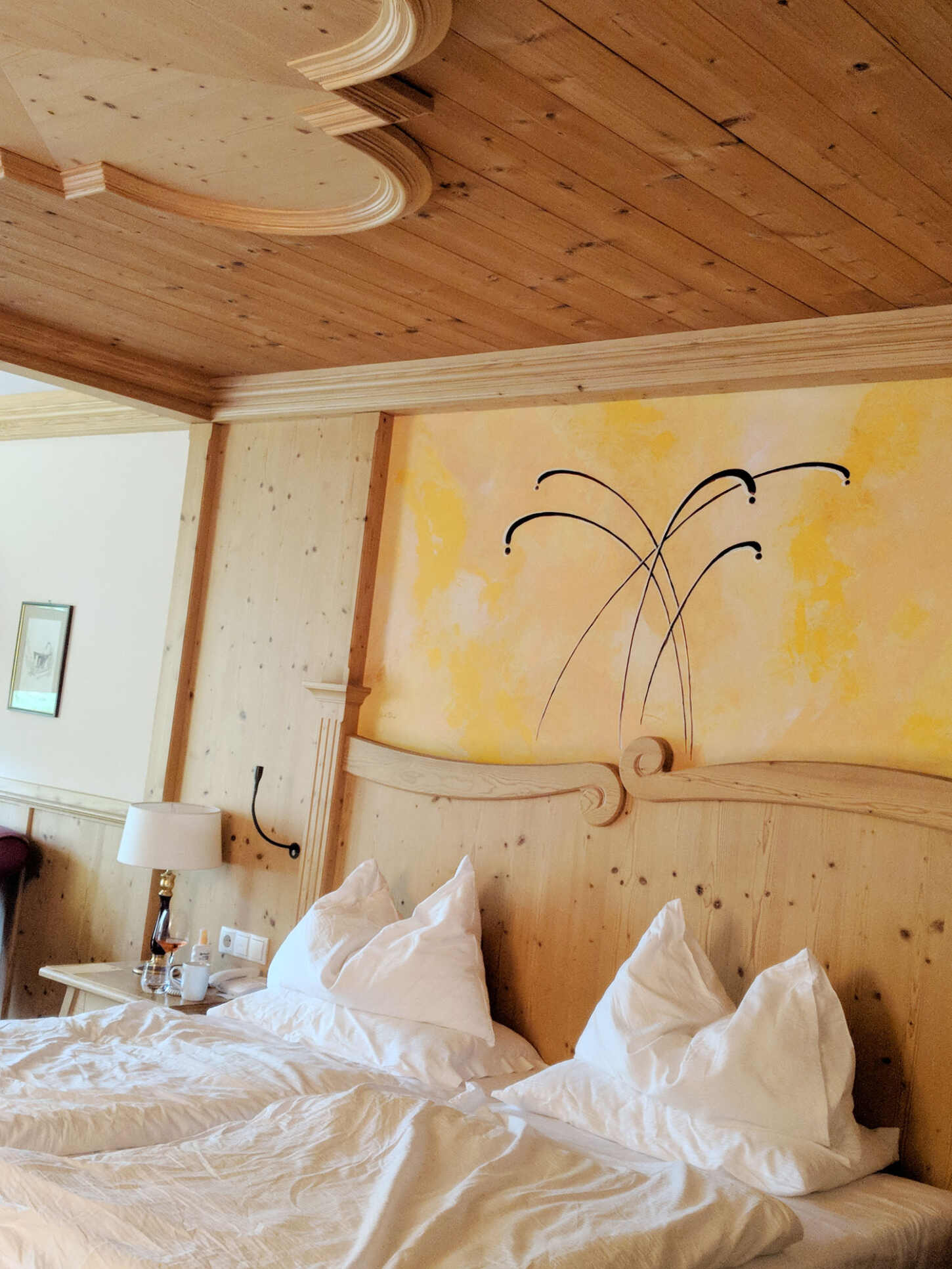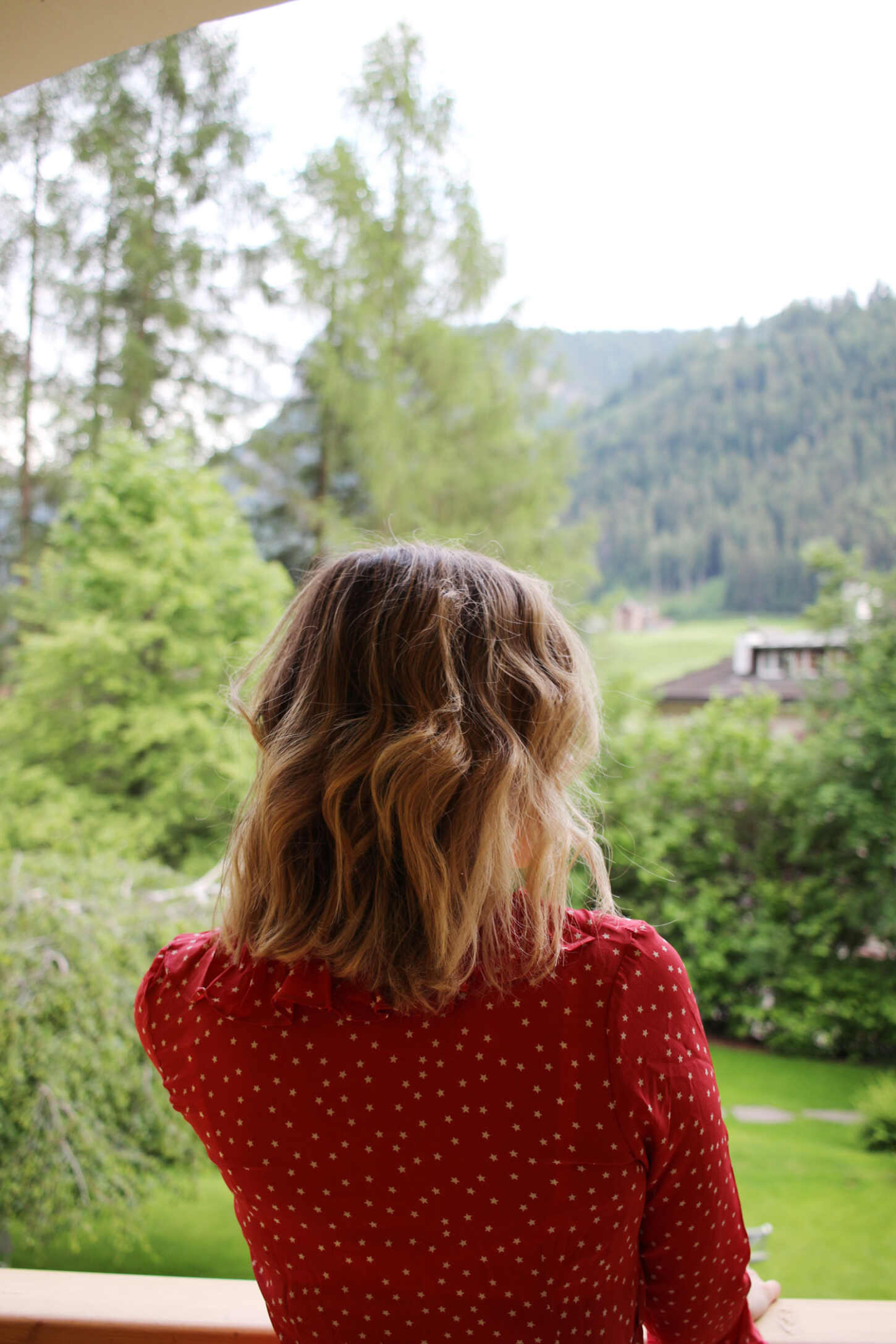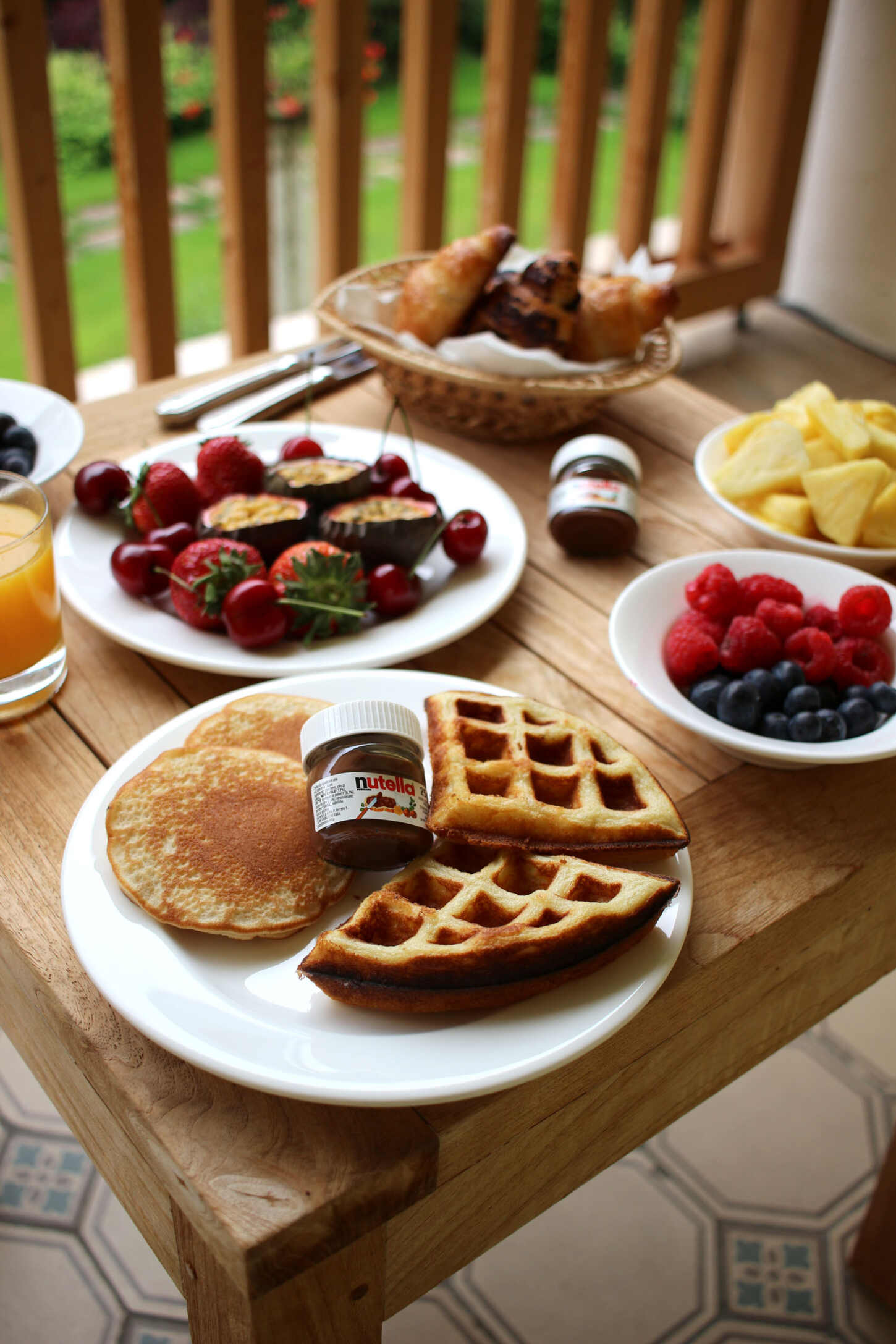 Breakfast, Lunch and Dinner
One thing I will say about the Adler Spa Resorts is that they do not do food lightly. If you're after variety, then their hotels are the place to come! There is an insane amount of food on offer for every meal here which is amazing, especially for someone like me who loves food and wants to try everything.
For breakfast, you have a choice of both hot and cold dishes from freshly made waffles and omelettes, to continental meat and cheeses, to a million (slight exaggeration) different types of bread and pastry, to fruit and cereal and smoothies... there really is something for everyone. I went for waffles and Nutella every morning, followed by cereal and it was delicious! I also got to have my freshly squeezed orange juice which I got addicted to in Tuscany so I was very happy about that.
For lunch they have a buffet style range with meats, cheeses, warm dishes, soups and lots of cakes so you can grab something a bit lighter if you fancy! I went for melon and parma ham most days which is one of my favourite combinations.
For your evening meal there's a great menu which changes every night, as well as a salad buffet to begin with. You can choose whichever courses you wish off the menu - which is all locally inspired cuisine - and each course we had was delicious. On the first night I had deer (amazing), followed by a banana mille-feuille. On other nights we had pasta (Hannah got this cheese one which was honestly to die for), lamb, hare, asparagus tortellini with truffles... So, so good!
For dessert, they either have options from the menu (like the lemon and lime tart below) or you can have a sweet treat from their extensive cake selection which you can see photos of below. I got a bit addicted to the crème brûlée, I will not lie.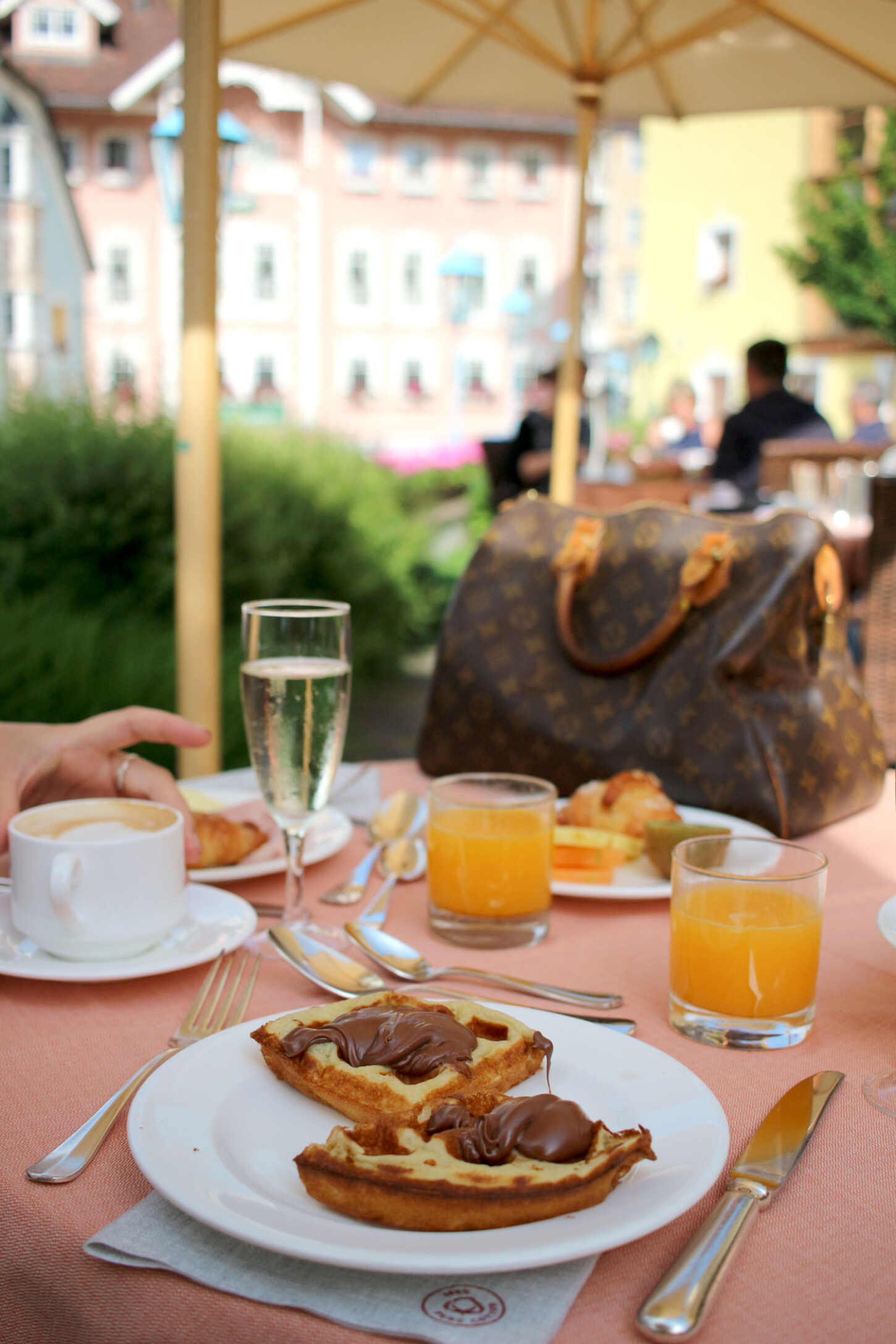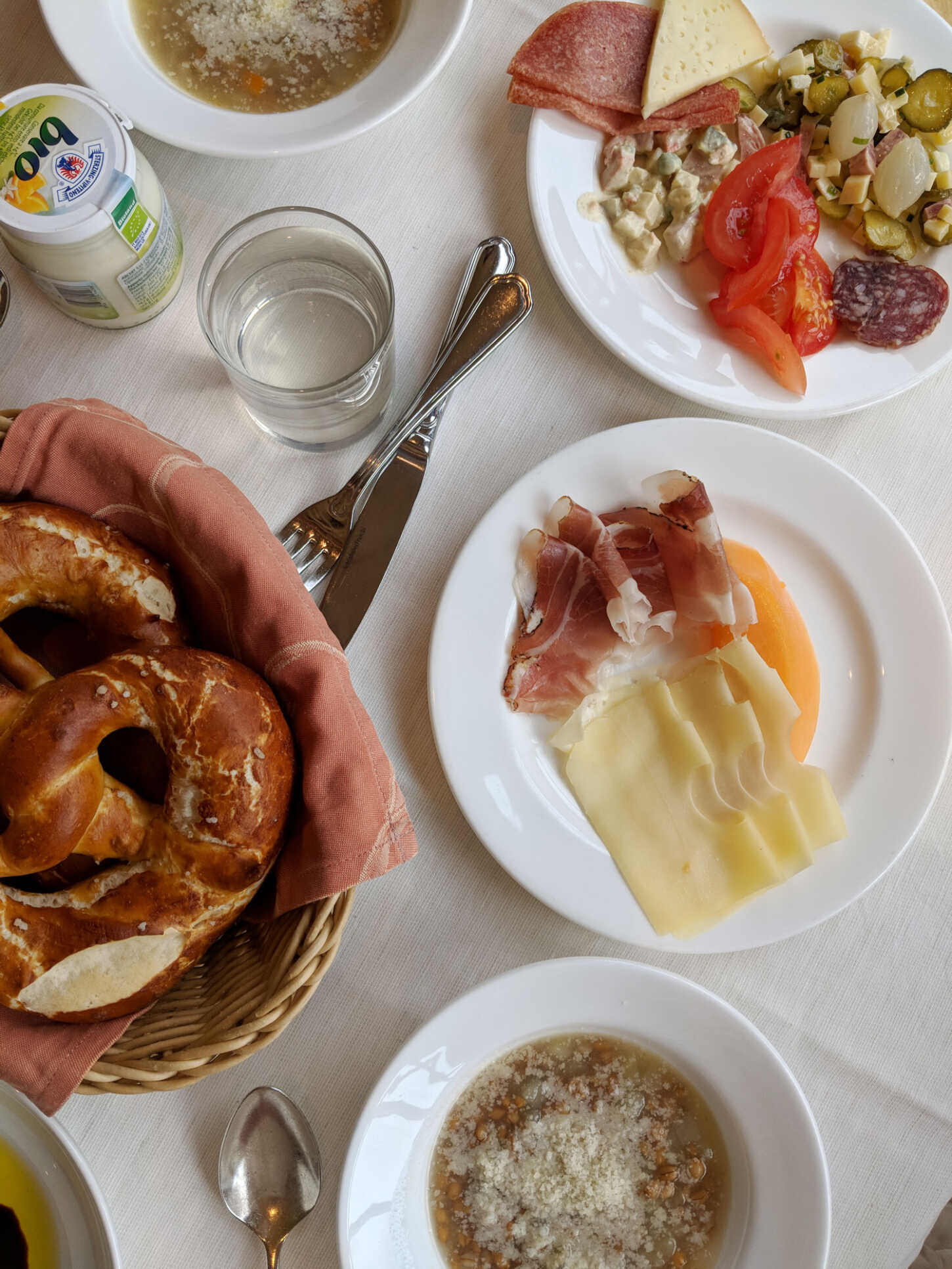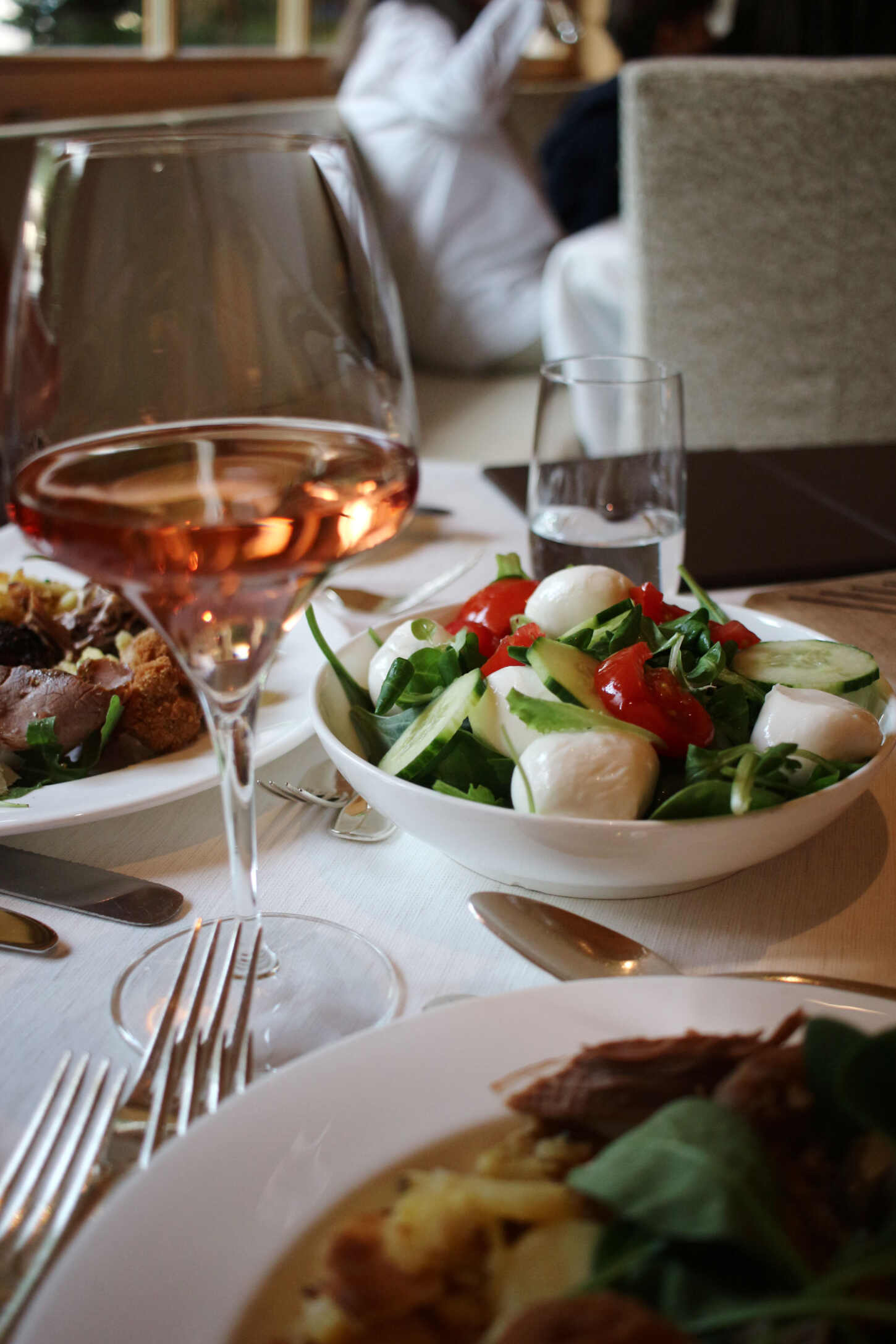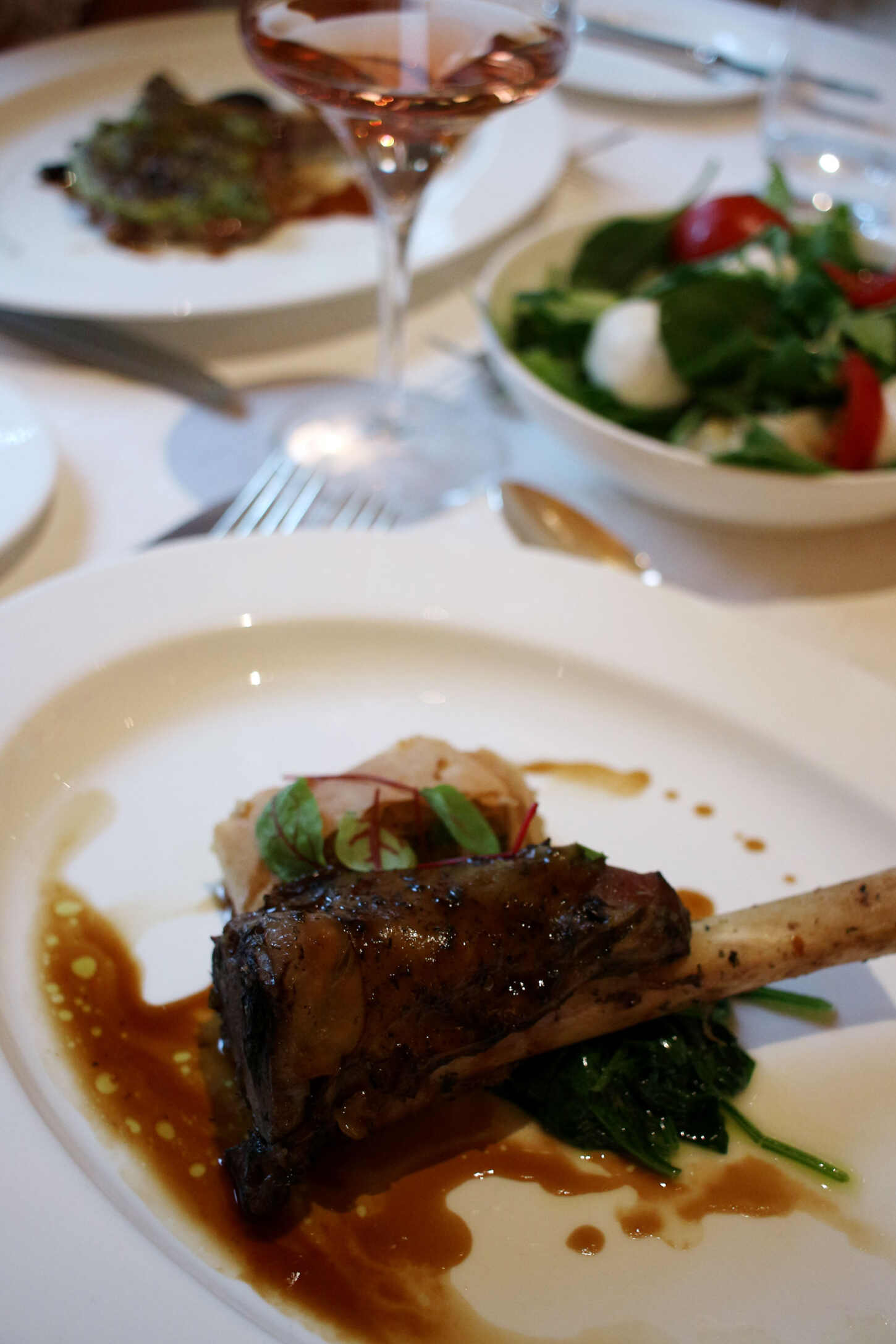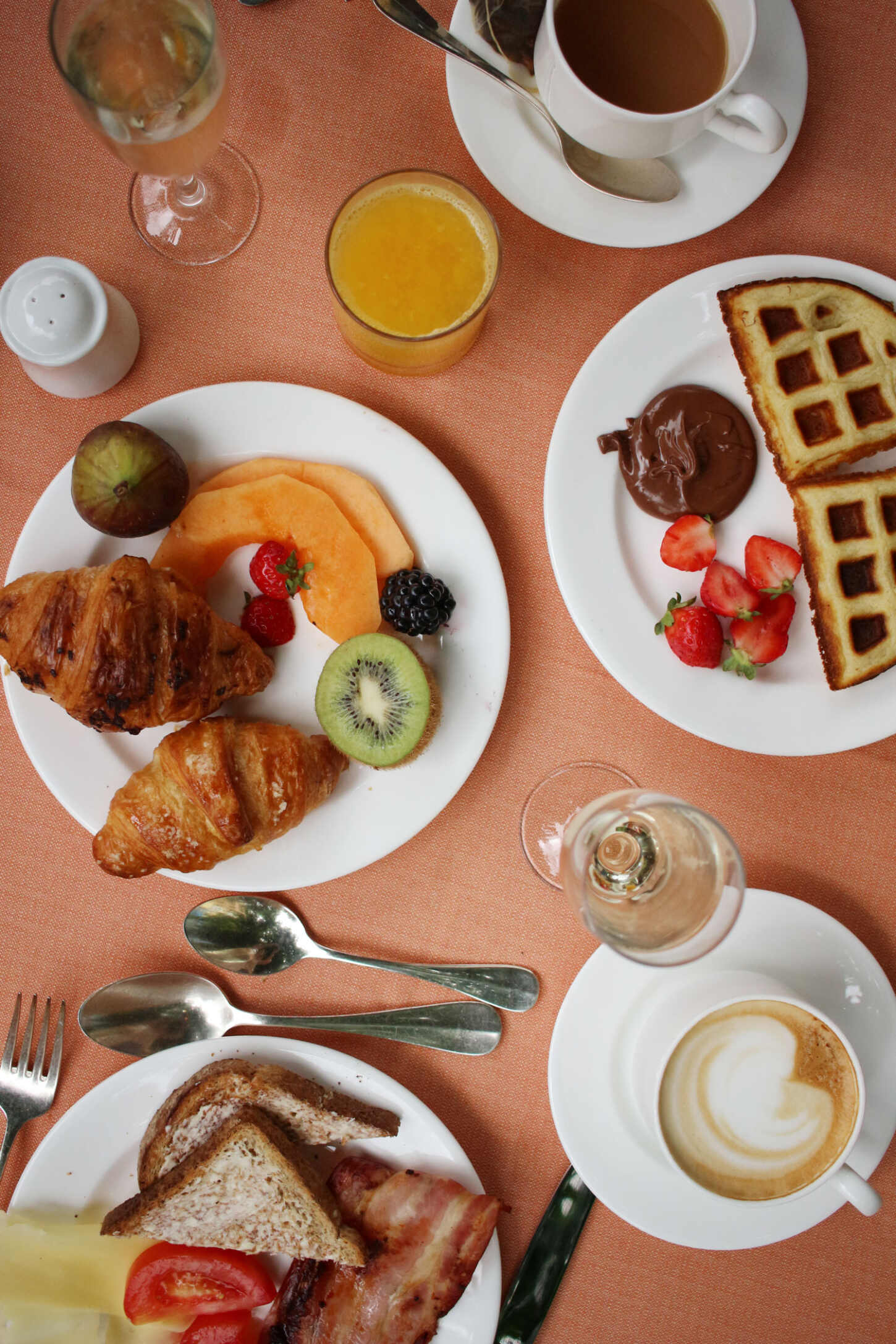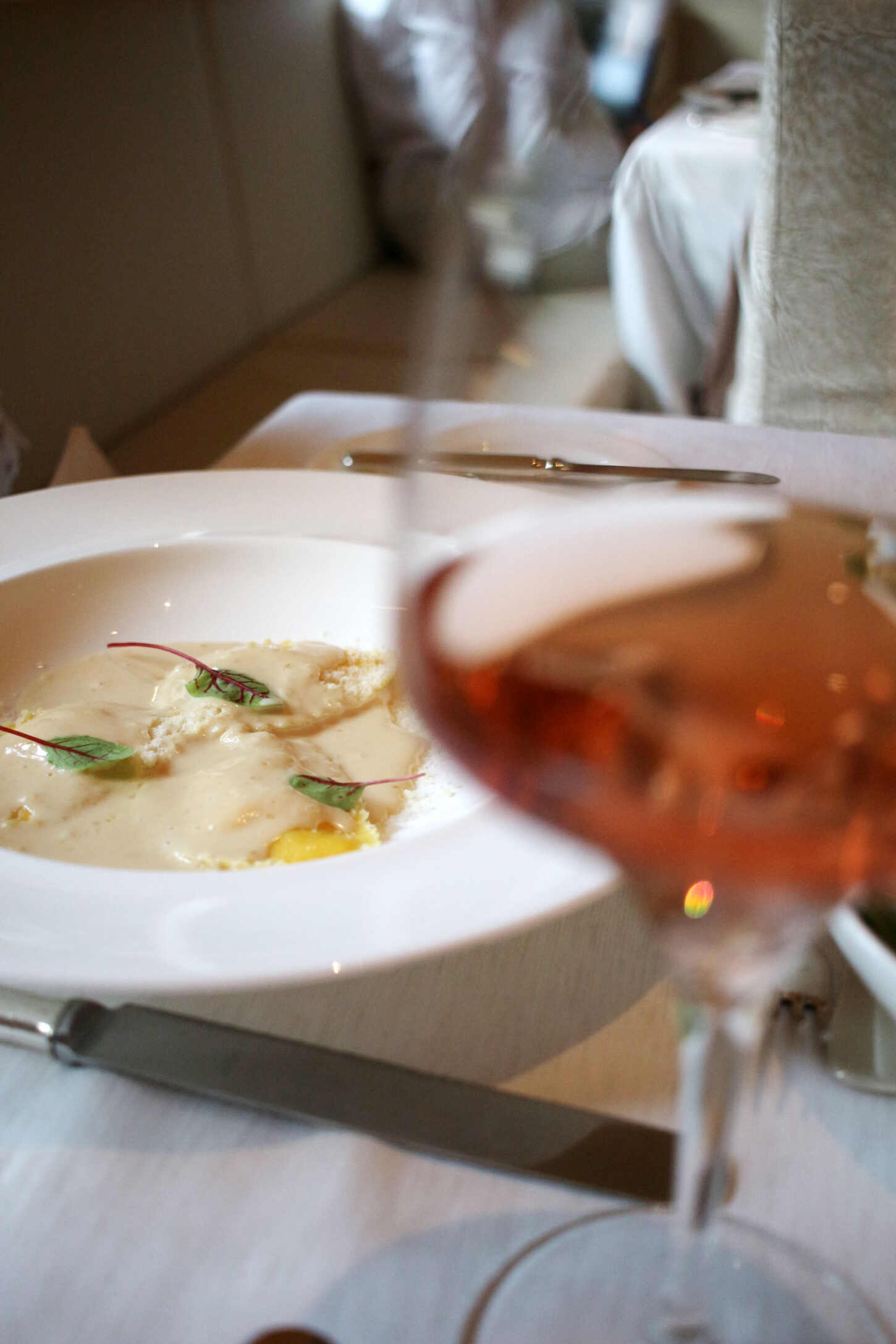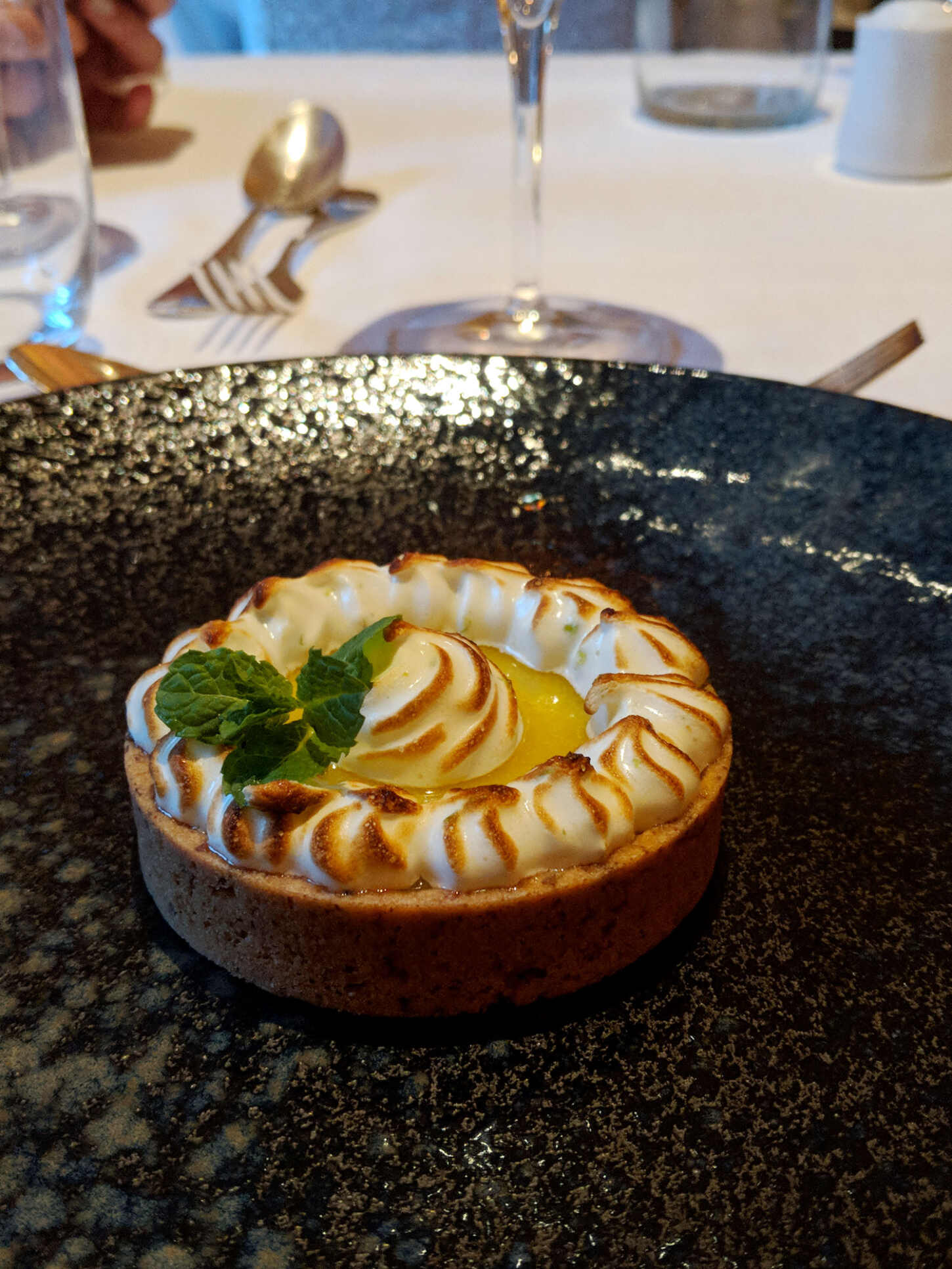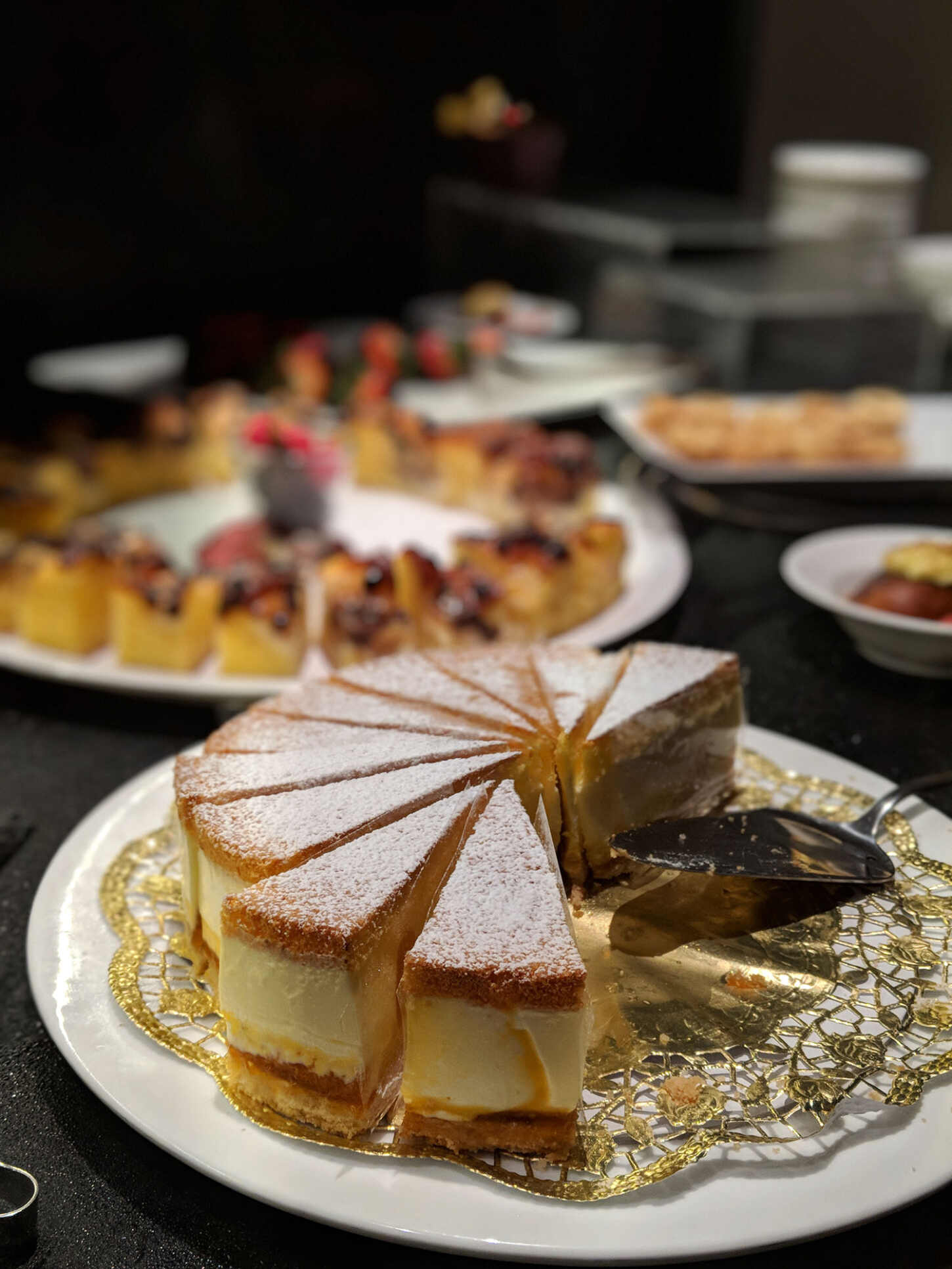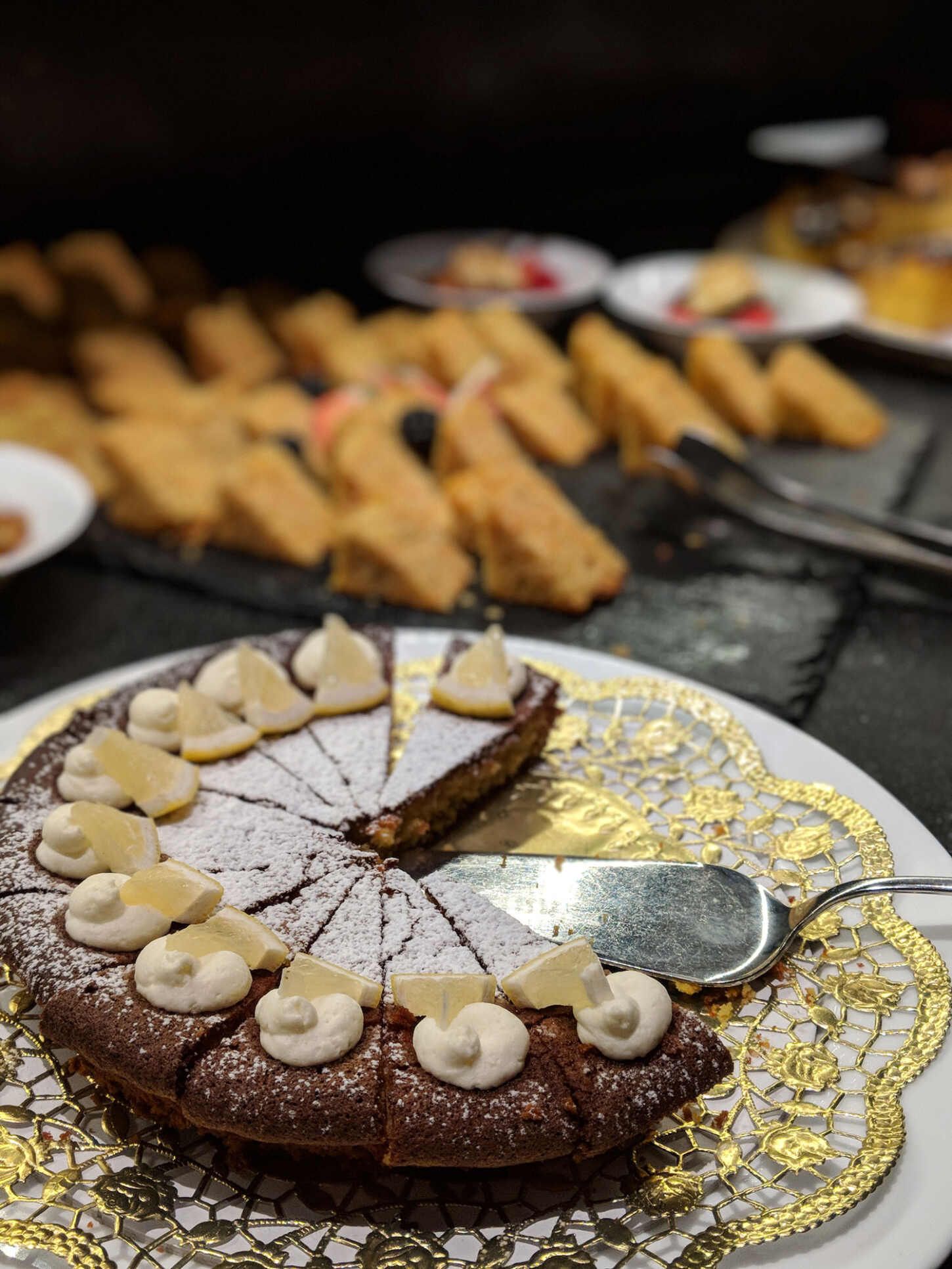 Conclusion
Overall, the Adler Spa Resort Dolomiti is a luxurious stay set in a beautiful location. I would say it definitely leans more towards those who want a slightly more active break, though obviously there are extensive spa/relaxation facilities available. The town the hotel is located in is very small, so there isn't a lot to do in the area if you just fancy a wander, so I think hiking and biking would be the best way to get around and to spend your days. I really enjoyed the pool and spa areas plus you do feel very taken care of when you stay at the Adler resorts, which is really appreciated. The rooms are immaculate, the resort is quiet even though it was busy when we went and the food is amazing.
I do think I prefer their Tuscany resort as it's more my type of thing, but the two are very different so it depends what you would like in terms of a holiday. The Dolomiti resort is stunning and well worth booking up if you would like a different holiday to your usual beach or city Europe trip!