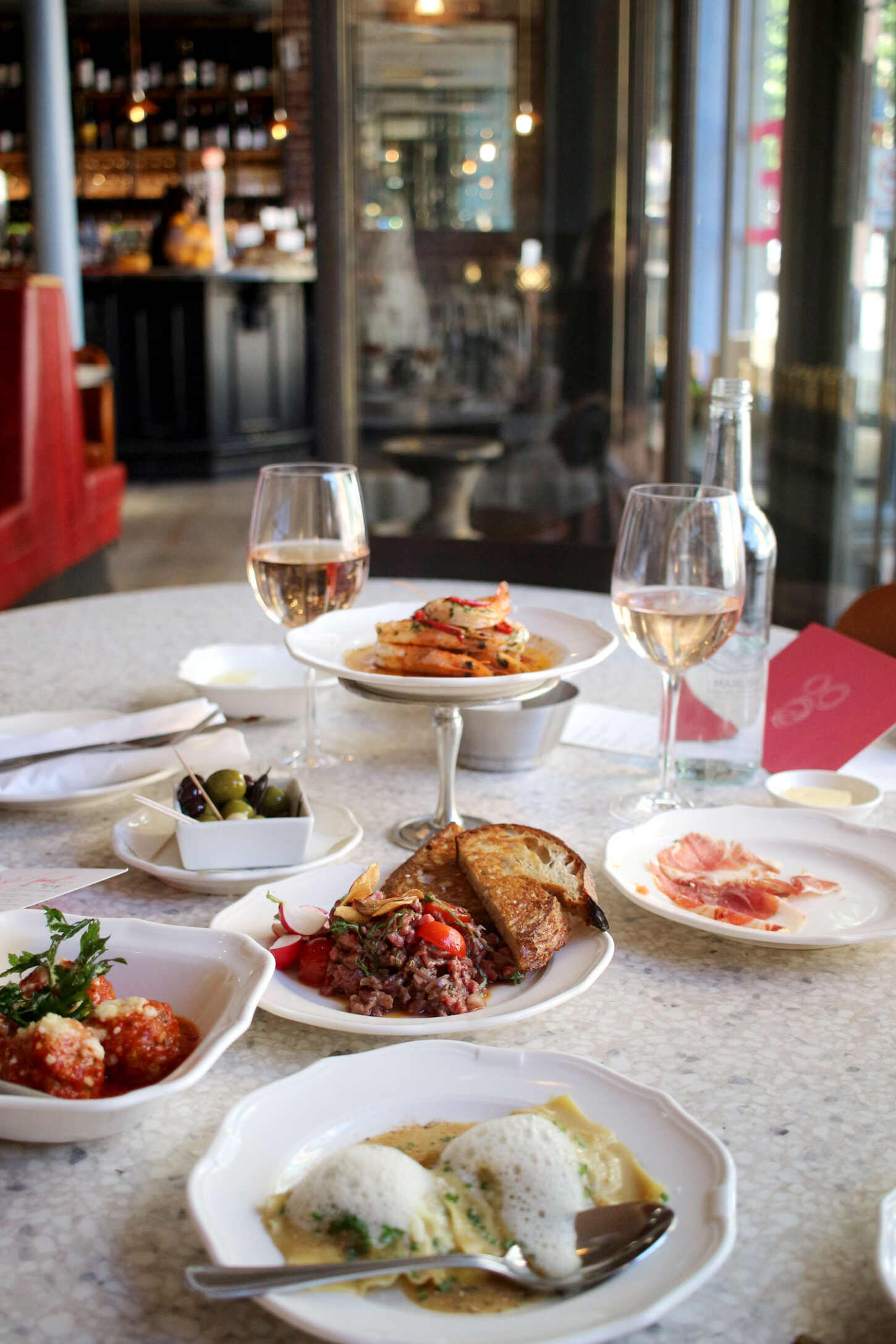 - St Vincent -
29 Broad Chare, Newcastle, NE1 3DQ
Hannah and I were kindly invited along to review one of the newer restaurants to open in Newcastle which is located down the beautiful Quayside. It was definitely the perfect Summery day to wander along and pop in for some French and Italian inspired food.
St Vincent prides itself on it's wine (describing it as 'at the heart of what we do' on their website) and their ability to serve pretty much any foodie need. Whether you're popping in for breakfast or coffee and a cake, or want a few plates to try for brunch along with a glass of somethin'-somethin' or a proper evening meal sampling everything they have to offer - they seem to cater for all. We definitely felt well looked after - and not just because we were reviewing - as the staff were attentive and polite to every diner in the room. We visited during lunch hours and it had a number of tables in, but it didn't feel crowded.
The Restaurant and Bar
As this was my first time visiting, I was so pleased to see how the place had been decorated! Finally, Newcastle is delving into that chic bar vibe with beautiful interior design. I loved the colours used, the almost 70s use of oranges and reds and the dark painted bar with the lights overhead. The terrazzo tables were lovely, too and the large windows let a lot of light in. As a whole it looks so stylish and it's a place you would be happy to spend an hour or two.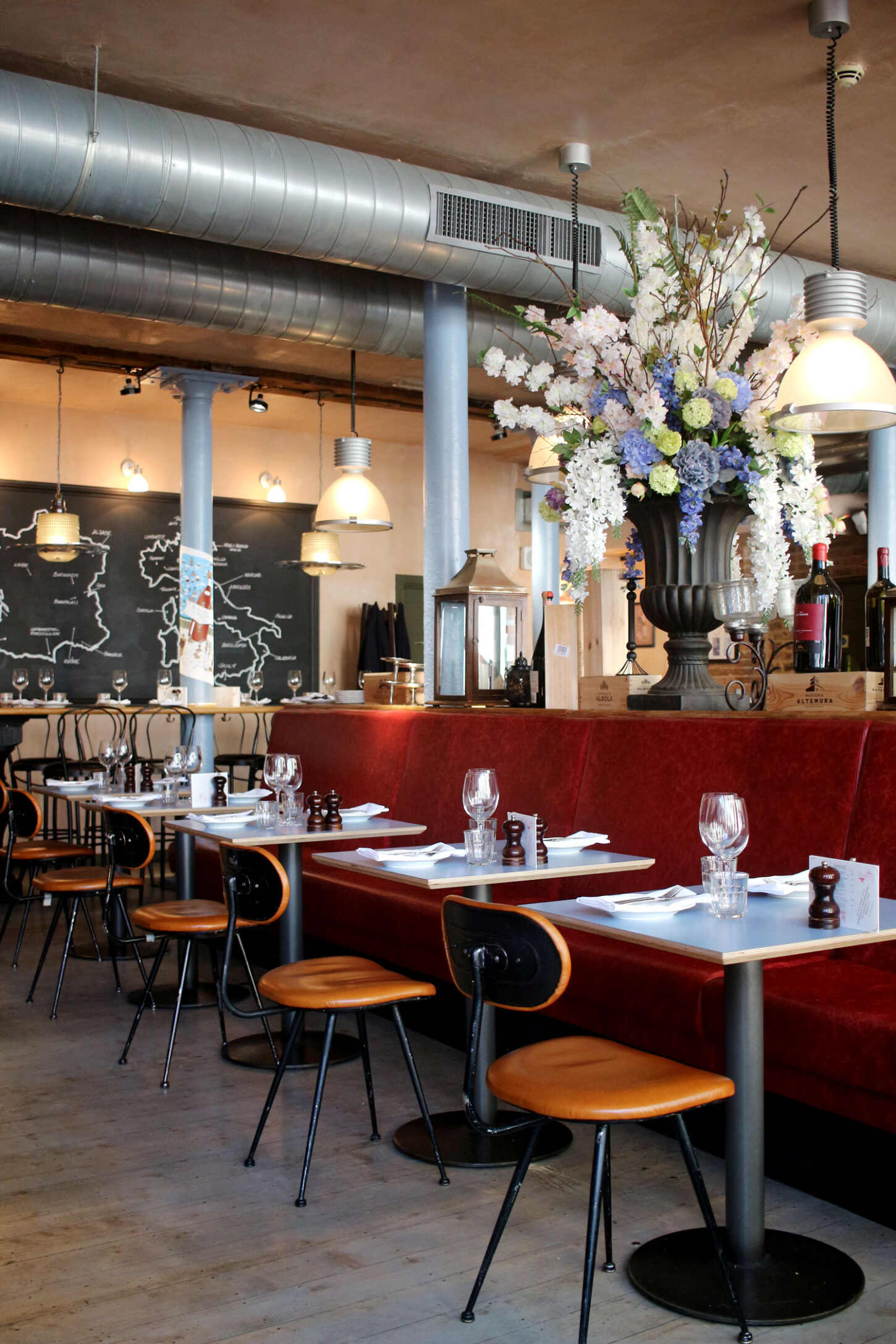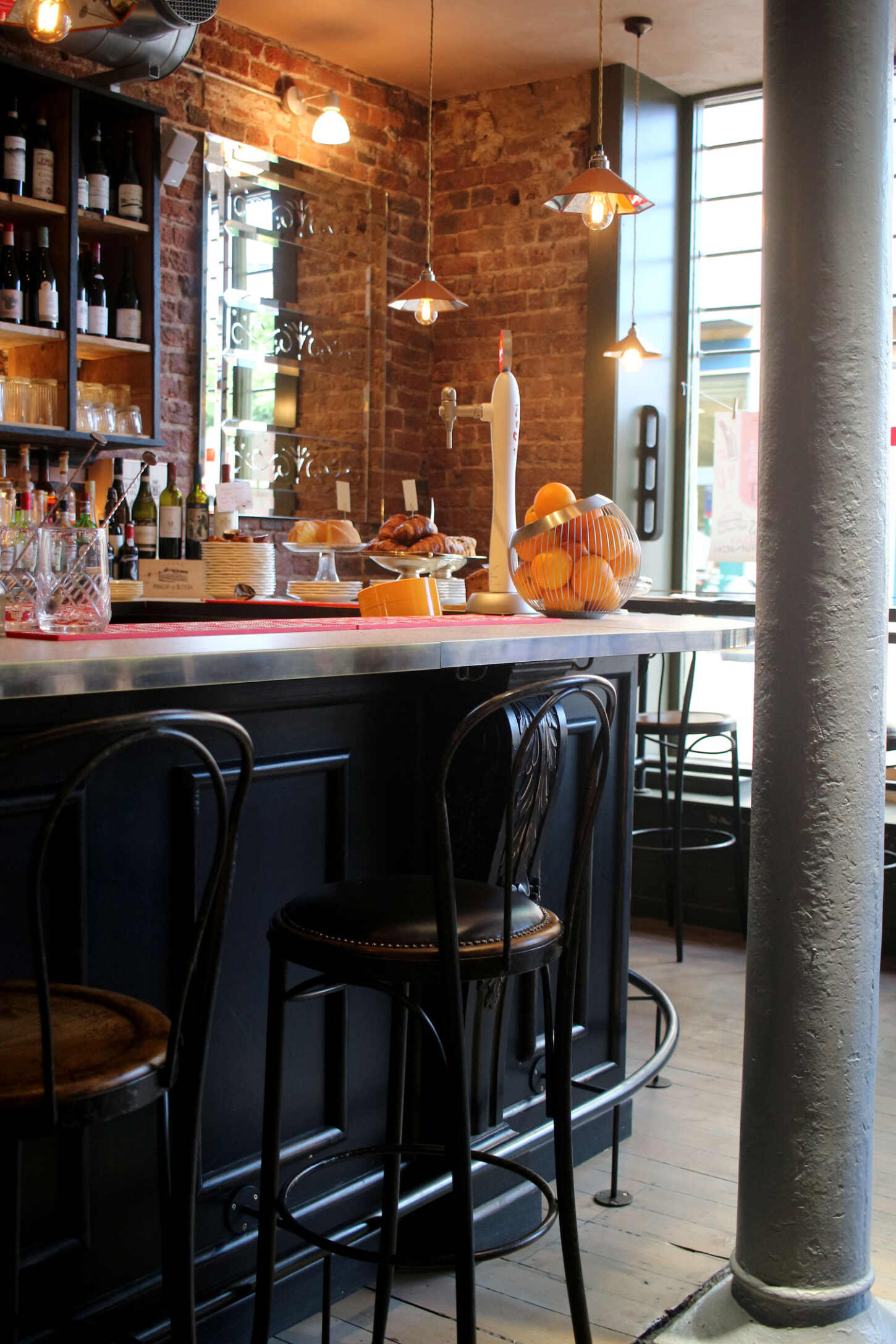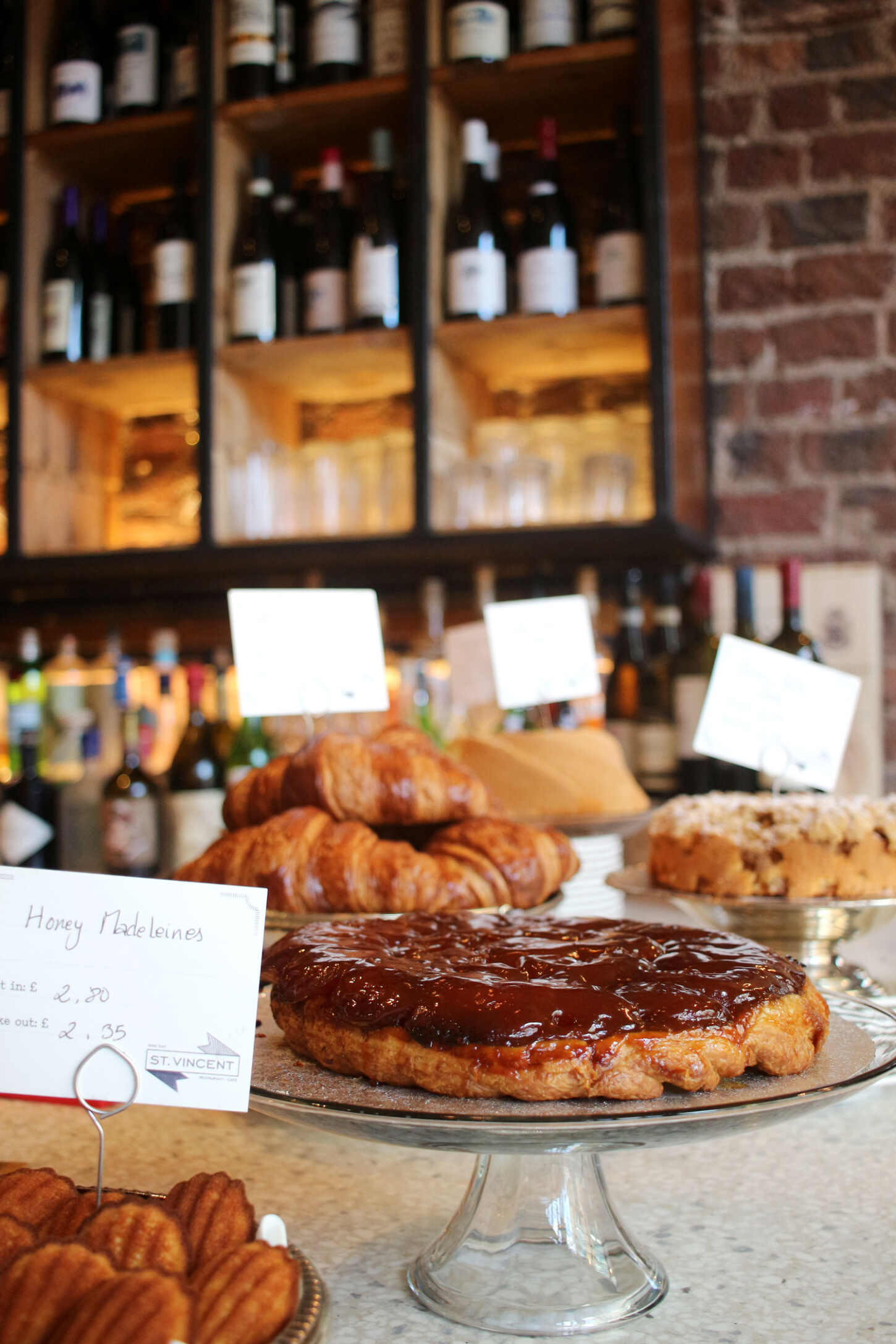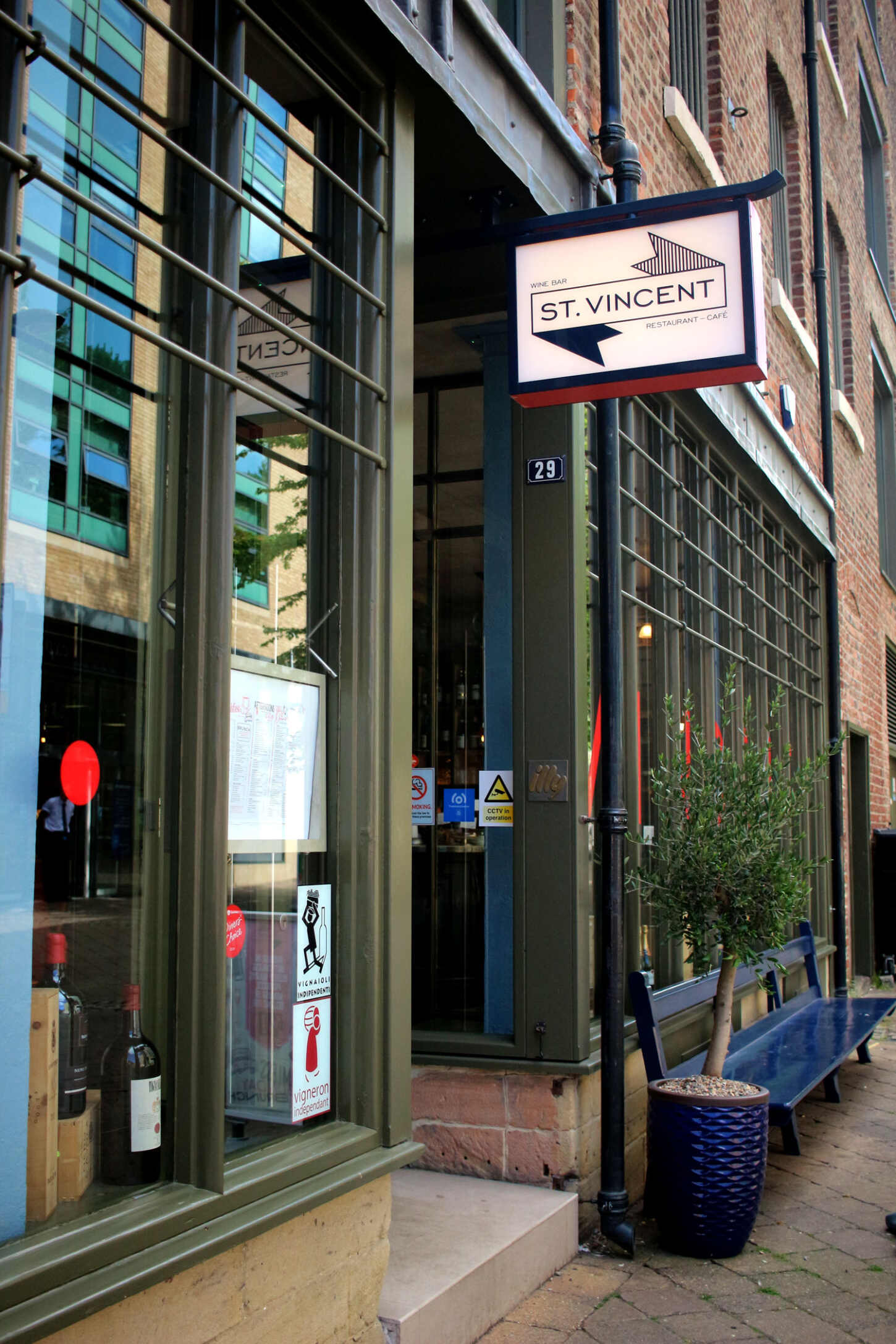 The Food
The menu is split up into the following: Snacks, Charcuterie, Cheeses, Croques, Vegetables, Seafood, Meat and then Desserts. Within each category (aside from Croques) there's around 7-10 items to pick from which I think is a great selection without it being overwhelming. Nothing worse than being totally confused by a menu in my opinion, so the curation is definitely appreciated.
I am often put off by pretentious ingredients and combinations that I have zero familiarity with, but that is definitely not the case with the St Vincent menu. There's new things to try, but nothing delves into the realms of being unattainable - if that makes any sense. The menu is straightforward and the staff are very knowledgeable, so are happy to recommend dishes if you're not 100% sure. I found myself wanting to try at least 15 of the plates across the menu which is a really good sign, as everything is made to sound really delicious, seasonal and fresh.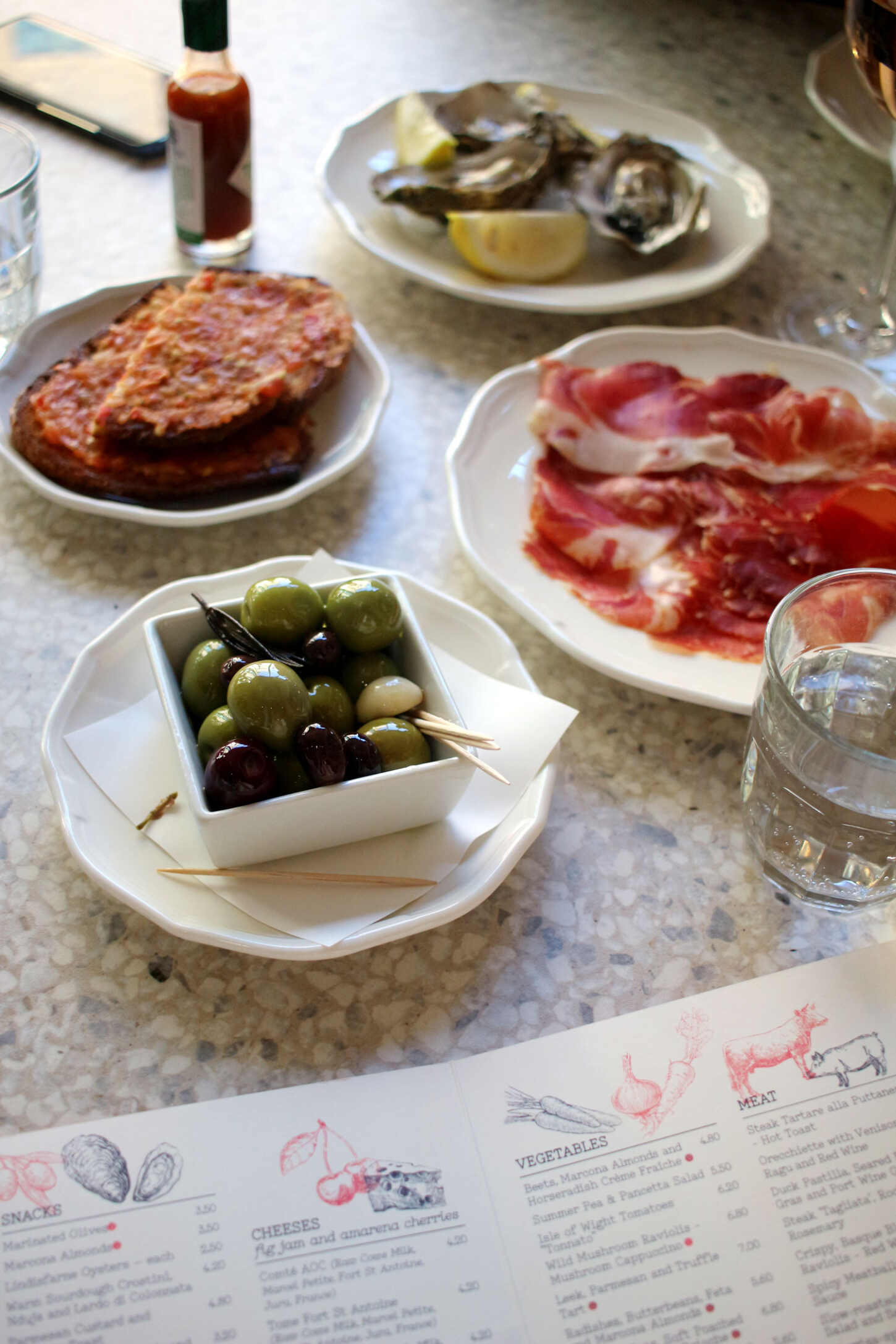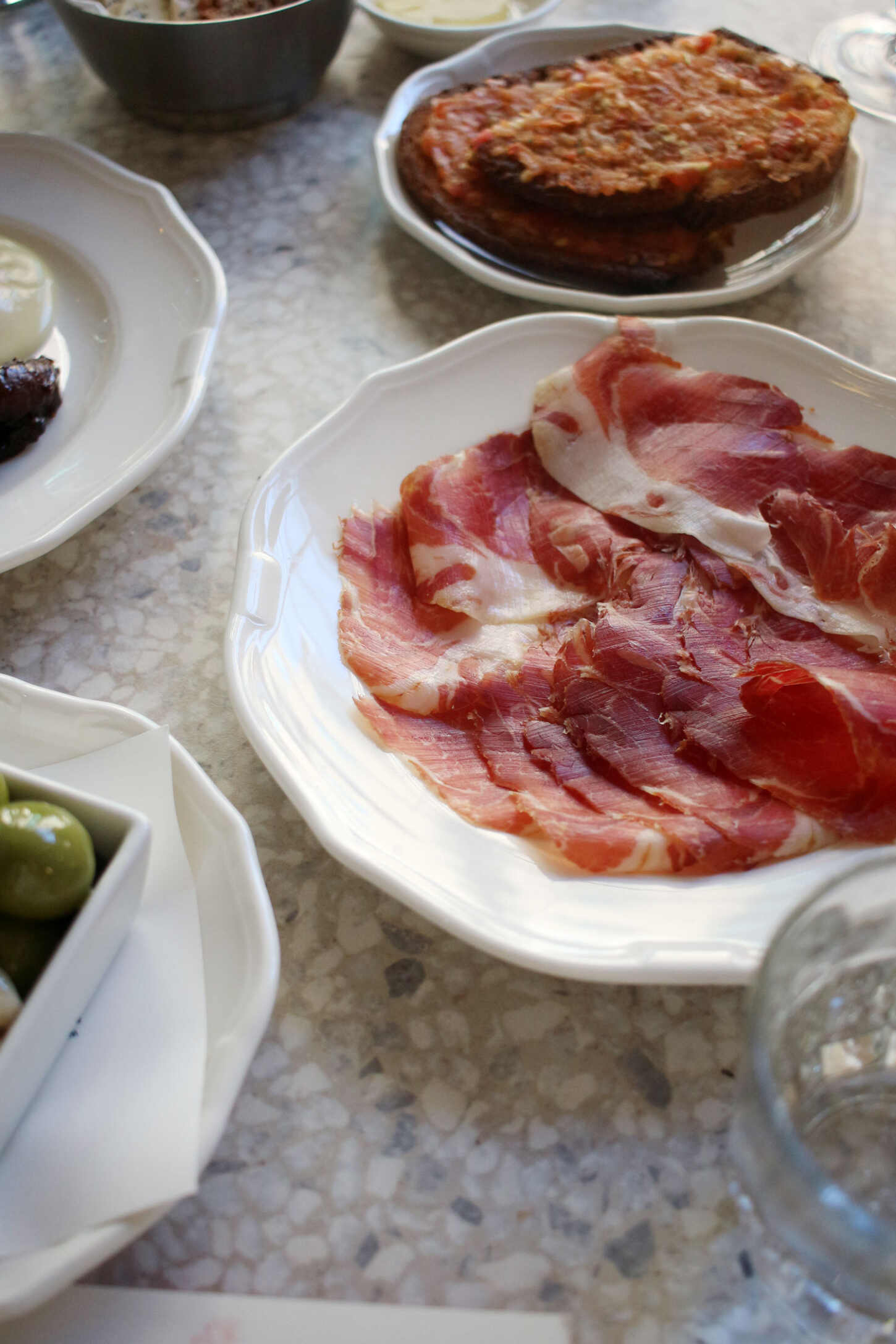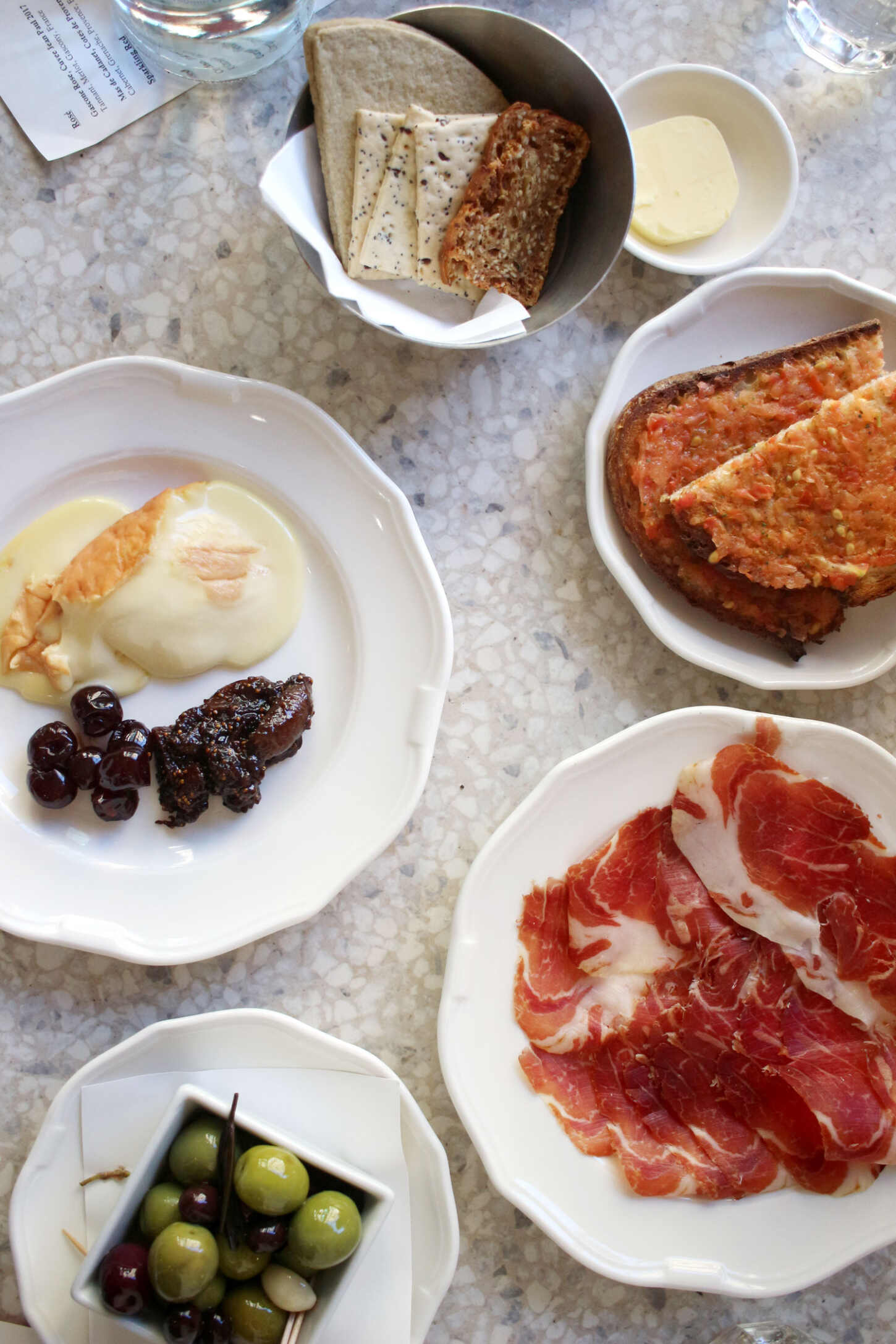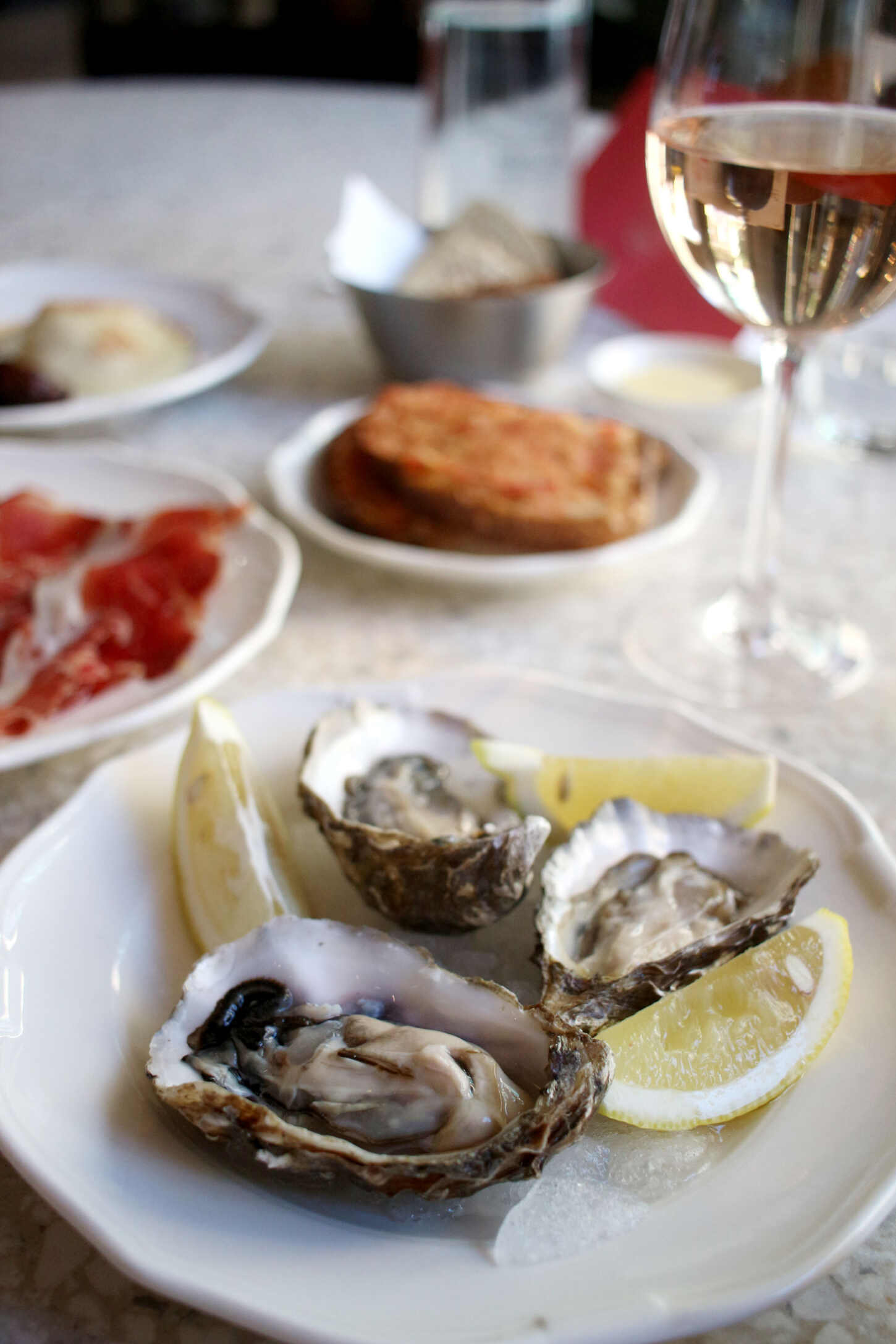 Starters
'Starters' isn't technically the right term to use here, as with the concept being to pick as many (or as few) plates as you wish, you don't necessarily get the starters-main-dessert timeline. However, we did pick a few things first then decided on others slightly later, so let's call this 'starters' shall we?
Now, we ordered the following: Marinated Olives (£3.50), Lindisfarne Oysters (£2.50), Paleta Iberica ham (£14) and Epoisses de Bourgogne cheese (£4.20). The menu as a whole offers a great selection whether you just want a few small dishes or want to opt for more meaty or heavy plates.
As for the starters we picked, I can't speak for the oysters (as they are Hannah's thing, not mine) but I assume they're great as I heard no complaints from her when she had them. The olives were fine and consisted of both green and black olives, as well as chunks of garlic. The Iberica ham was moreish and was served with toasted bread with tomato which made a great combination of flavours. Finally, the cheese - which I think was my favourite - was a gooey delight. I'm still new to the world of cheeses (read: I know nothing, but my boyfriend is trying to get me into trying more so we're working our way through the local Fenwick cheese counter) but this is one I would eat every day if given the opportunity. It wasn't too strong, but combined with the fig jam (one of my favourites) and amarena cherries and piled onto crackers... delicious!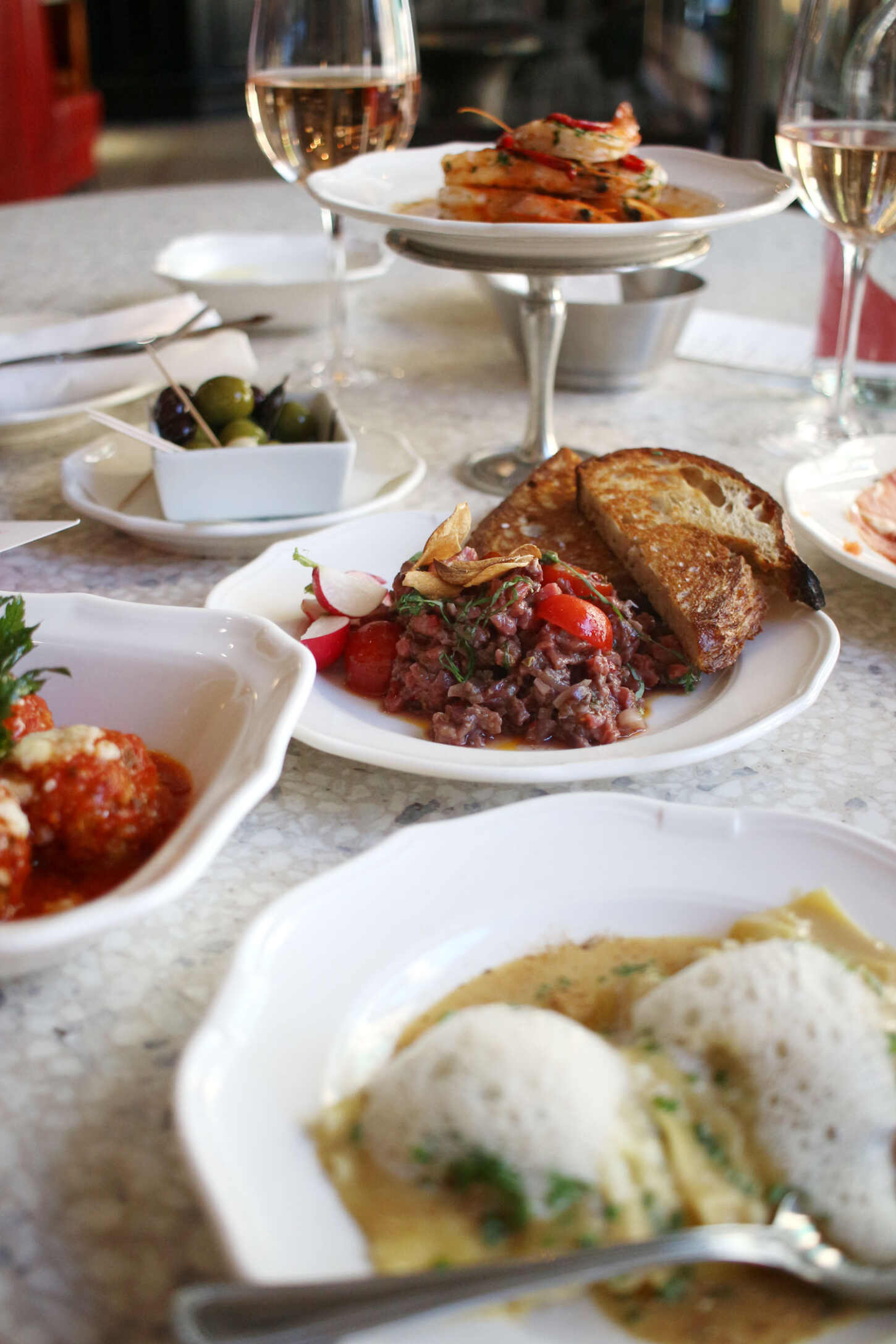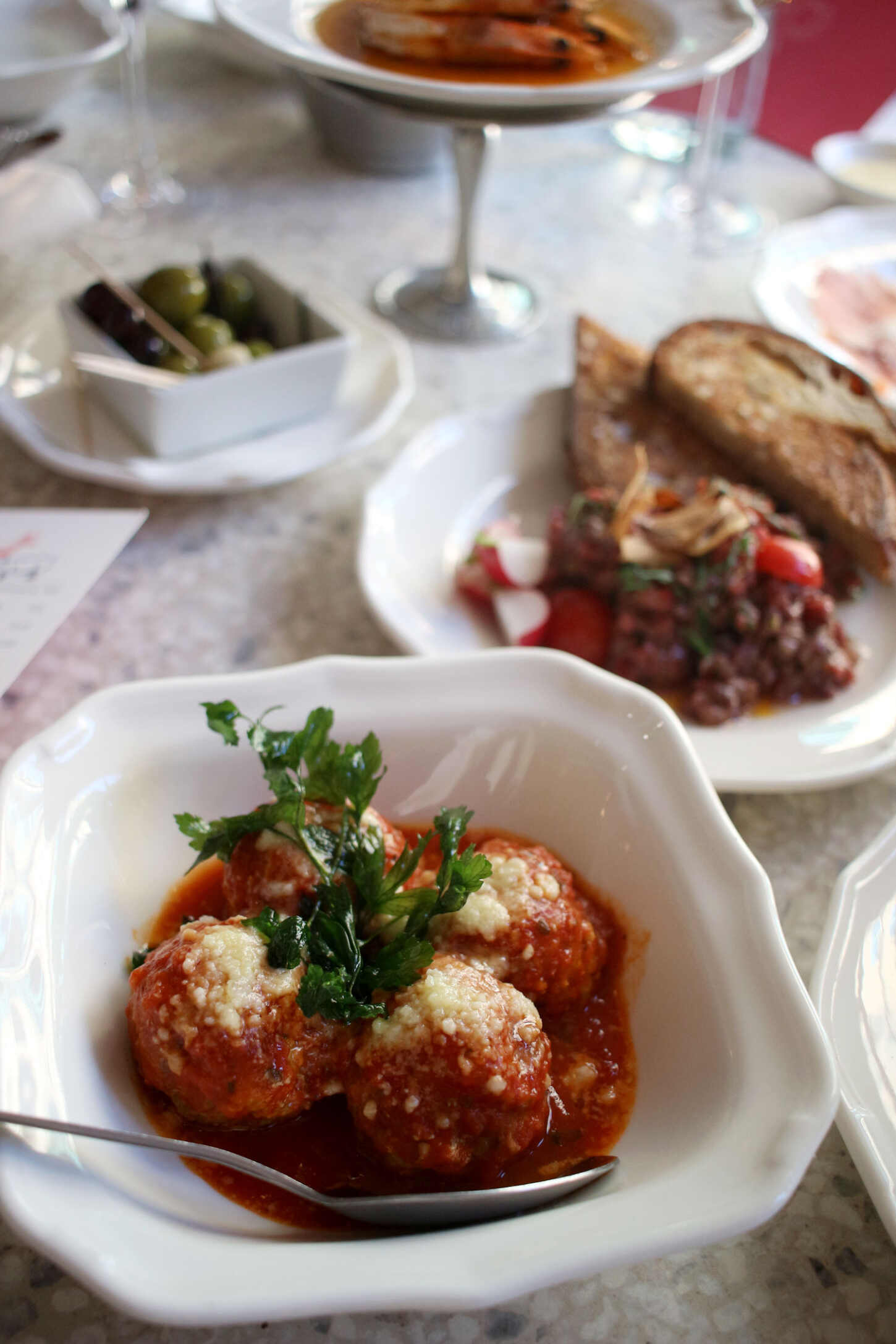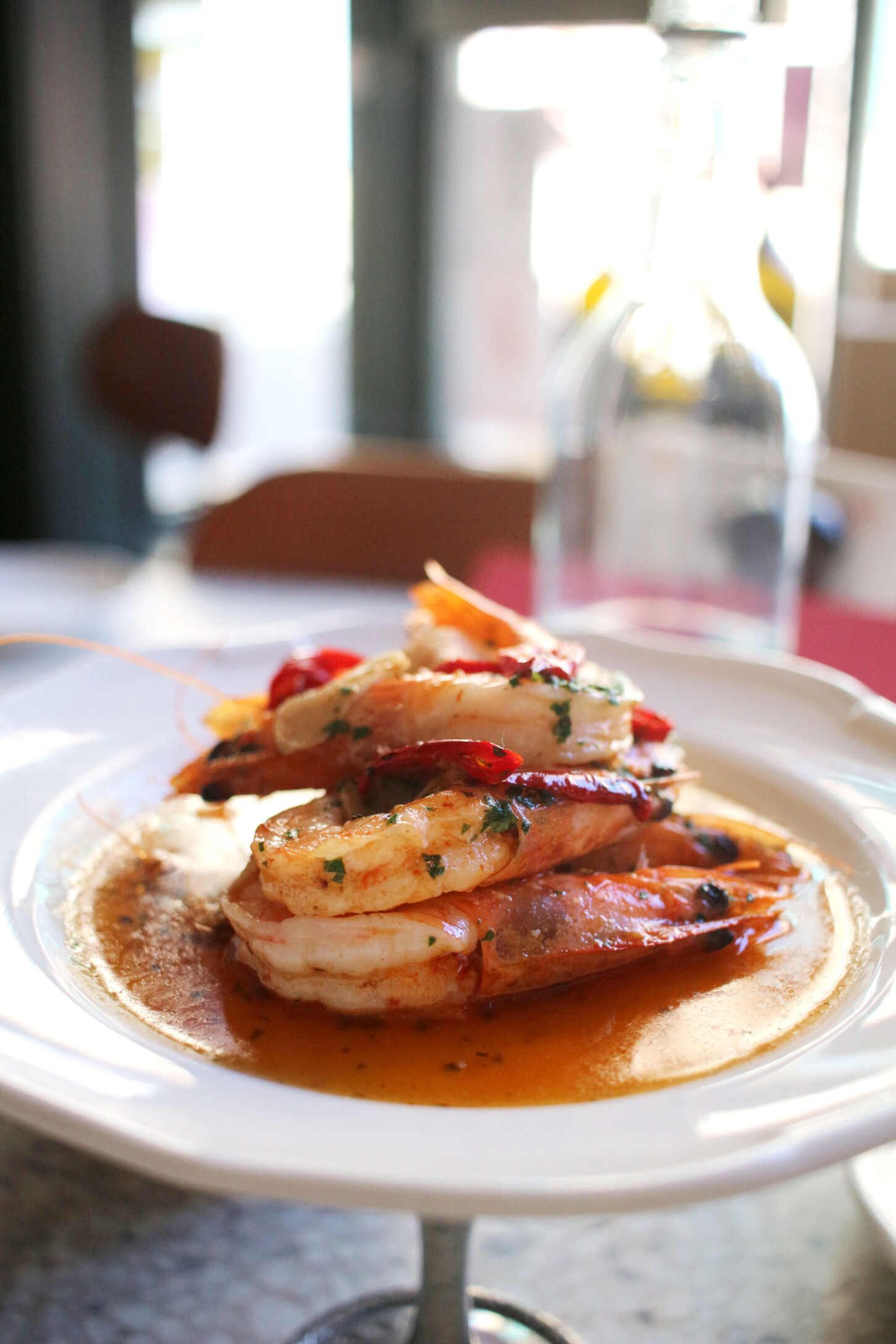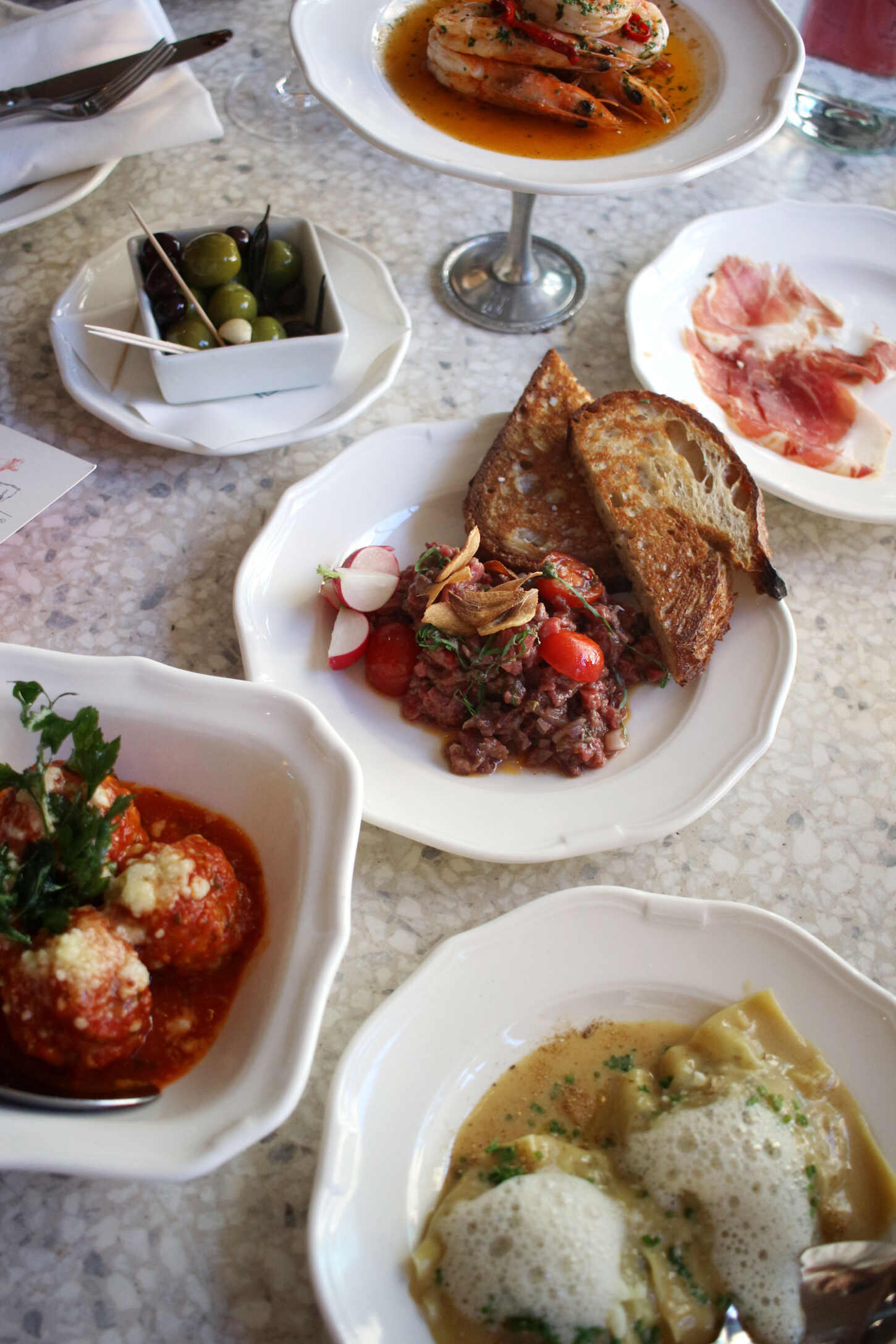 Main Course
Again, not strictly a main as each dish comes at different times, so we had a few bits of the starters left to eat when these plates arrived on our table. However, we're just going to stick with 'mains' for the sake of the photos, ok? Ok.
We ordered: Wild Mushroom Raviolis with Mushroom Cappuccino (£6.80), Sautéed Tiger Prawns with Garlic and Chilli (£10.20), Steak Tartare alla Puttanesca with Hot Toast (£8.60) and Spicy Meatballs and Tomato Sauce (£6.20).
We tried to pick something from each category so we could sample as much as possible across the menu. From the vegetable section was the mushroom ravioli which was possibly my favourite dish. As someone who is a mostly vegetarian (sometimes pescatarian) 90% of the time, it was great to see the selection of veggie dishes on offer. There are 12 in total with the little 'v' sign next to them, so you know you have quite a few options. The ravioli was absolutely delicious too, as it was rich and packed with flavour and had me wishing I could make it myself at home.
The prawns with chilli and garlic were fresh and juicy and there was a good handful of them so the size of the dish was good for the price. I know steak tartare isn't for everyone, but if you're a fan of it then you will love the St Vincent version. It was mixed with (I believe) olives and a bit of chilli to give it an extra depth of flavour and was so, so good. The toast it came with was also amazing - who knew bread could taste so good, eh?
Finally, we had the spicy meatballs and, while I didn't find them to be spicy, they were still very tasty and herby (my palette isn't good enough to identify which herb though). The tomato sauce was good too.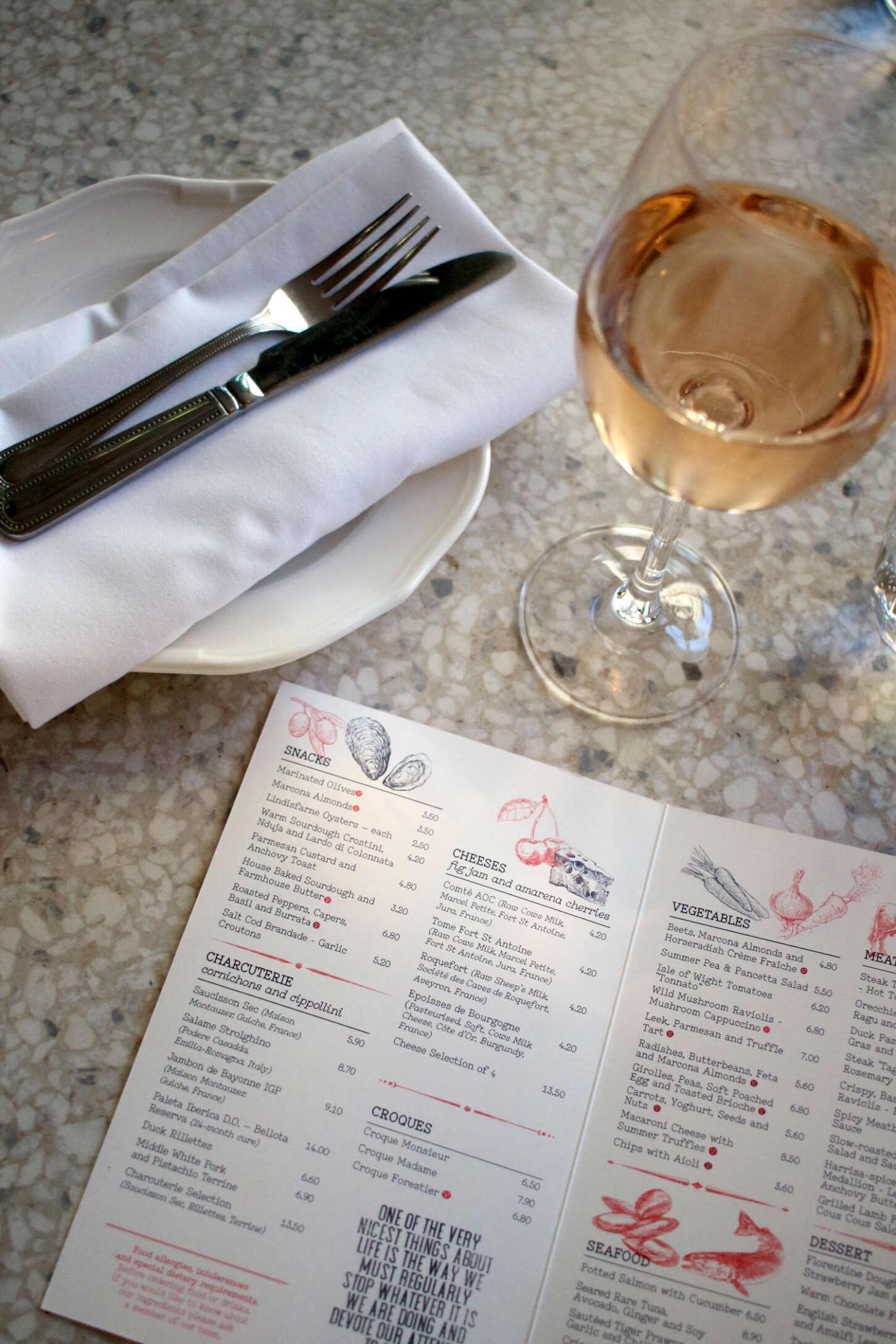 Dessert and Drinks
Throughout our meal we had a bottle of sparkling water and also a glass of Mas de Cadenet Côtes de Provence Rosé (2017) each which was just what I go for in a wine. I love a good pale rosé, me.
For dessert, we opted for once each and shared. The Warm Chocolate Fondant (£5.50) was served with cream and was basically like a bowl of melted chocolate goodness. It was rich but not too heavy, so it was perfect to round off a meal with. The Florentine Doughnuts with Strawberry Jam and Chantilly (£5.50) reminded me of that inviting carnival smell, - you know the warm fried doughnut scent? They were a little greasy, but pillowy and sugary and perfect for sharing. The jam they were served with was so fruity too.
We also got coffees to round everything off with Hannah opting for a flat white and me getting an iced latte. I'm new to coffee but it was really tasty and refreshing!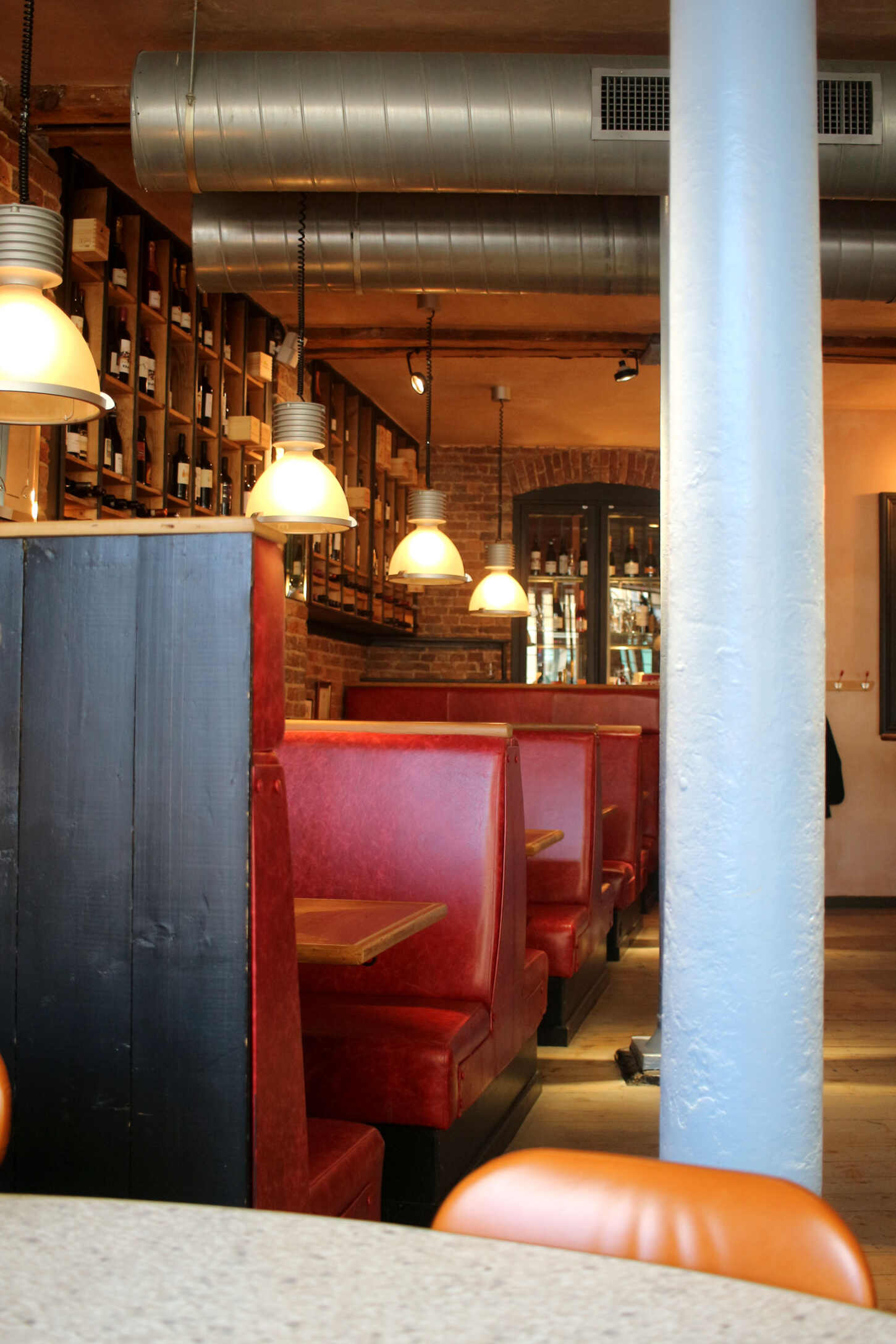 - Conclusion -
Overall I was really impressed with St Vincent. I think the decor is definitely a welcome direction for Newcastle, as it's very chic and the colour scheme is great. The food is delicious and, although we got a lot of dishes, you could opt for 2 plates and a drink and have a very satisfying lunch for around £20-£25 which I think is very reasonable given the quality of the food on offer. I would recommend St Vincent to anyone and would happily drag my boyfriend (though as soon as I showed him the photos of the cheese, it didn't take much persuading) or my parents along for brunch one day.
You can find St Vincent's site here which includes their menus and how to get there.
I will be doing more local reviews, as I really enjoy taking photos of food and nice restaurants. You can find all of my previous Newcastle reviews here.