Giraffe World Kitchen, Eldon Square
So, in a new North East feature, I'm going to be chatting about three new (or new to me) places that I've recently stuffed my face in - starting with Giraffe World Kitchen.
Giraffe is in the new part of Eldon Square which has become a bit of a central area for all chain restaurants, so the interior is all shiny and new. The concept of Giraffe is that they have food from around the world, you you'll find everything from Japanese to Mexican to Italian so it's perfect for those who don't quite know what kind of food to go for.
So, for starters, we had the salt and pepper squid with sweet chilli jam (delicious!) and the yaki gyoza. I've had gyoza from a million different places, but these were quite delicious and the slightly sour dip was my favourite.
For mains, I opted for the chicken enchilada which was delicious but such a huge portion. The rice and chicken were nicely spiced and the overall taste was really good! Hannah had the kati roll which is cauliflower, chickpeas, red onion etc rolled up in a naan. Again, a large portion but she said it was really good! Value for money is definitely guaranteed with these two dishes and if we hadn't of had starters, then we could have probably finished it all! We also had sweet potato fries which were also great - crisp and soft in the middle.
We managed to somehow stuff down some desserts and I'm glad I saved a little bit of space for it, as they were good! I had the whoopie cookie, which was a double chocolate cookie with biscuit ice cream in the middle, drizzled with chocolate sauce, caramel popcorn and pretzels - yes, it's as indulgent as you imagine it to be! My only complaint would be that the cookie should be a little bit softer, as I had to stab it with my spoon, but the overall taste was great! Hannah ordered your standard warm chocolate brownie, which was rich and just what you'd expect it to be!
We also got a 'wavebreaker' each which is part of their non-alcoholic cocktail section. It's a mix of pineapple, coconut and lime and it is a dream. It's basically a summer on a beach, but in drink form - make sure you get one!
All in all, I do think it was a good meal. It would have cost £52.45 for everything we had, but if I was going again, I would have probably skipped the starters (because I rarely have them, not because they're bad, obviously) and just had a main and maybe a dessert. Though, to be honest, the mains were so filling just by themselves! I would visit again, though maybe not straight away as Newcastle's independent restaurant scene beats every chain hands down. 8/10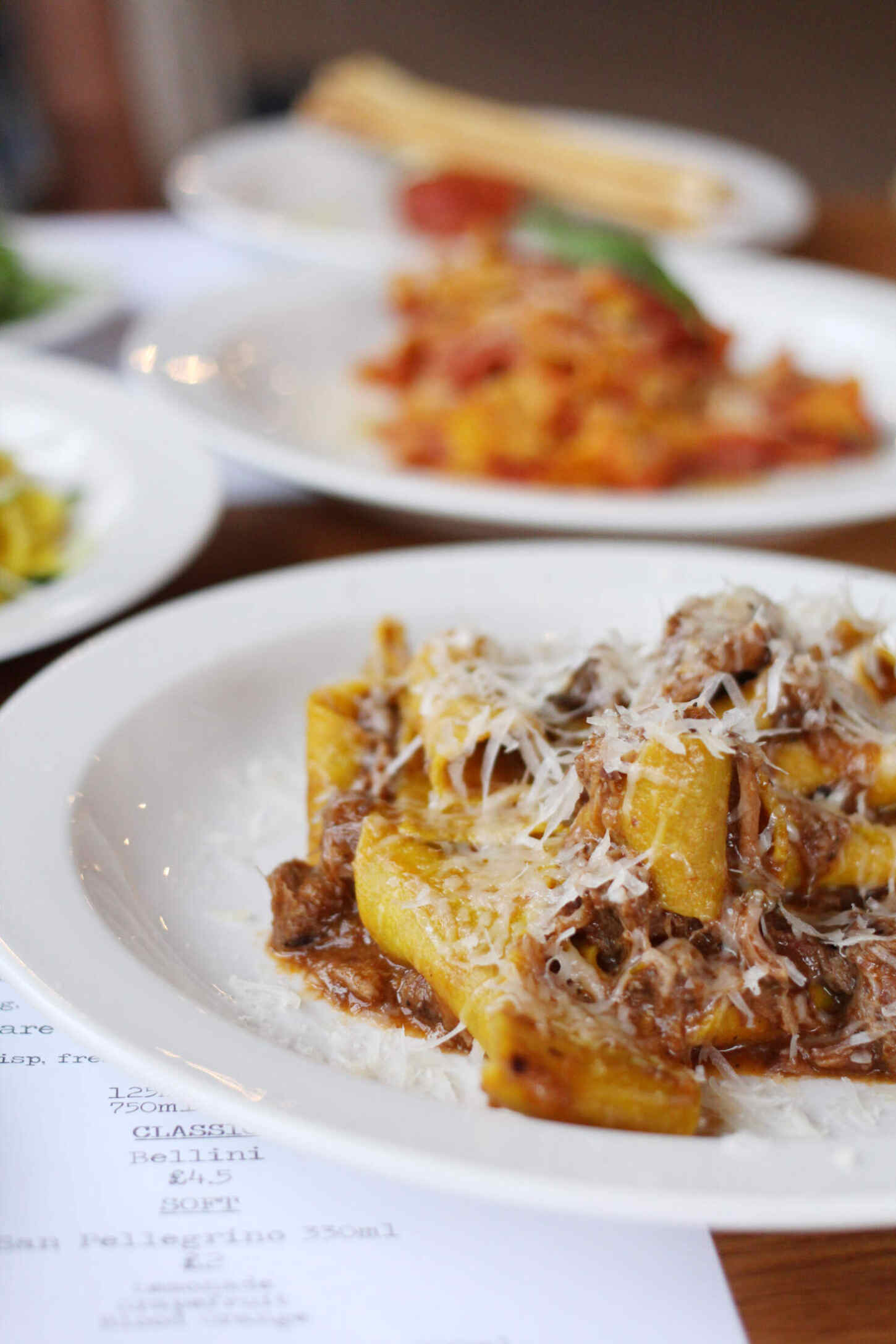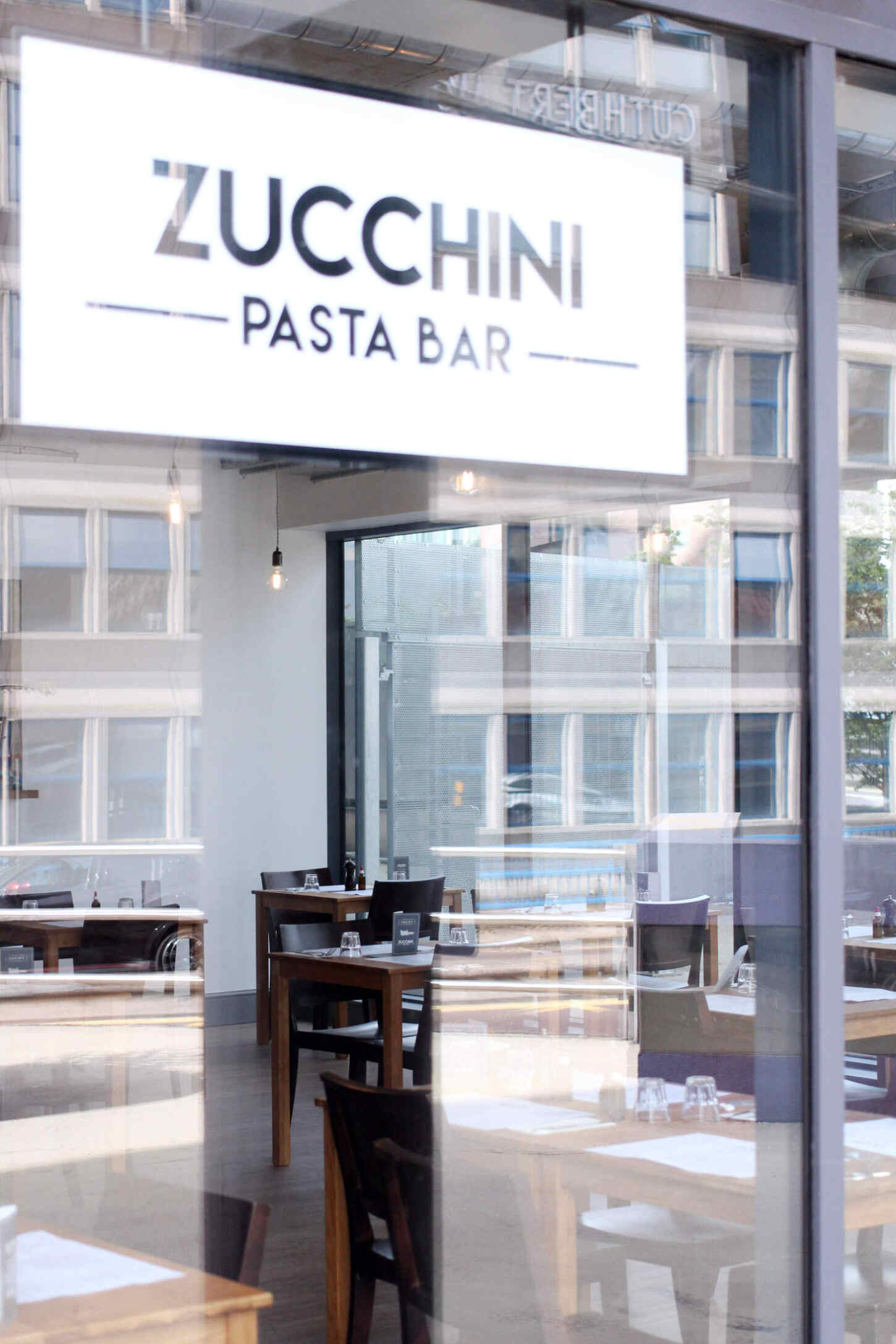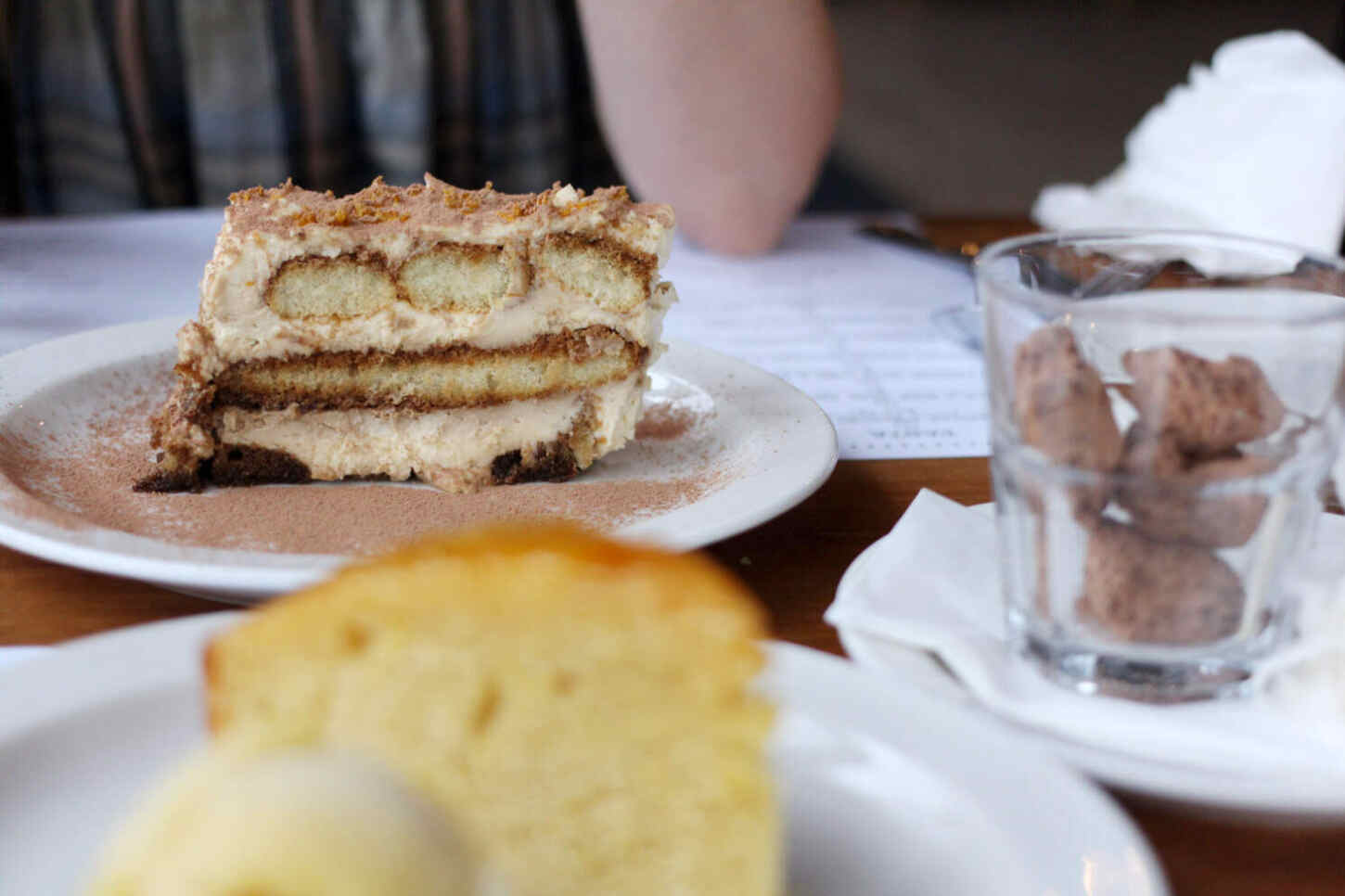 Zucchini Pasta Bar, 55 Degrees North
Zucchini is one of the newest restaurants to hit Newcastle and we were invited along for a review shortly after it opened, so will their pasta hit the spot for a carb lover like me?
In short: yes. Zucchini is a simple restaurant. The decor is minimal and clean, it feels very open and airy which is nice. Their menu is simple and straightforward which you'll either love or hate, depending on how much choice you like to have, but I think it covers a lot of bases when it comes to their pasta dishes. We we're treated to an array of dishes to sample (plus prosecco, though Hannah drank mine as I am a rose wine kinda gal) from their limited - but well thought out - pasta menu and some side dishes too.
For pasta, we were given three options. First was the tagliatelle pomodoro, which is the classic fresh tomato, garlic and olive oil combo. This was very tasty and moreish, as their pasta (freshly made on the premises) is really quite delicious! Next was the 6hr beef shin and rosemary pasta which totally caught my eye as soon as I saw the menu, as the depth of flavour on the beef is something I would 100% go for again. It was genuinely so tasty and a stand out dish, in my opinion. Finally, we sampled the shrimp, zucchini and lemon pasta which was my least favourite. I like all of the flavours individually, but the fish taste was very strong, as was the lemon and I felt like they were battling each other slightly. I do think this is down to my personal taste, so you may love it!
On the side, we were treated to olives (very delicious), a rocket and lemon salad (which I stupidly didn't actually try) and grissini with nduja and creamed gorgonzola. Their side dishes are all only £2 a pop, so I think they're extremely reasonable for what you get.
After that carb fest, we had all three of their desserts to try. Their tiramisu was moreish (I seem to like that word), very creamy and the flavour was delicate which I appreciated as someone who isn't a giant coffee lover. I managed to eat about 3/4 of it as Hannah was stuffed! We also tried their Sicilian lemon cake with passionfruit sorbet which was also good. I like how they got the lemon drizzle (I guess?) throughout the cake so it wasn't dry and the actual lemon flavour was the right amount for me, so it made for a very good cake. The sorbet was very sharp, but went well with the cake. The mint and dark chocolate truffles confused me slightly, as you may have noticed what looks - from a distance - like hair on the side of the dish. Of course, it isn't, it's actually mint candy floss! The truffles themselves were very rich and the mint flavour really came through. They were basically like a grown up mint areo, which is something I'm totally down for.
For an overall verdict, I'm really impressed with the pasta they have on offer. I love how fresh and tasty it is, as a lot of restaurants tend to rely heavily on sauces rather than the actual pasta, but I'm glad the flavour of the pasta is the important part in their dishes. I would definitely have the beef shin again (it's only £6!) and the pomodoro (only £4.50!). It's all very reasonably priced and I was very impressed.
I really hope this restaurant does well, as it is tucked away slightly so may need a bit of a marketing push to get it out there (*nudge nudge wink wink, hands over my CV*). The food is great, the prices are unbeatable (really - you could get a side, a main and a drink for around £10!) and I would definitely go back. 8/10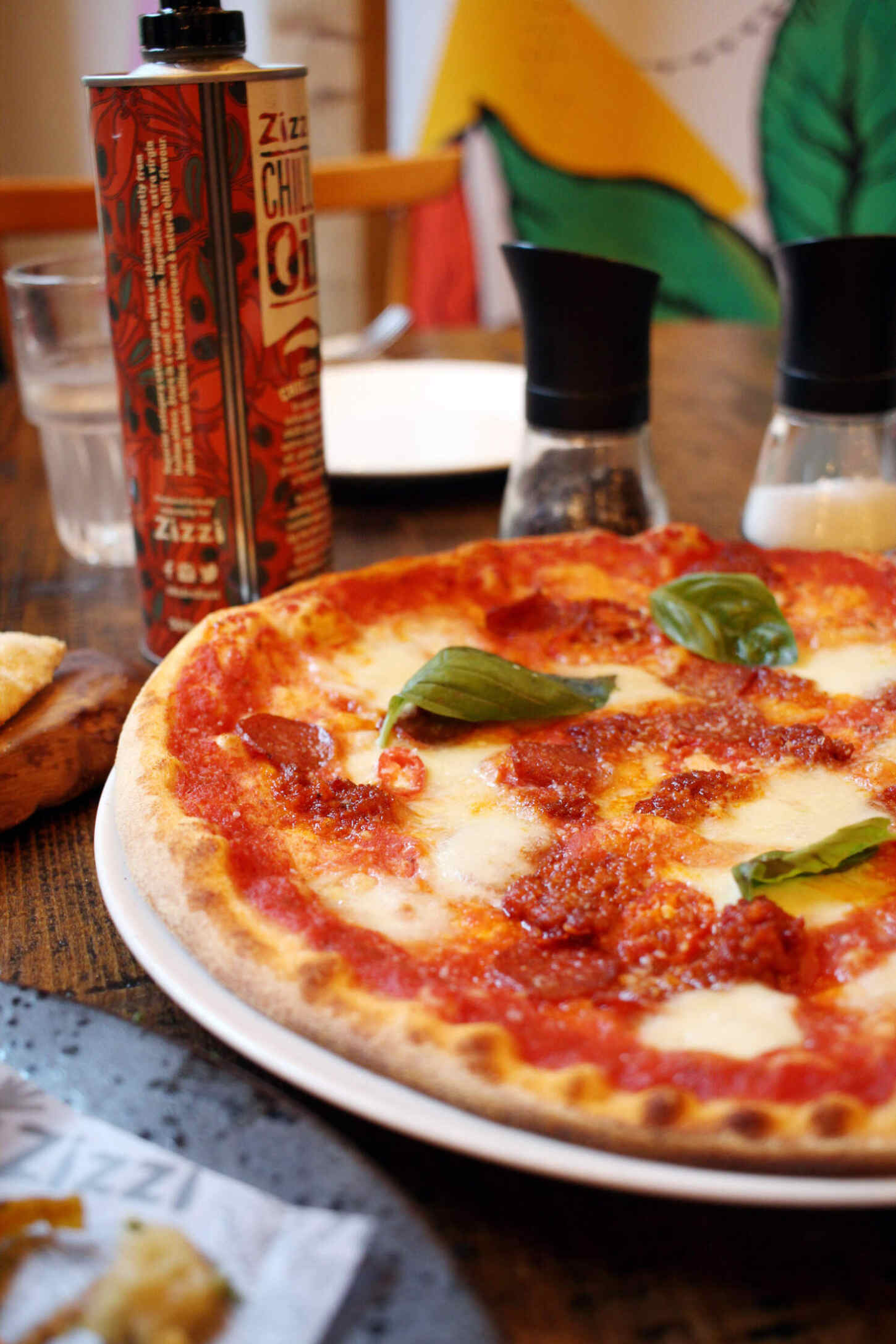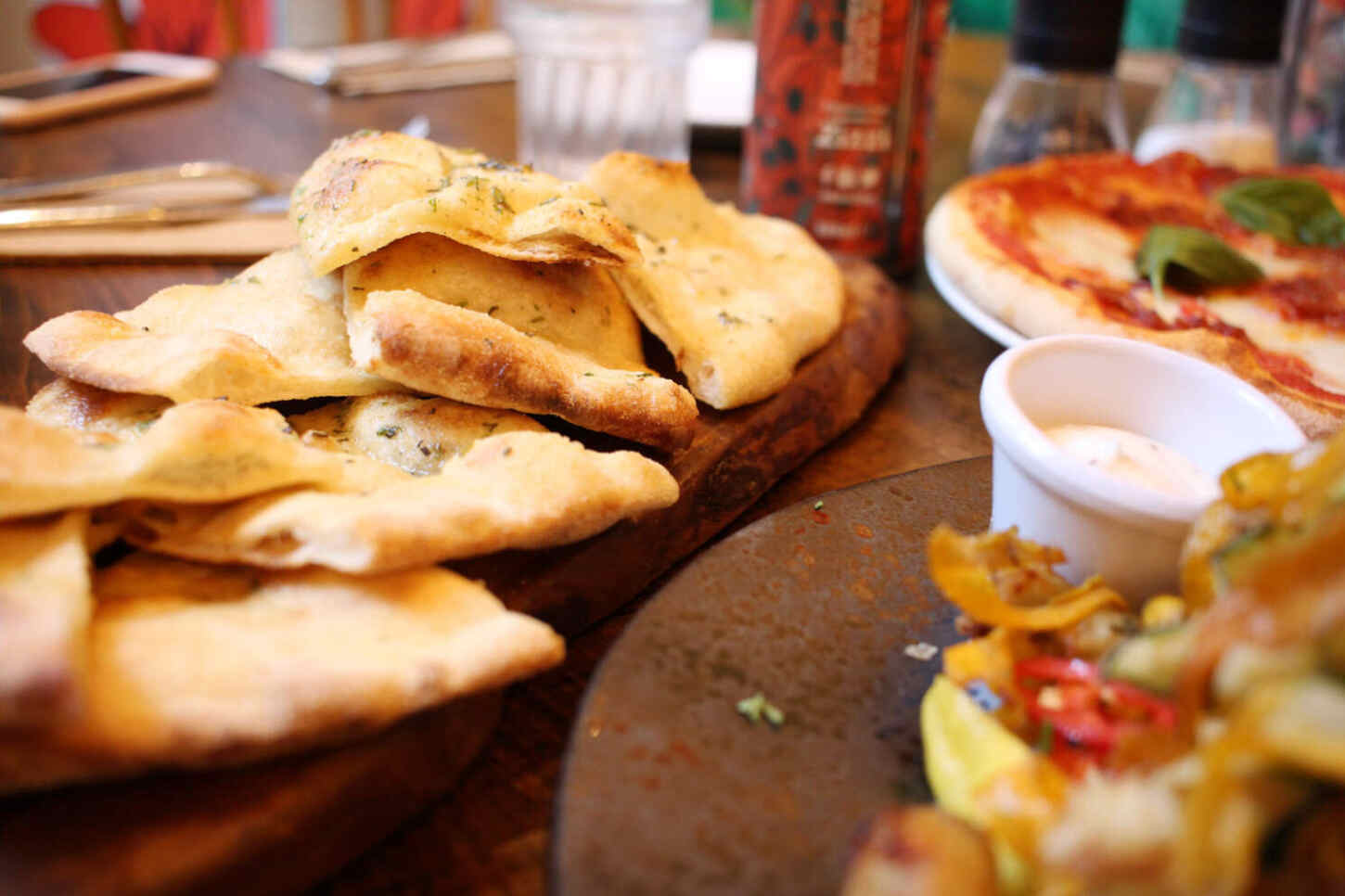 Zizzi's, Grey Street
Third on my little list is Zizzi's! Now, this chain may be all up and down the UK, but I popped back recently for a little lunch with Hannah (as she had a voucher). My previous two experiences with Zizzi's haven't been great, I'll admit, as the service was pretty shocking, but they seem to have made this better which is great news.
We decided to go for something from their lunch menu, then two options from their main menu which seemed to be a perfect combo. Off the lunch menu, we got their garlic bread which was really delicious. I absolutely love garlic bread so I'm super judgemental, but I was really pleased with it! We also got the classic Italian hot pizza, which has spicy nduja sausage, pepperoni and chillies. This one certainly had a kick to it, which was really nice! Off the main menu, we got the fritto misto which was calamari, plaice goujons, prawn zucchini bites & summer vegetables, all lightly battered. This was also good, the flavours all worked together and it was a classic dish done well.
Finally, for dessert, Hannah got a summer berry sundae. This consisted of strawberry sorbet, honey, sea salt & mascarpone gelato, whipped mascarpone cream, fresh raspberries, basil, strawberry powder & a pink raspberry snap. The gelato was really good and is something I would totally get on its own next time if I fancied dessert!
All in all, it was a decent lunch. I don't have a negative word to say about it and the interior was really pretty too! I'd give it a 7/10
Have you tried any of these?
Helen x