Hello, blog readers. I've been extremely quiet this week on this here space on the internet and it's mostly because I've been up to my eyeballs in stripping wallpaper. We got the keys to our flat last week, so I've been getting it prepped (with the help of my family, cheers guys) for walls to come down and things to be plastered and it's just a big old mess. I'm knackered, I'll be honest! I'm flat-decorating free for the next couple of days though, so I'm going to schedule as much as I can so there's less silence.
Anyway, I don't know about you, but the longer I spend in the blogging/social media world, the more amazing independent sellers I find. It's really nice to be surrounded by such creative people online and I love shopping with them when I can. As payday has been, I thought I would put together a list of indie sellers so you can support them this year and find some new favourites to bookmark.
Hello Harriet | I bought this card over Christmas for Phil as he's obsessed with that breed of cat and I've totally kept the card since! It's so adorable. She stocks a range of gorgeous pet themed items as well as slogan necklaces, pin badges, cards and even tags for kitty collars which I will totally be getting when I get our two kittens. I will definitely be picking up some more goodies as the service and postage (free in the UK!) were both great!
Little Miss Delicious | I actually met Maxine in college as we were in the same psychology lesson and I remember being totally obsessed with her style, but mainly her handmade jewellery. Since finishing uni, she took her business full time and now stocks a cute range of jewellery, handmade cushions, fridge magnets and lots more. She also stocks a range of other independent sellers which is where I got the candles from and they smell beyond divine.
Dot Creates | Who doesn't love stationary? No one, that's who. This lil shop stocks prints, notebooks and blog planners which I would totally recommend if you're one of those people who likes to write everything down!
Oh Clumsy Heart | I am a huge minimal jewellery fan, so it's no surprise I included Sophie's shop in this list. From simple tiny studs to triangle necklaces, all in gold or silver, there's a great range to pick from and they're all oh so reasonably priced too.
These Charming Things | I'm a sucker for cute cards and notebooks so Jess's shop had to be added. I discovered it just before Christmas and I definitely need to order some bits soon! I just love the illustrations on everything!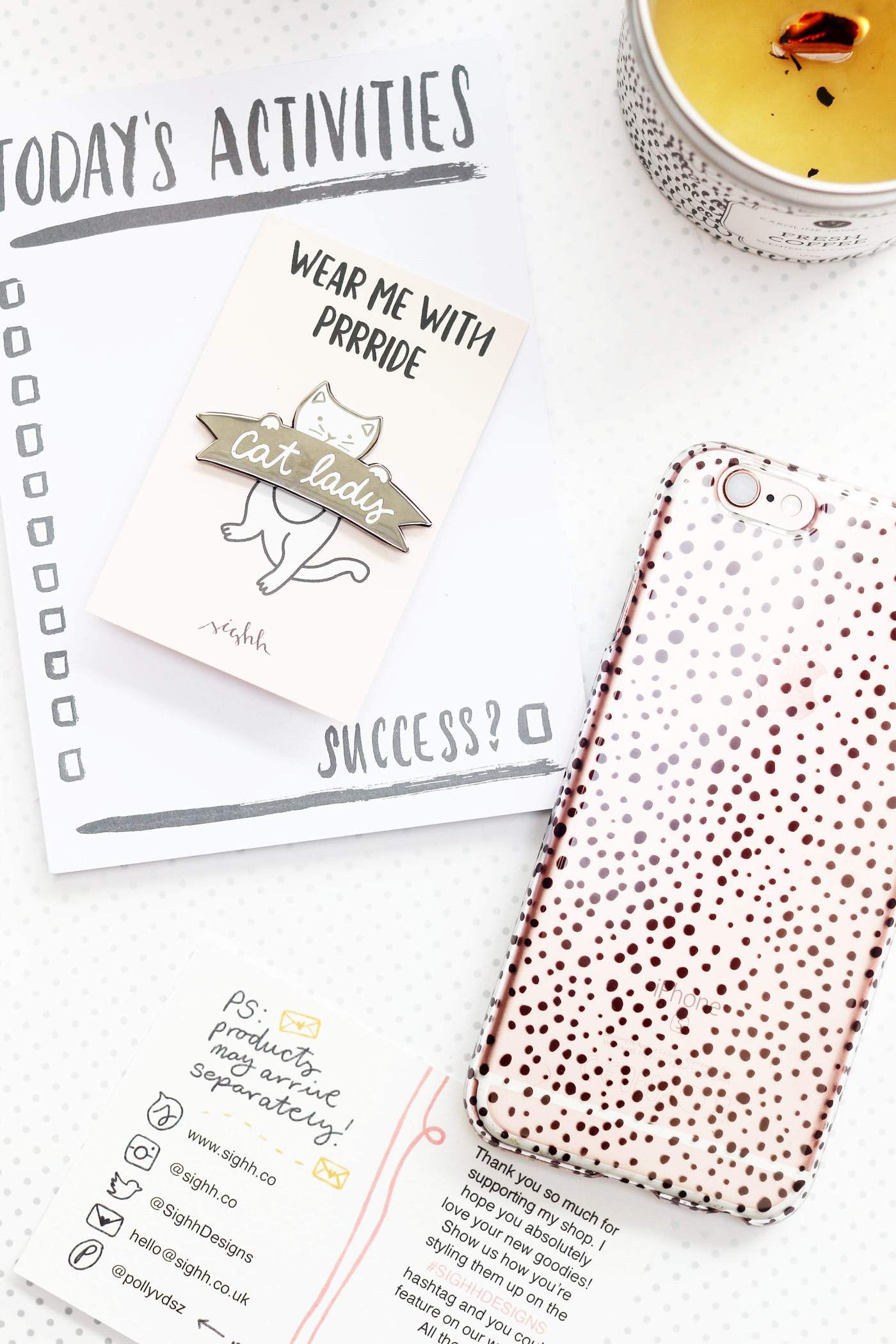 Sighh Designs | I bloody love Polly. She always makes me lol on Twitter or Snapchat but it's her creative side that I totally adore the most – gal has talent! She sent over the little bundle above and let me tell you, they've been well loved since they landed on my doorstep. The clear polkadot phone case has not left my phone and I still look at it in admiration every time I pick it up. The cat lady pin, I mean c'mon. How adorable is that? My boyfriend has kidnapped the to do list but it's so cute and I might buy it for myself too… Check out Polly's site asap!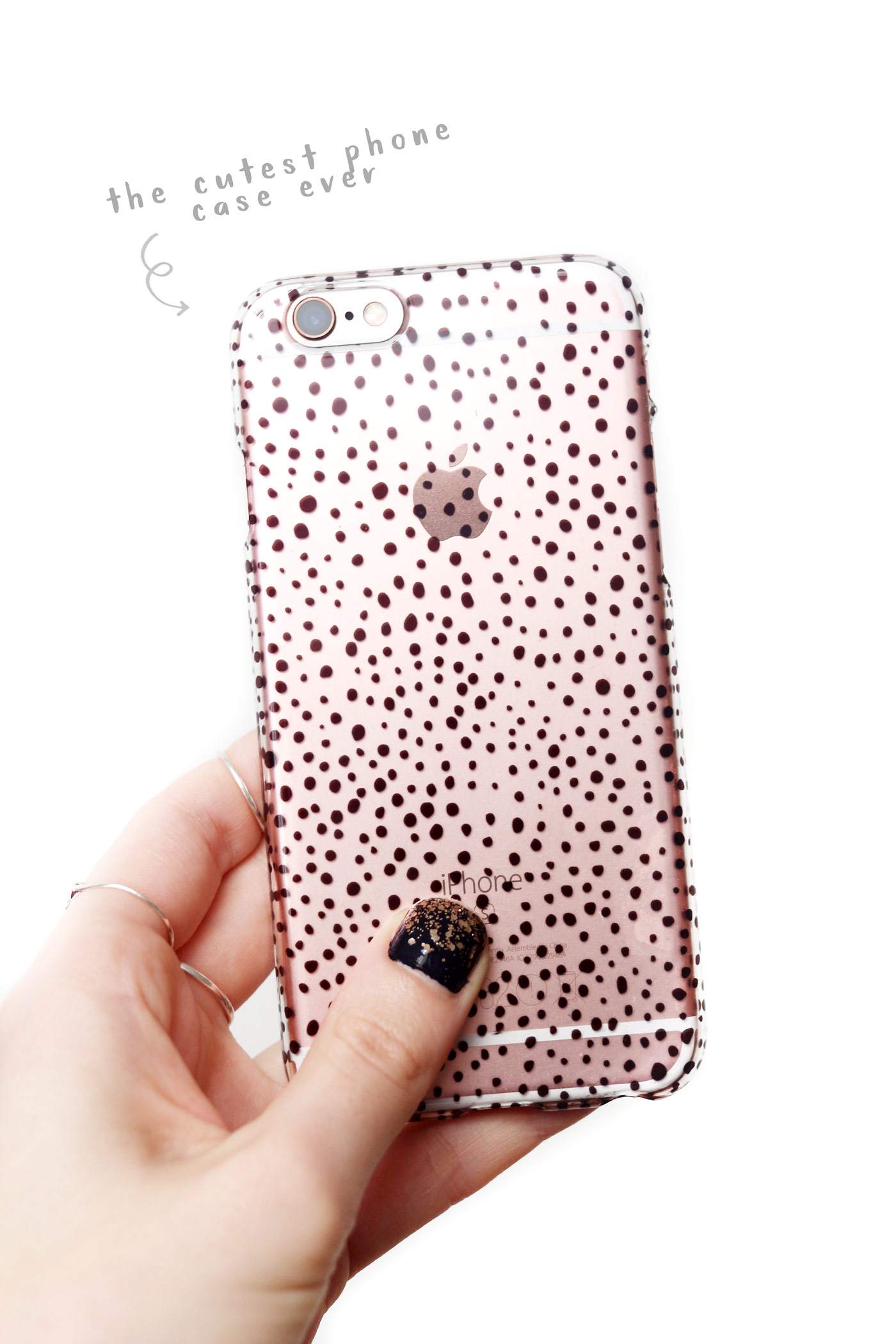 Finest Imaginary | If you like awesome jewellery, pins and generally cool stuff, then check these guys out. I love the laser cut designs and the trendy ranges they have – think cats, cacti, dogs and flamingos – and it all looks extremely well made.
Hippenings | This is a recent find as I asked on Twitter for some recommendations and a few people said this beautiful store! They stock a huge range of items from party goodies (I love their balloons) to stationary (hello ban.do and Kate Spade) to home stuff (copper baskets, anyone?) so there's really something for everyone! I will definitely be shopping here in future.
Slay My Print | Another new find, but one I will most certainly be shopping with soon! You can get a huge range of prints, from handlettering designs to botanical goodness – for around £5-£10 (A4 or A3) which is great considering most charge you this just for a digital copy! I love the range of prints so do check them out.
So that's my favourite small businesses to support. Do buy an item or two if you can, or share their websites/social media handles on your Twitter or Instagram etc because any bit of love can really help someone!
Helen x