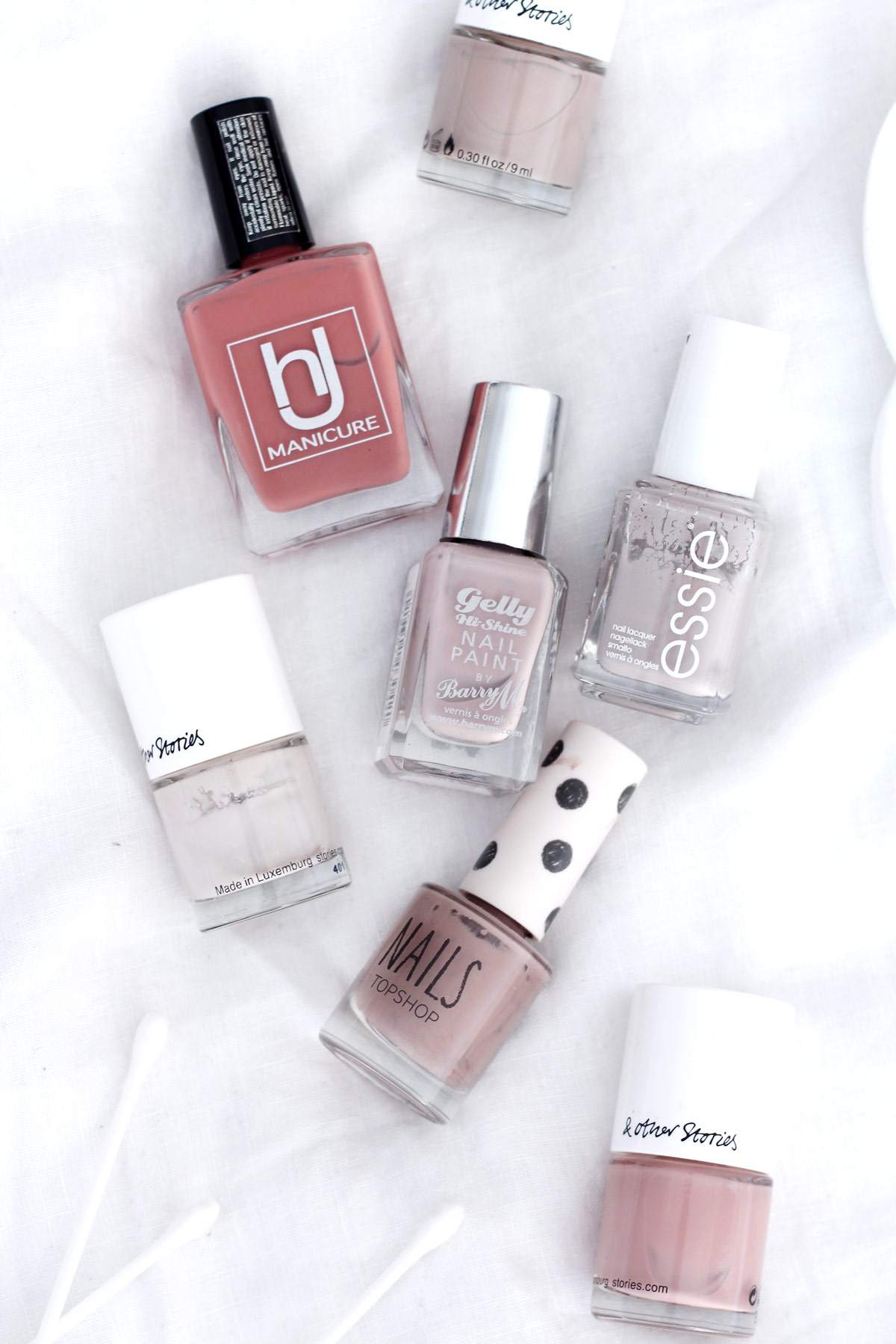 Like with all nude cosmetics – I'm so late to every bandwagon, I swear! – I never really got the nude nail thing until the last six months or so. I tried a 'nude' polish years ago; it was the same colour as my hands (practically) and made me look like a zombie and, ever since then, I used to turn my nose up at that side of the colour spectrum because ew. But, similarly with lipsticks, there's a whole host of nude nails that don't have to match your foundation! So, here's the rundown of my favourite nude hues which may or may not be pretty much all I wear these days…
The Warm Nudes | Though I'm typically a cool toned kinda gal, those warmer toned nude polishes have been creeping their way into my life and onto my nails. I really love HJ Manicure Nail Polish in Coco (see pic on my instagram here and below) as it comes off like a nude with a hint of rose, Topshop Nail Polish in Big Smoke (pic here) which looks like a mink shade, and then & Other Stories always have a great shade selection instore!
The Grey-Beige Nudes | Probably my most worn shades if my Instagram is anything to go by! I just think those shades look so chic on and tick all the boxes for me. My favourites have to be Essie Nail Polish in Take it Outside which is just the perfect grey-beige tone for me (pic here), Barry M Gelly Nail Polish in Almond is always a good option and & Other Stories Pebble Stone!
The Almost White Nudes | Those shades that aren't quite white but definitely fit the nude category, I really love picking these up as I think they look great from Winter to Summer. My number one choice for this has to be Essie Nail Polish in Urban Jungle as it's literally perfect as well as Essie Nail Polish in Fiji (if you fancy something more pink) and & Other Stories Boucle Greige.
Do you like nude nail polishes? ps. Remember to enter my instagram beauty giveaway!
Helen x
Check out these two amazing blogs: Oh Kalu Kalay and Mrs James Recommends!