I feel like the kitchen is the space that everyone loves to plan, but actually hates decorating. The thought of ripping everything out and living off takeaways and microwave meals for a few weeks is not exactly the most appealing part of it, but the finished result always makes it feel worth it.
So, that's the next section of the house (along with the bathroom, but I'll talk about that in another post) that we need to decorate. We've had Howdens in and we're going to pick out cabinets etc this week, so there should be plans in motion within the next two weeks or so.
First of all, we need to rip out our entire kitchen and get the wiring done. The previous owners hired some cowboys to do this previously, so the wiring that's in isn't exactly safe, so I'm getting my dad (so grateful that he's an electrical engineer - thanks dad) to basically strip out all of the old stuff and put new wiring in. Then everything needs to be plastered. Again, the previous owners cut corners so there's tiles ontop of tiles in the kitchen currently, and, judging by the state of a wall that actually fell down a bit (thanks to the guys fitting the door...), I just know it's going to be hell underneath once we take it all down. The ceiling also needs replacing as they put some horrible, badly done artex on it so it's gross and needs to be sorted!
After all of that, what style are we actually going to go for?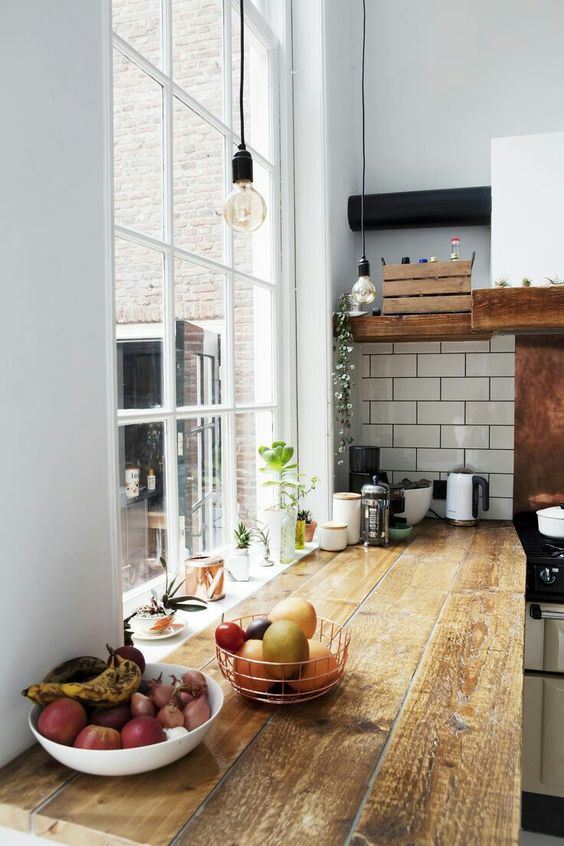 Oveall, I think we'll be going down the slightly scandi route when it comes to actually decorating our kitchen.
What colours?
As it's such a small, alley style kitchen, I think we're going to go with white units as it will really brighten up the space. I adore kitchens with dark navy or grey cabinets, but it really does darken the space, so we're gonna stick with white this time. I love the look of wood tops, so we're going to go for this style. I would love real wood, but as we'll be potentially selling this place in five years or renting it out, I think we'll just get nice laminate as I know tenants wouldn't take care of real wood!
What tiles?
I think we'll go down the ever-popular route of getting some metro tiles in the kitchen. I can't decide if we're going to get them horizontal or chevron style, as I love both but I'll see what the kitchen looks like when it's all planned out.
What features?
I think I'll be going for open shelving and a rail on the left hand side of the sink and removing the cupboard, as I want to create a more open space. I'll be opting for a nice light shade or getting spotlights put in the ceiling, possibly with under cabinet lighting too. Although the rest of our flat is brass, I think we'll be going for stainless steel in the kitchen to match the cooker. I want it to be a bright space with plants and decorative mugs and utensils on display too.
Let's hope it all goes to plan! If you have any decorating tips, please share :)