Post contains gifted items and affiliate links
Well hello, long time-ish no speak (type?). I haven't posted for a few weeks due to being in America (more on that very soon) and then you know, the apocalypse happening throughout the world, so it felt slightly weird to be frivolously showing you some skincare when more serious things are happening. However, escapism is important and I've found myself trying not to read the news and watching room renovation videos or handbag collections just so I don't have to see the dreaded C-word (not that one). So, here's my contribution. Switch off for 5 minutes and take a peek at some of the things I think are rather good this month.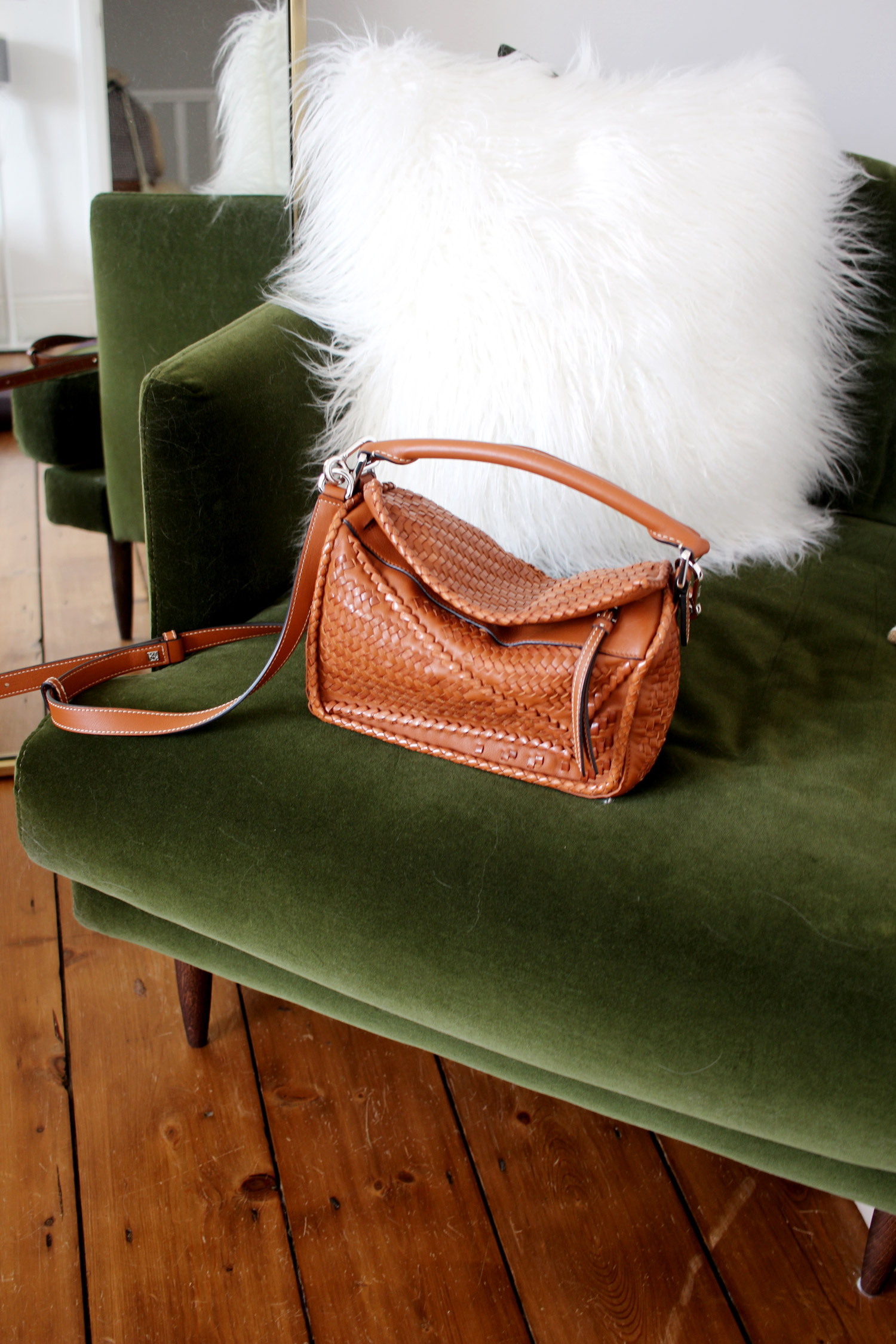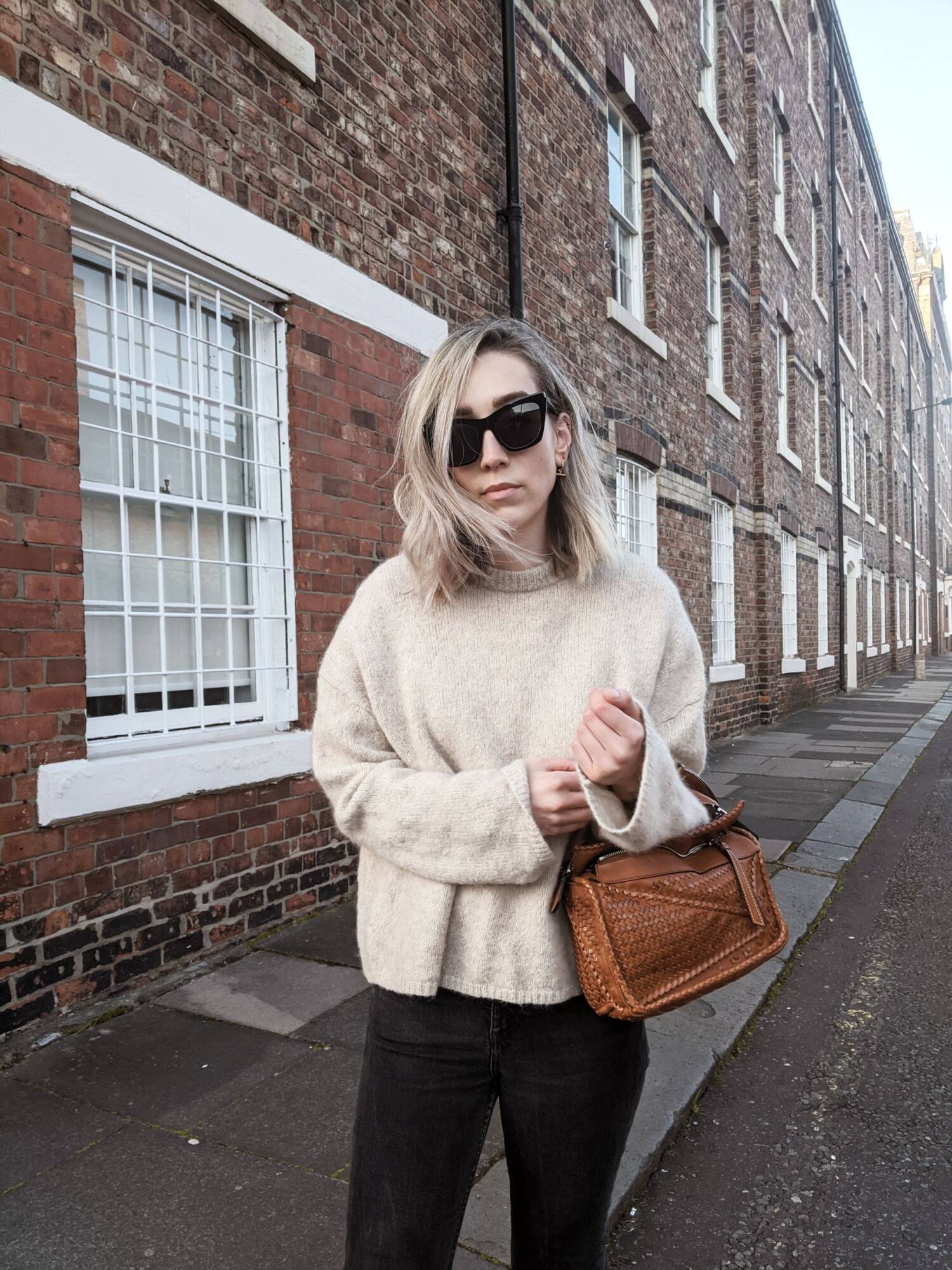 Loewe Puzzle Bag
I contemplated this bag for the longest time - not quite since its release in 2014/2015 but certainly over the last 2 or so years when they became a bit more of an 'it' bag. Some of my favourite bloggers/Instagrammers snapped them up and, once you start seeing them more often, you realise how much you like something. It's inevitable. So, I knew I loved the smooth leather versions but wasn't so keen on them when they softened and started to collapse a little in the middle, as I liked the more structured shape they make when they're more full or being carried by the top handle... and then I saw this woven version.
It was love at first sight, I'll be honest. That coupled with a discount code meant this baby joined me on my trip to New York back in November. The Loewe Puzzle was the perfect travel bag too, as it's not too showy and I think you have to be familiar with the brand to know it's a designer bag, plus the size is ideal for many essentials even though it's not a very big bag. I can fit: my card holder, keys, my Canon M10 camera with a either 24 or 40mm lens, my sunglasses and case, large tube of lip balm, lipstick, some form of snack, sometimes a cotton tote bag and often a book ontop.
This thing is roomy, somewhat understated and beautiful. I really love how it can transform even the most basic of outfits into something a bit more special. The only negative I have is that the top section folds up in the corners, but you can smooth it out pretty easily. Overall, I would say it;s held its shape pretty well!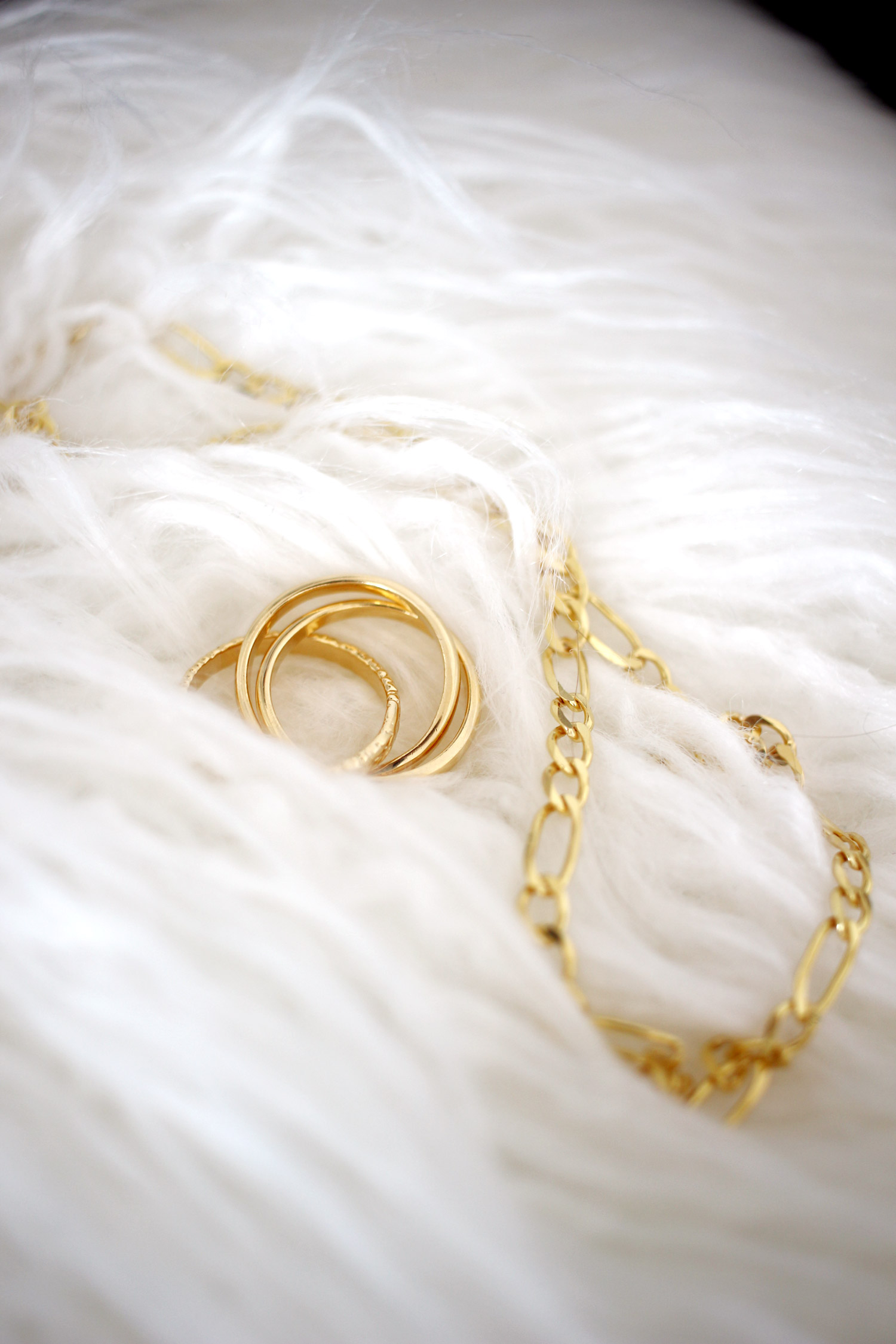 Daisy Jewellery
I've been a fan of Daisy Jewellery for a long time and have been wearing a few pieces from the Estee Lalonde collection for months and months now. Initially, I picked up the beautiful Gold T-Bar Necklace, which I've barely taken off, and was so impressed with the style. Similarly with the T-Bar Charm Earrings and T-Bar Stud Earrings, proving that I definitely enjoy that style of jewellery.
The jewellery is heavy and the backs of the earrings don't slip and the clickers on the hoops (professional term) don't open either, which I really appreciate. I then picked up the Starburst Shield Charm Earrings which I've had many compliments on, as they look beautiful when worn.
In my experience of wearing them for months, I find the 18ct gold plate to be very substantial and, even though I wear them in the shower and sleep in the earrings, they've stayed gold. As a whole, their selection of women's necklaces, earrings and other jewellery are just beautiful and I would recommend looking at the Estee collection and the rest!
Recently, I was kindly gifted the Estee Lalonde Trinity Ring and the Figaro Chain Necklace and I love them both. The necklace is just what I was looking for, as I adore a simple chain and it's ideal to use as a layering piece. The ring is different to my normal style, but one I like as it looks delicate yet makes a statement at the same time.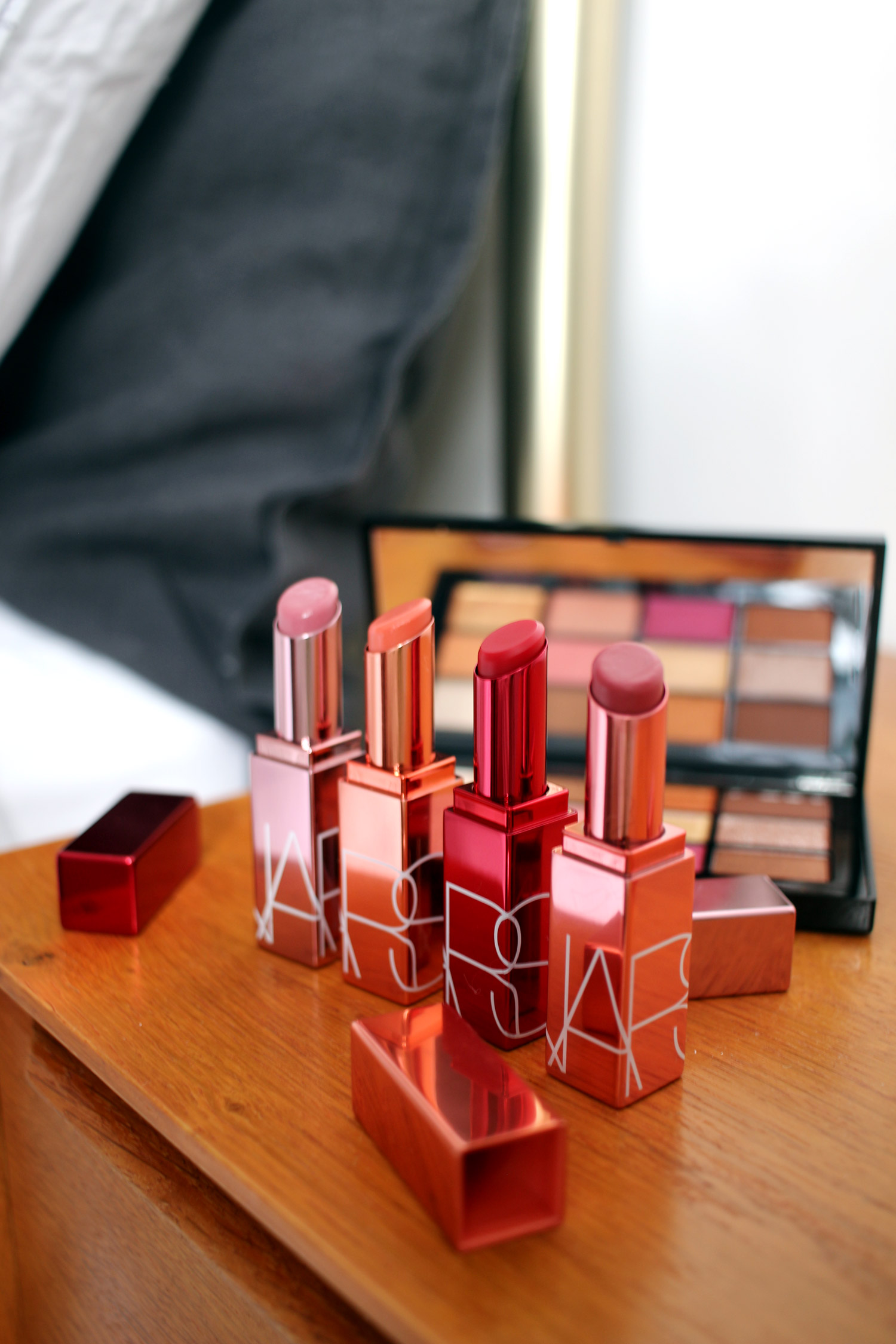 NARS AfterGlow Lip Balm
I love these lip balms! I was gifted a mini one along with a Christmas set in November and became completely obsessed with it, so I was very pleased to see four full size beauties on my doorstep recently. I've been waiting forever for a brand to do a good tinted lip balm. Years, infact. Some have came close, but none have reached the balmy perfection that NARS have achieved with these pretties.
The NARS Afterglow Lip Balms are so smooth and genuinely hydrate the lips, so they feel silky soft and last for a good amount of time before needing to reapply. I also love the range of colours and the payoff is great too! They're just great.
Where The Crawdads Sing
I'm pretty terrible at writing book reviews to be honest, but this one deserves its own space on my blog. This accompanied me on my flight to Las Vegas recently and I devoured half of it on the way there. I would have read more but they switched the lights off.
It was one of the most beautiful books I have ever read and I thoroughly enjoyed every single page. The first chapter took a bit of getting used to as it's set in 1930-1970 Southern America and is written how they speak, so expect plenty of abbreviations and colloquialisms, but after a few pages it's very easy to understand and you may learn a few new words too.
As for the actual story, Where The Crawdads Sing is set around the main character Kya who is effectively left to fend for herself from a very young age when her family leaves one by one. Living in a shack near the coast and surrounding swamps, she learns self-reliance and strength and thrives where most would fail. The description of nature and the area where she lives makes me want to live alone and never wear shoes, it's so vivid and almost poetic. We also see Kya's relationship with various people throughout her life and how they shape her as a person - some good, some bad - but ultimately you're willing her to succeed (by herself or otherwise).
Parallel to this story is the murder of a popular local man which is set in the modern (1970s) age and the police who are investigating it which comes to a conclusion near the end, when Kya grows up. I really enjoyed the timeline and overall structure of the book, as the pacing is great and I was never bored while reading it. Owens is definitely a talented writer and I will look out for her other books.
I also share all of the books I read each year on my Instagram and my Goodreads account, if you'd like to follow along!
At Home Workouts
I didn't think I'd add this to the list, but hey, I'm a new person who actually likes moving her body. I genuinely feel weird if I haven't been out for a walk or stretched in some way, so I wanted to write a little homage to the at home workout. I did want to join the local yoga studio and spinning, but that's not happening now due to Covid-19.
I tend to do a bit of yoga, some kettlebell or pilates, and then try to go on an hours walk a day. Most days I achieve this, but I don't beat myself up on the days I don't. For yoga, I love Yoga with Adriene on YouTube as she has so many videos and I find her very calming to listen to. For weight training, I would recommend Georgina Hall's 8 Week Kick Arse Plan which you can sample for free at the moment - it's a combination of kettlebell and body weight resistance training, as well as pilates.
Food wise I've been trying really hard to eat better since coming back from America. The amount of sugar and salt that's in food over there is shocking and when you adopt the 'I'm on holiday' attitude, you find yourself eating McDonalds 2 nights in a row (the spicy chicken burgers in Vegas are amazing) as well as many, many sugary Starbucks coffees and snacks from Wallgreen's. My diet went down the pan. I actually found myself craving vegetables or something to crunch in Vegas, as everything was burgers and fries and fast food. So, when I got home, I vowed to massively cut down on the sugar and eat as many vegetables as I can, so that's what I've been doing. It's definitely worked to make me feel less bloated and things have flattened, so I'm much happier!
And, of course, new workout gear helps you feel extra motivated! I was in desperate need of some new bits, so I went for a couple of sets from The Upside - including this gorgeous gingham sports bra and leggings, and these tiger print leggings and bra - as well as some Sweaty Betty Power Gym Leggings.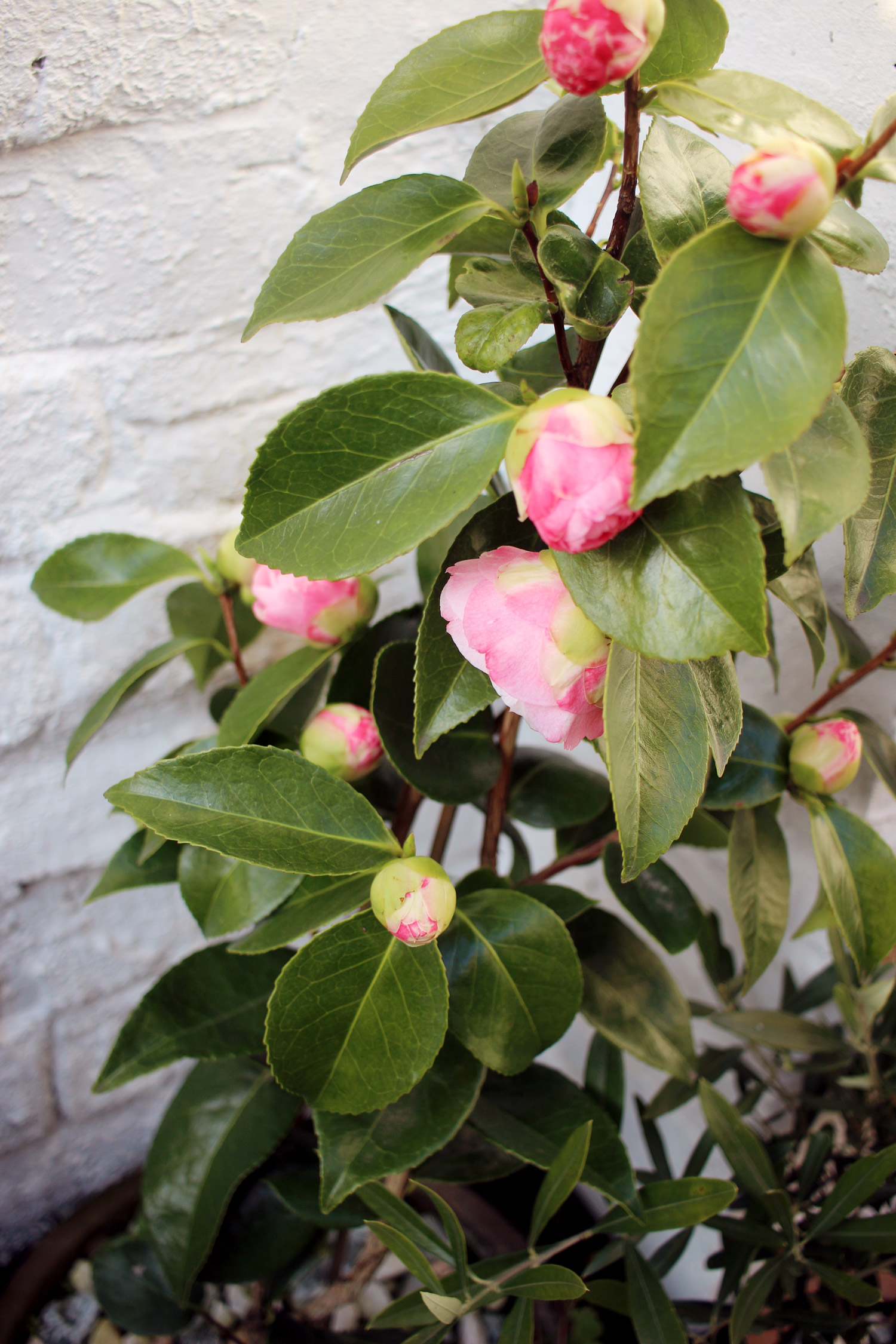 Flowers in the Back Yard
Last year my lovely friend Hannah took me to a local garden centre and helped me pick out lots of flowers that would stay pretty much evergreen and didn't require a whole lot of maintenance. I am forever grateful for green fingered friends (and my mum!) so I've enjoyed watering these pretty things and seeing how they get on. It's quite therapeutic, in a way, and I can't wait until I can get more this Spring and can eventually have my dream of an army of white hydrangeas.
I hoped they would be fine when I was away in the USA, but I was pleasantly surprised to come back and see that my camellia plant actually has the beginnings of some flowers! I'm so pleased and they're so pretty. My eucalyptus and thyme plants are huge too, so I'll have to do some cuttings soon. Yay, nature!
What are your favourite things? Or things you've enjoyed recently?