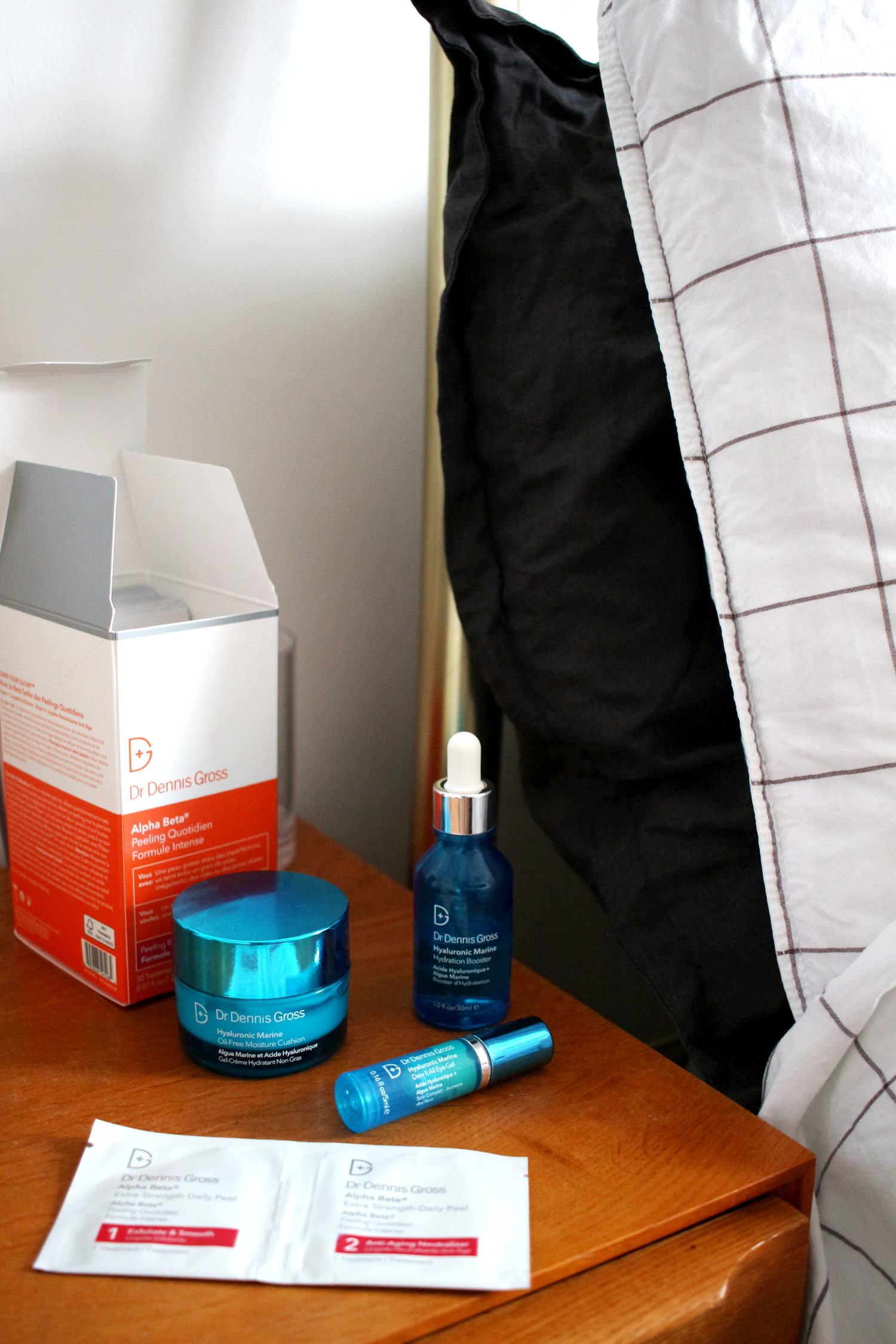 Dr Dennis Gross Overview
Welcome to a new monthly skincare trial! Or in this case, around 6 weeks as I've been using these products since around mid-November. I decided to go for Dr Dennis Gross as I've heard so many things about the brand and I'd never tried them, so thought it was the perfect time to see what all of the fuss was about! I had already purchased the Hyaluronic Serum a month prior but hadn't really used it, and I went for the famous Peel Pads as well as the Marine Moisture Rescue set which contained the Moisture Cushion Moisturiser, the Dew It All Eye Gel and a sample of their Hydrating Modeling Mask.
I wanted to try more of their serums, but I didn't want to try too many active ingredients if I was using the peel pads as they're quite strong. It's also easier to test skincare if it's more simple, so an acid, one serum, an eye cream and a moisturiser was the rountine I went with!
So, I'll review each items individually and then whether it worked as a routine...
Dr Dennis Gross Extra Strength Peel Pads
These exfoliating acid pads are available in a gentle or standard strength, but as I've been using AHA and acid based products for a long time now, I decided to go with the Extra Strength. They consist of two parts: a exfoliating wipe and then a anti-aging neutraliser, and you use each one all over the face (avoiding the immediate eye area) until they feel drier, leaving 2 minutes between each. You can then carry on with your skincare routine.
I was sceptical when I got these, as they're quite expensive so I refused to believe they were worth the money. But, ladies and gents, they are. They're amazing and have completely changed my skin into a wonderful ultra smooth and glowy complexion. Even after the first use, I was so impressed! You can use them every day, but I use them every 3rd night which is enough and makes them last much longer too. [buy here]
Dr Dennis Gross Hyaluronic Marine Hydration Booster
A hyaluronic acid based serum which I picked up quite a few months and had been using intermittently until I did the skincare trials, then it was used 1-2x per day under moisturiser. It takes around 3-4 drops to cover the entire face, it's lightweight and sinks in fast but doesn't leave the skin feeling dry like other hyaluronic acid serums can.
I really like this serum, as I think it works well and my skin always feels more hydrated when using this plus a moisturiser vs without. It has a pleasant scent and, despite often twice daily use, I still have half of the bottle left. [buy here]
Dr Dennis Gross Hyaluronic Marine Dew It All Eye Gel
This 5ml size eye cream came in the Marine Moisture Rescue set and, despite its small size, it has lasted such a long time! I've still got lots of it left, even though I've been using it non-stop for the past 6 weeks.
This eye cream is light and blends well across the skin with lots of slip, but it hydrates the eye area well without overloading the skin. I haven't had any new millia with it or any dryness, so I think it's a good eye cream. I'm not 100% sure if I would buy the full size straight away, but I would put it on my 'maybe' list once I used up the eye creams I have. [buy here]
Dr Dennis Gross Hyaluronic Marine Oil-Free Moisture Cushion
A full size product from the Marine Moisture Rescue set. I wasn't sure what to expect with this, as moisturiser isn't really a thing that excites me in any way, but I really enjoy using this one. The description 'cushion' is quite accurate, as the gel-cream texture is very cushion-y and feels refreshing on the skin. It's luxurious without being too thick and it really does hydrate - my skin loves it! [buy here]
Dr Dennis Gross Hyaluronic Marine Hydrating Modeling Mask
I'll be testing this when I'm not post-Retinol-peeling! My skin is quite sensitive right now, but I will edit this post once I test it :) [buy here]
-------------------------
Did it work as a routine?
As a whole, yes. I didn't feel like my skin was lacking anything just by using these products. I had a good amount of exfoliation with the Peel Pads and then moisture was restored by using the hyaluronic acid based products. I could happily continue to use these as a routine and will do so to ensure I'm not wasting them before I start a new skincare trial (with Elemis, should be over Feb-March time). I really enjoyed using these products and will definitely keep using the Peel Pads as I think they're the best exfoliating acids I've ever used. I would consider repurchasing the moisturiser in the future and maybe the hyaluronic serum, as I do think having one is important in a skincare routine.
I would also love to try more products from Dr Dennis Gross as this introduction to the brand has been a positive one!