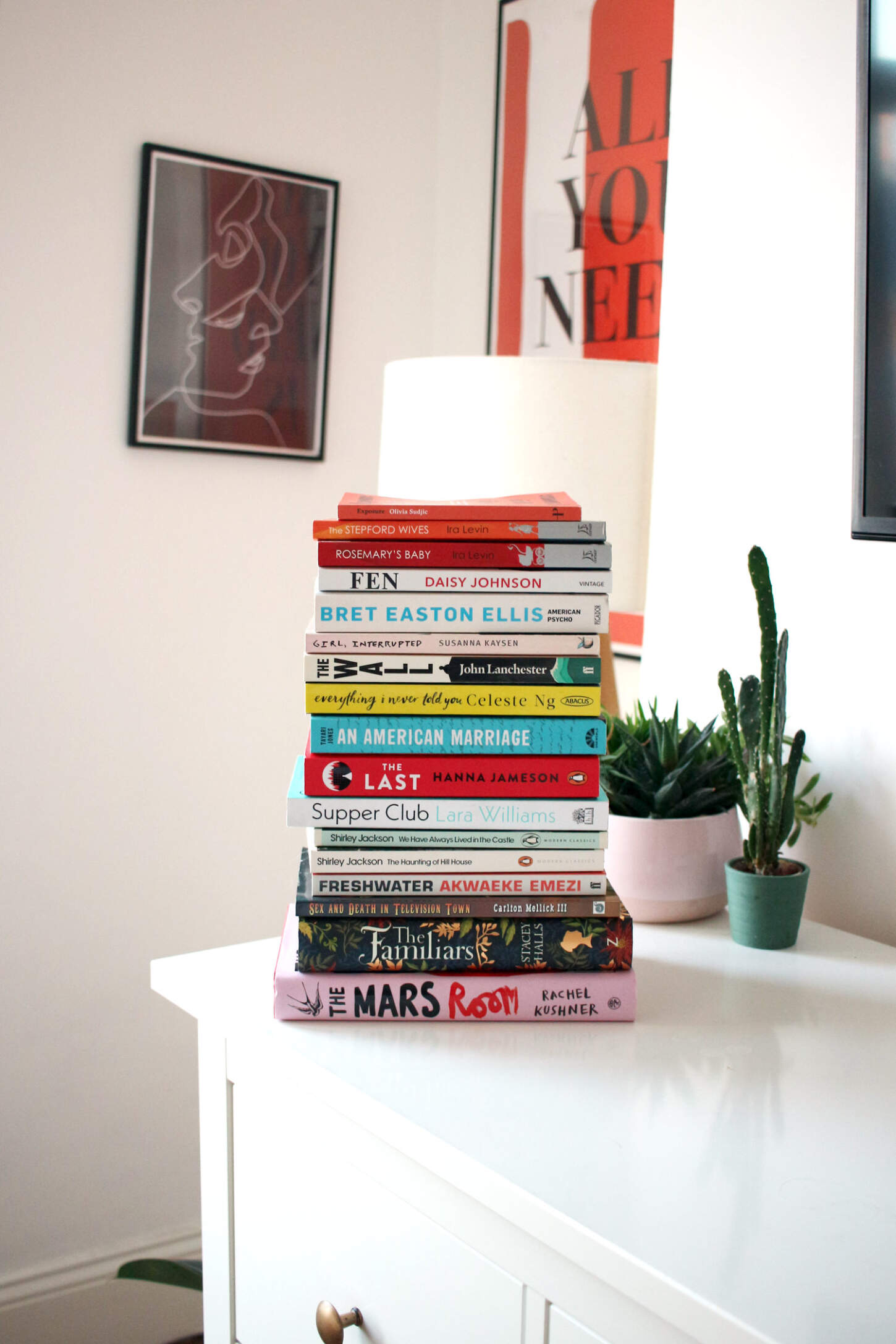 Books I've Read in 2019
In 2018, I think I read about 2 books which is pretty shocking, especially as I used to devour books as a kid. So, I set myself a challenge of reading 24 books (or 2 per month) for 2019 and I almost made it - I read 22.5 so I was 1.5 books behind. So close... But I'm still happy about it as I read some great stories and it was a definite improvement on my previous number.
I have been using Goodreads and my Instastories to post quick reviews throughout the year, but I wanted to put it all in one place here too.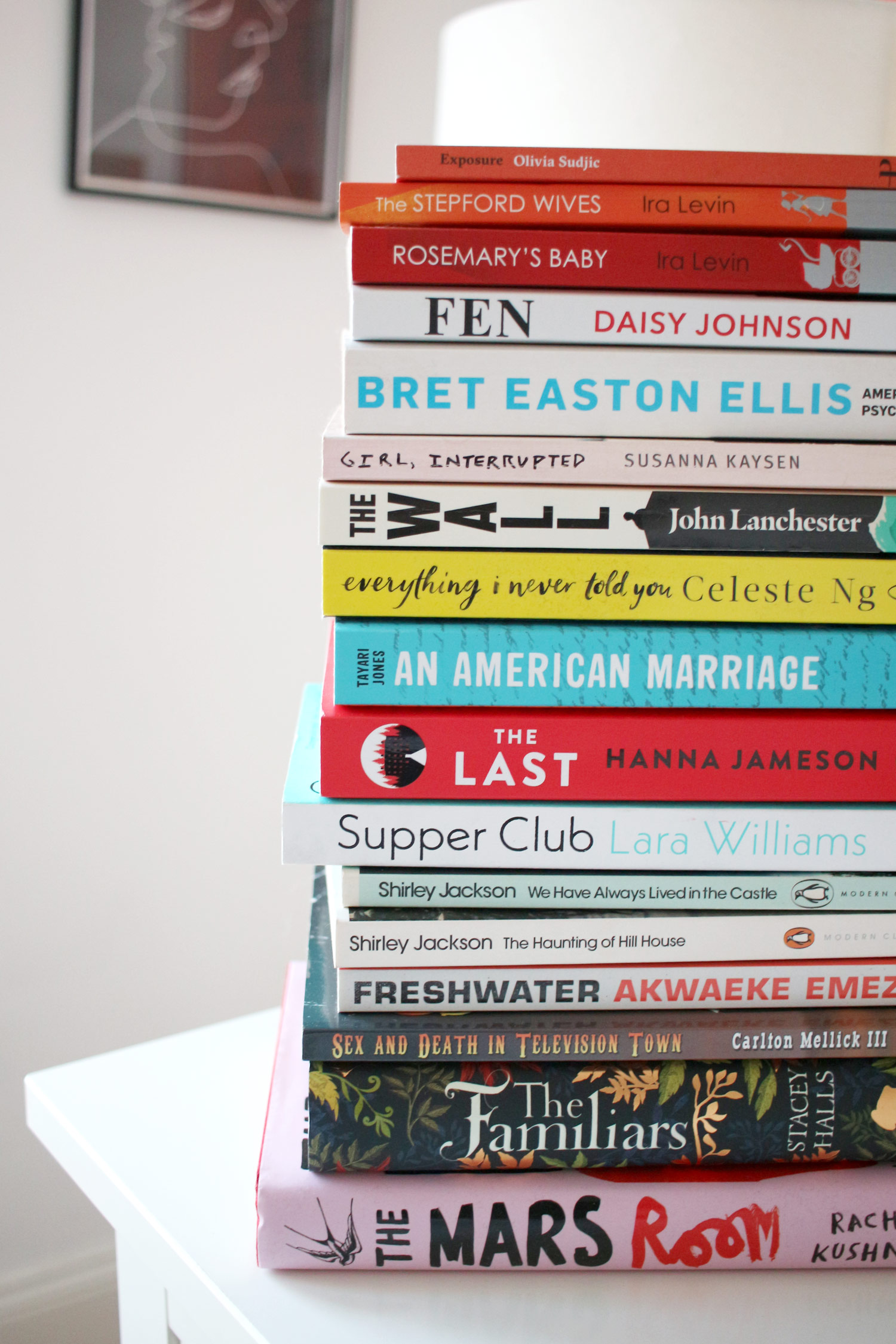 Girl, Interrupted by Susanna Kaysen ★★★
I found this book slightly boring in parts. It was an interesting concept, but not in-depth enough. It barely scratched the surface of the main character.
The Mars Room by Rachel Kushner ★★★
Beautifully written but found the constant reference to locations in SF a bit distracting. I don't feel like I got to know the character well enough as her life prior to prison wasn't in enough detail. Similarly with the story of the guy she killed or her life in prison. It fell short of an amazing story and it was just 'ok'.
Sex and Death in Television Town by Carlton Mellick III ★★★
I've read the majority of his books but this one fell short. Great characters as usual, but the plot wasn't enough. Looking back there wasn't really much of one.
Little Fires Everywhere by Celeste Ng ★★★★
I enjoyed this book. It was easy to read, engaging and gripping. I wanted to know more about the characters, their backstories, their feelings and what they were going through. My only criticism is that the ending wrapped up too quickly.
The Familiars by Stacey Halls ★★★★★
I thoroughly enjoyed this book. The characters were great and you got a read feel for the location and atmosphere and you were willing the lead character to succeed.
The Haunting of Hill House by Shirley Jackson ★★★★★
The atmosphere and description of the house itself was great. I love how the pace of the book got more manic as the lead character became more and more impacted by the house. The writing was beautiful.
Rosemary's Baby by Ira Levin ★★★★
A perfect tale of gaslighting, betrayal and what people will do to get what they want. I love the film and it does the book justice. A little slow at first but great!
The Stepford Wives by Ira Levin ★★★★
You get a clear idea of Stepford and its hausfrau women. Levin loves a good gaslighting story and this one was told well. It did need more detail though!
Everything I Never Told You by Celeste Ng ★★★
It's an ok story, but somewhat forgettable. Her writing is beautiful and you do feel for the characters, their experiences and social pressure. It is relatable in parts but eye-rolling in others.
Gone Girl by Gillian Flynn ★
An absolute struggle to read. The characters are dull, try-hard and unlikeable. Once the (predictable) twist was revealed, it was *slightly* more interesting, but overall it was absolute rubbish!
Exposure by Olivia Sudjic ★★★★
An interesting read with great thoughts on anxiety and how women are perceived in her industry, particularly when sharing experiences and the female point of view.
The Testaments by Margaret Atwood ★★★★★
I thoroughly enjoyed this book and found it a fitting conclusion to the Handmaid's Tale world. Her writing is wonderful as always!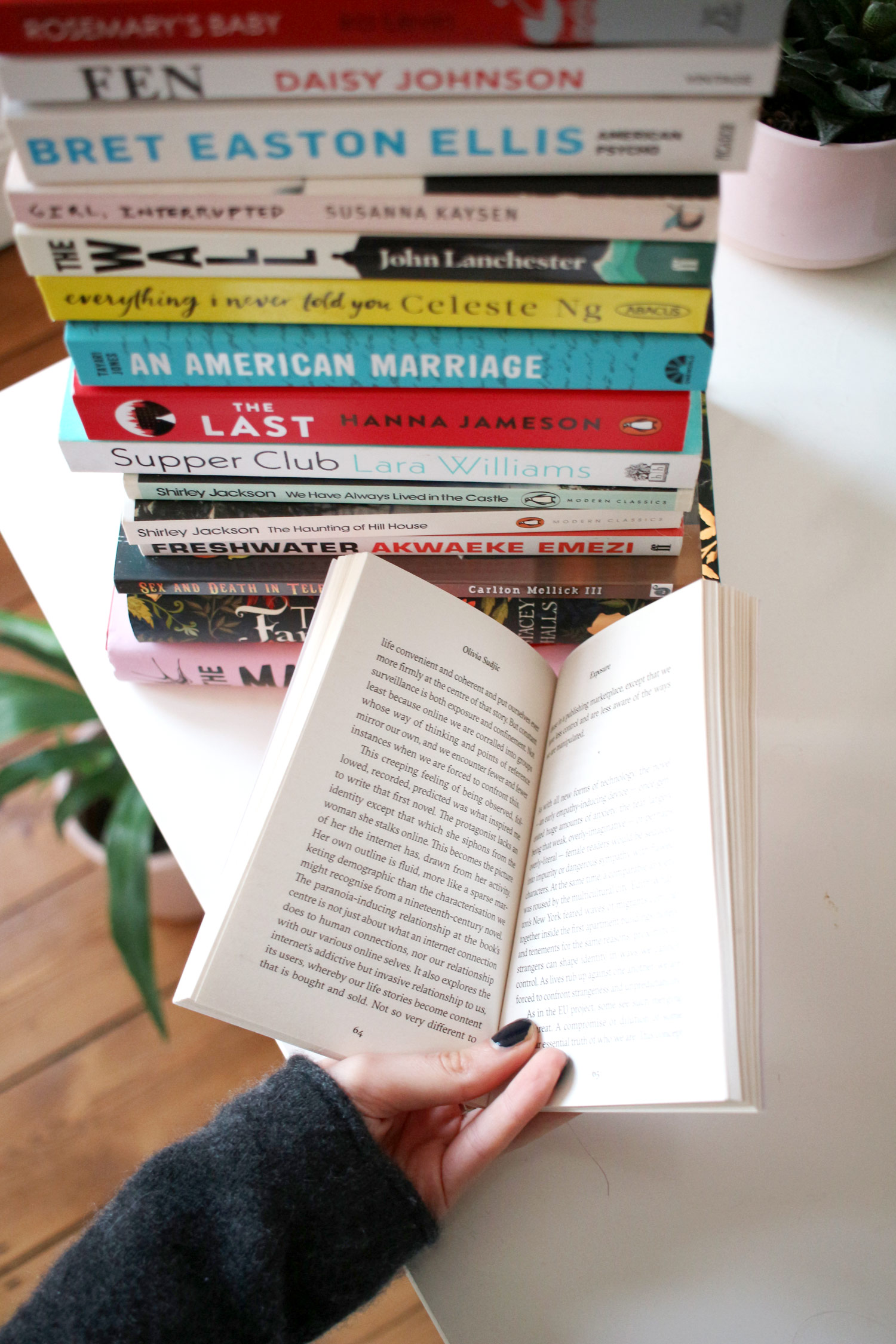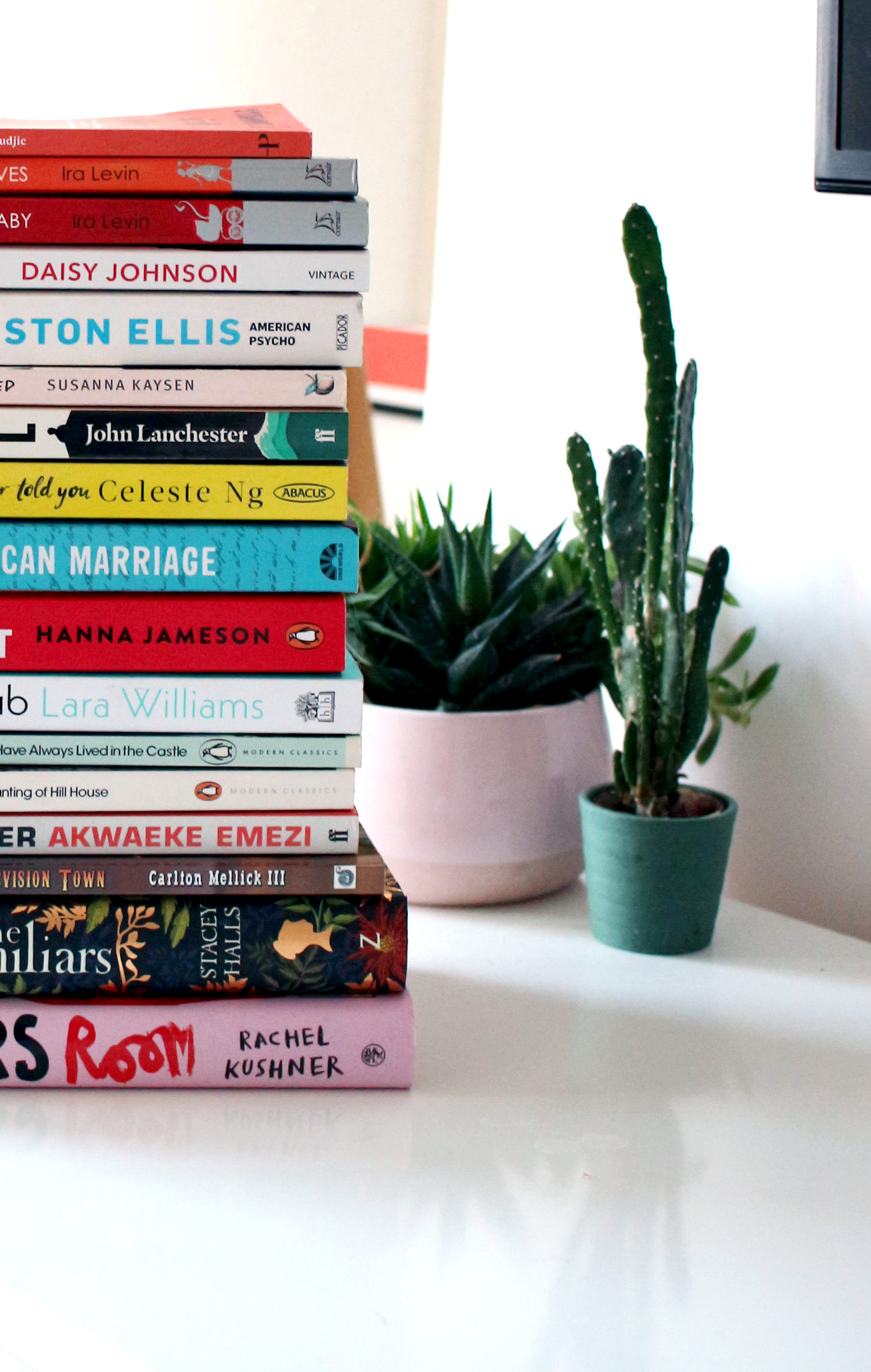 The Last by Hann Jameson ★★
I picked this up on a whim and it was *ok*. The main character is predictable and tedious. The pacing was slow, as the first 2/3 dawdled and the last 30 pages wrapped up extremely quickly so the first part seemed almost pointless on reflection. It was nice to explore themes of survival, monotony and betrayal but overall it was a pedestrian end-of-the-world story.
Supper Club by Lara Williams ★★★★
The author writes beautifully and it makes me want to cook something immediately. I related to the notions of social anxiety and found it quite comforting. I did find the story lacked a bit of depth and I would like to know more about what actually happens at Supper Club, but it only seemed to skim the surface.
The Heart Goes Last by Margaret Atwood ★★★★
It's definitely got some great character development, although I feel like there was more plot points in the latter half and it was muddled at times. It was still a great story though.
American Psycho by Bret Easton Ellis ★★★★
I enjoyed it and found it absolutely repulsive at the same time. It's one that stays with you for a while and I would only recommend it to those who love extreme gore. I appreciated the disconnect from the main character and his actions, and it makes you reflect on materialism and how this particular person views people in the world (sex workers, homeless people) and, in turn, how society views them too. It's graphic, brilliantly written, intriguing and horrific all at the same time.
Freshwater by Akwaeke Emezi ★★★★★
There are words to describe how beautiful this book is. Her writing style is amazing and its truly one of the most unique stories I've ever come across. It's a fantastic coming of age story in more ways then one. The concept of what lies beneath the surface (rage, self-destruction) within someone and how you control it was fascinating.
An American Marriage by Tayari Jones ★★
I wanted to like this book, but I found it rather boring. Him being in prison was almost inconsequential. There wasn't enough emphasis on what it was actually like to truly care that he was there. I found her a little annoying. The flashbacks didn't add much and I felt like they were repeating themselves. I found myself bored at times.
The Wall by John Lanchester ★★
Man, this was a boring read. It took 130 pages to get any sort of action, then it was over in 5 pages and back to being boring. There were 2 main locations in the book and the author spent more time describing them in the most dull way rather than giving the reader any plot.
Fen by Daisy Johnson ★★★★
A very interesting set of short stories, full of vivid description and it keeps you intrigued. I like how they were all subtly linked. Worth a read!
We Have Always Lived in the Castle by Shirley Jackson ★★★★
A beautifully written and sinister story. Jackson always creates the most vivid environments.
Have you read any amazing books this year?