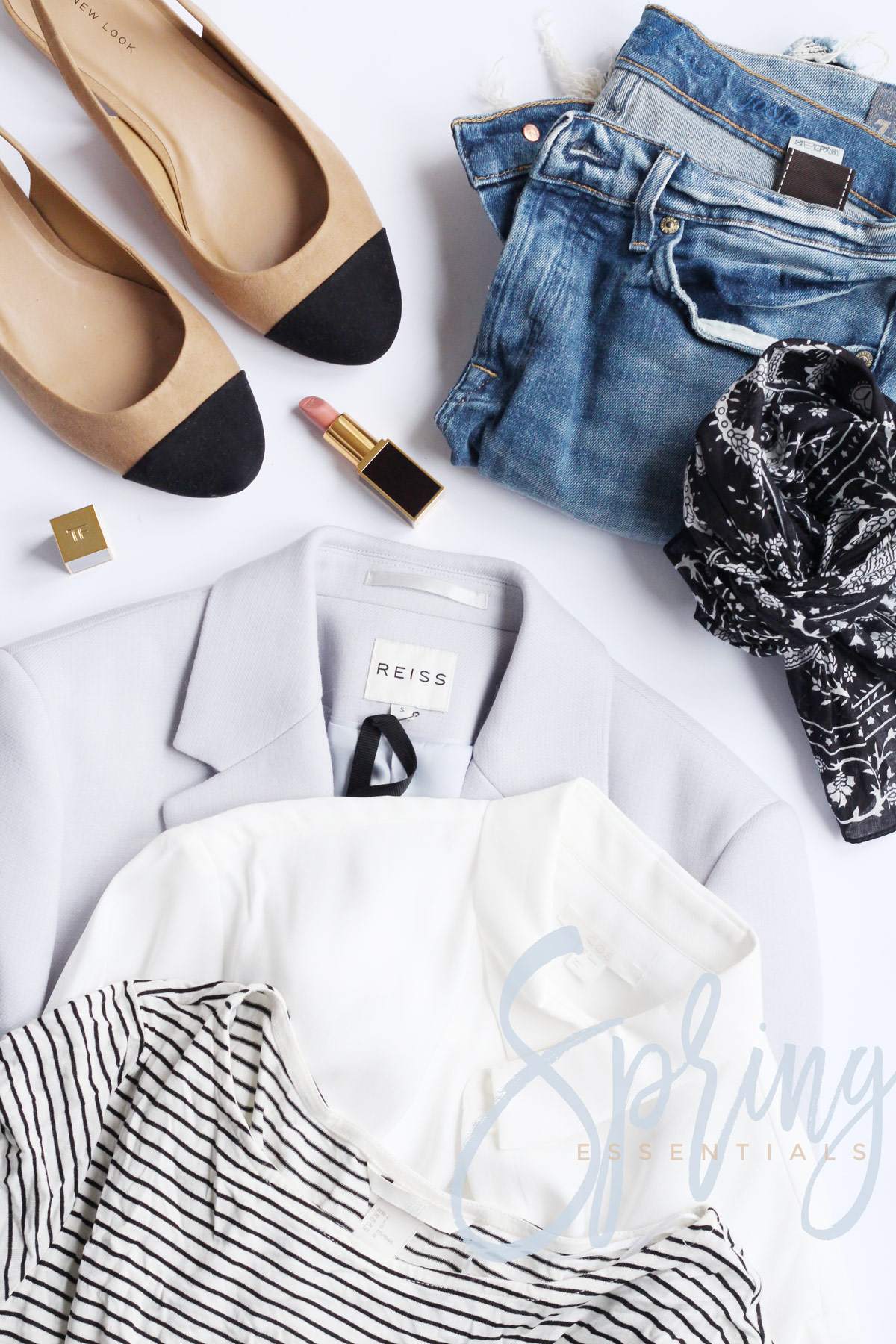 It's starting to feel a little bit like Spring, isn't it? I might have even went out without a huge coat on the other day which felt like some sort of revelation! Not long ago, I went through my wardrobe and I feel like I've totally shunned the Winter side of my wardrobe. The idea of wearing a thick jumper totally fills me with dread and I want nothing but lighter layers which are still appropriate when it's a bit chilly but can be worn on slightly warmer days. So, I've picked out a few wardrobe favourites that I'm so excited to wear this Spring along with my picks from the high st!
One: Ballet Flats and Slingbacks | The ones above are actually the first high street pair of shoes I've bought in months. I am quite partial to the Chanel ones, but unfortunately my bank account says no so these ones for less than £18 had to be snapped up. I'm so looking forward to wearing little shoes and getting my kitty flats out again! Here's my picks to get your shoe selection stocked up:
Two: Blazers | I picked this Reiss one up in the sale in January and it's a beautiful dusty grey/lilac shade which I know I'll get a lot of use of. I'm looking for a white one next, but as a whole, you really can't go wrong with them! Whether you like oversized or fitted styles, a blazer will see you right through Spring and beyond. My favourites:
Three: Shirts and Striped Tops | I love this staple COS shirt I picked up recently, as it's the perfect longer length and oversized fit. I'm equally obsessed with this H&M striped top too, as it's just so soft and easy to wear. I really love wearing both stripes and long shirts when the weather warms up, as they're so easy to layer with skinny or boyfriend jeans and a blazer. My picks:
Four: Lighter Denim | I will always wear black jeans 90% of the time, but when Spring rolls around, I am partial to a lighter shade of denim. Whether these are ripped or a good solid colour, lighter denim goes perfectly with the white, light pastel tones and pretty feel that Spring brings. Here's my top buys:
Five: Little Scarves | I only recently jumped on the necktie/handkerchief trend but I wish I had sooner. Little scarves are so good at adding detail and make a great addition to an outfit. Mine is black, but using bold or pastel tones in a range of solid colours or patterns can make a welcome change from heavy scarves! I love these ones:
What are you gonna be wearing this Spring?
Helen x
Check out these amazing blogs: Kerry etc and Adventures of an Anglophile.