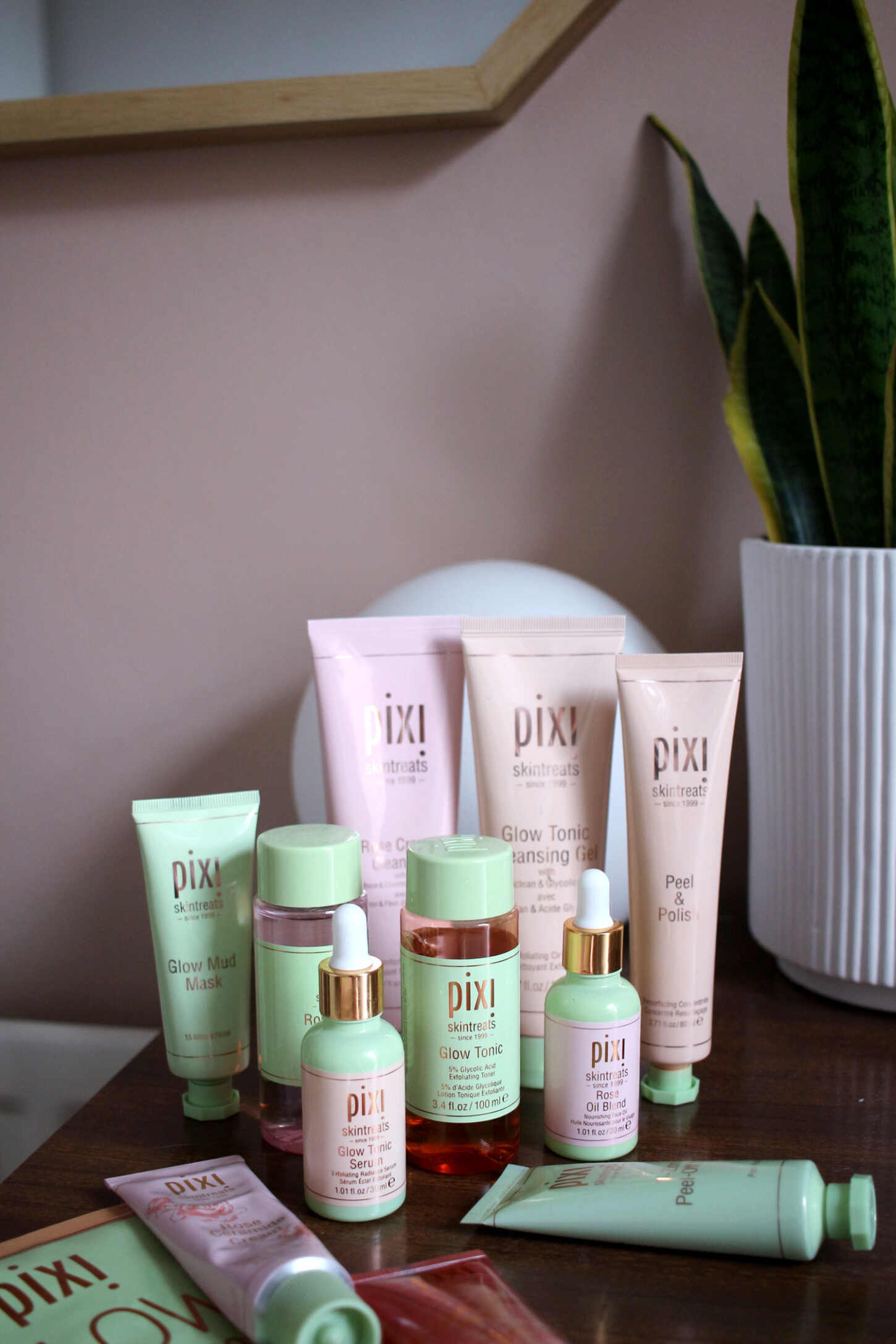 The Skincare Trials - Pixi Skicare
Hello, I'm back with another skincare trials review ft Pixi Skincare. If you don't know what that is, I stick to one brand or one range for an entire month and review all of the products on Instagram and in a final roundup post. You can check out my highlight on Instagram or my previous posts on Drunk Elephant and Nuxe for the skincare I've tested already!
Anyway, today we're talking about Pixi's skincare range ie Pixi Skintreats (as they call it) as I've been kindly sent a range of their skincare throughout my blogging years. I've tried a few products before, but this was the first time I've consistently used them. I do admire Pixi as a brand though, as they offer a more affordable skincare and makeup range for those who want to take their beauty regime to the next level (introducing acid toners etc) without spending a fortune.
Spoiler: I've been pretty impressed.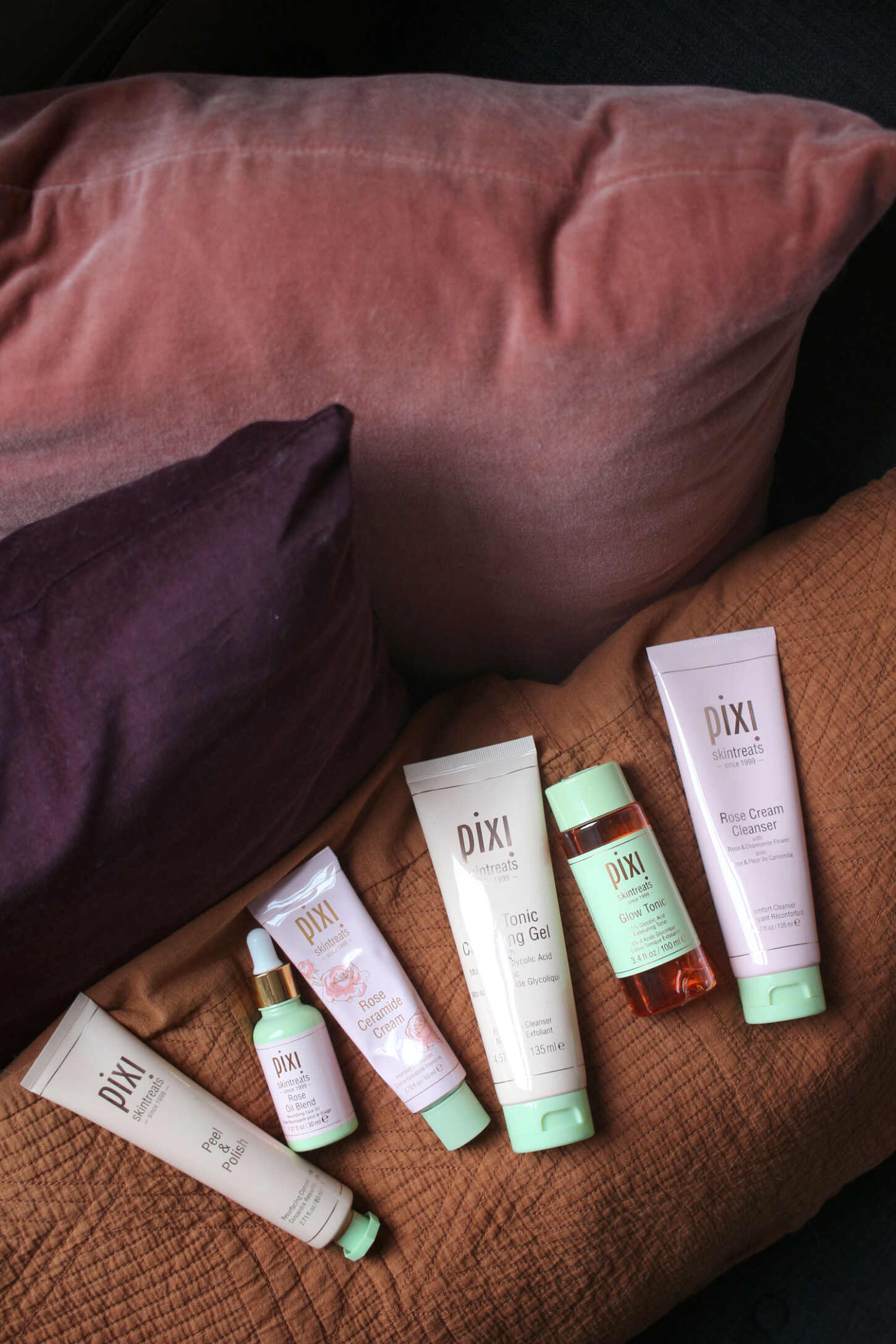 The Ones That Impressed Me
Cleansers
I honestly didn't think I would like this as I'm not a huge fan of gel formulas. Historically, they make your skin dry and tight and are very stripping. Not the Pixi one though. It's refreshing to use as a morning cleanse or in the shower if you're lazy like me. It's not a makeup remover, but it works well as a skin cleanser for a soft, clean complexion.
Yes, another cleanser, but I also love this one. If you have skin on the drier side or you just like more of a luxurious or nourishing experience when cleansing your face, then you'll love this one. It's a thick cream which leaves your skin very soft. I don't think it works amazingly at removing mascara, but you could definitely use it to remove makeup as a first cleanse. I personally prefer a balm cleanser as a makeup remover though and would recommend their Caroline Hirons collaboration for that.
Toners/Acid
I had to put their famous acid exfoliator in the list. Previously, when my skin was more acneic, I just couldn't get on with this toner and loathed the smell. Now I feel like the smell is lighter and it does wonders for my skin. If you purchase any new skincare product, let it be an acid toner. This one uses glycolic acid to buff away dead skin cells, leaving your skin more radiant and smooth each day. Honestly, acid toners have made the biggest and best impact on my skin!
Oil
I've used this previously when I was on Roaccutane and it was great at adding an extra layer of hydration to my face. It smells lovely and works really well to nourish, soothe and give your skin a boost. I've been using this every night and my skin has loved it!
Moisturiser
Another rose product (they have a whole range) but this cream has really impressed me. I'm never usually that fussed about moisturisers, as they're all pretty samey to me, but this one has changed my mind about them. First of all, I love the packaging as it's in a metal tube. Secondly, the product itself is a luxuriously thick cream which feels like such a treat to use. Third, it smells amazing and mixes well with other products such as the oil above. It's a great all rounder!
Masks
I was so sceptical when I first came to try this product as I refused to believe something could have an impact my skin in 2 minutes. Ladies and gents, I was wrong. This product is great! In the time it takes you to brush your teeth, you end up with smooth, radiant and glowing skin. It's the perfect morning boost or one to use a few times a week for a bit of maintenance.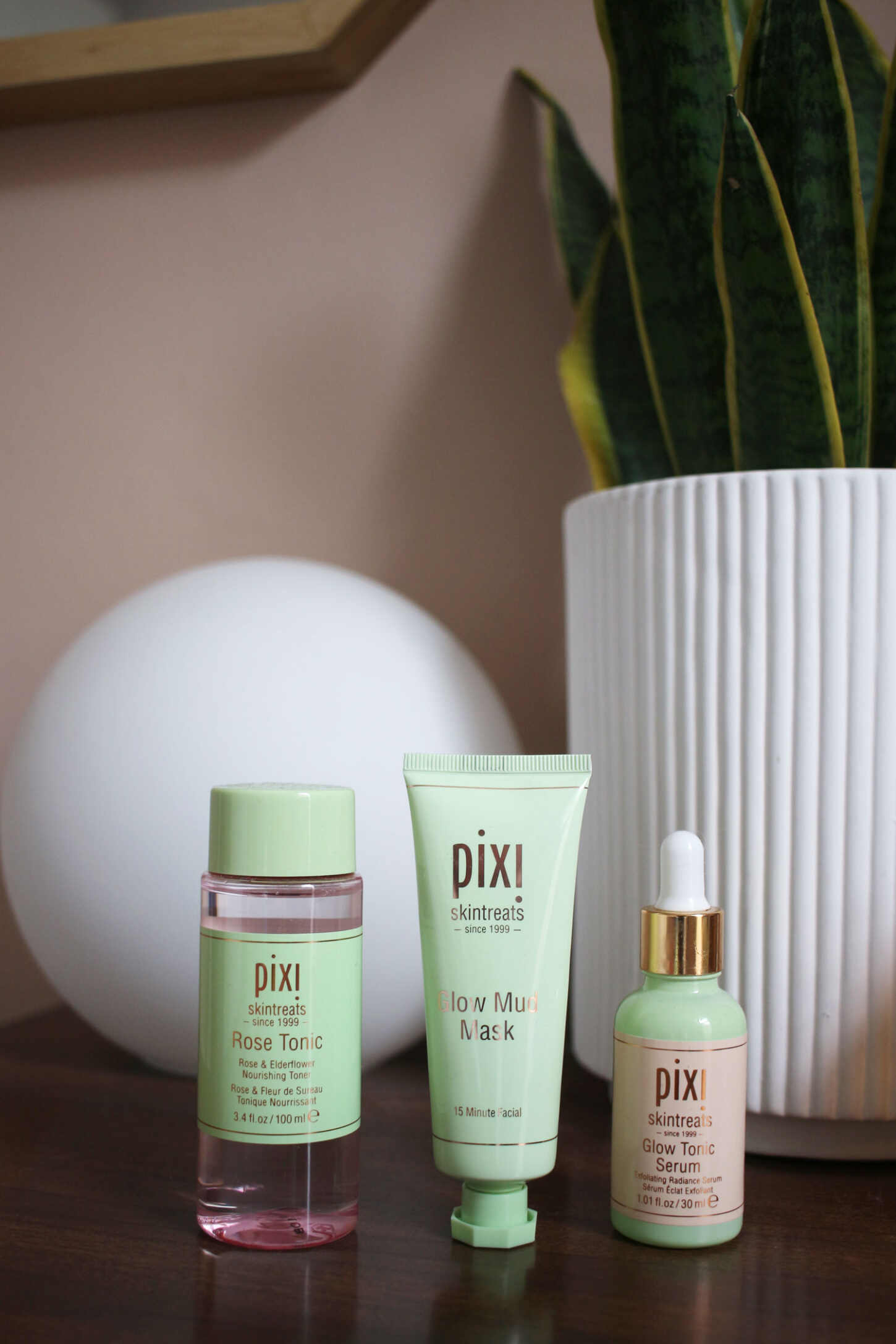 I have no issues with this toner, I just found myself not really reaching for it. It smells lovely, has a nice consistency and is designed to nourish your skin, but I found the rest of my skincare routine gave me enough so I didn't think about it. It would be great for those with really dry or dehydrated skin or if you live somewhere cold.
If you're in the market for a cleansing and radiance boosting mask, then this one is for you. It doesn't leave your skin feeling dry afterwards and works in 15 minutes, but I didn't think this was any different to any other clay masks I've used. I much prefer the Peel & Polish.
Another glow boosting product in serum form, this product exfoliates and leaves the skin feeling refined and smooth. It has a slightly thick texture which I didn't particularly enjoy and it does dry quickly, but I didn't really notice a huge difference to my skin solely as a result of this product. I would stick to the Glow Tonic acid toner instead!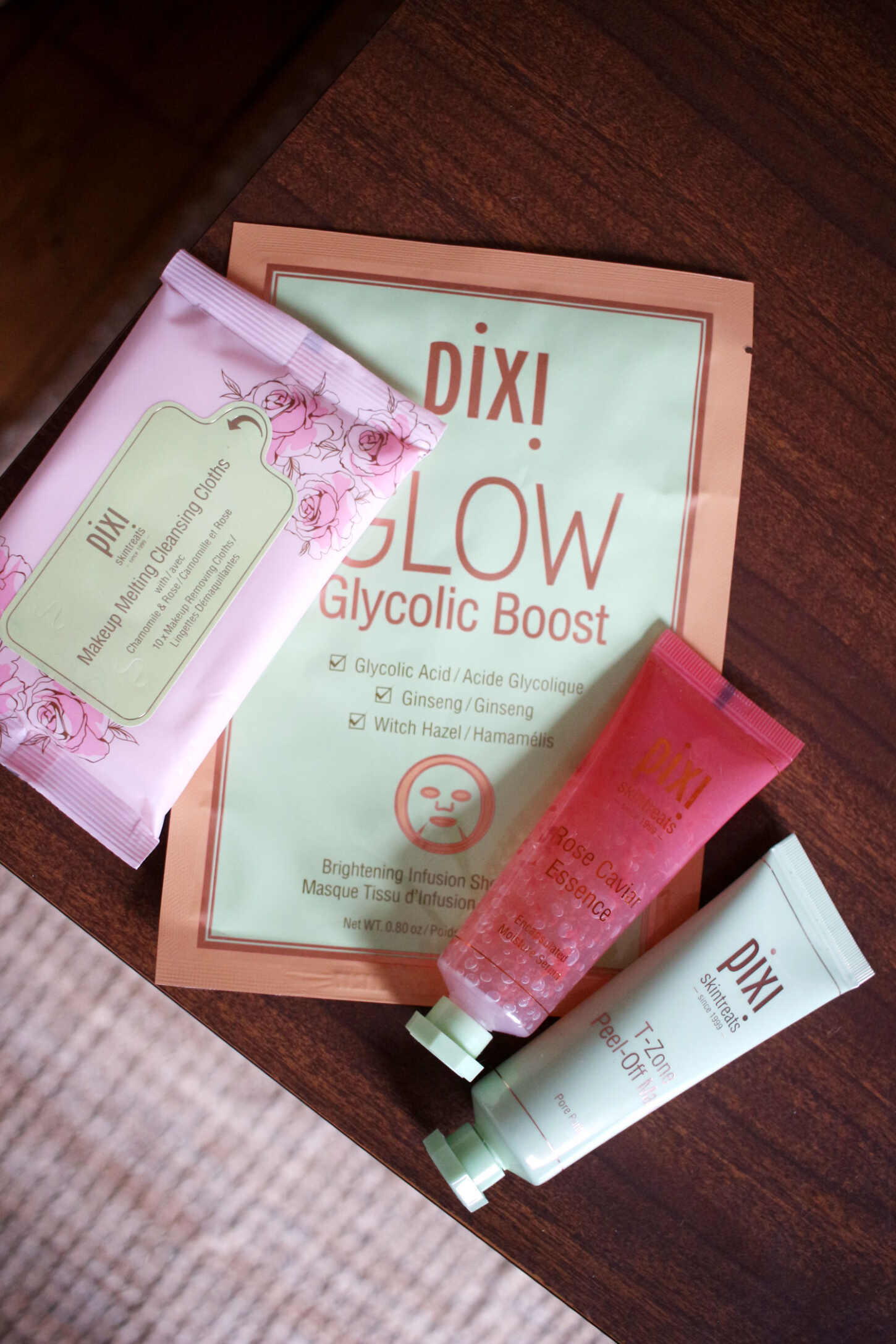 The Ones I Didn't Use
I created a list on Instagram stating the products I would be testing during the month, but some I just didn't get round to using!
If I do use these products in the future, I will edit this post with my thoughts.
I used this once and I honestly couldn't find a place for it within my routine. It is a hydrating product and, I assume, designed to use between toner and moisturiser (or before an oil). I just thought my other serums or oils were enough.
I don't think makeup wipes should be part of a skincare routine, to be honest. I understand the purpose of them when you maybe don't have easy access to a sink (like a festival or camping) or maybe to freshen up on a flight, but I didn't use these as I enjoy actually washing my face.
Another one I didn't use, as I felt like between the Glow Mud Mask and the Peel & Polish, there just wasn't a need for it. If I wanted to use something in my t-zone, then I would just use any of the aforementioned products in that area, rather than getting a product exclusively designed for there.
I honestly just didn't get round to using this one, but I really want to as I love a good sheet mask so I will probably edit this post with a review in the near future! I'm not sure how it will differ from the Peel & Polish, but I will test and report back.
Conclusion
I really enjoyed using Pixi skincare and trying out a big range of products. They really have something for everything and, while their range can be a bit overwhelming, there are some great gems in there. After using their products consistently for a month, I found my skin hasn't broke out (yay) and has been soft and smooth throughout. I do think acid toners (ie Glow Tonic) have a great impact on skin, so your complexion becomes more refined the longer you use it.
If I had to recommend any products to pick up straight away, it would be the Glow Tonic, Rose Oil, Peel & Polish and the Rose Ceramide Cream.