All items gifted / affiliate links
Skincare Trials: Elemis
Welcome to this months Skincare Trials and today we have Elemis Skincare. If you've been following my blog or Instagram for a while, you may have seen me mention Elemis throughout the years, so deciding to opt for this brand is a bit of an obvious one.
I've been using Elemis (and only Elemis) since I came back from America, so it's been almost four weeks now which I think is a great amount of time to become familiar with whether certain skincare products work for you or not. As mentioned, I have used Elemis for a long time so the majority of the products had been previously tested albeit not necessarily for the same consecutive period of time.
Anyway, onto the review and my conclusion!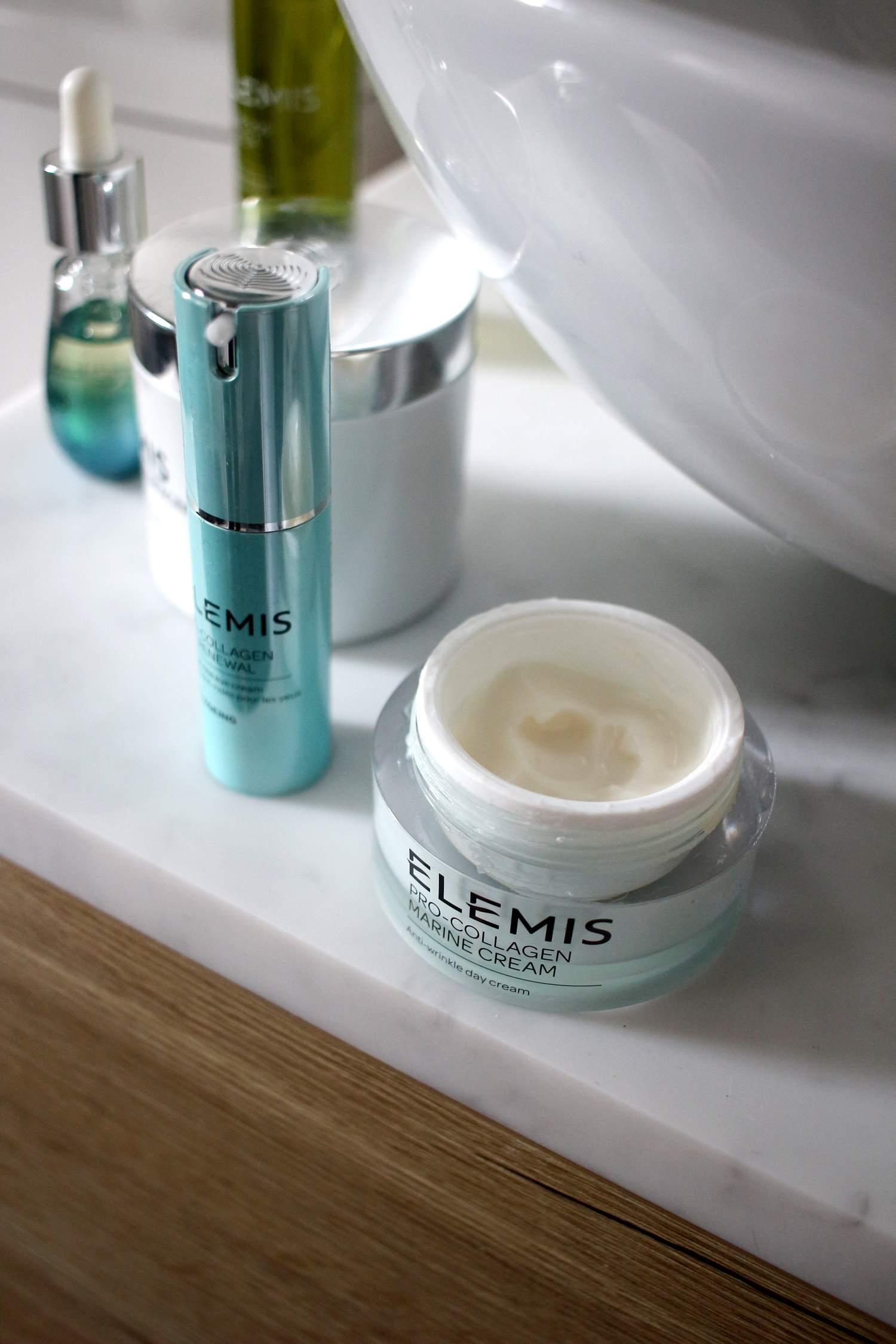 I decided to go for a full skincare routine including an acid, mist and serums/oils. I really wanted to compare the Elemis Dynamic Resurfacing Facial Pads to other acids I've tried from the likes of Pixi, Ren, Dr Dennis Gross and so on.
Elemis Nourishing Omega-Rich Cleansing Oil
Buy here | I have used around 4 bottles of this over the years and I really like it as a makeup remover or to use if my skin is feeling dry at all. I did a full review of it here if you would like to read more about it but in conclusion: it's fantastic.
Elemis Dynamic Resurfacing Facial Wash
Buy here | I remember using this in my early 20's when I had acne and I did like it, but I was definitely using it for a different reason. Now, as my skin is clear, I have been using it as a second cleanse to help with exfoliating the skin and ensuring my skin is clean. I do really like this face wash, as it's a creamy consistency and lightly foaming. It leaves skin feeling soft, but it does make it slightly dry - not squeaky levels but I always apply the rest of my skincare routine straight afterwards, so it isn't too much of an issue for me.
Elemis Dynamic Resurfacing Pads (60)
Buy here | I've been using one of these every single night, as I had some pigmentation to get rid of on my cheek after I stupidly tried to squeeze some millia and just damaged my skin instead. So, in the tub you get 60 pre-saturated pads containing acids such as glycolic and lactic, so you can just pick one out, buff it over your face and neck and dispose of it. I'm not a huge fan of that part, but you could definitely use them every other day or even just twice a week as a treatment. They definitely work, my skin is glowing and smooth and oh so soft!
Elemis Superfood Kefir-Tea Mist
Buy here | I try and use a hydrating mist as often as I remember, but I've been applying this Elemis one twice a day as part of my trials. Now, it has a very strong scent. It's earthy and almost mushroom-y, so if you're sensitive to scents you won't like this one. However, it is a great product. It's light on the skin, sinks in fairly quickly and makes my skin feel plumped and hydrated.
Elemis Pro-Collagen Eye Renewal
Buy here | As someone with perma-dark circles, I look for eye creams that hydrate the eye area, brighten slightly and ensure my skin texture is as smooth as can be. I really like this eye cream, as it's a beautiful balmy consistency which feels ultra smooth to apply and doesn't tug at the eye area. I would say it has helped to keep my skin hydrated and plumped out any little fine lines.
Elemis Pro-Collagen Marine Oil
Buy here | I love a good facial oil and they are a daily/nightly aspect of my skincare routine. This oil is very light and glides across your skin which I really like. It also blends into moisturiser well, so I often add a drop or two on a morning for an extra boost. If you're new to oils and don't like the idea of something heavy on your skin, then try this one!
Elemis Peptide4 Night Recovery Cream Oil
Buy here | Another product I've used 3-4 bottles of in the past. I call this my 'good skin in a bottle' serum, as I find my skin always looks bright, clear and smooth the morning after. It's a cream texture, smooths onto skin easily (I use about 2 pumps) and works well under moisturiser. I would recommend this product to anyone!
Elemis Pro-Collagen Marine Cream
Buy here | The classic, the OG, the one I think everyone and their grandmothers has tried. It deserves its space as a cult product however, as I think it's a brilliant moisturiser. I'm always a bit 'meh' about moisturisers, as a lot are very similar to me, but I do like the texture of this one as it's lightweight but packs a good hydrating punch. It does smell a bit floral (if you're scent-sensitive, maybe avoid it) but that disappears pretty quickly. They also do an SPF version and a rich version.
Conclusion
I really like Elemis as a brand and I will continue to use them until these products are used up. I've tried many things from them over the years - inc their classic Enzyme Peel mask about 7 years ago, probably my first introduction to exfoliating masks - and I will continue to try new releases as and when they come out as well as pick up some of the other items on my wishlist. I've been lucky to receive many gifted items over the past 5-6+ years, but I have also spent a lot of my own money repurchasing those gifted items because I love them so much.
So, would I recommend Elemis to someone who is new to the brand? Yes, I would. I appreciate that their products are not the cheapest, but I believe in this case you do get what you pay for. Elemis has a lot of research and science behind their products and, from my experience, they do what they say on the tin.
If you're looking to pick something up I would recommend the Cleansing Oil, the Peptide4 Cream Oil and the Marine Cream as my top items. I believe any of those products would be a great addition to an existing skincare routine, or could make a great evening routine by themselves.
You can find Elemis on their own website here where they often have great offers and discounts and on sites such as Feel Unique and Look Fantastic. They're cruelty free and a lot of their products are vegan too.