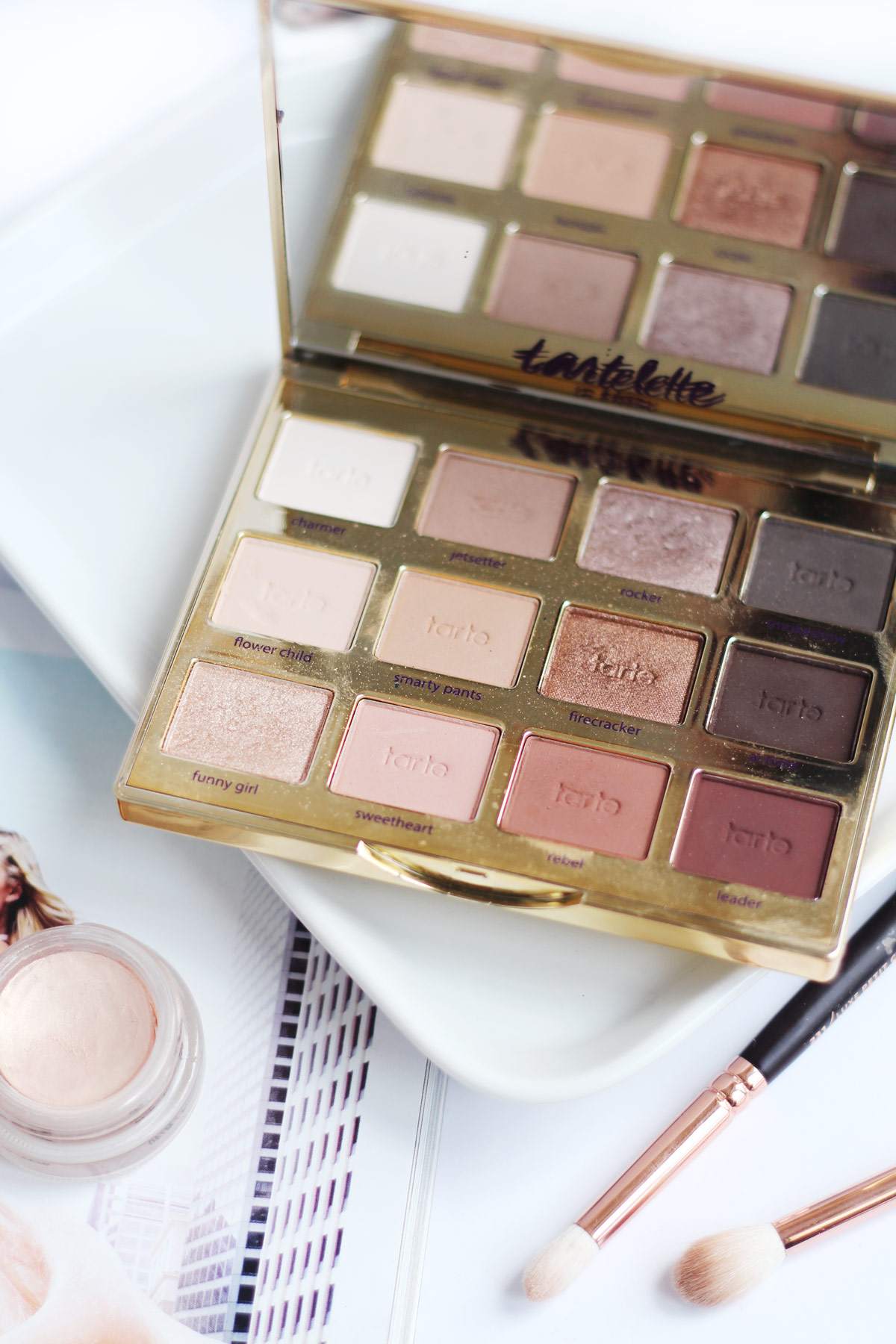 You know when you see an item online and it seems to follow you everywhere? The Tarte Tartelette in Bloom palette is that item for me. When it first came out, it literally stalked me across social media and Instagram especially. I'd see that pretty bright case and I'd have to scroll past as I knew I would have to cave and buy it… Then I eventually did. Hello Sephora haul (read about that here) and, to be honest, it's the best decision I made in a long time!
I got this back in mid-Feb and I've been using nothing else since. Nothing. I've barely even acknowledged anything else in my collection, so that's why it's now in my Hall of Fame section!
So, less of my ramblings and more onto the actual thing itself. The Tarte Tartelette in Bloom palette comes in beautiful packaging (see here) and contains 12 perfectly complimentary, buttery soft and pigmented shadows to create pretty much any makeup look you fancy. There's only three shimmer shades and the other nine are matte, but that doesn't bother me at all! The shades, starting with the top row working left to right:
Charmer: Neutral light beige, matte finish
Jetsetter: Medium brown, slightly warm, matte finish
Rocker: Medium taupe, frosted-shimmer finish
Smokeshow: Very dark brown with cool undertones, matte finish
Flower Child: Light peach with warm undertones, matte finish
Smarty Pants: Medium beige with orange/warm undertones, matte finish
Firecracker: Medium bronze brown, frosted-shimmer finish (so pigmented)
Activist: Dark true brown, slightly red undertone but quite cool, matte finish
Funny Girl: Peachy champagne, frosted-shimmer finish
Sweetheart: Pinky-peachy with warm undertones, matte finish
Rebel: Dark brown with peachy undertones, matte finish
Leader: Dark burgundy-brown, matte finish
As you can see, I'm obsessed with wearing 'rocker' as I always stick to those taupe-grey kinda shades. It looks so good all over the lid with 'smokeshow' or 'activist' in the crease for a darker eye, or with 'jetsetter' for daytime definition. I think 'funny girl' works so well as an inner corner highlight too.
All in all, if you're after a very versatile but high quality palette that you know you'll get a lot of use out of, then I'd definitely recommend picking up the Tarte Tartelette in Bloom palette here!
Have you tried it or fancy buying it?
Helen x
Check out these amazing blogs: Kerry etc and Adventures of an Anglophile.