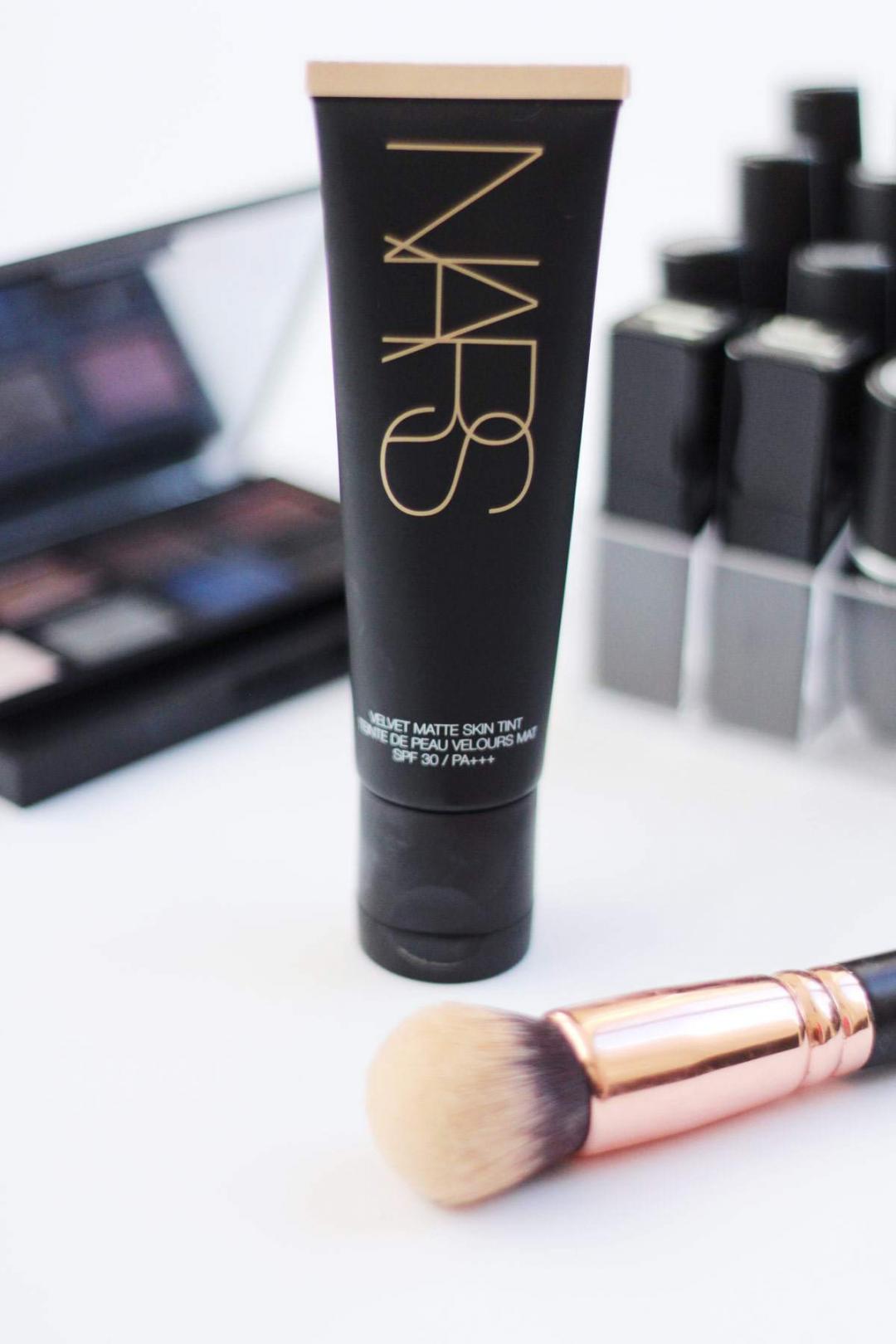 NARS Velvet Matte Skin Tint: It's no secret that I love NARS. From their amazing lipsticks to their beautiful eyeshadow palettes, they can literally do no wrong. So, when I heard they were releasing a new skin tint I was super intrigued to see what it was going to be like. I already love the NARS Sheer Glow Foundation and the NARS Tinted Moisturiser, so the addition of the NARS Velvet Matte Skin Tint fits in perfectly in my collection.
The NARS Velvet Matte Skin Tint is somewhere between a foundation and a tinted moisturiser in my eyes, but with enough coverage to even everything out and give skin a beautiful finish. I got the shade 'Finland' which I believe is the palest shade in the range. It leans ever so slightly yellow in tone, but more towards the neutral side of things which suits my skin absolutely fine. I'm a MAC NW15 or Estee Lauder Shell for reference – there's definitely a shade for us pale people amongst the range, I like how NARS always has that covered.
It goes on very smoothly, is easily blended and buffed into the skin and leaves your complexion with (as the name suggests) a very velvety finish. With me being on Roaccutane and my skin being Sahara-desert dry, I can still wear it with a good dose of moisturiser and oils underneath and it doesn't cling to dry patches at all. I really love the coverage this has too, as it still manages to cover blemishes without feeling heavy.
All round, it's a fantastic base and one so worth picking up if you get the chance! Have you picked up the NARS Velvet Matte Skin Tint yet?
ps. Have you seen my Depop yet? There's lots of high end makeup for cheap prices – username: thelovecatsinc or here.
Helen x