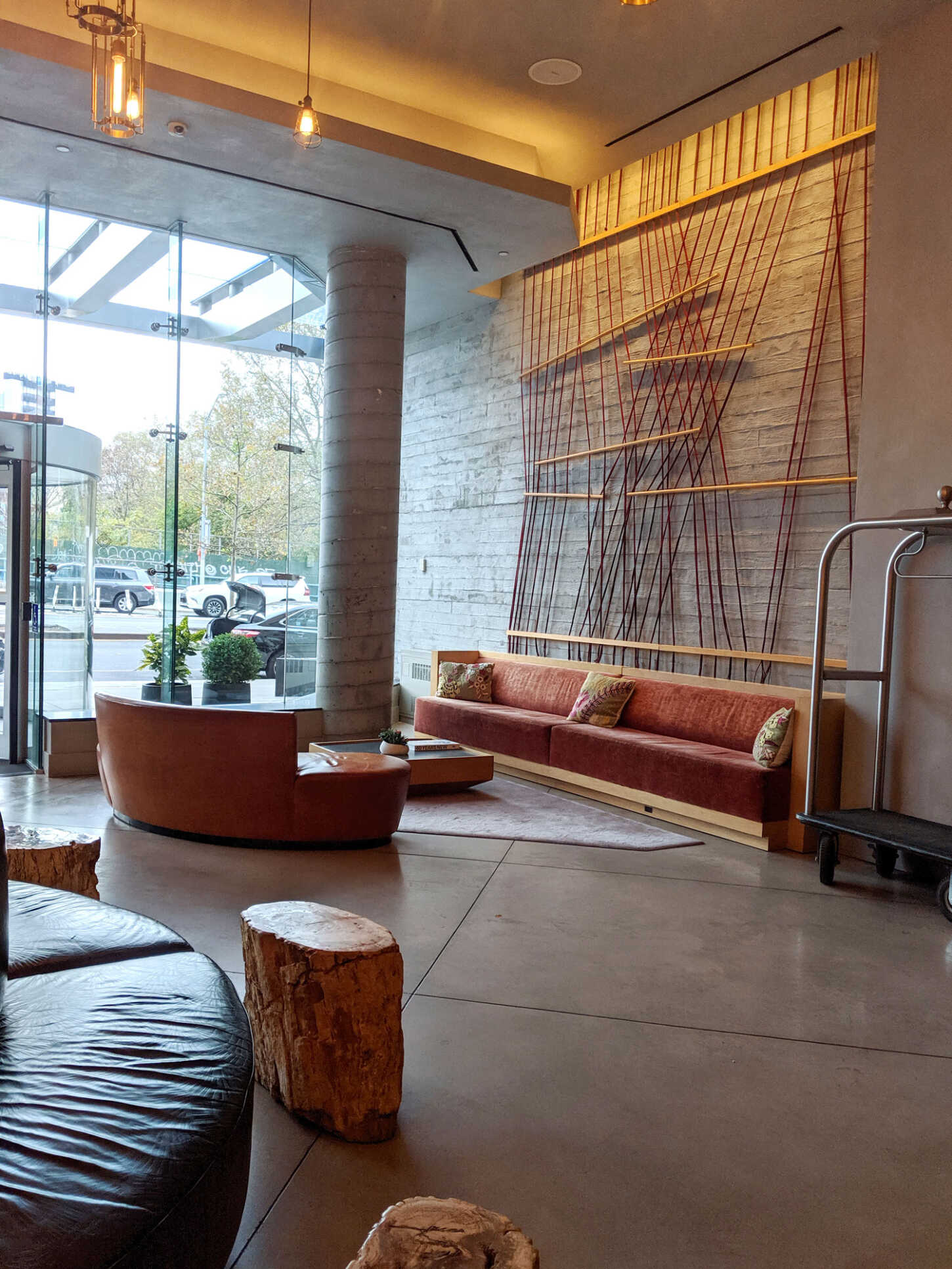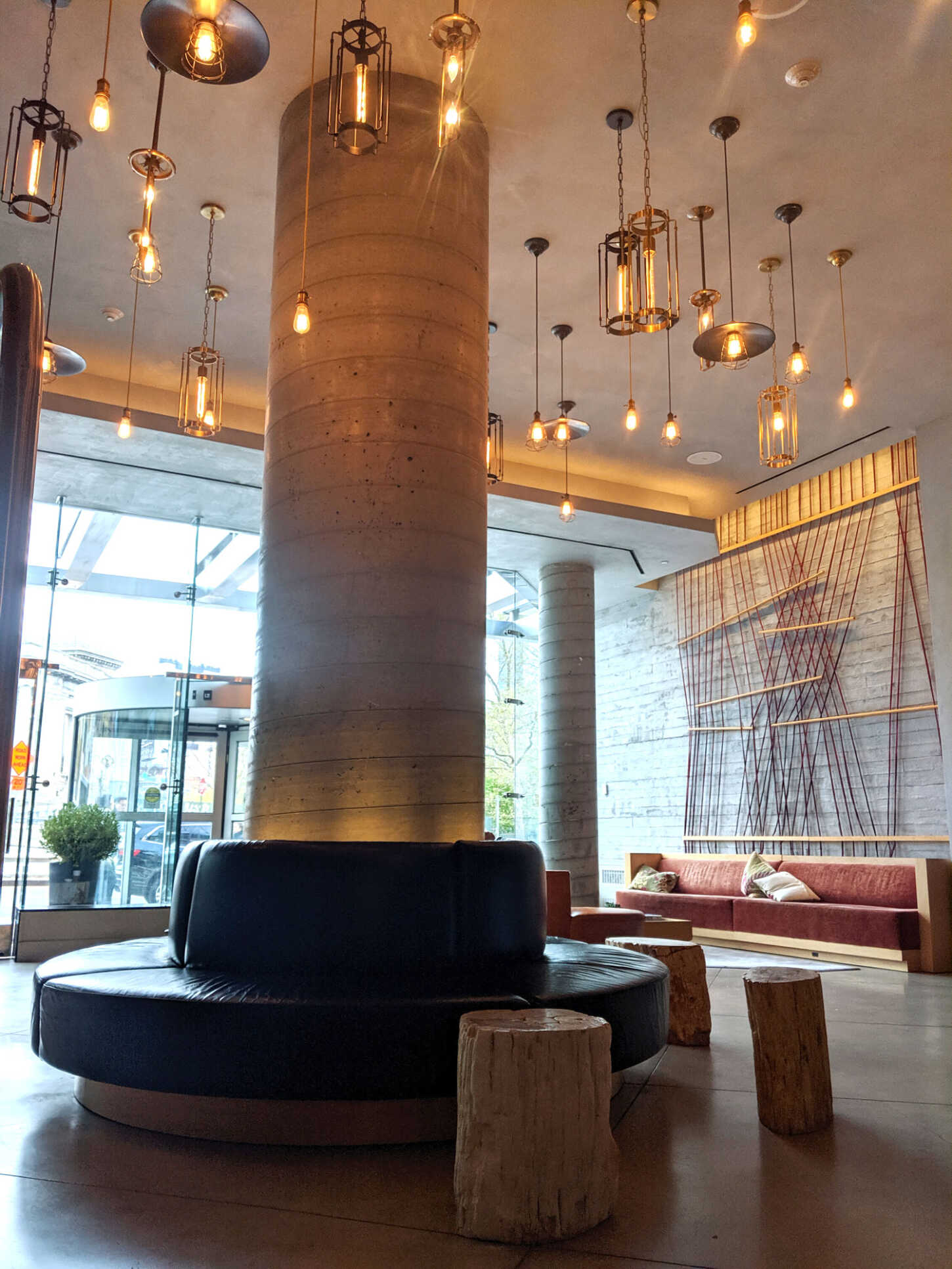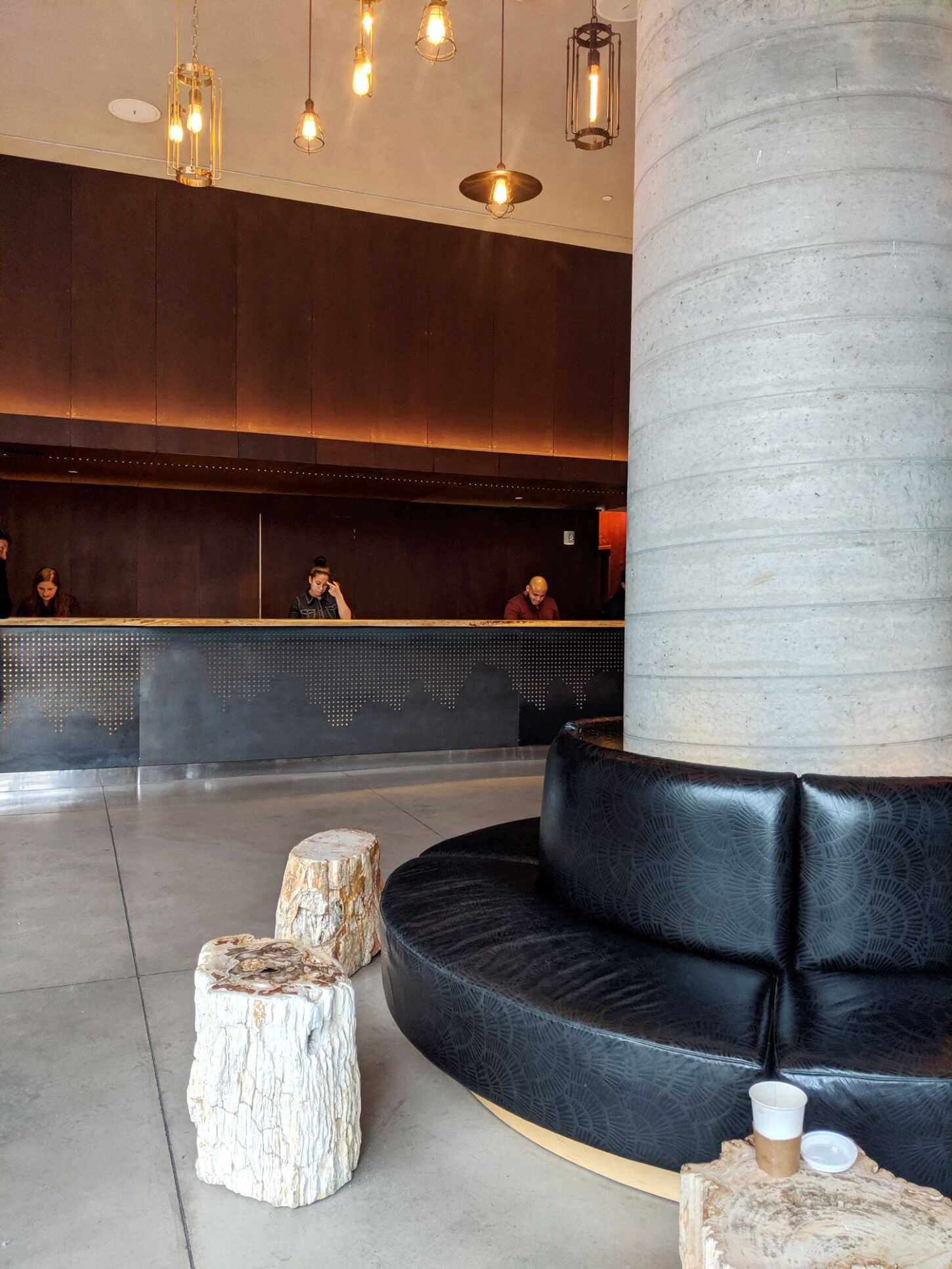 - Hotel 50 Bowery - 50 Bowery, New York, NY 10013 -
On our recent trip to New York this November, we stayed at the lovely Hotel 50 Bowery, a 4-star hotel which was located right next to Chinatown in Manhattan. We arrived very late, but my first impression was that the hotel was chic and modern, with very helpful and friendly staff on the reception desks.
Location
It's a great location, as it's near many little areas of New York such as Tribeca, Chelsea, SoHo, Chinatown (as mentioned), Little Italy, with the lower East side and the East Village being a short walk away.
You could also walk to the Flatiron Building in about 25 minutes and Times Square or the Empire State Building in around 30-40 minutes so it was very central and an area I would happily stay in again.
We did walk all the way up to the Upper West side (near the history museum) and it took about 2hrs30, but you can get the Subway for 15minutes without having to change which is much quicker.
We felt safe throughout our trip in this area and there are a lot of great restaurants, cafes and stores around the hotel. The nearest 7-Eleven is about 5 minutes walk away.
Note you do need to pay a 'destination' tax for being in a hotel in Manhattan which is around $25 a day and the hotel does add this on to your bill at the end.
Facilities and Room Service
The Hotel 50 Bowery comes with free wifi (which is great if you refuse to pay for internet like I did in America...) which can be used in the rooms, as well as in their lobby and their rooftop bar. They offer free tea and coffee on a daily basis from 7am, so if jetlag gets you (and it will), you can start your day with a cup of something hot.
They also have a gym and meeting facilities and all of that good stuff if you're interested in it. We did so much walking that we didn't need to use the gym, but it's always nice when you have the option. Hotel 50 Bowery offer breakfast too.
They also have room service which is quite reasonably priced (excluding tax and a tip, it's a bit more once you add that on) and they have a great range of unique things on offer. I was expecting the standard room service affair, but I got a Tequila Lime Taco with Braised Chicken ($14) and Phil got some Sliders with Dill Pickles ($12) - both were delicious! It was delivered in a take out bag rather than the usual plates etc, but we weren't bothered as we were starving after travelling all day! I think I ate it in about 4 seconds, so I didn't get any pics.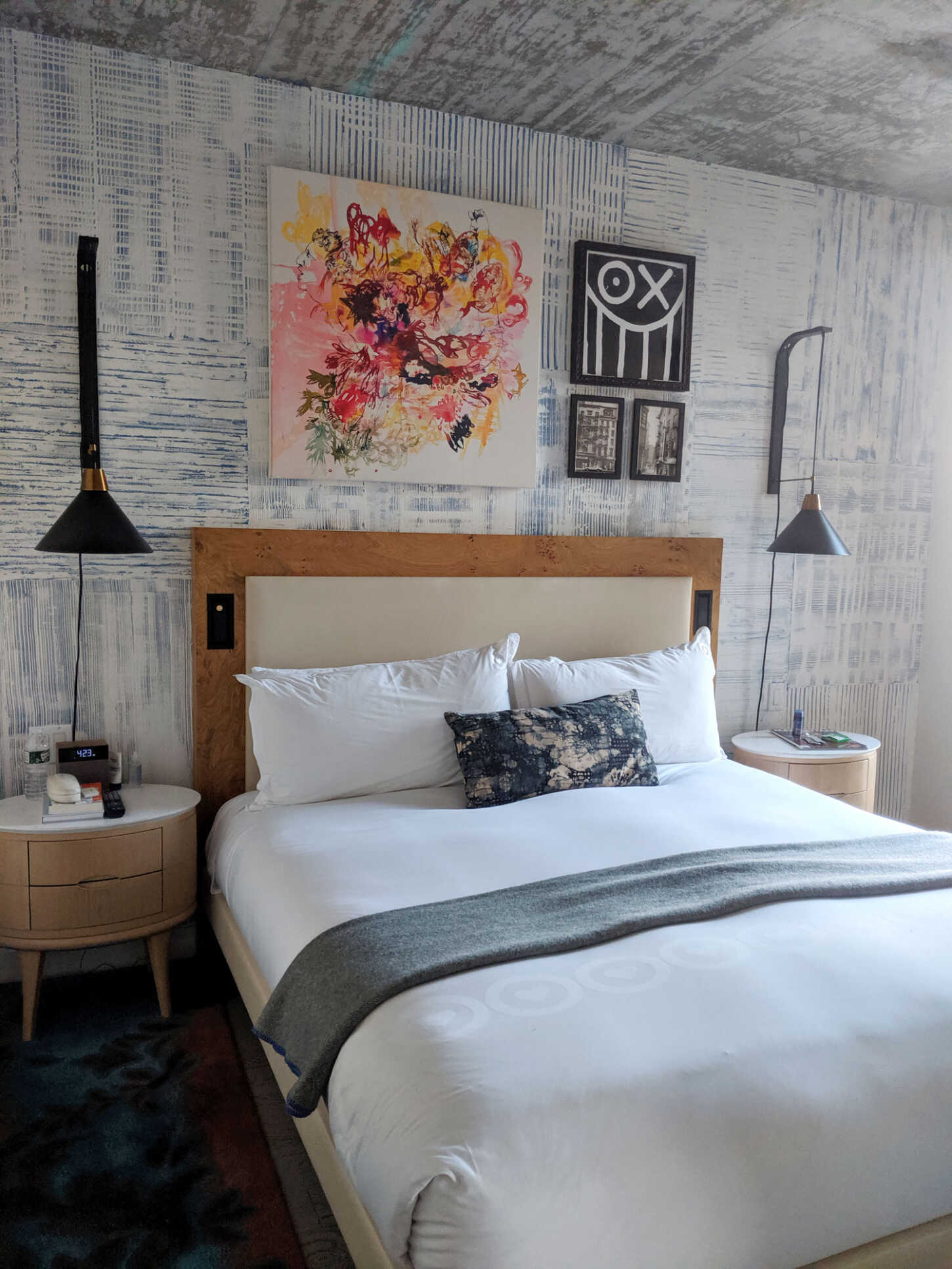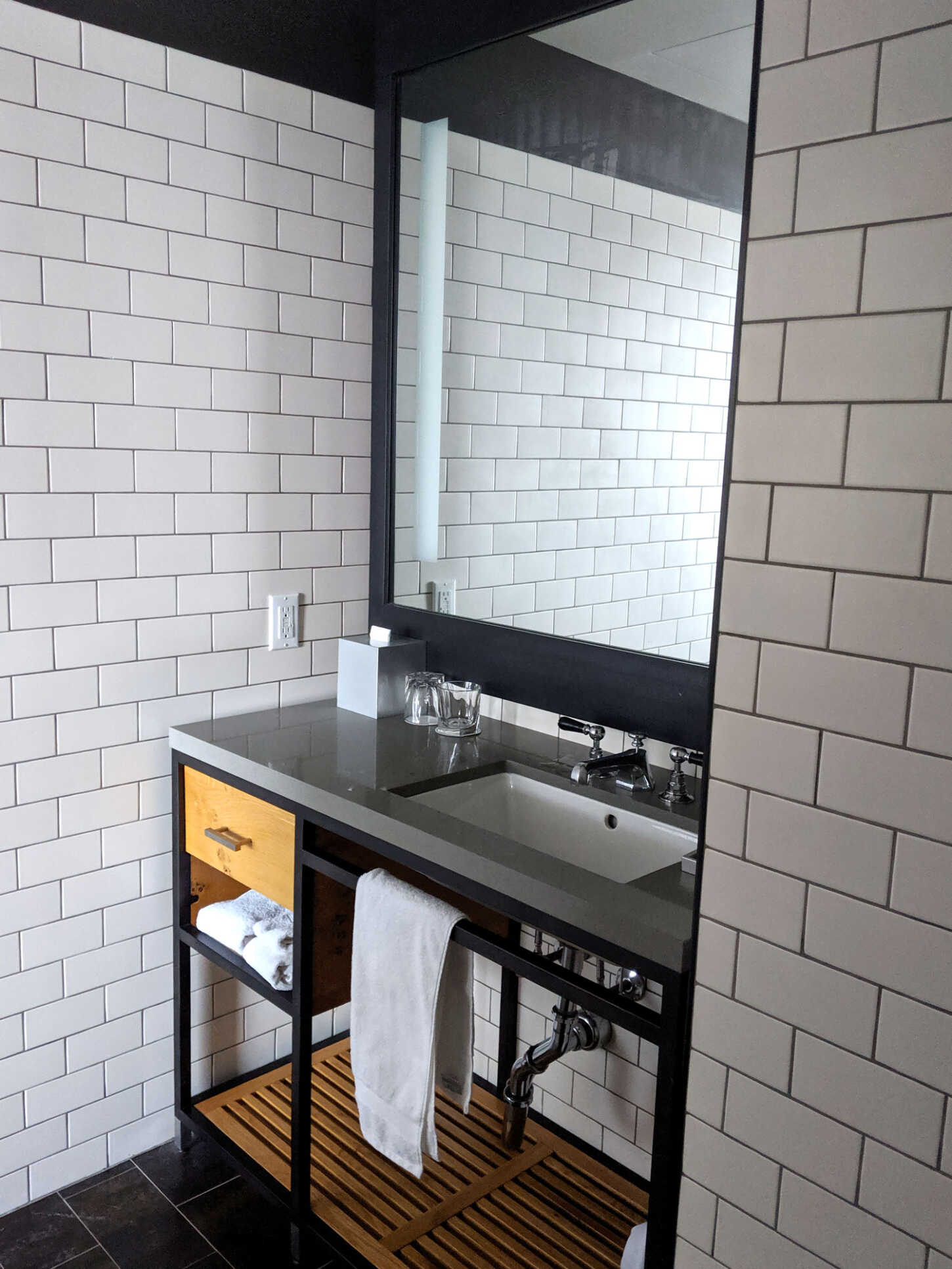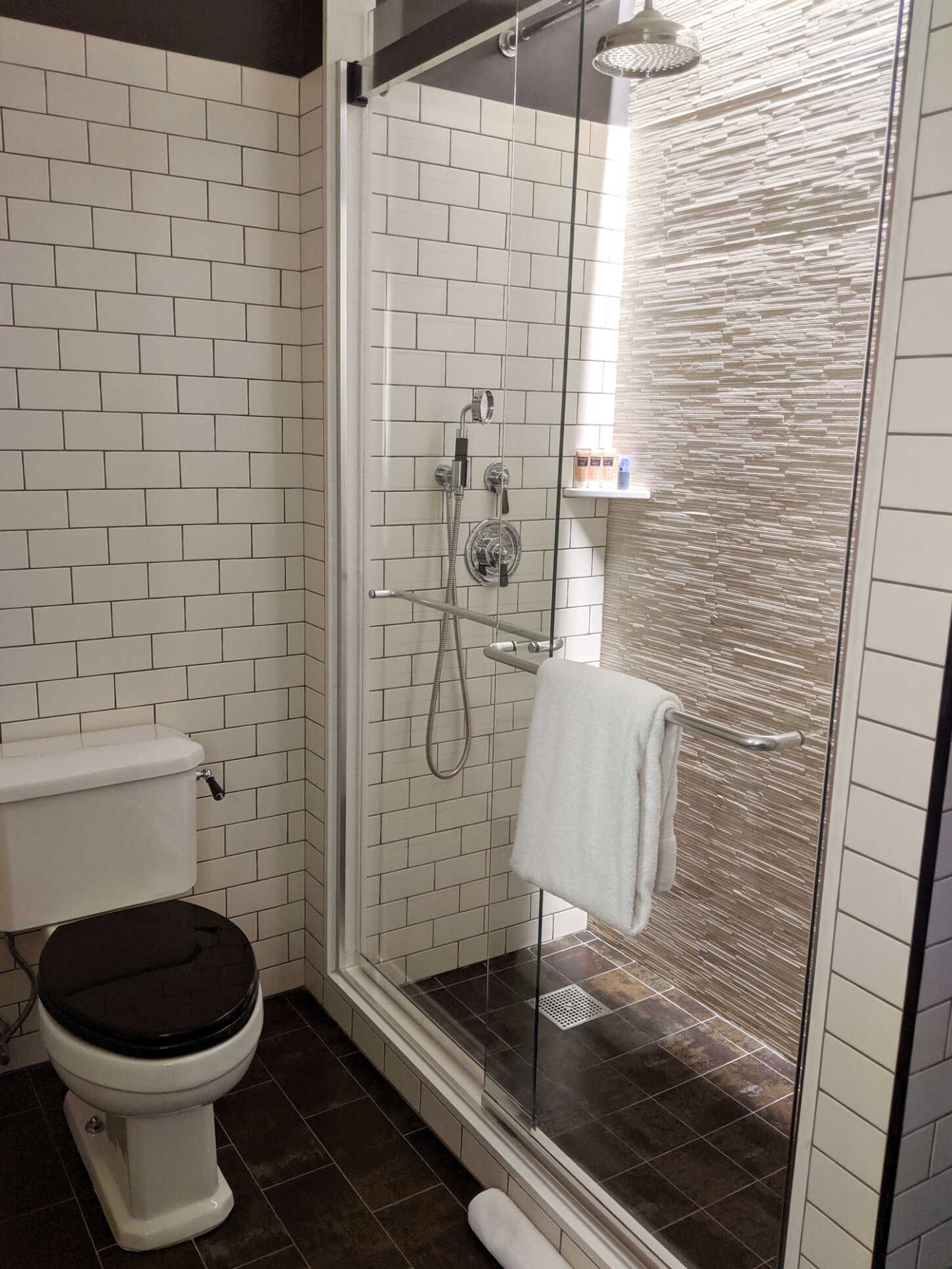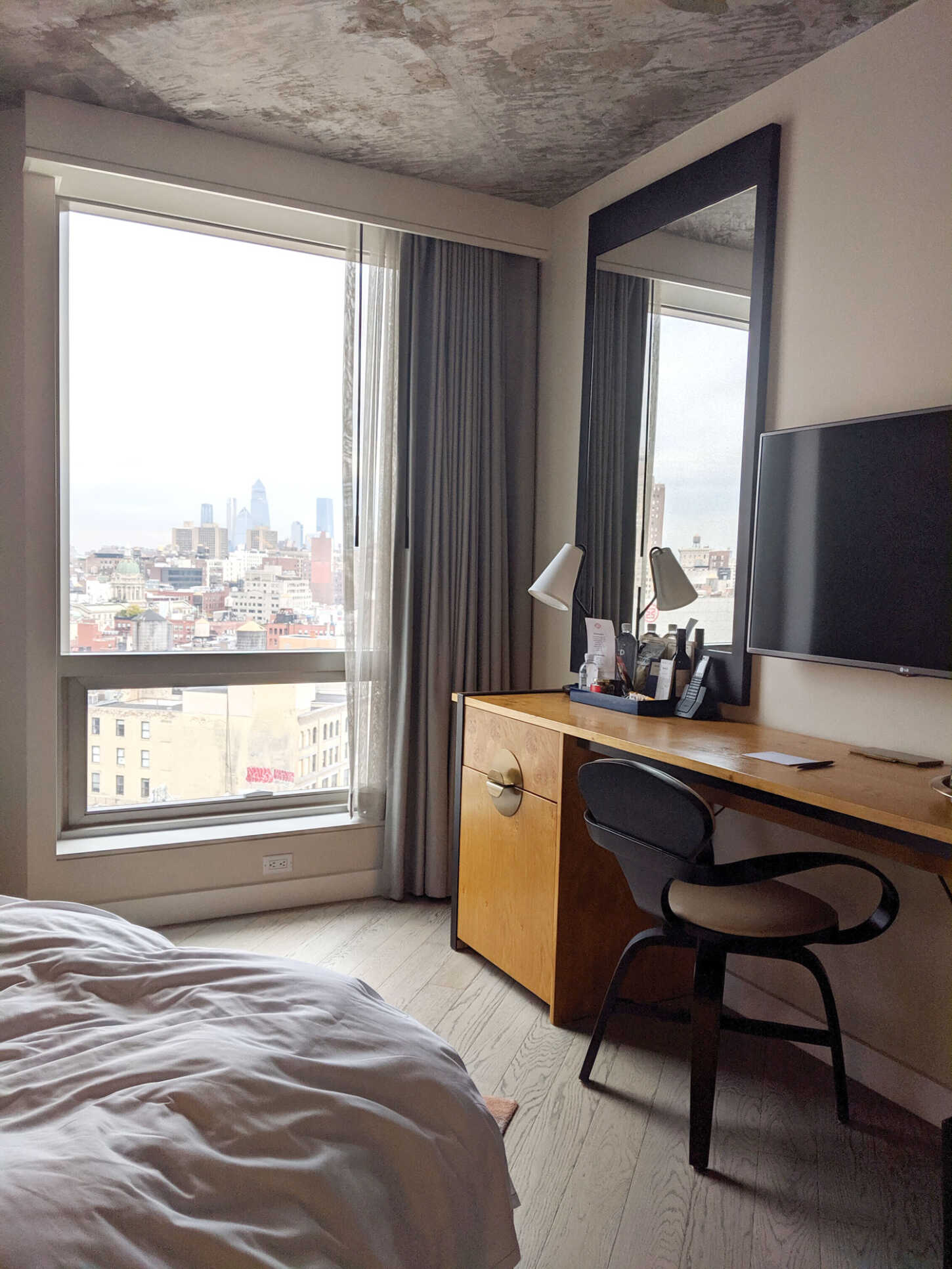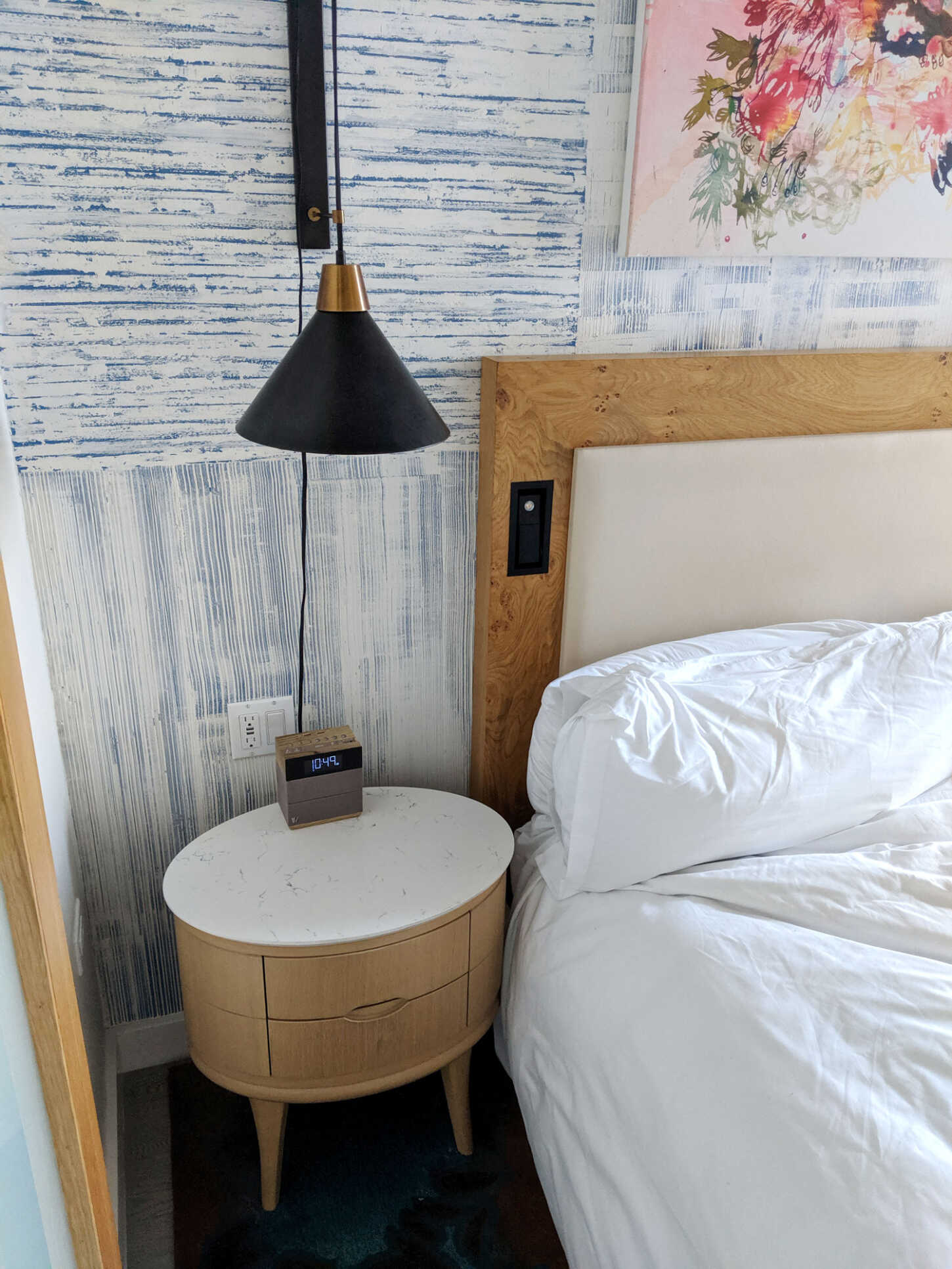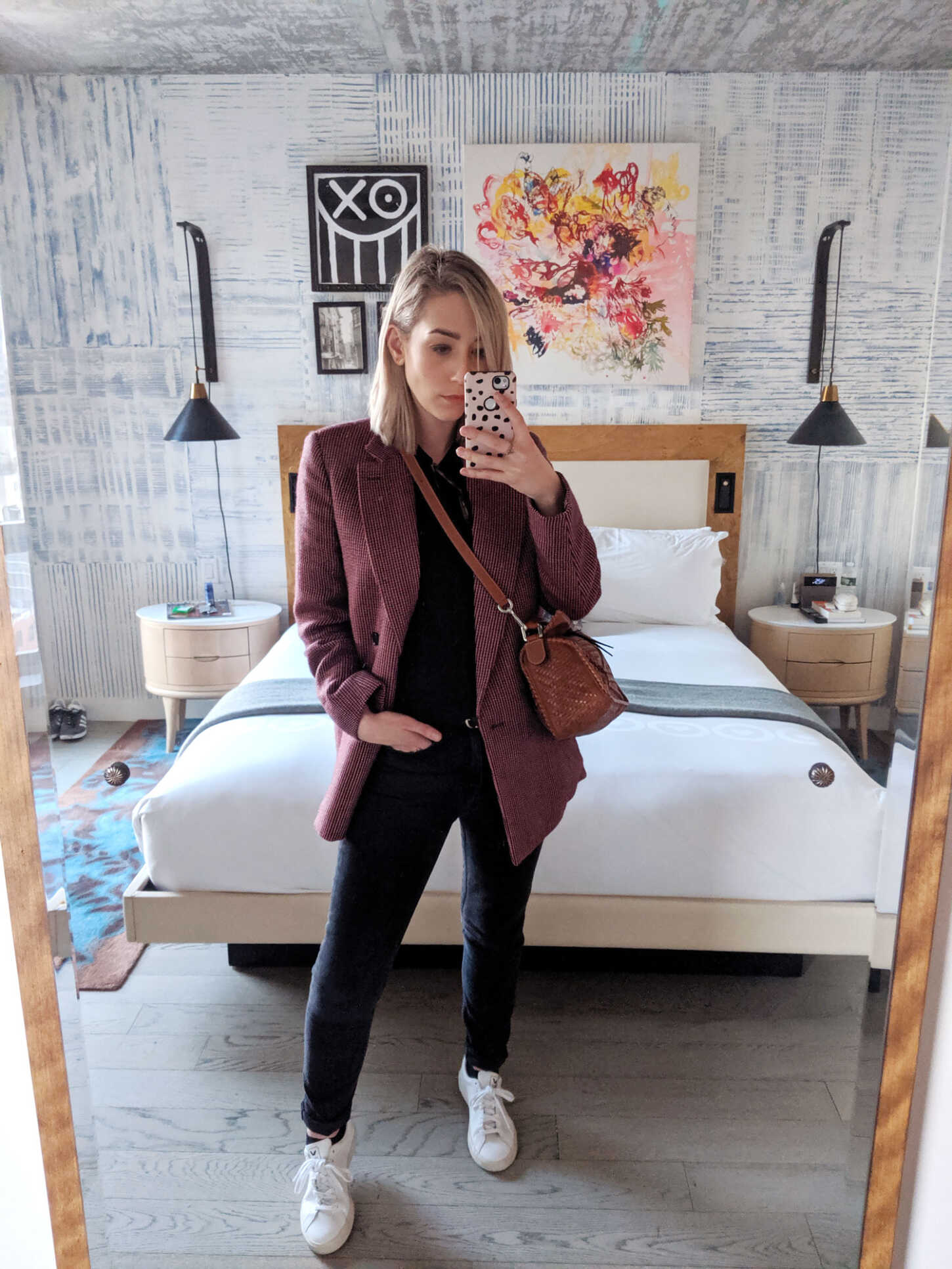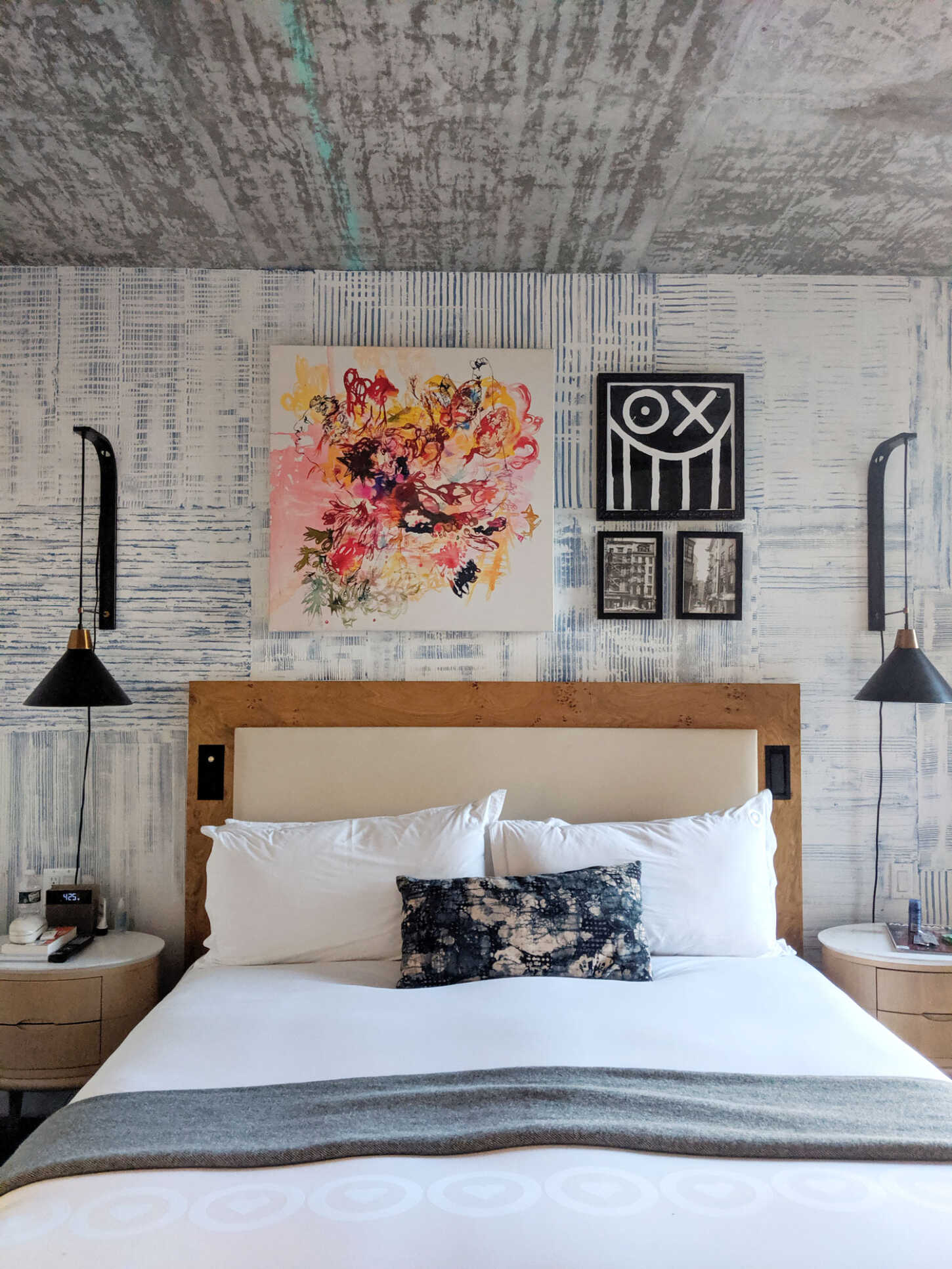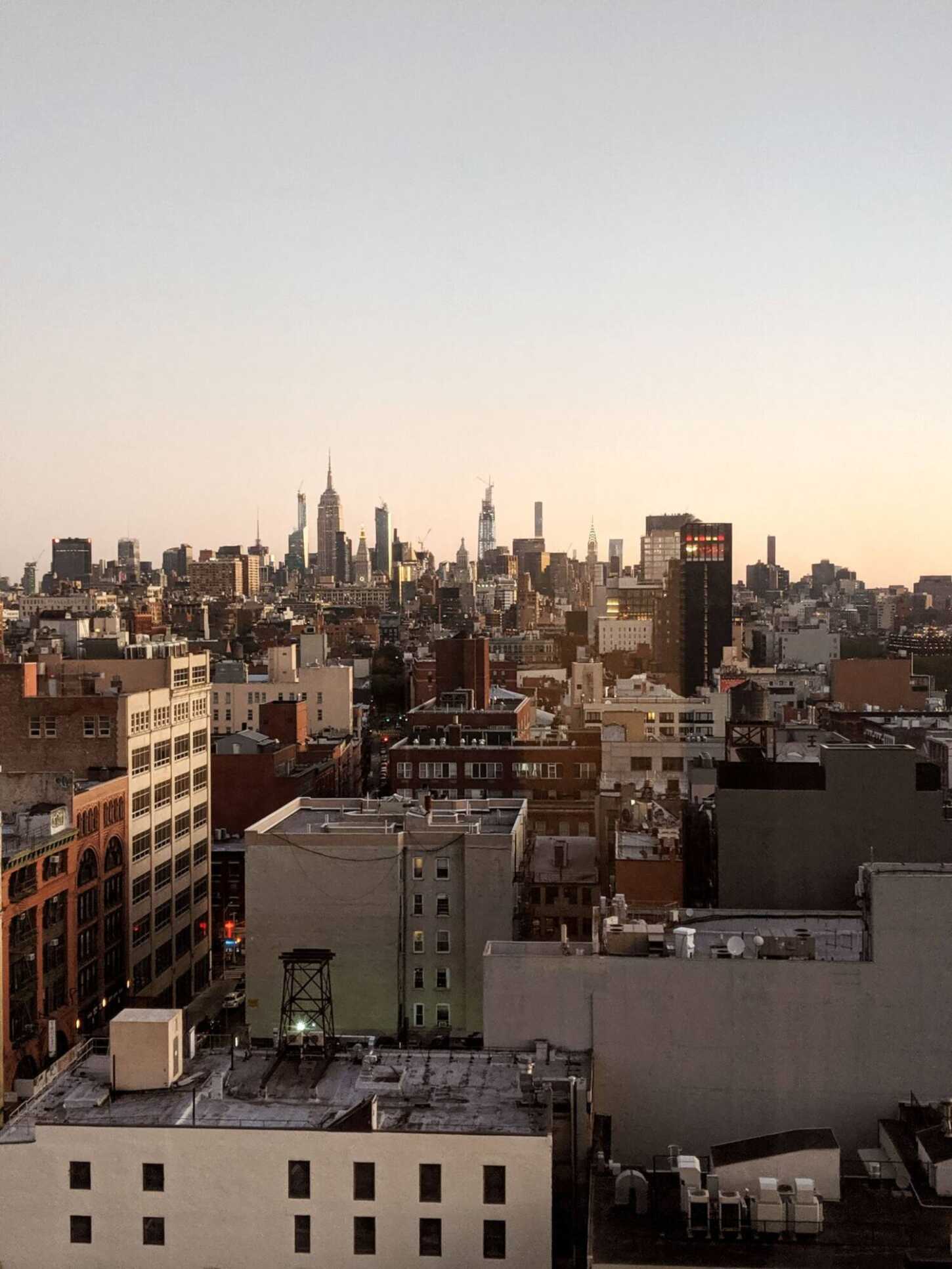 The Room
I booked a King Bed Room at Hotel 50 Bowery which is the basic room, but we were upgraded to King Bed Room with a City View which was on the 15th floor (Room 1522) which I was very pleased about as the view was really nice!
The room was spacious, the style was modern and chic and the furniture was nicely styled. I especially loved the bed, as it was big and very, very comfortable. I was asleep pretty much instantly every night in this bed. They had earplugs and an alarm clock on the bedside table which was handy, though we did not use them as the room was very quiet and jetlag meant we woke up at 5:30am or 6:30am every day.
The wardrobe has lights which switch on when you open the door (which I love), as well as a good amount of hangers and some shelf space to fold items. They also supply two dressing gowns which were comfortable. There's a clothes steamer too which was greatly appreciated, as I hate ironing and think every hotel should use steamers instead as they're much quicker!
There's a desk to use which was quite big, as well as a fridge and a safe. There was water ($4-$8), M&M's ($4) and things like that in the mini bar which can be added to your hotel bill.
The bathroom had a big mirror with lights with a good sized sink as well as a drawer to put your items in. The towels were fluffy and they included face cloths too - a must-have for me! The shower was a really good size too with a waterfall style head and sliding doors.
The amenities were by Jonathan Adler and they were all Citrus and Sandalwood which was a really lovely unisex scent. The packaging was great too and you're supplied with a shampoo, conditioner, body wash, body cream and soap which were replenished regularly.
Overall it was a great room and very comfortable. There was plenty of space for two people and the bed was so cosy!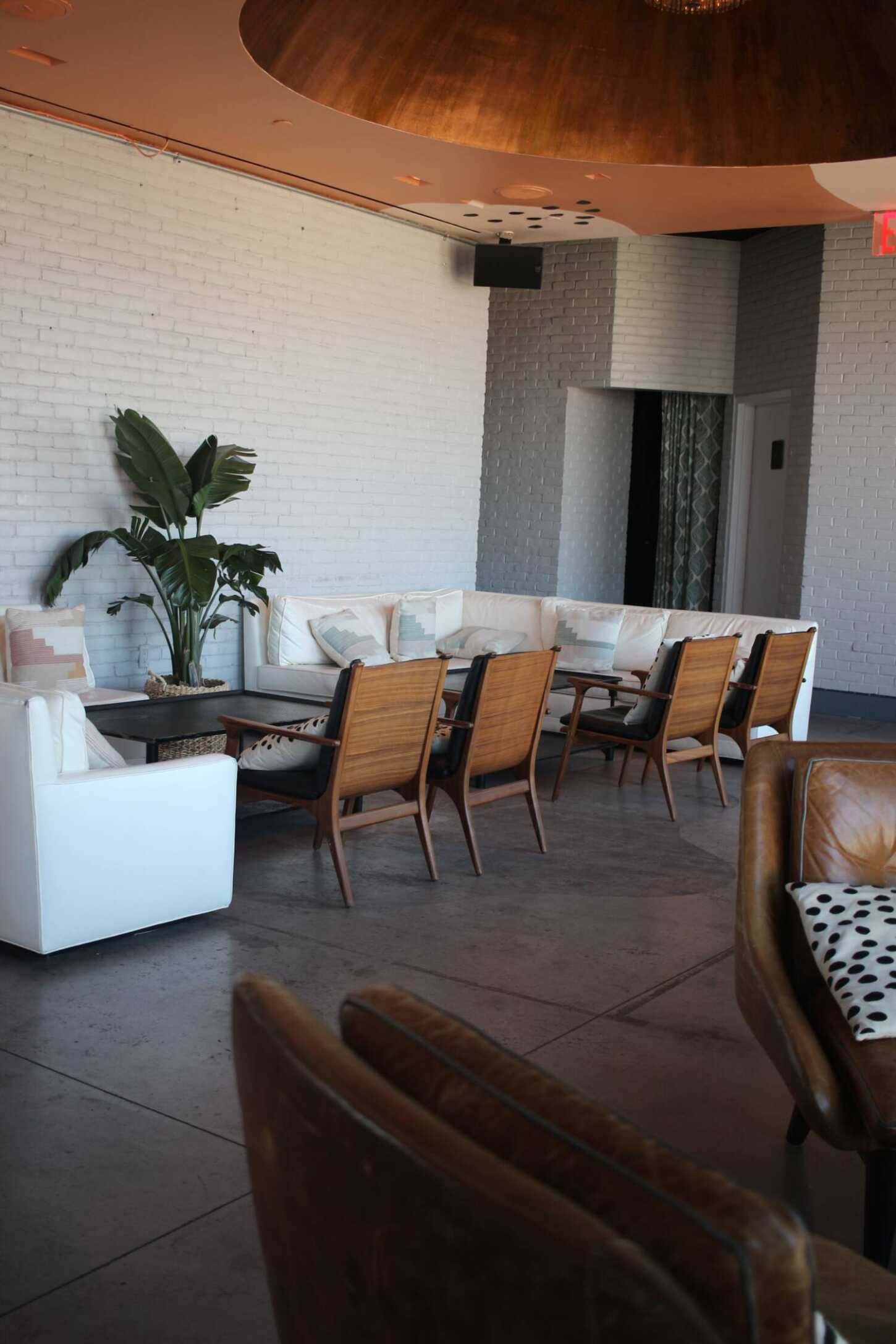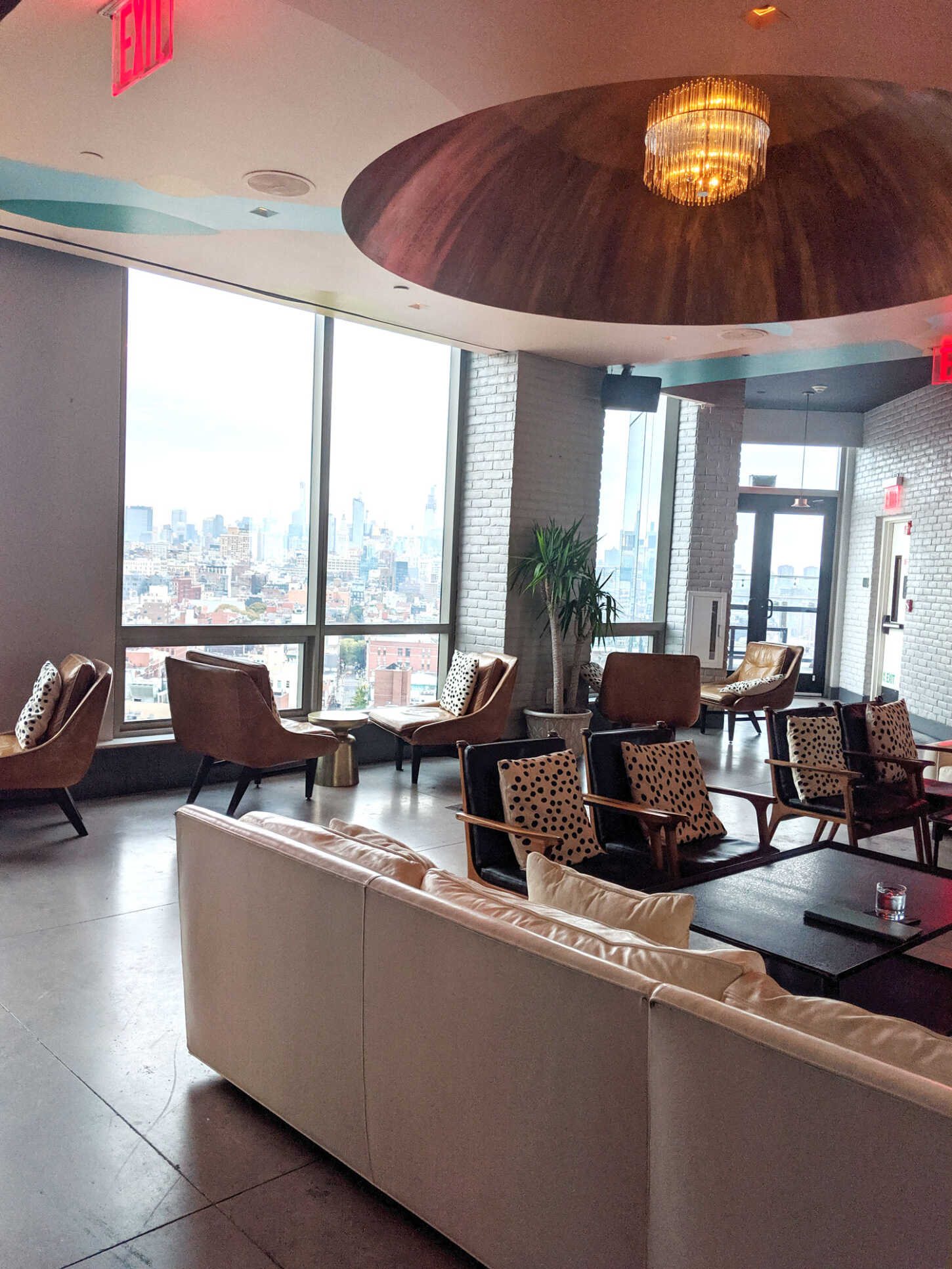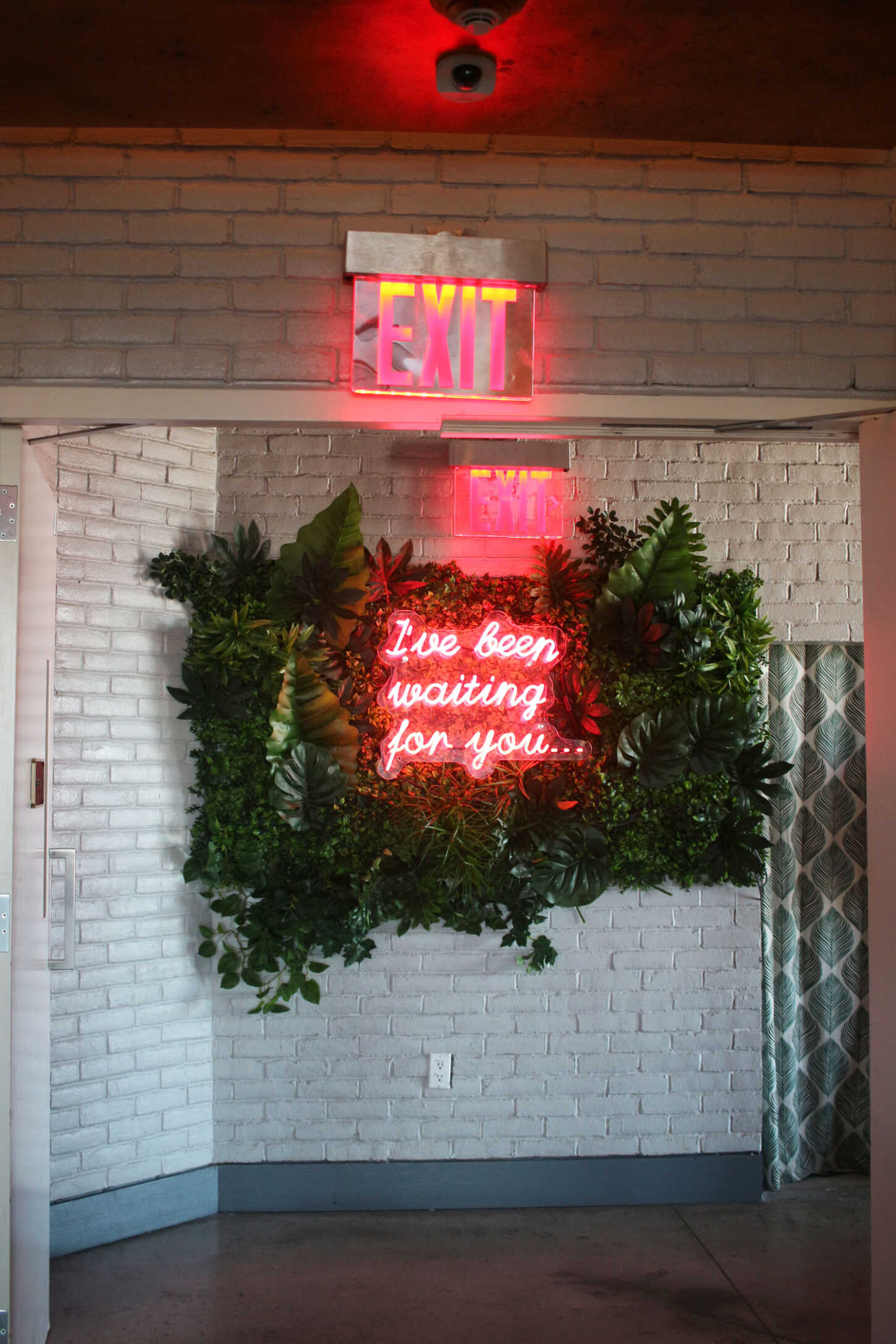 The Rooftop Bar
Hotel 50 Bowery has a rooftop bar - The Crown - with great views of the city and is well worth a visit! We popped up once during the day just to take a few photos when it was empty, and then again after we checked out as we had an hour or two to kill. It's styled so nicely and I'm now on the hunt for some leopard print cushions because theirs are obsession-worthy. I love the retro-modern style with the use of leather and velvet chairs, along with the colours on the ceiling and the copper metal accents. It's so chic (I know I keep using that word, but it really is a chic hotel) and has almost LA vibes - it's very nice!
They serve a selection of food (the same as room service) as well as cocktails and other drinks. There's two outdoor terraces with lights which is beautiful at night and, again, those views!
- Conclusion -
The Hotel 50 Bowery is a really beautiful hotel with friendly staff, good rooms and its in a great location. I would say the cost is on par with the majority of the 4* hotels in the area at around £180 per night (New York is expensive, guys), but I would definitely recommend it based on the wonderful stay we had.
You can book a stay here and find the hotels website here