Swoon kindly contributed towards the purchase of the chair. Next provided the white fluffy cushion and the tripod lamp.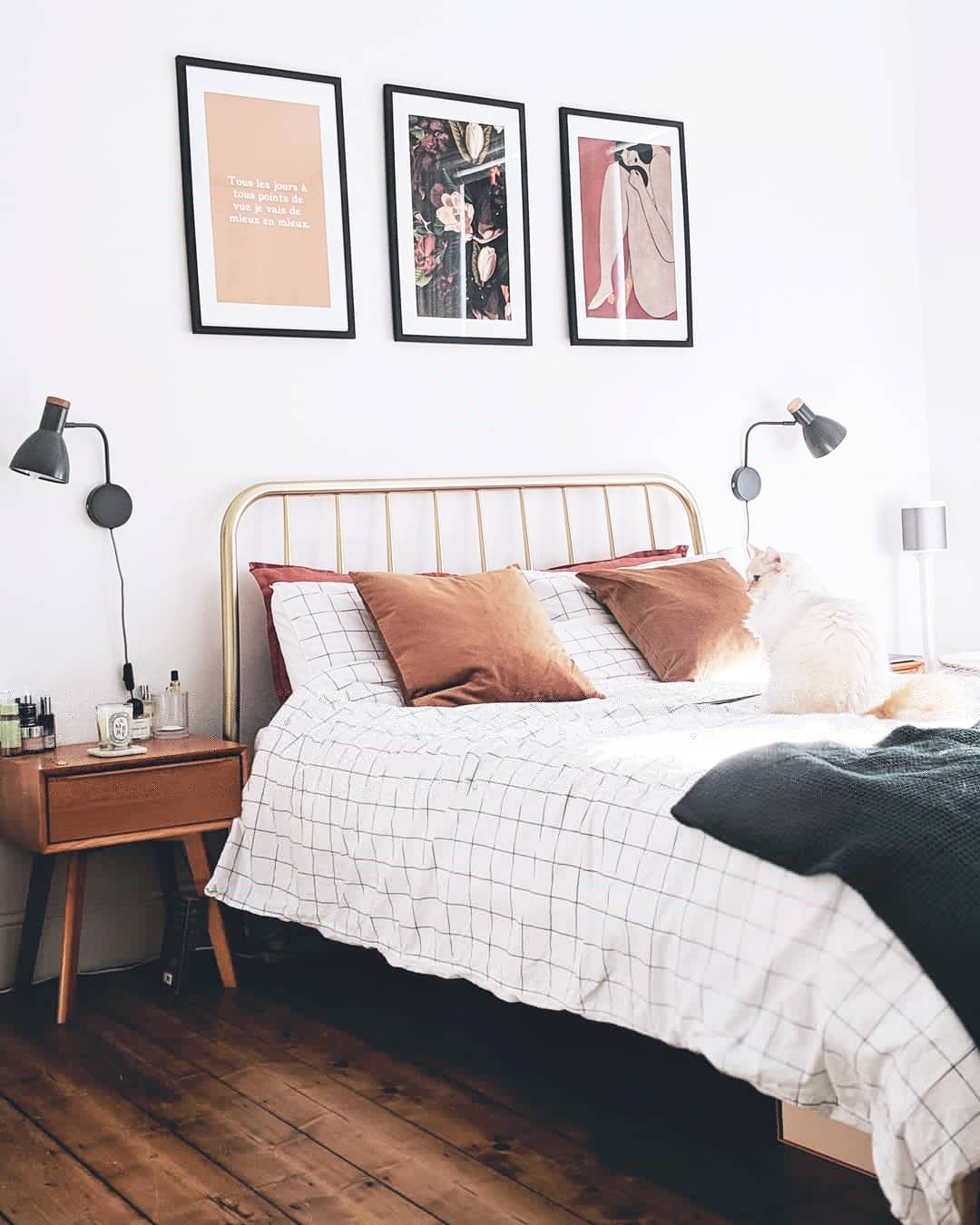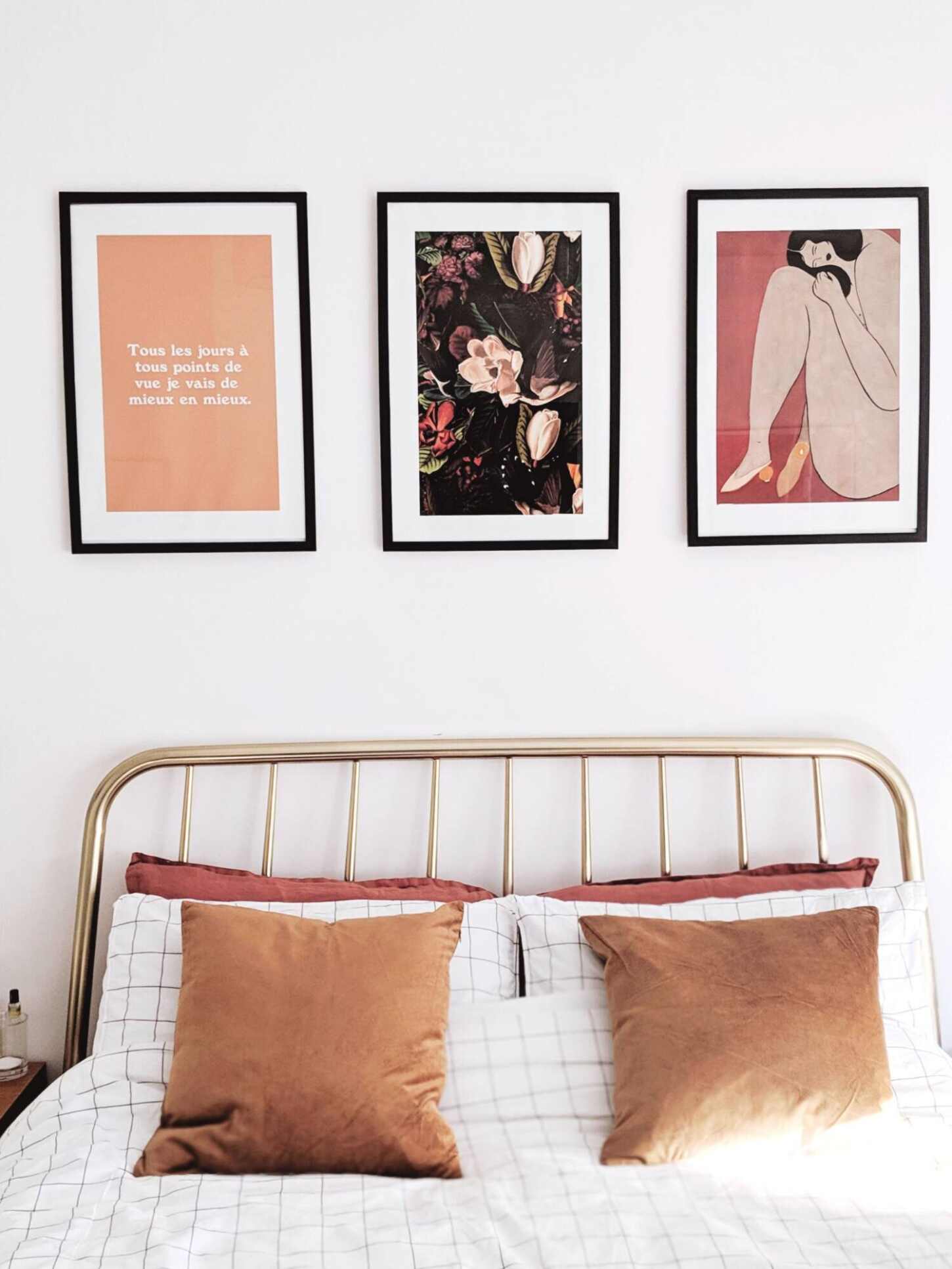 I've been posting a lot of interiors recently on Instagram as I decided to join in on #myhousethismonth and, I'll be honest, I'm really enjoying it! I thought I'd share a few of my most popular photos from Instagram and talk through 5 areas of my bedroom that I love as well as where the items are from. Interiors is something I really want to get into, as I still haven't posted my renovation pictures even though we've lived here for two years. Ridiculous, huh? It's probably because not a single room is 100% finished. Anyway, onto the bedroom shots!
1. Art Prints
I've changed the art prints a total of 3 times since I put them up on the walls. I had Summery shades in brighter tones at the start of the year, then swapped for 3 prints which I ended up hating aaaand then settled on the 3 you can see above which I absolutely adore. Warm tones, peaches, terracotta hues and darker shades are really appealing to me right now.
The 3 current options are all from Society6 which I'd never shopped at before, as I assumed I'd pay a million pounds in import tax but ended up paying £0 which is a-ok with me!
Left to right we have one print which I can't find a link to - how annoying! You can find the artist here, but I love the peachy tone and the french phrase. Adorable. Next we have a gorgeous floral print titled 'Floral and Birds XIV by Burcu Korkmazyurek' which you can get here. The selection available by this artist is beyond beautiful! I'm trying to work out where else I can put some floral paintings because I'm obsessed with them all. Then we have my favourite illustration titled 'Gray Matters Shoes by Isabelle Feliu' which you can find here. How beautiful is it?
2. The Shelf
The rope shelf (available from Etsy here) was such a bargain little find and it adds a lovely detail to the corner next to my mirror. I got this simply for decoration but it fits the bill perfectly, as it's become the perfect location for ornaments, a few books and candles. I'm going to swap the plant for something trailing so it fills the space more, then put a small art print underneath too. The corner was definitely lacking something previously, but now I love the space.
3. Bedding
I am a serial bedding buyer. I'm obsessed. It's the first section I look for on a website just to see if I can pick something up, as I love my bed so want it to be as cosy as possible. The La Redoute linen sheets are my long term favourites and have been buying them for around 4 years now. They get softer and softer with every wash, too, so they're really the gift that keeps on giving.
My latest acquisition are these beautiful grid style sheets which I purchased solely off seeing one image of the Hoxton hotel and needing to copy ASAP. Luckily, La Redoute were having their 40% off sale, so I snapped these ones up. They're soft, made from organic cotton and didn't cost the earth so they're a winner. I absolutely love the pattern and think it goes so well with the pillows.
Speaking of which, I've been changing the colour of the 2nd pillow for a while now and it's a great way to bring some colour into the room without having to paint a wall. Again, the La Redoute linens tick all of the boxes for this, but you could go for a pattern or different material to add detail. They tie in so well to the art prints and the cushions - who doesn't love an H&M velvet cushion cover - and are inexpensive, too.
4. The Kalmar Armchair
Now, this chair deserves a post entirely of its own and that's something I may do in the future, but for now I wanted to share an honourable mention to the love of my interior life.
Swoon Editions is a long term favourite of mine, as my bookcase is from there and I stalk the website on a weekly basis. I'm constantly searching for inspiration and things I could purchase for my future not-yet-exisiting home. Their styling and quality is amazing in my opinion and, as a long term customer, I would recommend them to anyone.
Swoon kindly got in touch and asked if I would like to pick something as I had a bit of a drama with a previous chair (I'll not get into it, but I wouldn't shop with that company ever again) and I obviously jumped at the chance. It was hard trying to select my favourite, but I settled on the Kalmar armchair in the most beautiful plush velvet Fern velvet, which is a gorgeous dark olive green. I was obsessed from the moment they delivered it.
I love the mid century style, how it's slightly deeper so you can get super cosy, as well as the detailed button back which I totally should have photographed for this post for forgot - typical me. All I need is a footstool and I will have the perfect set up in this area.
I imagine I will be keeping this chair for a very long time, as it would look beautiful in any room or nook, I think. The quality is lovely too and, despite having cats with very sharp claws, the velvet is very hardy even though I went for the plush option rather than the easy velvet option.
So, so good!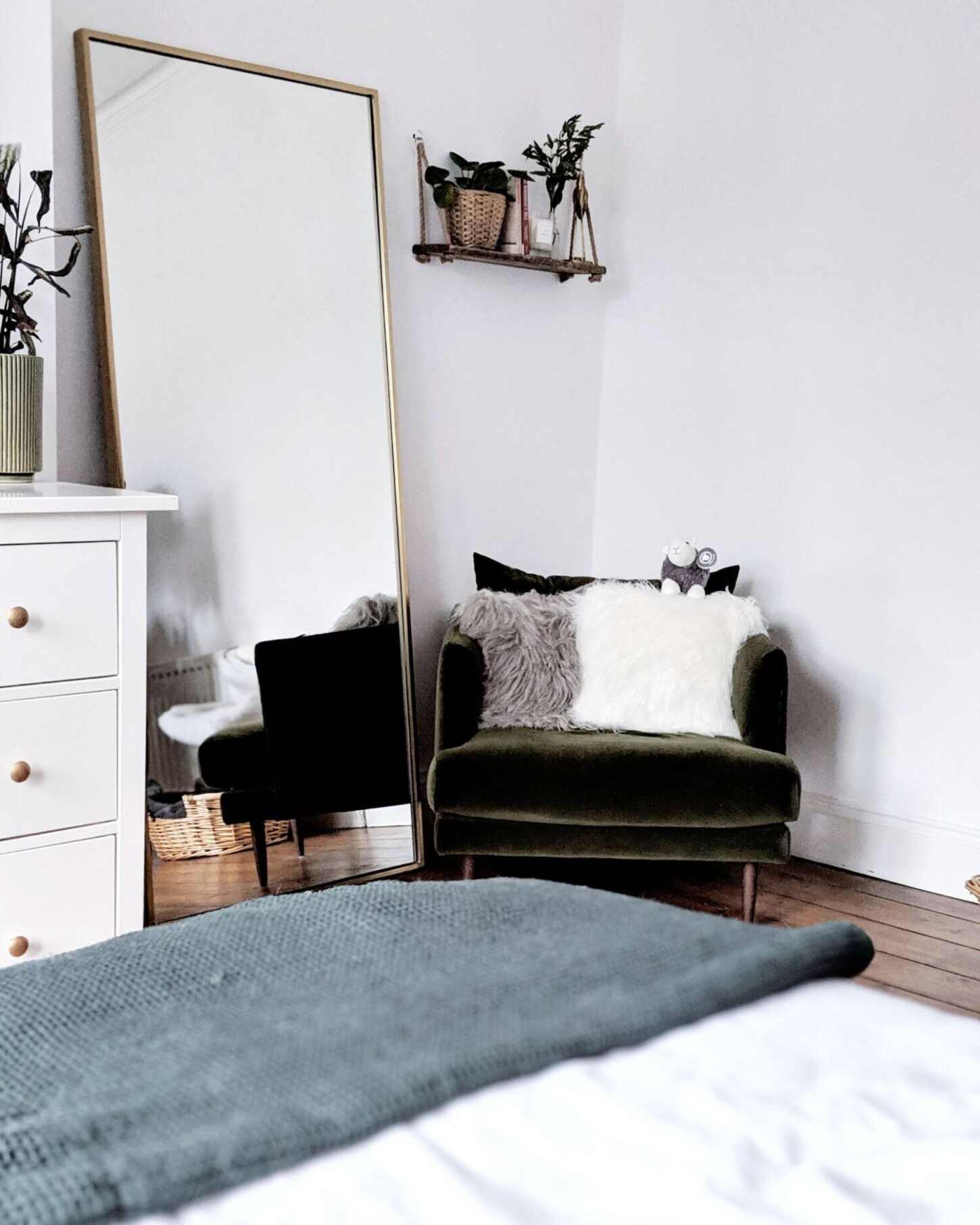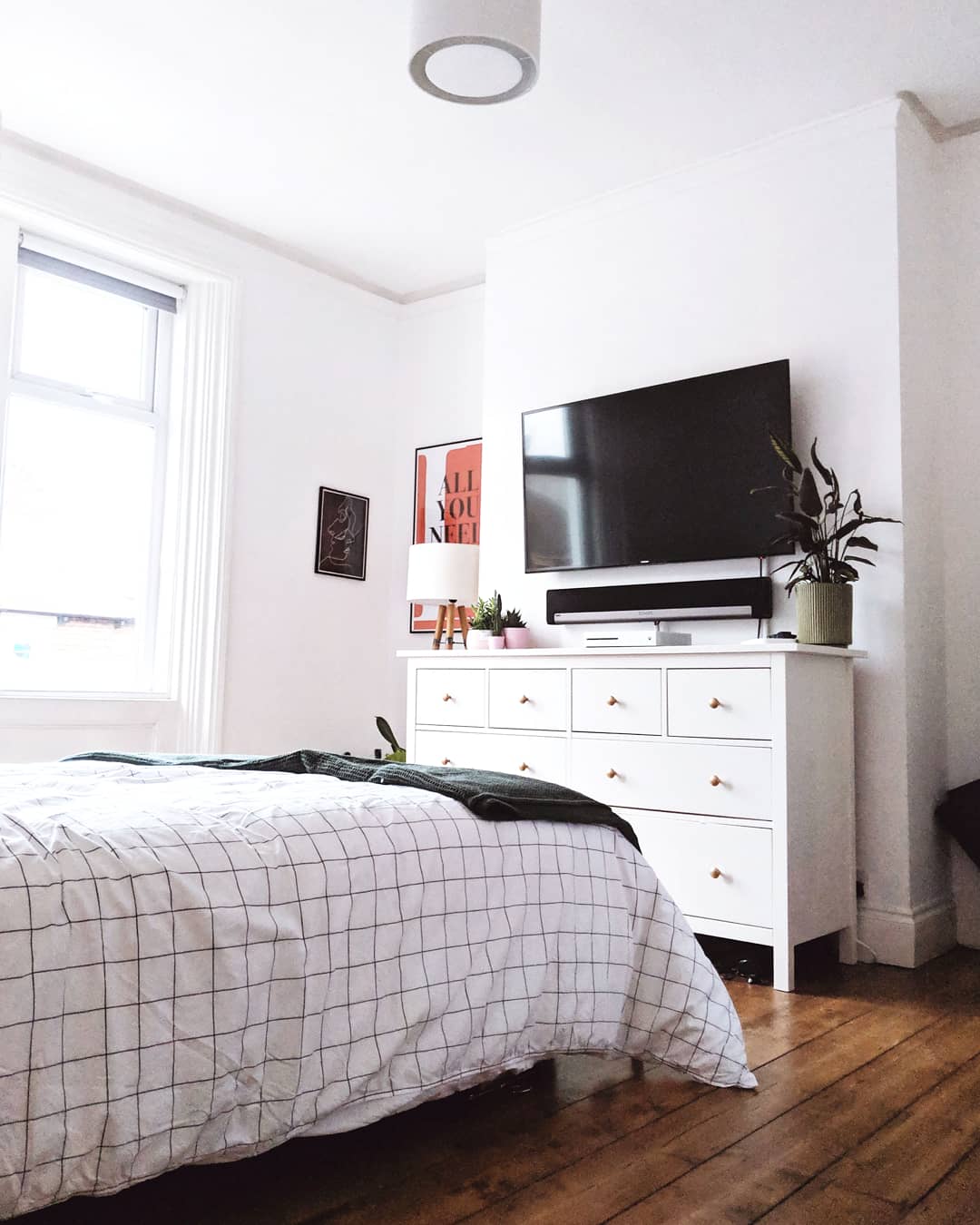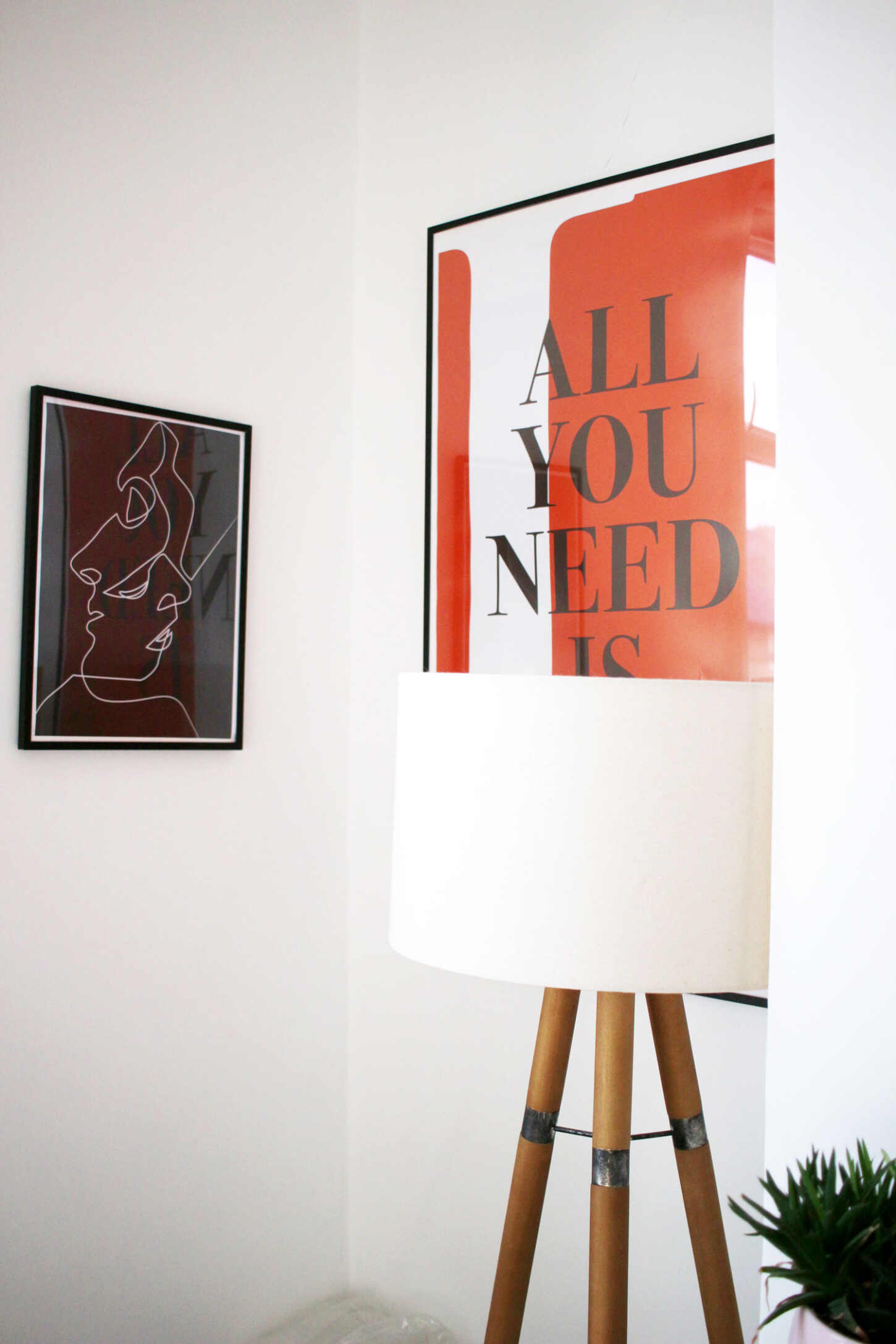 5. The Lamp
I never knew how important lighting was until we first moved in, had zero lamps and had to have the top light on constantly. It was horrible. We didn't even have a lampshade and would get a headache almost instantly.
I made it my mission to work out some nice lighting in the livingroom and bedroom, so we went for lots of pretty lamps and wall lights. You can see the ones above the bedside tables in the first photo (they're from Made) but this tripod wooden lamp from Next has been such a winner to light up the opposite corner of the room. The quality is lovely and the shade means the light is soft and very calming - I love it! Must give a lot of credit to Next for sending it over, it's my favourite.
We also have Philips Hue lights everywhere in the house which I was totally against in the beginning. Why would I want to control stuff from my phone? Or pay that much for a lightbulb? But now I am a complete convert. I get mad when I have to turn a light off at a switch or can't change the colour. It's honestly made such a difference to our house which is something I never thought I'd say. We have settings to turn off lights at certain times, you can set them to gradually come on in the morning to mimic the sun (a much more pleasant way to wake up) and we have sensors on the stairs for when we come home. Lazy, but excellent technology!
---
So, they're the 5 parts of my bedroom that we've updated recently (in the last few months) and the bits I wanted to share with you all! I will try to a) blog more and b) post more interiors as I've realised how much I love taking home pics since doing #myhousethismonth. You can follow along on Instagram if you want to see more pics for now.