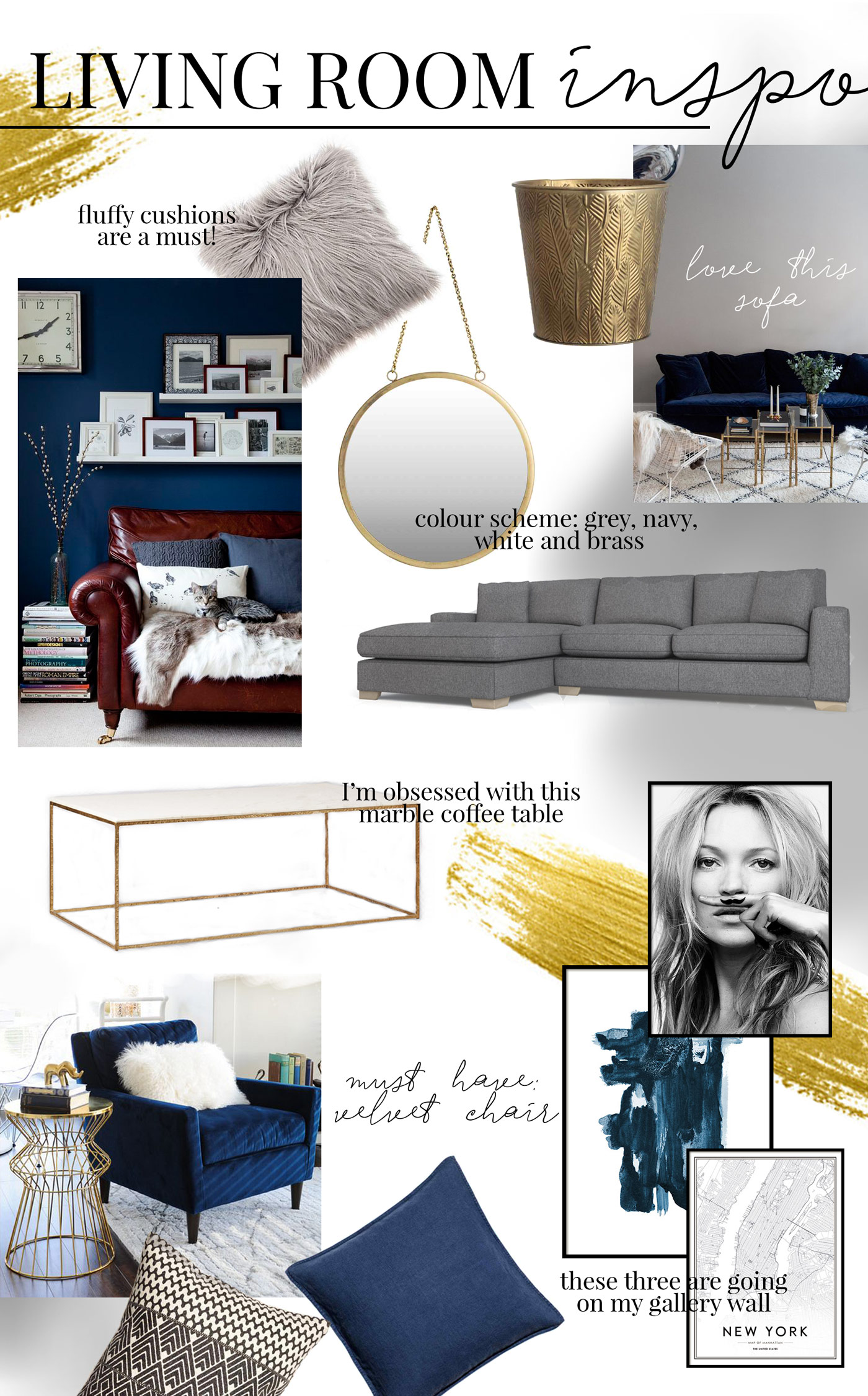 I'm so happy that I feel like I can put some sort of interiors inspiration posts together now! Our flat is a bit of a tip right now, we had to take a few walls down as the plaster was crumbling and it would have looked absolutely rubbish if I'd just tried to paint over it. So, we (I see we, I mean the plasterer) went cray with a hammer and removed the old stuff so we could board it, skim it and have super smooth not-about-to-fall-down-rooms which I am totally down for.
So, after I visited the other day (I'm keeping out of the way because dust, so much dust) and testing out sofas with Chloe, I was feeling very optimistic about the whole livingroom situation so thought it was about time to share my influences with you all.
I'm a bit obsessed - and have been since I was a teenager - with velvet, navy/black and the combination of white, grey and luxurious brass. I went through the whole vampire-obsessed thing (I read a lot of books) and all things decadent have sort of stuck in my mind ever since. I've already bought some deep navy velvet cushions for the sofa - we're going with the grey Next one above - and love the black and white patterned and grey fluffy ones above.
We're going to include similar tones in art prints to carry the theme through with a mix of white, black and brass frames. Similarly with all decorations like plant pots or mirrors, I'm hoping to mix a bit of modern and vintage so I mayyy have a few DIY's coming you way whenever I decide what decorative items I want.
I feel like it's a bit of a trend to like Parisian or New York loft interiors right now, but I'm happy to jump right on that bandwagon as it totally speaks to everything I adore! Art deco, marble and those big berber rugs (that La Redoute one) are some of my favourite trends so expect those to appear when I start actually buying pieces. I will try to keep the marble to the coffee table as I don't wanna go too blogger cliche on you all!
I actually love quite masculine spaces and am dying to paint an entire wall like the picture at the top, but I don't want the room to be too dark, so I'm going to paint it plain white and add in the more manly touches via the decor. We're also hoping to clean the floorboards up (as they seem quite good) and stain them to a mid-dark tone so I'm hoping when I combine the elements above that it looks cosy but quite chic.
I'm so excited to start decorating! If you see any nice pieces or know stores that are very 'on trend' with the above then let me know :)
Helen x