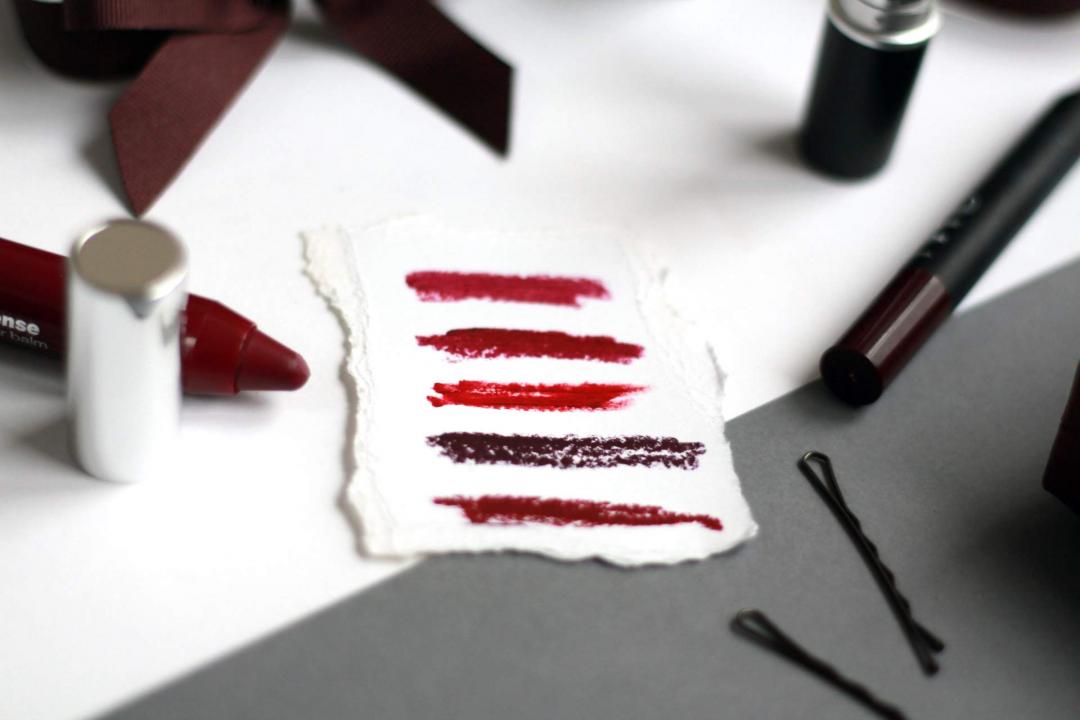 It can't be Autumn without a berry lip post, right? Even though I wear these shades all year round, there's something so nice about donning lots of dark hued clothes and throwing on a dark lip to match. Whether you prefer a hint of berry or go full on vamp, there's definitely something for you in the above gorgeous shades!
Let's start from the top of the swatches, shall we? For those who prefer a lighter shade, there's the amazing Clinique Chubby Stick Intense in Grandest Grape. It's such a pretty shade and has more of a glossy finish, so is perfect for those of you who steer clear of matte lips in A/W. The pencil means it's easy to slick on and go, too!
Next down is one of my newest purchases which I talked about here, which is the beautiful Lipstick Queen Cupid's Bow Lip Pencil in Ovid. It's no secret that I adore Lipstick Queen and haven't been disappointed with a purchase yet, so the creamy and almost-matte-but-not-quite finish to these pencils is worth shouting about. Ovid is a gorgeous cool toned berry shade which, although it looks quite dark, is a really easy shade to wear.
The most red toned berry of the bunch is Bite Beauty Cashmere Lip Cream in Bordeaux. More accessible to you American beauties, this intensely pigmented, cream-to-powder finish lipstick is one to pick up if you like to apply your lippie once and you don't want it to budge. I really like this product, you just have to be super precise when you first apply it!
For you gurls who like your dark shades, pick up the NARS Velvet Matte Lip Pencil in Train Bleu. Not one for the faint hearted, this purple toned lipstick is the darkest one I own and borders on the almost black against my fairly pale skin. I've seen people with more olive toned complexions pull this off so well and it looks great on a night out too with a smokey eye.
Finally, my most worn shade must be MAC lipstick in Diva. I adore this lipstick, it's just gorgeous to wear and looks beautiful paired with lashings of mascara and a smoked out burgundy shade on your lids. I love how long lasting and pigmented this lipstick is, and the matte finish really appeals to me too.
What's your favourite berry tone for this time of year?
Check out my Autumn makeup giveaway – win the UD Naked 3 Palette, Benefit Sugarlicious set + more.
Helen x
ps. Check out these blogs: Ayelined and Reserved for Ruby.