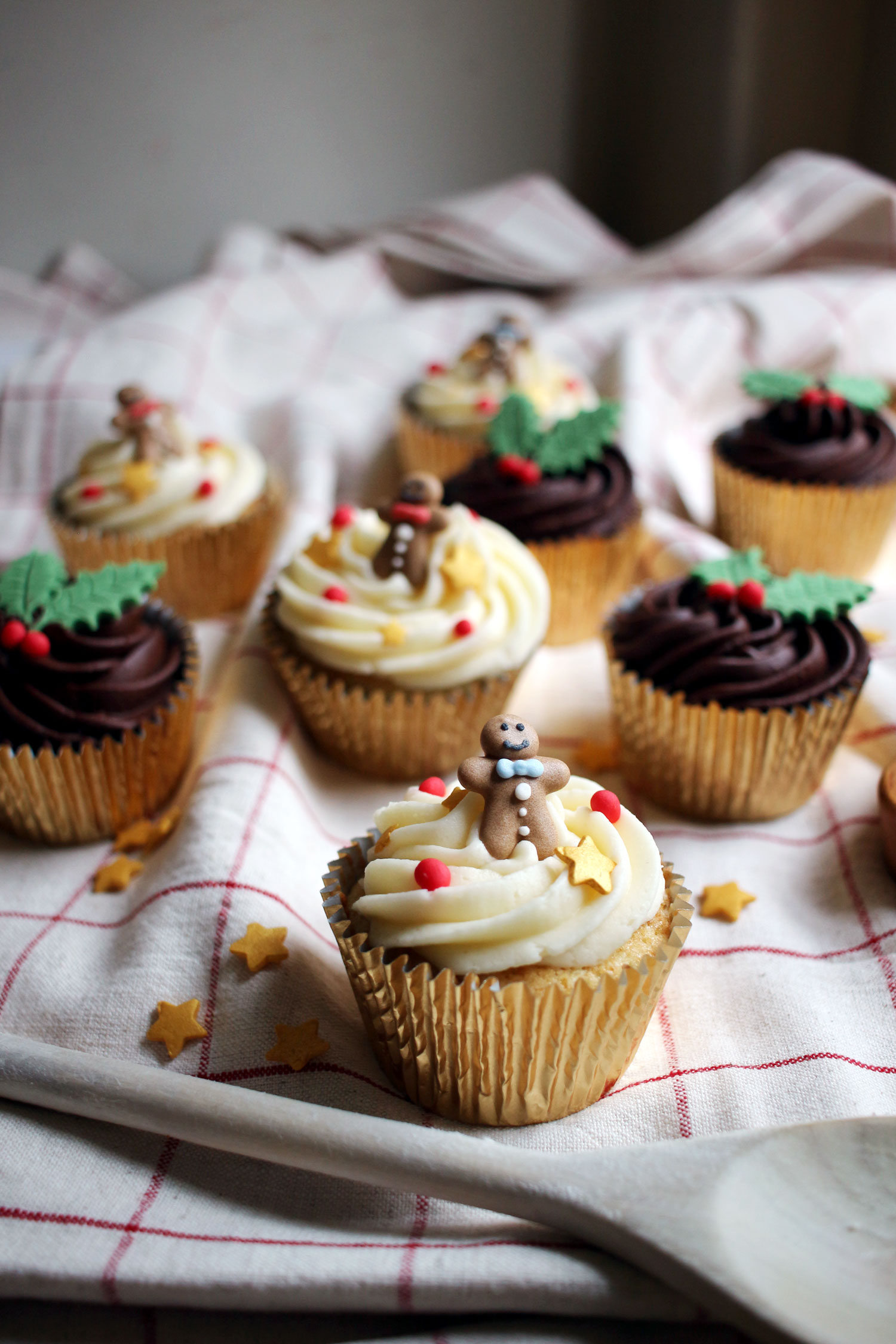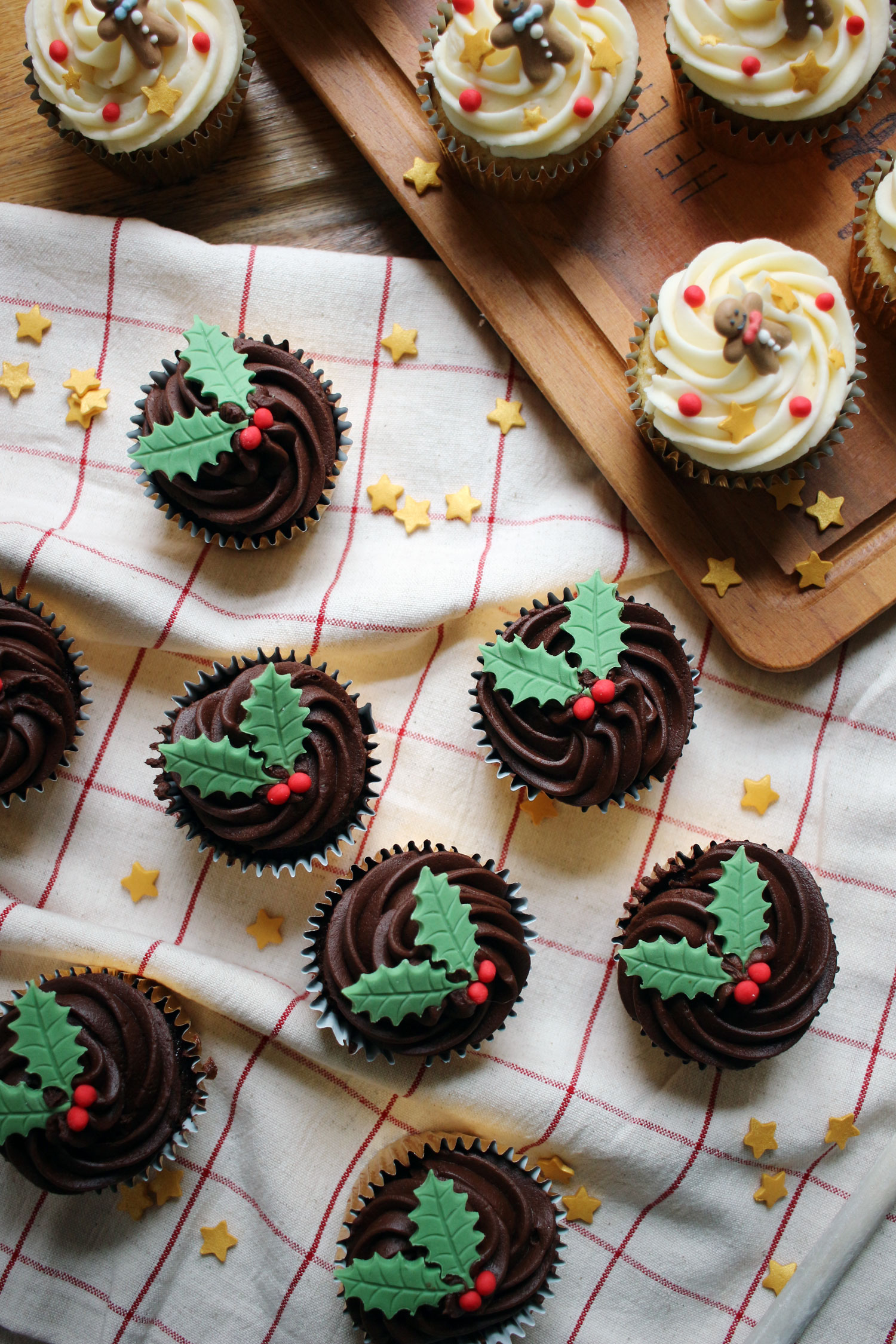 Christmas Cupcake Decorations
Hello! Who doesn't love a festive decorated cupcake? No one, that's who. Especially when they're super easy! Today I'm sharing the recipes I used and decorations I made (and purchased) for some festive cupcakes I made recently for a Christmas charity fair. They're quite simple, but they look pretty darn good if I say so myself. Perfect for gifts or parties, too.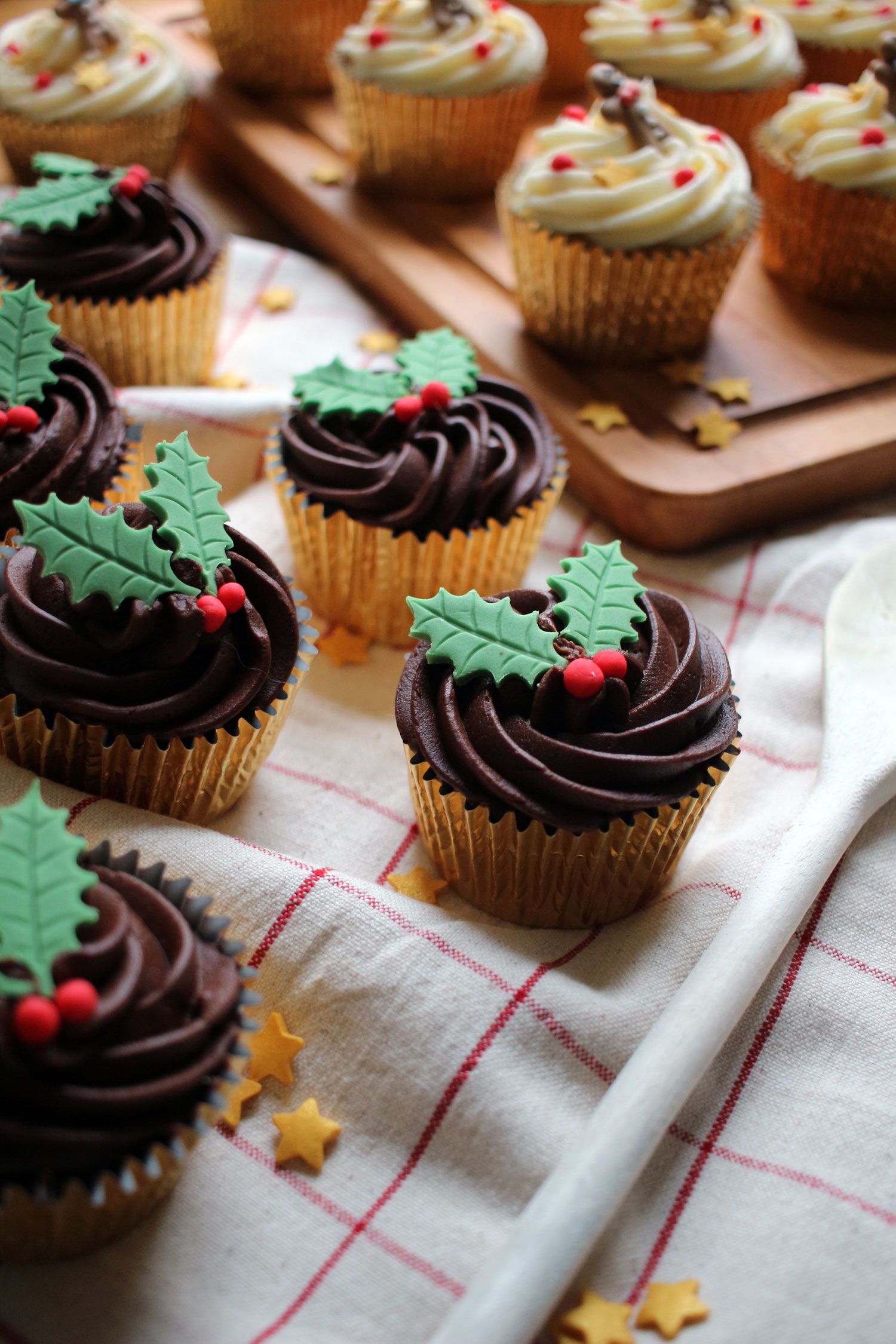 Hummingbird Bakery Chocolate Cupakes
A recipe myself and my family have used for years now and it always works! It makes the softest, most decadent cupcakes and it's so easy, as it's practically an all in one recipe. All credit goes to The Hummingbird Bakery, I wish I had one near me!
Ingredients
Makes 11-12, depending on size of cupcake cases.
100g plain flour
20g cocoa powder
140g caster sugar
1½ tsp baking powder
a pinch of salt
40g unsalted butter, at room temperature
120ml whole milk (I used oat milk)
1 egg
¼ tsp vanilla extract
Frosting
450 g icing sugar, sifted
150 g unsalted butter, at room temperature
60 g cocoa powder, sifted
60 ml whole milk (I used oat milk)
Method
Cupcakes
Step One: Preheat the oven to 170C (non-fan). Using a standalone mixer or handheld whisk, mix together the flour cocoa powder, caster sugar, baking powder and salt until it looks sandy.
Step Two: In a separate jug, mix the milk, egg and vanilla.
Step Three: Slowly add the wet ingredients to the dry ingredients. I tend to add about 1/8 of the mix at a time and wait until it's fully incorporated before adding the next bit. Mix slowly for a minute or two until everything is fully combined. Don't overmix.
Step Four: Fill cupcake cakes about 2/3's full and bake for around 20mins. Allow to fully cool before frosting.
Frosting
Step One: Mix the icing sugar, butter and cocoa powder together. It will probably go everywhere, put a tea towel over the mixer if you can.
Step Two: Add the milk a small amount at a time until it becomes the consistency you want. It needs to stand up by itself and hold a shape so it can be piped. Mix for a good five minutes. The more you mix, the lighter and fluffier it will become.
Decorations
You will need:
Star nozzle
Holly leaf cutter
Green sugar paste
Red sugar paste
So, for the chocolate cupcakes, I wanted to keep the frosting pretty simply so I did it using the Star 1 nozzle from this icing kit. I piped it in a circle, then slightly overlapped to the centre, as it did not need to have too much height to it.
For the decorations, I used a holly leaf cutter (thanks mum) and the green sugar paste was just from Tesco. You also also get it on Amazon here. You can use a pastry board or just your kitchen worktops, dusted lightly in icing sugar. Use a roller to roll out your sugar paste until it's about 2mm thick, then make sure you press down with the cutter to imprint the leaf pattern. I let them dry out on a baking tray lined with baking/greaseproof paper. I would recommend making these slightly in advance so they can dry a little.
For the berries, I used red sugar paste that I got from Amazon and hand rolled it into balls. The size depends on which cutter you use or how big you want them to be, but mine were around 2-3m across.
On the cupcakes, I placed 2 leaves with the ends pushed into the icing, then placed the berries slightly ontop. Done!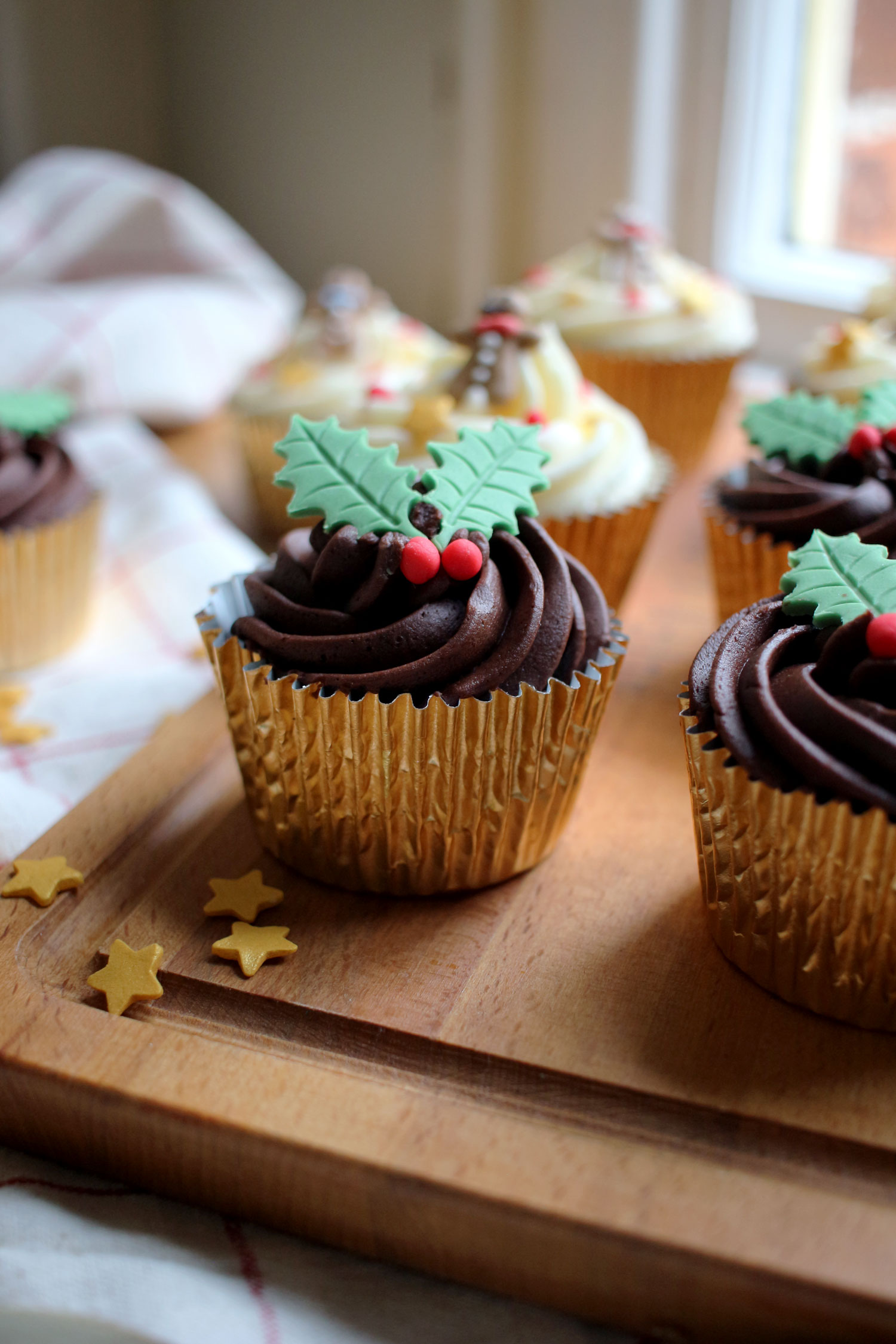 Sally's Baking Addiction Vanilla Cupcakes
This is actually a full vanilla birthday cake that you can convert into cupcakes. I halved the recipe and it worked out perfectly! I've also made the full cake before for Phil's birthday and it is honestly one of the best cakes I've ever made! It's beyond delicious. Full credit to Sally's Baking Addiction for this fantastic recipe.
Ingredients
Makes 15-16, depending on size of cupcake cases.
215g plain flour
1/2tsp salt
1tsp baking powder
2/3tsp bicarbonate of soda
170g butter, room temperature
200g granulated sugar
2 medium eggs + 1 egg white
1/2tbsp vanilla
180ml buttermilk
Frosting
170g butter, room temperature
325g icing sugar
40ml milk (or cream)
1tsp vanilla
1/8tsp salt
Method
Step One: Preheat to 170C. In a bowl, mix plain flour, salt, baking powder and bicarbonate of soda together.
Step Two: Using a standalone mixer or handheld whisk, mix butter and sugar on a high speed until creamy.
Step Three: Seperately, whisk the eggs and egg white together, then slowly add this to the butter/sugar mix. It will look a bit curdled, but after 2 minutes it should look more smooth. Add the dry ingredients slowly on a slow speed. I do one big tablespoon and wait until it's combined, then add more.
Step Four: Add the buttermilk slowly until fully combined. Ensure there are no lumps at the bottom. The batter will be thick. Spoon into cases, about 2/3 full. Bake for around 20 minutes and allow to completely cool before decorating.
Frosting
Step One: Beat the butter on medium until it's creamy, then add the icing sugar, milk, vanilla and salt on low. Turn up the speed to high and mix for 5 minutes.
Decorations
You will need:
Star nozzle
Gingerbread men decorations
Red sugar paste
Sugar stars (2 sizes)
For the vanilla cupcakes, I used the Star 1 nozzle from this icing kit and piped round in a circle, but overlapped it more towards the middle to give it more height.
The gingerbread men decorations are from Amazon and I purchased 2 packs. One arrived broken and that appears to be a common occurrence per the reviews, so I would buy more than you need just incase. I placed one in the middle of each cake against the swirl, so it was propped up.
For the balls, I used red sugar paste that I got from Amazon and hand rolled them in my palm. They were around 2mm width and I used around 4 per cake, placed in a sort of diamond around the gingerbread man.
For the stars, I picked up two different sizes from Amazon. I got the mini stars here and the jumbo stars here. I placed 2 large stars and 2 small stars between the balls so they were evenly distributed. You could add as many or as few as you like. Done!
So that's it! It doesn't take long to make each bath of cupcakes and the decorations are simple too, so even if you haven't done much cake decorating before, you can easily whip these up. Let me know if you make them!